HOW TO EARN ONLINE WITHOUT ANY INVESMENT
Discovering Simple and Effortless Ways to Make Money Online without Spending a Dime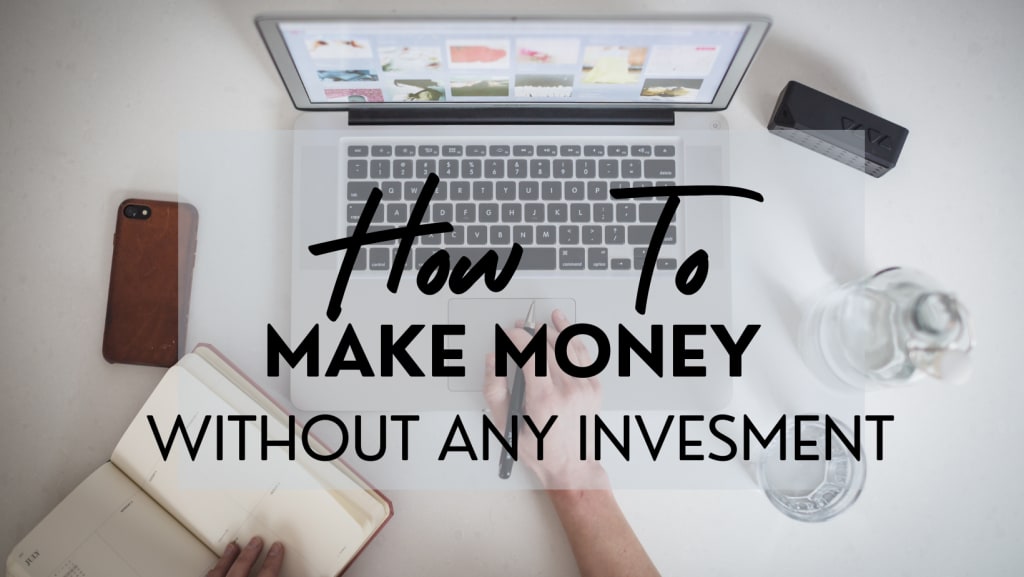 The COVID-19 pandemic has prompted us to reassess our daily routines. While some people are seeking indoor activities and educating themselves on personal finance, others are exploring the possibility of earning money from online jobs without any investment. Is it really as easy as it looks? Are there really websites that will pay you for working from home? In this article, I will answer all these common questions and provide valuable insights on how to earn online without any investment. So, stay tuned until the end.
The internet is booming with opportunities to earn money without investment through online jobs. Some of these jobs involve outsourcing work, and if you have the relevant skills, you can earn a substantial income from the comfort of your home. So, if you are looking for a way to earn extra cash, read to learn about the various options available to you.
A List of Online Jobs That Require No Initial Capital
For college students and new office workers, I have put together a list of the 10 best online jobs that don't require any investment. These positions can commence promptly, enabling you to earn money online without any financial commitment.
Subject Matter Expert
Chegg, a global student support service, offers the option to become a Subject Matter Expert. Answer students' questions in your area of expertise from home and get paid based on the quality and number of responses you provide. A straightforward process for a fee.
Become a Content Writer
Writing is a valuable skill in today's digital world where companies need daily content. If you have a knack for writing, consider registering on websites such as Internshala that offer online jobs without investment. On Internshala, simply upload your resume and indicate your preference for content writing to see various companies offering free online writing jobs. You can expect tasks ranging from brand writing to article writing and editing.
Freelance Opportunities
Working as a freelancer is an excellent option for those seeking online jobs without investment. India offers many such opportunities, allowing you to register yourself as a freelancer. Based on your skills, you can search for a range of online jobs without investment. In recent times, businesses are outsourcing short-term tasks to freelancers.
Top Freelance Sites:
PeoplePerHour
Freelancer.in
Upwork
Fiverr
Design Crowd
Monetize Your Photography Skills
Do you love photography and have a camera or a powerful phone camera? Do you have unused photos from your recent photoshoot?
Selling them for profit is a great online job without investment for students who have a passion for photography. All you need is your photography skills and a device to take high-quality photos.
Here are some websites where you can sell your photos:
Adobe Stock
Shutterstock
Etsy
Fotomoto
Alamy
Start Blogging
Blogging is a popular online job that can be done from home without investment. Anyone can start a blog on a topic they are passionate about, such as films, music, makeup, food, personal stories, or as a diary. This online job is a great opportunity for students to improve their writing skills. To get the most benefit from blogging, it is advisable to learn about Search Engine Optimization (SEO) to increase the visibility of your blog.
Top Platforms for Blogging:
WordPress
Weebly
Medium
Blogger
Tumblr
Promote Products Through Affiliate Marketing
Affiliate Marketing is a suitable option for those seeking online jobs from home without investment. College students can use this opportunity to promote products and earn commissions based on sales made through their unique link. Stay-at-home parents can also participate by promoting products to their social network.
Popular Platforms for Affiliate Marketing:
Amazon Affiliate Program
Commission Junction
ShareASale
Rakuten Marketing
Click Bank
Homemade Product Sales: Maximize Profits with Online Platforms
Sell homemade items such as scented candles, wall hangings, clothing, table mats, pillowcases, etc. by registering as a seller on platforms like Amazon and Instagram. These items, made with raw materials and skills, can fetch high prices.
Freelance Translation Jobs from Home
Online Translation Jobs are a great way to make money from home in India. Several companies outsource their translation projects for a low wage, allowing you to work from the comfort of your home. The work includes translating texts, letters, emails or subtitles and payment is made per word translated. With good work, there is a chance of being rehired by the same company in the future. Utilize your multilingual skills to earn money, as taking classes in multiple languages in school and college can now pay off while working from home.
Launch Your Artistic Career on Instagram
Starting an Instagram shop is a smart way for artists to monetize their work and reach a wider audience. With the Instagram Business tool, you can create a professional online shop within the app, making it easy for customers to browse and purchase your artwork. The platform provides a cost-effective and low-risk way to sell your artwork and grow your online business, as you can reach a massive audience with just a few clicks.
By establishing an Instagram shop, you have the ability to reach art lovers, collectors, and potential clients, opening up new opportunities for you to monetize your artwork. With no investment required, it's a great option for artists looking to supplement their income or build a successful online business. With an Instagram shop, you can turn your passion for art into a thriving and profitable venture.
Avoiding Online Scams
When looking for online jobs, it's crucial to be aware of potential scams. There are hundreds of websites that offer low-paying or non-paying work, so it's essential to do your research before committing to a job. Look for reviews and comments about the company, read the entire contract, and research the type of work they provide. If you have any doubts or suspect anything illegitimate, it's best to avoid working with that company.
Why no Registration Fees?
Many online jobs don't require registration fees because they are typically low-quality basic jobs aimed at people who want to earn extra money from home. If a website asks for a registration fee, it could be a fraud. These websites may ask for personal information and account details, but it's unlikely they will actually pay you for your work.
Embracing the Benefits of a Side Hustle
In conclusion, there are plenty of opportunities to make extra money online without investing anything. These jobs are ideal for housewives, students, part-time workers, or anyone who wants to earn a side income. With the growing popularity of the internet, earning money from the comfort of your home has become easier and more accessible. So take advantage of these opportunities and use your time productively.
About the Creator
Myself (Aj) sharing my thoughts, emotions, and ideas through writing. I'm not an professional writer just exploring the world of writing which can unlock countless opportunities and enhance the life. Stick around me on this journey.
Reader insights
Be the first to share your insights about this piece.
Add your insights