Supported By Lull
How to Cut Through The Noise and Actually Choose the Right Mattress For You
The easiest decision I've ever made.
Nowadays, it seems like we're buying everything and anything online. From groceries to home decor to makeup, I'm definitely no stranger to online shopping. I pretty much get a package everyday because nothing makes me happier than skipping an uncertain parking situation, searching for the exact item I'm looking for and then, of course, waiting in line. And sure, it's easy to click and add to cart a new lipstick, but what about those BIG purchases? Say, a new mattress? After all, we spend a third of our lives on our mattress, making it pretty much one of the most important purchases we can make.
When it comes to purchasing literally anything, I'm a skeptic. I'm someone who asks all the questions, makes a list (or a few) and always does my research. I read the fine print, I read the customer reviews, I go to the brand's Instagram, I look up Youtube videos and I definitely do my competitor research. I like to cover all my bases so I can make the best purchasing decision and minimize my chances of being surprised or disappointed.
So, let's go back to the mattress thing. Four months ago I made a major decision and ordered a new Lull Mattress online. I was sleeping on the same mattress I had from my first apartment in college and was long overdue for a new one. So I did what I do best and did my research. I started by reading everything on the Lull website to get an idea of what I should expect. But like any good online shopper knows, it's all about what real people are saying about a product.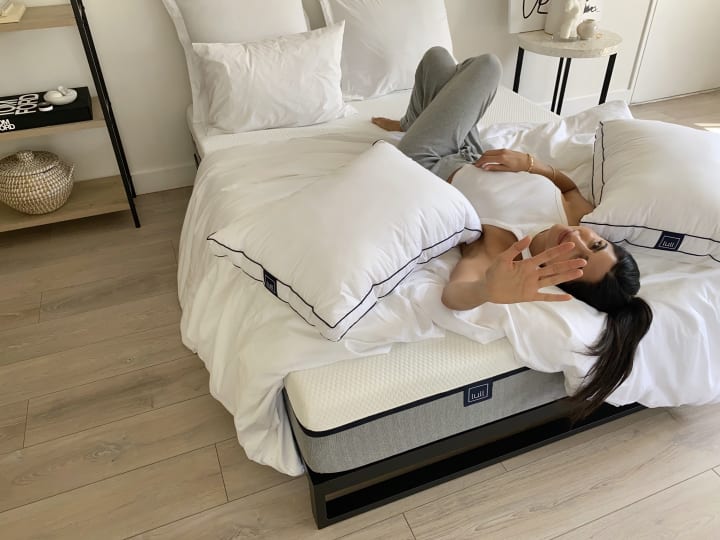 Real reviews
Before I ever—and I mean ever—click "check out," I rely on the reviews to get me there. But especially with a large purchase like a premium mattress, the hardest part is trusting the reviews; so many brands filter their reviews section to only show the positive ones that it's hard to be confident that you're making an informed purchase. But with all my online shopping experience, I know that a spotless, only-five-stars review section is a big red flag. I always check to make sure that a site has a high number of reviews to ensure they're not deleting them, and that at least some of those are lower ratings—otherwise, I assume they're likely manipulated.
That's why I picked Lull over any other mattress brand. Good or bad, Lull never deletes or manipulates their reviews. All their reviews are genuine and unfiltered because they know each and every review matters when it comes to someone's purchasing decision. In fact, when making my final decision, I did what I always do and took a look at the lowest rated reviews to get an idea of what some people didn't like about the product. About half of the one-star reviews I read said that the mattress was too firm for the reviewer's liking—and about the other half of the lowest ratings said the mattress was too soft. As someone who prefers a mattress that's right in the middle—cozy and pillowy, but supportive—I knew this meant that it'd probably be just right for me. In fact, reading some of these lower reviews made me even more confident that I was making the right choice; not only could I be sure that all of the reviews were real and un-manipulated, but they reaffirmed that the mattress was probably just what I was looking for.
Lull has nearly 40,000 reviews on their site to date, averaging a 4.7 star rating from their customers. They also have a 98% customer satisfaction rate and over 29,000 verified reviews, meaning their reviews come from real customers. So you can kiss those trust issues goodbye!
It's in your hands.
When it comes to making a big purchase like a mattress, I honestly love having the power to make the decision myself. I never like when other people try to skew or put pressure on my decisions or try and push me on a different product or brand because it's more expensive (and therefore better, somehow?). That's why, naturally, I'm someone who always loves to shop online in the comfort of my own home.
While deciding on my Lull Mattress, I actually enjoyed reading all the reviews, watching all the unboxings, reading other people's pros and cons lists, making my own lists, scrolling through Lull's Instagram page and having that purchasing power all on my own. There's nothing more satisfying than making a decision on your own and having it end up being the right one.
Risk-free trial
So, like me, you've done your research and finally made the decision. You're getting a new Lull Mattress. Luckily for all of us skeptics, Lull literally lets you sleep on your decision. They give you 365 nights of risk-free trial once your mattress is delivered so you can make sure your purchase was the right purchase for you. Even though I'm pretty sure you'll love it as much as I do, if you decide you don't, Lull will refund the full price and arrange for a free pickup and removal of your mattress in its expanded form. They even go the extra mile of donating your returned trial mattress to charity. There's no better feeling than being able to sleep easy knowing that a purchase as important as a new mattress is so risk-free!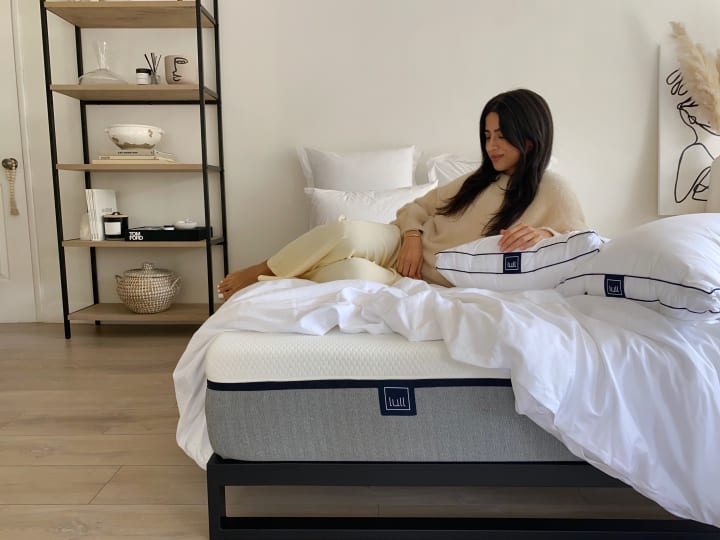 It's so easy!
Now that I've bought my Lull Mattress, I couldn't imagine buying a mattress any way other than online—but I know that if you've never done it before, you'll always have some concerns. For me, getting my best night's sleep was just so easy. Lull let me skip that awkward in-store mattress "try on" and delivered the mattress right to my door with no-contact, free delivery. I never knew I'd appreciate a mattress in a box so much until after I unboxed my new Lull Mattress in under 5 minutes. No delivery scheduling needed, no waiting around and no lugging around and trying to maneuver a huge mattress through my small apartment hallway.
Making the right decision
It wasn't long before I noticed I was sleeping better and waking up feeling super rested. The quality is so good and I can't believe I waited so long to get a new mattress. Just as I suspected, my Lull Mattress is not too firm and not too soft, which gives me the perfect amount of support and comfort my body needs. In fact, I've been sleeping so well, I knew I had to have some of the bedding to take my sleep to the next level, so I decided to take advantage of Lull's bedding bundle sale ($125 off!). The bedding bundle includes two pillows, a sheet set, comforter and duvet cover. Together the Lull Mattress and the Lull Bedding Bundle have given me the best sleep of my life. Needless to say, choosing Lull is the easiest decision I've ever made.