How To: Create the Perfect Listing on Poshmark
3 Tips on Creating the Perfect Listing to Make More Sales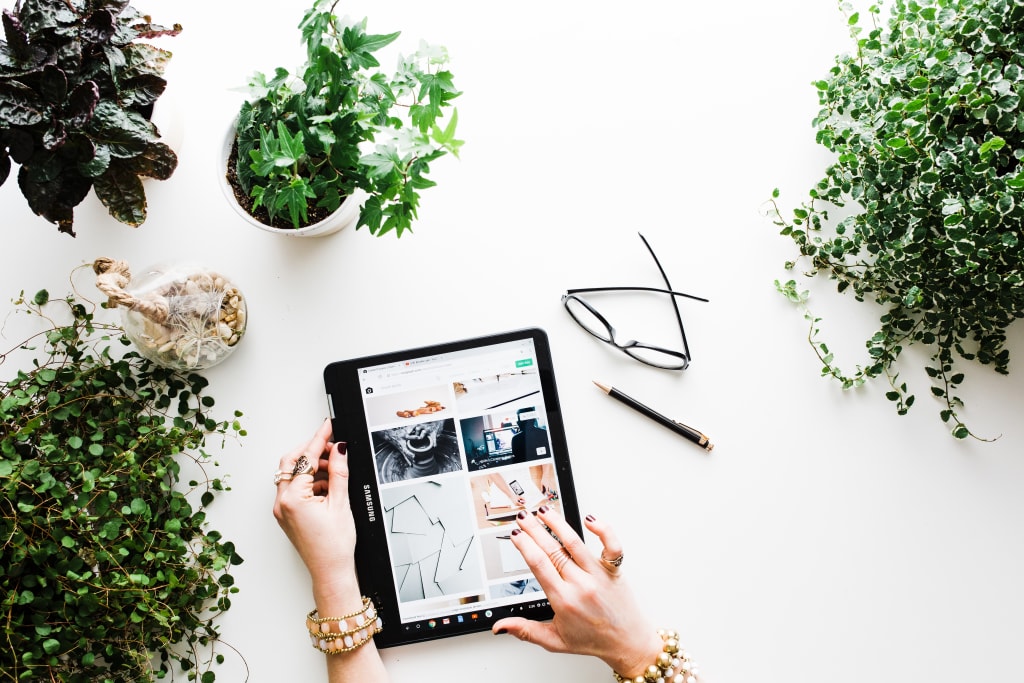 I recently wrote a poston how to start out on Poshmark in three easy steps. I wanted to go more in depth, however, about how to create the perfect listing for the items you want to sell.
You wouldn't believe how easy it is to cut yourself off at the knees by not writing the most optimal title or description. On Poshmark, an app where sales rely on the searchability of your items (I would argue), your listing may be the difference between success in sales and a stale closet.
So I'd like to share some tips with you based off my experience. Keep in mind that I'm not saying this is the ultimate correct way to do things. I'm just speaking based off of what's worked for me. :)
Tip 1: Reverse search EVERYTHING.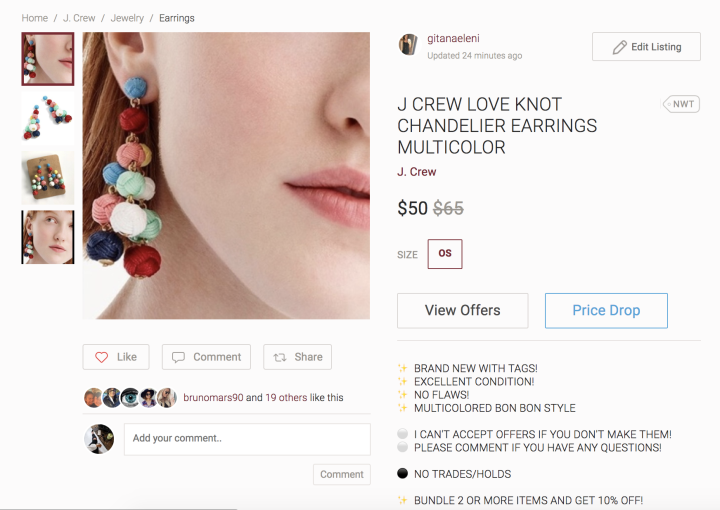 I'll use my Poshmark listing of these J. Crew earrings as an example. When I bought these, I knew they were called "J. Crew Love Knot Chandelier Earrings." I got them on sale and knew what the original price of them was. However, I didn't know how much I was going to list them for.
This is where the reverse search comes in. Searching what these earrings have been sold for helped me to create my price point.
To do a reverse search, type the description of your item, hit search, and then filter the results by "sold listings."
As you can see, this is how the results will look (hopefully your item will yield more results in your reverse search). These results show that the earrings have sold for about $30-$40.
So say that $40 is the price I'm hoping to sell them for. This means I should set the actual price point higher than the price I'm hoping to sell the item for. Typically I'll set the price at $10 more than the ideal selling price. It allows me to send discounts to "likers" (which has to be at least 10 percent PLUS discount shipping) without eating into my profits more than I anticipated.
Tip 2: Write a killer title.
You wouldn't believe how many people lazily write their titles and risk their listings getting buried under other more clearly written listings when potential buyers search for specific items.
So here's my simple formula. Ready?
BRAND + DESCRIPTION OF ITEM + COLOR
That's it! Easy, right?
So the brand is easy to write. That's something like J. Crew, Nike, Free People—you get the idea.
The description is a little more work. If you know what the item was named when it was being sold, then you're good!
If you do a reverse search, however, you can sometimes find out what the title of the item is based on what other people have listed it as. The best thing to do, however, is to Google it. Typically you'll find the item's original description on sites like Nordstrom Rack or Revolve Clothing, but search Google Images to make sure you're finding the right listing that matches your item.
If you can't find an original title from an online shopping website, then the last resort is to describe it as best as you can.
When improvising your own item description, remember, "linen embroidered lace-up tunic" is clearer than just "linen shirt," so use your best judgment.
Lastly, if I have enough room at the end of the title, I include the color.
So, looking at the formula again, a title will look something like this:
Free People + Embroidered Lace-Up Tunic + White =
Free People Embroidered Lace-Up Tunic White.
Tip 3: Write simple and consistent descriptions.
I use pretty much the same description for each listing. I don't include measurements unless someone asks for them in the comments. If you want, feel free to use the same description I do!
This consists of:
stating if it's new with or without tag (if it's not new don't include this part) -- NWOT = new without tag ; NWT = new with tag (just some slang for y'all)
"Excellent condition!" (you can also put "good condition" if this makes more sense)
including any unique description of the item if there is anything worth mentioning (ex. embroidery, bell sleeves, specific pattern, etc.). If this isn't applicable you don't have to include this part.
"No Flaws!" (If there are flaws, be as transparent as possible. You don't want to risk a bad rating. It's not worth it.)
"Please comment if you have any questions!" You want to make sure people know that you're open to questions about your item.
I also add "No trades/holds," but people end up asking me about trades anyways so this might be pointless now. Haha.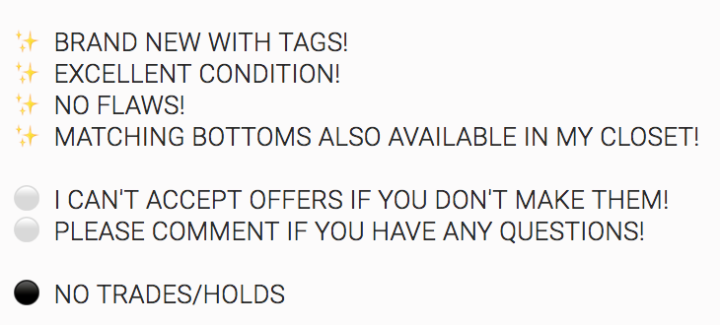 And that's it! Simple. Clear. Consistent. You can even use emojis as the bullet points.
I have a template of this description saved in my Google Docs so that anytime I make a listing I can just copy, paste, and make adjustments as needed! Makes everything so much easier. And if I'm creating listings on my phone or laptop I can still access Google Docs and copy and paste the description.
Bonus Tip: USE GOOD PHOTOS.
Make sure the photos you're using are clear and have good lighting that showcases the true color of the item. Take photos of the item from all angles. Poshmark allows you to have eight photos, so take advantage of this!
Also, you want to have a good cover photo. This is the first photo of your listing that a person will see on the search results page. I normally find a really good stock photo of my item online with a Google search. If not, make sure your photo of the item is clear and bright so that it's easy to see.
If you have any questions regarding Poshmark or listing, please feel free to DM me on Instagram.
Poshmark Closet: @gitanaeleni
Instagram: @gitanadeneff