Five of My Favorite Listicles on Vocal
It's subjective, it's meta, it's a listicle about my favorite listicles on Vocal. These 5 stood out to me for more than just their subject matter; plus, a few honorable mentions.
Ahh, yes, sure—the "listicle." What is a listicle exactly? Well, plainly, a listicle is a list that's been expanded with supplemental copy assigned to each listed item. Though, such a literal definition does very little to explain the true, modern utility of the increasingly popular way of thought organization.
The love child of a list and an article, a listicle is a long-form story format that serves to add context to an order, system, guide, collection, etc., as objective or subjective as it may be. Listicles provide more elbow room for writers to express and develop related, ordered, or unordered ideas, making them one of the most approachable and effective weapons in a writer's arsenal.
What makes a "good" one "good," though? It's tough to say, because of their versatile and general nature; but what better way to try than with an actual listicle? Here are 5 of my favorite listicles published on Vocal in no particular order.
1. 10 Disney Channel Songs To Kickstart Your Galentine's Day
Written by: C.R. Hughes
I'd be lying if I said I wasn't perpetually jealous of girl hangs. I mean... come on! Slumber parties, gossip, fashion shows, brunch, emotional availability and support, other stuff I don't know because I wasn't there—need I say more? As an outsider, these hangs seem absolutely elite, and I'll always want to be a part of them.
While I can't partake in Galentine's Day festivities, this listicle by C.R. Hughes and the playlist that accompanies it embody what I imagine to be the electric, yet chill vibe of girl hangs.
It's simple—you can't start a playlist with Potential Breakup Song by Aly and AJ, end it with Party in the USA by Miley Cyrus, and not have a fire playlist in between. I don't decide this. These are facts.
This listicle ties entertainment mediums so smoothly and adds a very unique touch to a fantastic holiday. For that, it made the list.
2. 12 Days of Cannabis Cookies
Written by: RJ
Love RJ. Love Cannabis. This was an easy addition to the list. This listicle is beyond thorough, and even thoughtful to non-stoners. She went as far as including a CBD recipe, free of THC. The explanation of her "Gluten Free and CBD" recipe is everything:
My cousin can't eat gluten, and I've grown very sympathetic. I love bread; some might call it an obsession. But I forfeited a beignet from Cafe Du Monde in New Orleans for her.

Ironically my cousin also doesn't really care for THC. It makes her feel weird and drives up her anxiety. I would want my cousin to have something to enjoy during our cookie party. And at family celebrations, there's always the box of gluten-free cookies with only one missing. Thus the birth of the gluten-free and CBD addition to our list.
If that's not love then I don't know what is. "12 Days of Cannabis Cookies" has something for every picky edible connoisseur. Its casual title leads way to a complete guide and goes far above and beyond any click's expectations. The fact that readers other than those who spark up can benefit from this listicle make it an impressively forward-thinking, inclusive piece.
3. 3 Simple Things Harming Your Health
Written by: Dan Pittman
Dan is a great thinker, and he's straightforward with his readers. "3 Simple Things Harming Your Health" simplifies some of life's classically overlooked tribulations: water consumption, artificial light exposure, and Electromagnetic Frequencies (EMF's). In his assessment, he pairs each harmful thing to a branded solution. He silences claims of disingenuous, funded content in a respectful disclaimer:
For each category I have linked up a product or brand that I genuinely love and use every single day.

I mention them here because they have made my life better in many ways, so I partnered with them in a mutually beneficial relationship. I only back brands that I trust.
What a great way to play the sponsored content game while keeping an honest relationship with your readership. It's a nod to the modern, informed web surfer, and I appreciate that kind of thing. Sponsored content isn't going anywhere, and it's thinkers like Dan who pave the way to a collective appreciation of a growing revenue and career opportunity.
4. Four Incredibly Easy Ways to Reduce Consumer Waste
Written by: Lindsay Rae Brown
LRB is incredibly smart and aware, and what makes this listicle stand out to me is just how well she lends her approachable personality to a globally threatening issue: consumer waste. Lindsay has a way about relating to her readers, and reading about destructive consumerism from her perspective is like reading a great piece of advice from a trusted friend. Well done, Lindsay, another easy addition to my list.
5. 5 Cool Things You Didn't Know About New Jersey
Written by: Katy Milewski
I truly hate to tie my identity to my geography, but dammit, if I am anything, I'm a Jersey Boy.
Sorry, Past Justin, but you know this listicle appeals to you by the title alone. No, seriously, Katy is a gifted storyteller and is as original a creator as they come. I knew none of the five cool things before I read, and now I have evolved into an even stronger New Jerseyan. Thanks, Katy!
On top of it being a great read about the best state, "5 Cool Things You Didn't Know About New Jersey" was the first story published in Vocal's new "FYI" community, signifying it's historical relevance on the platform. Katy is a long-time supporter of Vocal, and, if the badges on her author page aren't enough, I'm glad she got to cement her work here in a big way like that.
Honorable Mentions
These would have been included in the main list if it weren't for the number of points in their listicles. I was alright with making #1 a ten-pointed listicle, and #2 a twelve, but to follow that numeric structure and bail at 6 is just not acceptable. The left side of my brain would have kept me up all night. It's a feeling similar to this excel sheet: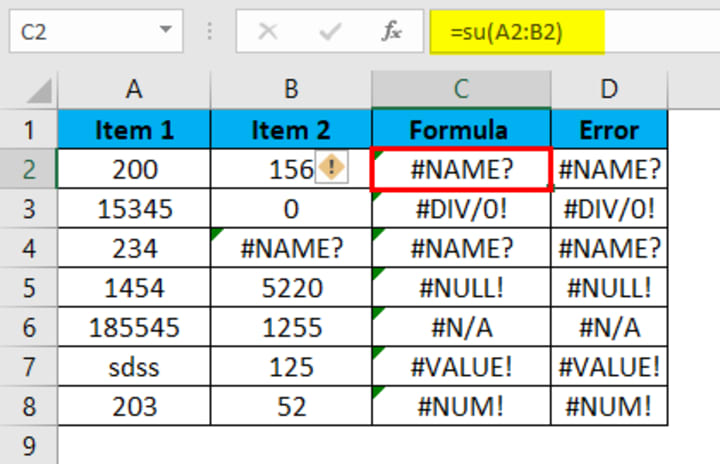 5 Things You Can Do To Be a Better Ambassador For Your Hobby
Written by: Neal Litherland
Everyone knows a gatekeeper. Nobody likes a gatekeeper. Don't be a gatekeeper.
Instead, be an ambassador and help your hobby continue to grow—like Neal does.
Two Things To Do When Your To-Dos Stress You Out
Written by: Jayna
The word play in the title is enough for me, but this is genuinely a moving piece. I dare you to check this one out and not feel positively influenced. Actually, make that a double-dog dare.
Jayna's 2 points are enough to make a real difference in terms of stress and productivity in your life.
Closing
There they are, my top five listicles on Vocal with a few honorable mentions. Do with this information what you will.
This all goes to say that a listicle is a reliable format to organize an article, story, guide, or collection around; and the effectiveness of it depends not only on the ordered or unordered points it covers, but also in the writer's understanding of how to best address and relate to the reader's intent.
Thanks for reading!
Reader insights
Be the first to share your insights about this piece.
Add your insights