'Excitebike' Perler Bead DIY
How to make a rider from the 1984 NES motocross racing game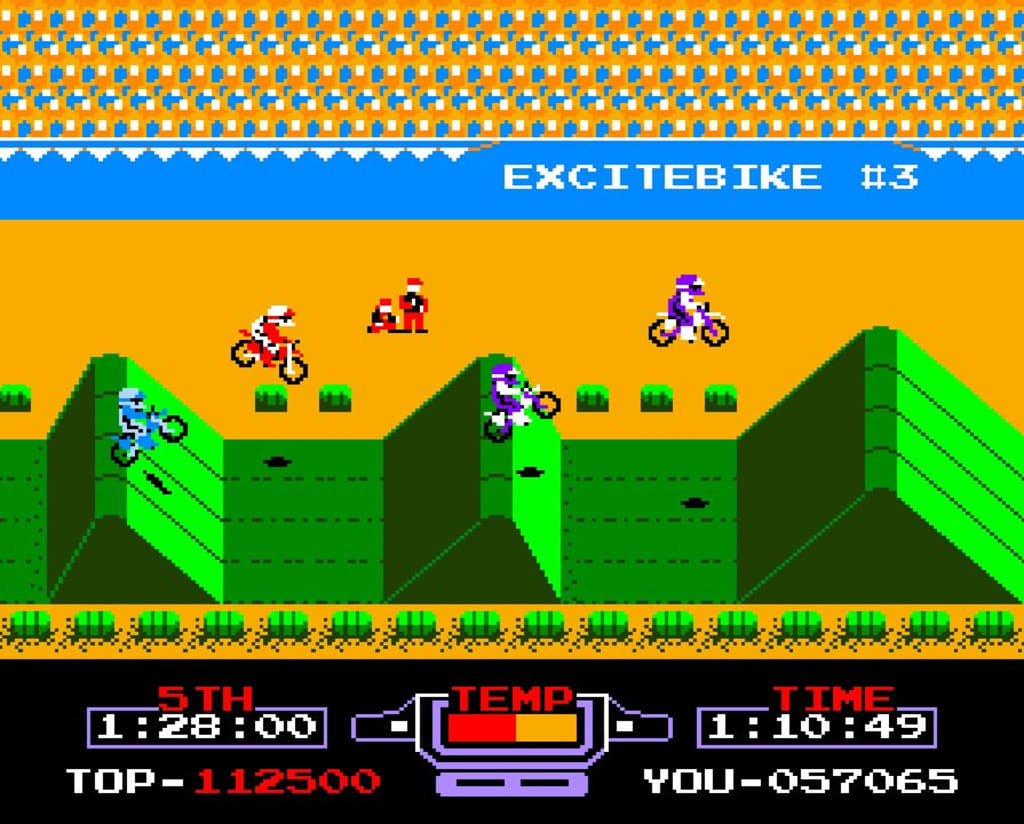 Greetings, Vocal readers. It's been a while since I've done a perler bead DIY. The last one I've done was the Nintendo logo, which was about a month ago. In case you haven't seen it, I'll post a link to it at the end of this article. In this article, I'll show you how to make this rider that you see above from Excitebike. This game made its debut on the Famicom in 1984 and as a launch title for the NES a year later. When I first played it on the NES Classic a couple of years ago, it wasn't like any of the other racing games that I was used to playing. Every time I would jump over a ramp, I would fall off my bike. So long story short, I placed 23rd in a race and haven't played that game since. Hopefully I'll play it again someday and improve.
For this DIY, you'll need a regular sized pegboard, perler beads (red, black, and white, ironing paper, and an iron. This will be a much easier character to complete in a short amount of time, compared to other projects I've done so far. Let's get started on it.
Step 1: The Head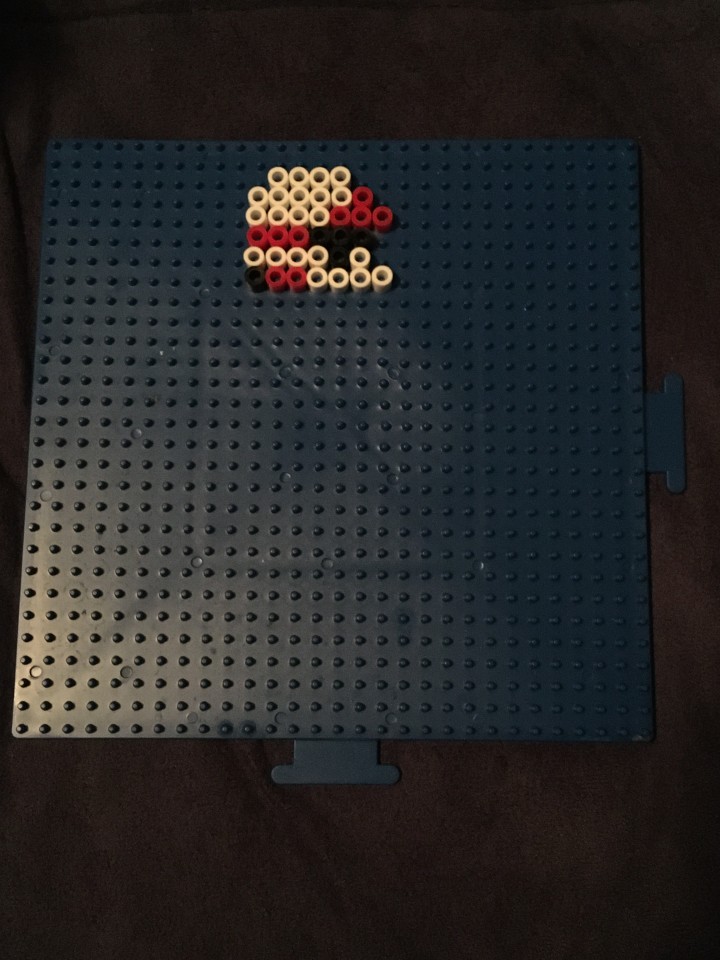 I always create my perler bead art one row at a time in most projects, because it's a lot easier and saves time. The rider's helmet is complete, so let's go on to the next step.
Step 2: The Rider's Body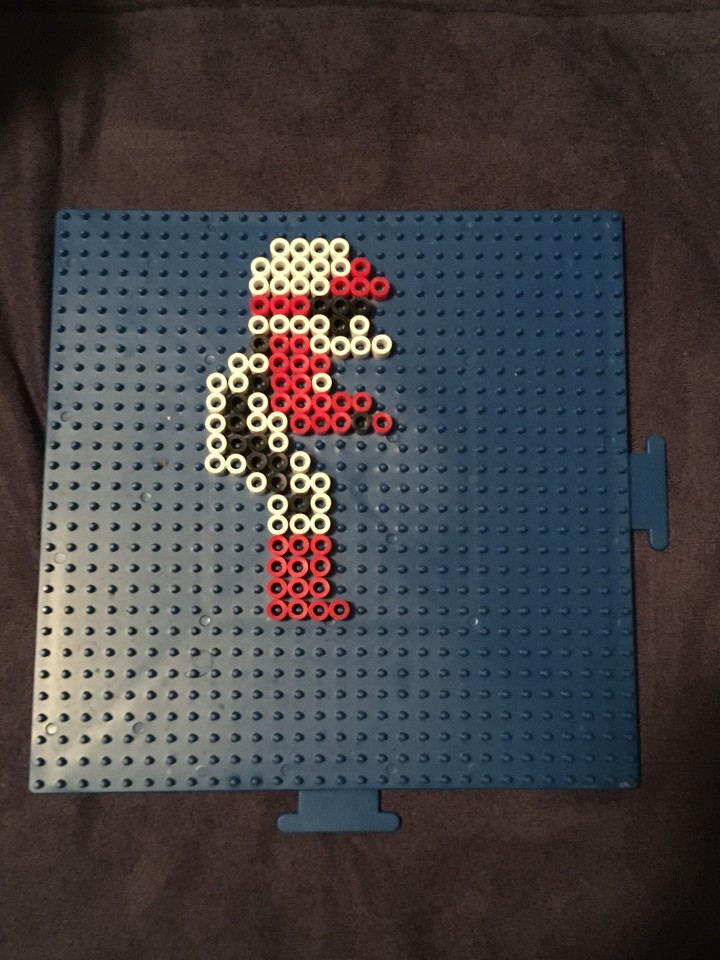 Proceed to make its arm, body, and foot. From the looks of it, you might think that the rider is standing up, but it's not. You're halfway done, so let's see what step three has in store for us.
Step 3: Back of the Bike
Using black perler beads, create the bike tire and using white perler beads, create the hub. Make the otter foot using red perler beads. Around that foot is the seat, which you'll make with black perler beads. Finally, using red perler beads, make the end of the seat. It should have three red beads at the end of it. We're almost done making this, so hang on tight.
Step 4: Front of the Bike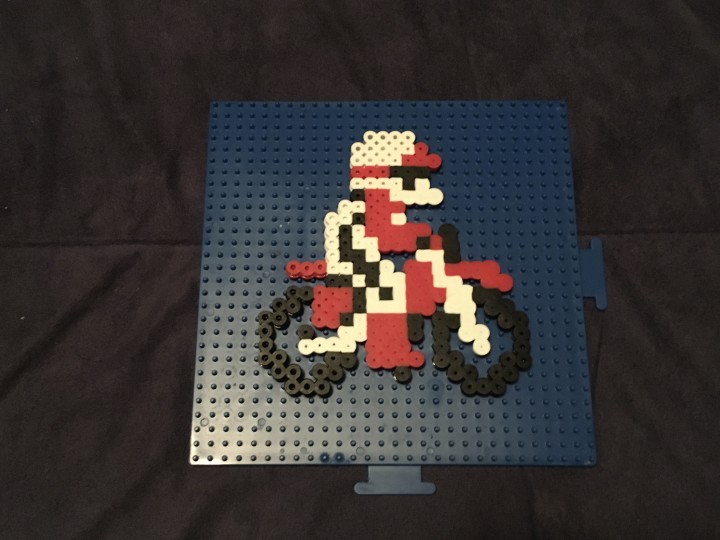 Just like step three, you'll create the bike tire and hub the same way. Finally, add in the rest of the details and now that you've completed the rider, it's time to iron it. Remember that you don't need water to iron any designs that you do.
Place a sheet of ironing paper over the design and iron on medium heat for two to three minutes or until all the beads start to form together. Let it cool for at least 15 minutes before doing the same thing for the other side. You have now made a rider and ready to put it on a display or used to apply it to your other projects. As you can see in the cover image at the beginning of the article, you can create these riders in different colors.
If you're new to perler bead art or interested in it, I'll be writing an article in the next week or so about the items you'll need to make wonderful art. I've been doing perler bead art for three months and to me, it's a stress reliever. So be on the lookout for that article soon.
Be sure to check me out on social media. All the info to my social media pages are in my bio. In the meantime, if you like the articles I've written and like my content, feel free to send me a small one-off tip, that's located towards the end of every article. Your support is greatly appreciated. Your tip not only helps me, but also helps other Vocal content creators create outstanding content and better stories. Be sure to support them and read their articles. Also, I encourage everyone to join Vocal+, a premium membership for Vocal content creators like me to write better stories, connect with creators, and a lot more. So, be sure to sign up for that membership and support your favorite Vocal content creators.
Nintendo Logo DIY: https://vocal.media/gamers/nintendo-logo-perler-bead-diy