EverBee How is helpful for Etsy shop
EverBee is a website that provides various tools and resources to help Etsy shop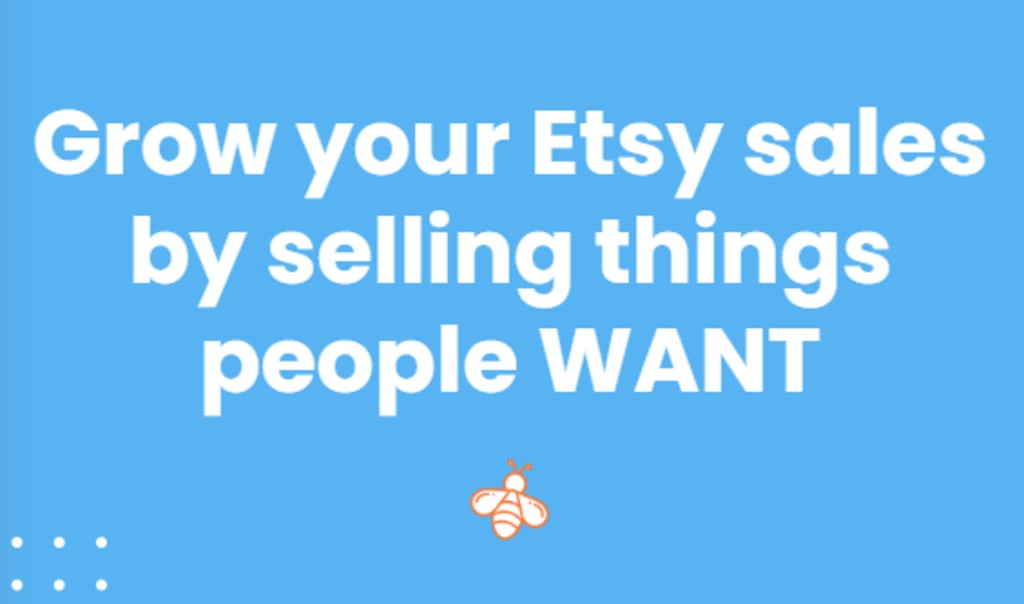 EVERBEE
EverBee is a website that provides various tools and resources to help Etsy shop owners grow and optimize their business. Here are some ways in which EverBee can be helpful for Etsy shop owners:
SEO Optimization: EverBee provides an Etsy SEO tool that can help shop owners optimize their listings for search engines. The tool analyzes listings and provides suggestions for improving titles, tags, and other important SEO factors.
Analytics and Insights: EverBee offers an analytics dashboard that provides shop owners with valuable insights into their shop's performance. Shop owners can track metrics such as revenue, traffic, and conversion rates, and use this information to make data-driven decisions to grow their business.
Social Media Promotion: EverBee can help Etsy shop owners promote their shop on social media platforms such as Instagram, Facebook, and Pinterest. They offer customizable templates for social media posts, as well as tips and guidance on how to effectively promote products on these platforms.
Inventory Management: EverBee offers inventory management tools that can help shop owners keep track of their stock levels and ensure that they never run out of popular products. The tools can also help shop owners identify which products are selling well and which ones need to be restocked.
Customer Relationship Management: EverBee provides tools for managing customer relationships, such as automated email campaigns and customer segmentation. These tools can help shop owners build long-term relationships with their customers and encourage repeat business.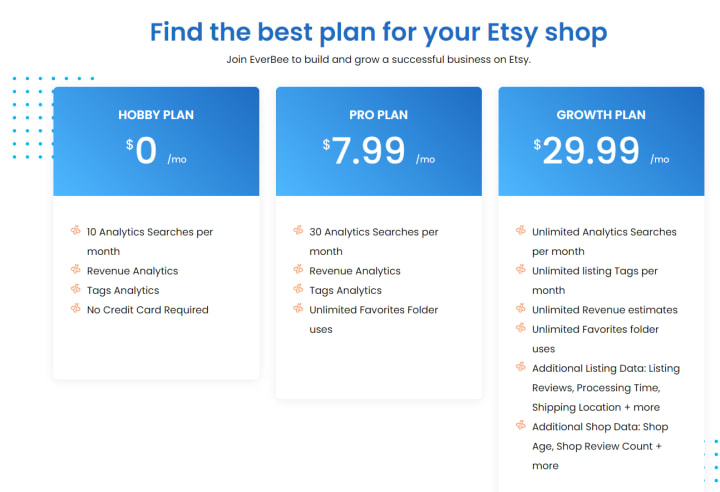 Listing Optimization: EverBee can help Etsy shop owners optimize their listings to increase visibility and attract more customers. They provide suggestions for improving product descriptions, pricing, and product photography, among other things.
Etsy Shop Setup: For new Etsy shop owners, EverBee can provide guidance and support in setting up their shop. They offer tutorials and resources on topics such as how to create a compelling shop banner and how to write an effective shop announcement.
Product Research: EverBee offers tools to help Etsy shop owners research trending products and niche markets. Shop owners can use these tools to identify new product ideas and stay ahead of the competition.
Financial Management: EverBee provides financial management tools to help shop owners keep track of their income and expenses, as well as calculate taxes and profits. This can help shop owners make informed decisions about pricing, inventory, and other aspects of their business.
Collaboration and Networking: EverBee has a community of Etsy shop owners who can connect and collaborate with each other. This can be a valuable resource for shop owners looking to share tips, ideas, and best practices for growing their business.
Email Marketing: EverBee offers email marketing tools that allow shop owners to create and send targeted email campaigns to their customers. Shop owners can use these tools to promote new products, offer discounts and promotions, and build relationships with their customers.
Multi-Channel Selling: EverBee can help Etsy shop owners expand their business beyond the Etsy platform by selling on other marketplaces such as Amazon and eBay. They provide tools to help shop owners manage inventory and orders across multiple channels.
Customer Support: EverBee provides customer support tools that allow shop owners to manage customer inquiries and support tickets. This can help shop owners provide timely and effective customer support, which can lead to higher customer satisfaction and repeat business.
Productivity and Efficiency: EverBee offers tools to help shop owners streamline their workflow and improve their productivity. For example, they provide tools for bulk listing and editing, as well as automated order processing and shipping.
Education and Training: EverBee provides educational resources and training to help shop owners improve their skills and knowledge in areas such as SEO, marketing, and financial management. This can help shop owners make informed decisions and take their business to the next level.
EverBee offers a comprehensive suite of tools and resources that can be immensely helpful for Etsy shop owners looking to optimize and grow their business. From email marketing and multi-channel selling to customer support and productivity tools, EverBee can provide shop owners with the support they need to succeed on the Etsy platform and beyond.
About the Creator
Meet Dinesh Ram, a content writer & digital designer passionate about researching food habits. Skilled in crafting engaging & informative content. Creating unique content that stands out in the online space.
Reader insights
Be the first to share your insights about this piece.
Add your insights