Does Your service provider give you these 30 features with your toll-free number?
Today the toll-free number is not just an ordinary number where the call charges are free. This article is all about those 30 features which can be integrated with a toll-free number. Those features make your toll-free number a unique, easy-to-use technology for lead generation.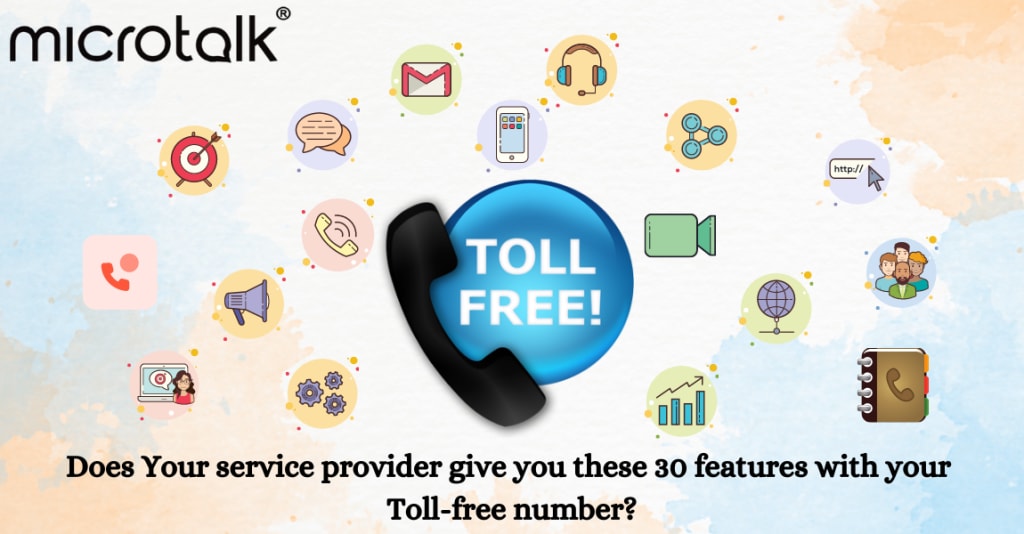 Communication with clients & prospects is the key for any trade to require the lead. It is necessary to keep a simple way for clients to reach. The toll-free number is utilized to engage clients & make it simpler for them. They can reach you 24/7 without being charged. This can be the reason why marketers lean toward 1800 numbers. This can be a profitable instrument for businesses of all sorts. With tons of uncommon features, which come free with the Toll-Free 1800 number and 10-digit virtual portable number and you'll be able to offer your callers a world-class involvement over the phone.
The features which an organization can get from their tollfree number service provider.
1. Call Recording - Analyzing customer conversations to understand the requirements of the callers.
2. Call Tracking - Tracking and monitoring all business calls to ensure that the organization do not miss any potential leads.
3. Push Report - Get detailed analytical reports of business calls via SMS and email (in CSV format).
4. Live Dashboard - Monitoring the number of calls connected and missed by each department in the organization where toll free Is implemented.
5. Live Call Info - Get ongoing call details for each incoming phone call directly on the web panel.
6. Performance report – Analyzing the daily call volume and measure performance of individual agents.
7. Multi-Level IVR - Customized IVR flow with welcome note as per organization's choice and handling multiple calls simultaneously.
8. After Hours Call routing - Route calls to specific agents or mobile number even after office hours and stay available 24*7.
9. Live Call Transfer - Transfer ongoing calls without disconnecting them and enhance callers' experience.
10. Voicemail Facility - Let the callers leave their message in the voicemail when none of the agents are available in the organization.
11. Call Forwarding – Forwarding business calls instantly to reduce the waiting time of the callers.
12. Sticky Agent - Connects the caller to the same agent, provided he/she calls within a specified threshold time.
13. Call Routing - Connect the callers directly with their concerned department basis their input in the IVR menu.
14. Call Queuing – Systematic queuing of calls to attain each and every caller.
15. Multiple Parallel Calls – Allowing agents to attain parallel calls at the same time.
16. Simultaneous Routing - Connect your callers directly with their concerned department basis their input in the IVR menu.
17. Balanced Call Routing – Customized call routing agents like routing 50 calls to Agent A. If A completes the 50 calls then the call will be automatically route to Agent B.
18. Peak Calling Hours – Maintaining the call quality and service at the time of peak calling hours.
19. Notifications - Get notified about important updates to improve the organizational' s business's internal communication.
20. SSL Security - Secure communications between the web browser and server through data encryption.
21. Block Caller - Weed out unnecessary callers or contacts by blocking them directly from the web panel.
22. Click to Call - Making outbound calls directly from the web panel to follow up with the missed calls.
23. On-Hold Music - Keeping the callers entertained while an organization are forwarding or transferring their call to agents.
24. Role-Based Panel - Assign each pro user with a distinct role to enable and disable certain permissions.
25. Custom Sender Id - Sending messages to the customers using the organization's business name to increase brand awareness.
26. Custom Main Greeting - Greet the callers with a welcome message to personalize their on-call experience.
27. Existing phone - Receiving customer calls on the organization's existing mobile phones and landline devices to save cost.
28. Storage - Get ongoing call details for each incoming phone call directly on the web panel.
29. Schedule Campaign - Get ongoing call details for each incoming phone call directly on the web panel.
30. Faster setup – Virtual and easy to setup tollfree number technology
Those above features are the cutting edge features of toll-free numbers which a service provider should provide to their customers. This feature will take the organization one step ahead from their competitors.
tech
About the author
Reader insights
Be the first to share your insights about this piece.
Add your insights