DIY Fluffy Glitter Slime
Here's how to make your very own slime!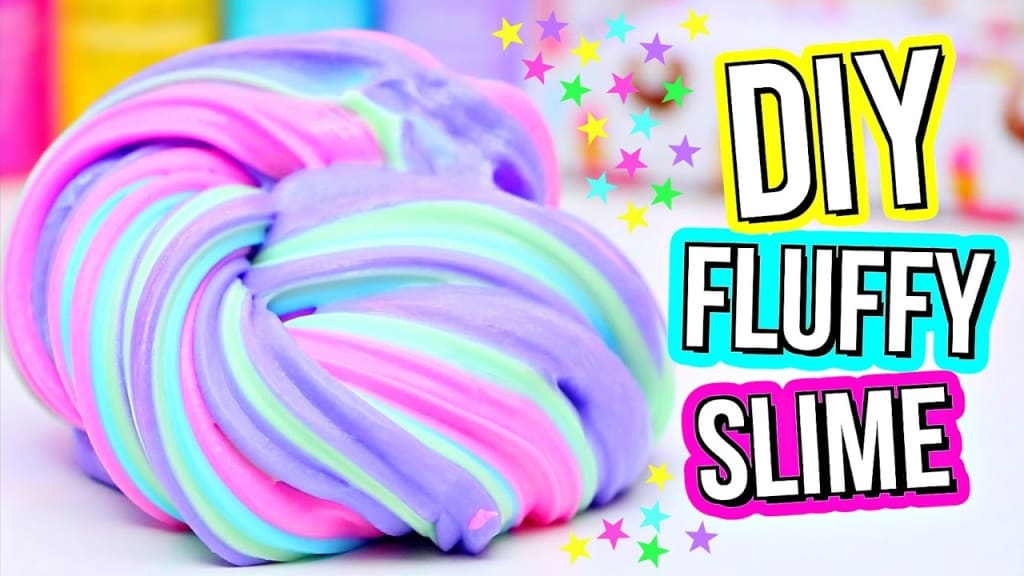 From the YouTube channel Gillian Bower
Recently, the internet has gone CRAZY over slime, leading to shortages of PVA glue in some shops. Slime is one of the top DIYs to make this year, but it doesn't work all the time, so here's a simple recipe to create this super satisfying slime.
Ingredients and Equipment:
PVA Glue
An item with borax—I'll explain later
Bowl
Spoon
Airtight container
Marker/Food colouring
Glitter(optional)
Shaving cream/foam
1. Get your bowl and empty the PVA glue bottle.
You don't have to use all of it. The glue must have PVA, otherwise known as Polyvinyl Alcohol in it, otherwise this will not work.
2. Now it's time to use your product with borax in it.
This can be anything that says "boric acid" in the ingredients. I usually use the Air Wicks Lavender Air Freshener or just dissolve pure borax in water.
PLEASE NOTE: BORAX IS A HARMFUL SOLUTION, SO MAKE SURE YOU DISSOLVE IT PROPERLY AND BE CAUTIOUS WHEN USING IT. LABEL YOUR BORAX SOLUTION SO IT IS NOT MISTAKEN AS WATER.
PVA is abbreviated and is Polyvinyl Alcohol. Borax mixed with polyvinyl alcohol makes a basic slime. PVA Glue contains the polyvinyl alcohol and the Air Wicks contains the borax. If you don't have PVA glue, you could use a face mask instead, as it contains polyvinyl alcohol. To substitute Air Wicks, you could use a laundry detergent like Tide.
NOTE: Face mask must be a peel-off face mask.
3. Spray/pour your solution that contains borax and stir.
You may notice it will start to clump together. Keep adding the solution until the consistency of the slime doesn't change when you add more borax.
4. Add a bit of shaving foam or cream.
Shaving gel won't work. Only add in small amounts and stir. This makes the slime fluffy. Keep stirring until you can touch with your hands and it won't stick. If you add too much and all in one go, the borax won't activate properly and will become rubbery and hard.
5. Leave in the fridge for an hour.
Fluffy slime will melt after a while, so after playing with it, store it in the fridge. Don't put it in the freezer and the slime will crystalise and won't work after that.
You can add glitter, sequins, or small foam balls to your slime when it's finished. If you add lots of foam balls, the slime becomes Floam.
6. Take it out of the fridge and start playing with it.
It could be extremely sticky at first, but if you keep playing with it, it should eventually become a slimy texture.
7. For an extra touch, add some glitter and some food colouring.
If you don't have food colouring, you can use a marker, but be careful, as it could stain your hands and isn't ideal. I recommend using the food colouring.
You can also add some scents to make it smell nice. It is better if the colour coordinates with the smell, but it is up to you. For example:
Green - Apple
Blue - Blueberry
Pink - Watermelon
Peach - Peach
Red - Raspberry or Strawberry
Yellow - Banana
Purple - Lavender
There are also different types of slimes which include slightly different methods and ingredients. Some types of slimes are:
Fluffy Slime
Classic Slime
Magnetic Slime
Radioactive-Looking Slime
Glow in the Dark Slime
Thermochromic Color Change Slime
Floam
Edible Slime
Glitter Slime
Iceberg Slime
Ta-da! Your very own slime! This is very satisfying to play with and great to give as a gift to friends! To store, keep in the fridge in an airtight container.
Check out my other posts too: