Design on a Dollar: Mermaid Themed Name Sign
Personalized bedroom decor for under $15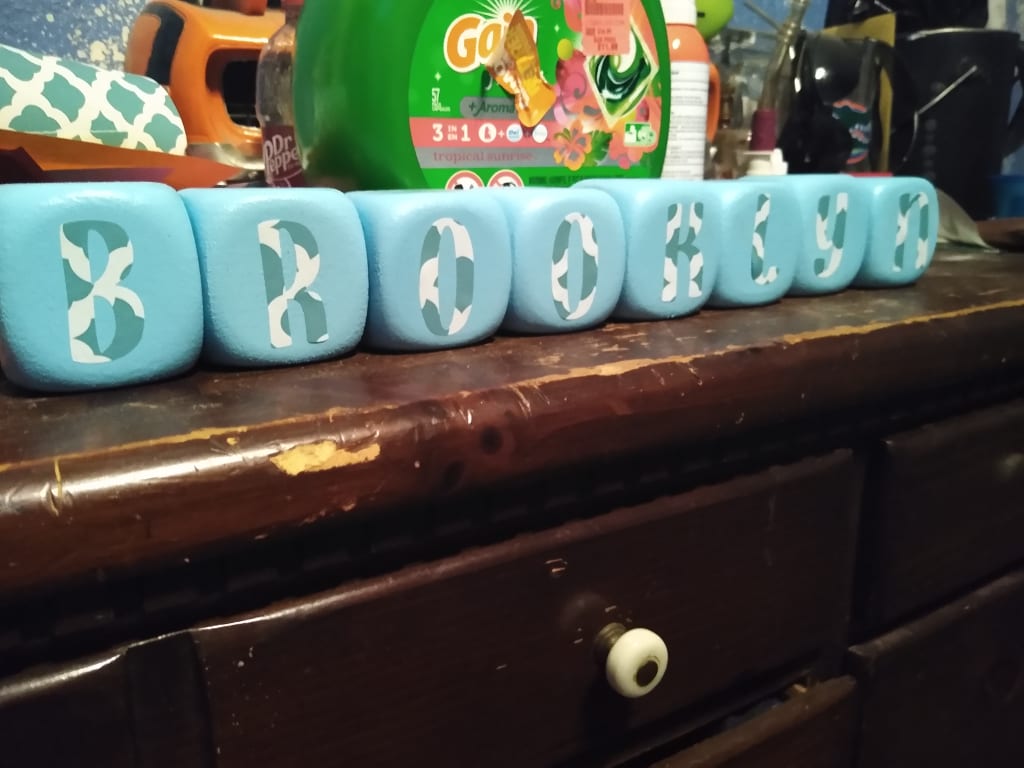 We have a seven year old, who like most girls her age is obsessed with all things mermaid. Her room needs a re-haul. I think the last time it was painted was when she was born. So yeah, time for a change.
After several long discussions about what she wants to do to make her room just a little more her, she decided on mermaids.
Well, this was about the same time that I got all gung-ho about crafts again. It was also around the same time that my amazing boyfriend bought me a Cricut Explore Air 2. I've been bookmarking ideas, downloading mermaid themed fonts, and designs and creating a few of my own along the way, but this last week I have actually worked a little extra at getting some of the decorations ready for when we re paint her room.
One of the things I knew from the beginning of this project was that I wanted to make her a sign for her room, that tied in the mermaid colors/theme. That being said, I didn't want to spend an arm and a leg doing so. After some searches in the many DIY/Dollar Tree/Cricut/Crafting groups that I am a part of on Facebook, I found something that I liked.
I bought four packs of foam dice from Dollar Tree, they each had 2 dice/die in them. I got a roll of contact paper in a design that had colors that matched the overall theme of what her room will look like, that cost a dollar. And then for five or six dollars I got a can of spray paint in a light/beachy blue.
It took several coats to coat the dice/die to my satisfaction, but once that was done, I brought them back inside and used my Cricut to find a font I liked, printed out our seven year old's name, and affixed a letter to each block. I will probably spray over the all of them again, with a clear coat to make sure that the letters stay where I want them to, and to give it a little bit of a shine.
Other than waiting for the spray paint to dry, in between layers, and for it to dry at the end of all the painting so I could put the letters on it, it didn't take that long to make the sign. I will probably make one for the living room that says family, or welcome home or something to that effect. I haven't decided yet. But I am quite pleased with how my first go around went.
I have seen signs similar to the one that I made on places like etsy, Amazon and other online retailers for upwards of sixty to seventy dollars. Which sure, they probably use wood blocks, but for a sign that is going to be up on a shelf with her other mermaid decorations/knick-knacks, I don't see why it would need to cost that much. Plus mine is more personalized. Our seven year old is going to love that it was something that was made just for her, instead of something bought of a shelf. That is something I love about our kids, they love stuff that they know someone personally took the time to make instead of something mass produced. I think that's something all kids should be taught to appreciate and respect. But that's a conversation for another day and another story.
There are a few other ideas I have using up some of the stuff that I bought at different stores, knowing that one day it would come in handy for a DIY project, and I can't wait to be able to tie them all together when I get her room painted and start really decorating.
DIY design is 99.9 percent of the time not as hard as people make it look online. I know there were several things that I found a little daunting, but now that I have tried my hand at it, it is nowhere near as scary as I thought it would be. A lot of times, the stuff you are trying to mimic by doing it yourself turns out a lot cuter or better than what you could buy from a big box store.
crafts
About the author
A lot of ramblings about kids, art, food, pets, life and work and trying to make it all make sense.
Feel free to laugh at me and the dogs on Insta @dirtfloorfamilyliving
Reader insights
Be the first to share your insights about this piece.
Add your insights