Can a Locksmith Fix a Broken Key?
Locksmith service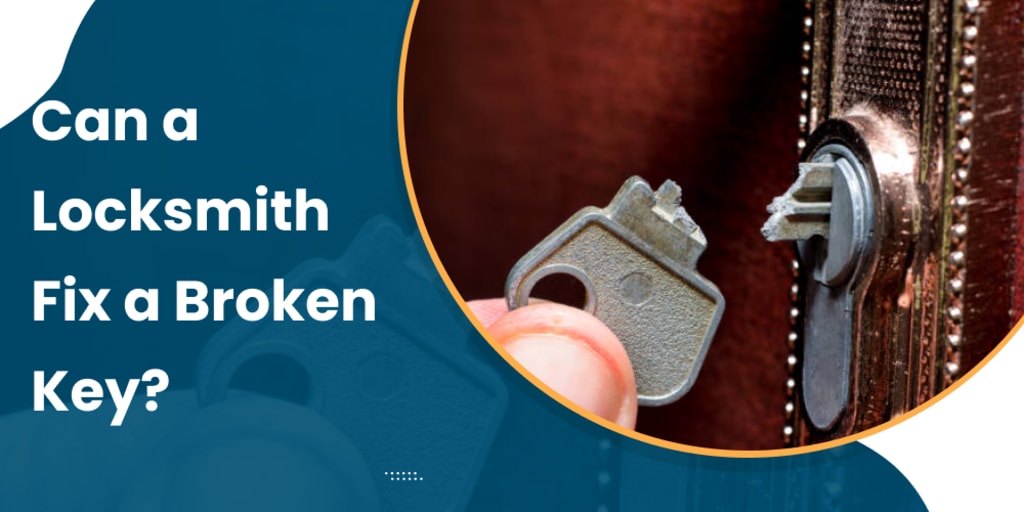 What is the best way to repair a damaged key? It's true that when a car key stops working, there is a solution. However, putting the broken pieces of a key back together may not be the best solution but you can try on. It's also essential to recognize the differences between repairing broken automobile keys and broken house keys. Also calling out for locksmith service is far more preferable than anything else. Snapped car keys are frequently more difficult to repair than snapped house keys.
In the lock
How it works — The majority of keys are constructed of nickel silver, which is more durable than earlier brass keys. However, even if keys are stronger than they were previously, they might still shatter under strain. When a key is really old and has been rotated many times in a lock, it is more likely to break. This is simply a key's and lock's natural life cycle. Even when keys are repaired, they do not last indefinitely.
If used incorrectly, newer keys can still be strained to the point of breaking. The lock will not open if a key is not correctly inserted and then twisted, although most individuals will try turning the key anyhow. However, it is also one of the reasons that drinking increases the likelihood of requiring the locksmith service. You may extend the life of any key by double-checking that it is correctly put into the correct lock before turning it.
Repair a Broken House Key - Many individuals seek to fix broken keys that have snapped in half. The goal is to be able to reassemble the two parts after removing the broken key from the lock. While not technically impossible, this is not the ideal method for repairing a broken key. There is no method to repair a key that has broken in half so that it works correctly and does not break again in the same area after a few uses.
Instead, you should take the broken key to a locksmith or your local hardware store. They'll remedy the problem by manufacturing a new key with both parts of the key. It will be easier to have house keys cut if the key is not trademarked. If you have a key control system from a reputable lock manufacturer like Mul-T-Lock, Assa Abloy, Evva, or another, you'll need a locksmith who is a licensed distributor for that firm. The best solution to mend a broken key that has broken into pieces is to replace it.
Fix a Damaged Car Key – The procedure for repairing a broken car key that has snapped into pieces inside a lock is identical to the one described above in the section on home keys. A full car key replacement is the finest sort of car key repair for this case. This is likely to include transponder key programming as well as the fundamentals of replacing a broken key.
Bow cover
How it works – A key's bow is the portion of the length of metal that stays out of the keyway so that it can be spun in the lock. The metal of a key's bow is sometimes coated with a plastic material to prevent it from being revealed. This is mostly a worry when it comes to replacing broken automobile keys. House keys frequently do not have a cover over the bow. Transponder chips in modern car keys, on the other hand, require coverings to keep them safe. The bow covers on car keys are prone to breaking. The rigid plastic shells will most certainly crack, then snap and break.
Pressure causes the rigid plastic covers to crack. Sitting on them incorrectly can cause another piece of metal on the keychain to exert more force. By twisting against one other naturally, even the keyring can break a hard bow cover. The tougher plastic coverings might also be broken if you drop your keys. The softer covers tear open, allowing the key to be compromised. This can happen if you remove the key from the ring too frequently.
Fix a Broken House Key - Your house key is unlikely to have a bow cover, and even if it does, it is unlikely to impact the key. House keys will almost certainly have a hole poked in them. If the metal breaks, a bow cover can be fitted on the broken bow to prevent the key from slipping through the opening.
Dig a hole in the remaining area to secure your key with a keychain. You can avoid drilling by using adhesive kits. Make a basin with masking tape along the broken area of the bow cover. Build a bridge between the torn gap with the glue and powder, one at a time. When the glue has solidified enough, remove the tape and continue to strengthen the connection. If desired, sand off the surplus material and paint the adhesive. This method of repairing broken automobile keys reduces the chances of further damage to the key.
Fix a Broken Car Key – You can use the shell of an old key or a new key blank to repair a broken car key with a broken hard shell by simply swapping out the transponder chip. You'll need to either cut the automobile key's blade or find an old key that still works on the vehicle. Unlike the soft plastic bow covers, the hard shells can be opened and closed again, so you can pop the broken one open and remove the internals. Then remove the internals from the replacement shell and replace them. If you are not sure, then call a locksmith service provider to help you out with that.
Dead battery
How It Happens – It is mostly a worry when it comes to repairing broken keys. Remote and key fob batteries are the same as any other form of battery. They all run out at some point. Car keys use extremely little energy, thus they don't run out very often. However, because the battery does not run out regularly, it can surprise people off unprepared when it does. If you have a keyless entry remote, this is even more concerning.
Your car will not start if your battery fails in this situation, even if you can unlock the doors using a physical key on the fob. The battery drains while you aren't using your keys. Your battery is depleted when you utilize your keys. The solution is to use your fob only when necessary and plan for the necessity to replace the batteries. An emergency locksmith in Phoenix can help you out in any case of emergencies.
You just have to recharge your smart key in case you don't want your battery to die out. However, a set of dead batteries within the smart lock may be making it appear as if there's a problem with your key. When it comes to smart locks, the use of keys and locks should be maintained to a minimum so that the battery life is not depleted. If you're using your phone as a house key, make sure it's fully charged.
Conclusion
You can get to the base of the problem after you know why your key is broken and what type of key you're trying to repair. There is a solution to your dilemma, whether you're seeking to mend broken vehicle keys or any other type of key. It's likely not the simple solution you're searching for, but that doesn't mean it's not a viable option. A key replacement for your broken key merely needs to get you a key that works now and in the future.
As a result, the answer is nearly always yes, regardless of why you're asking if you can fix a broken key. There may be other challenges that you are dealing with in addition to those listed above, but the ones listed are most likely to be the ones that the average individual will confront. Call an emergency locksmith in Phoenix if you are stuck and get into your property first.