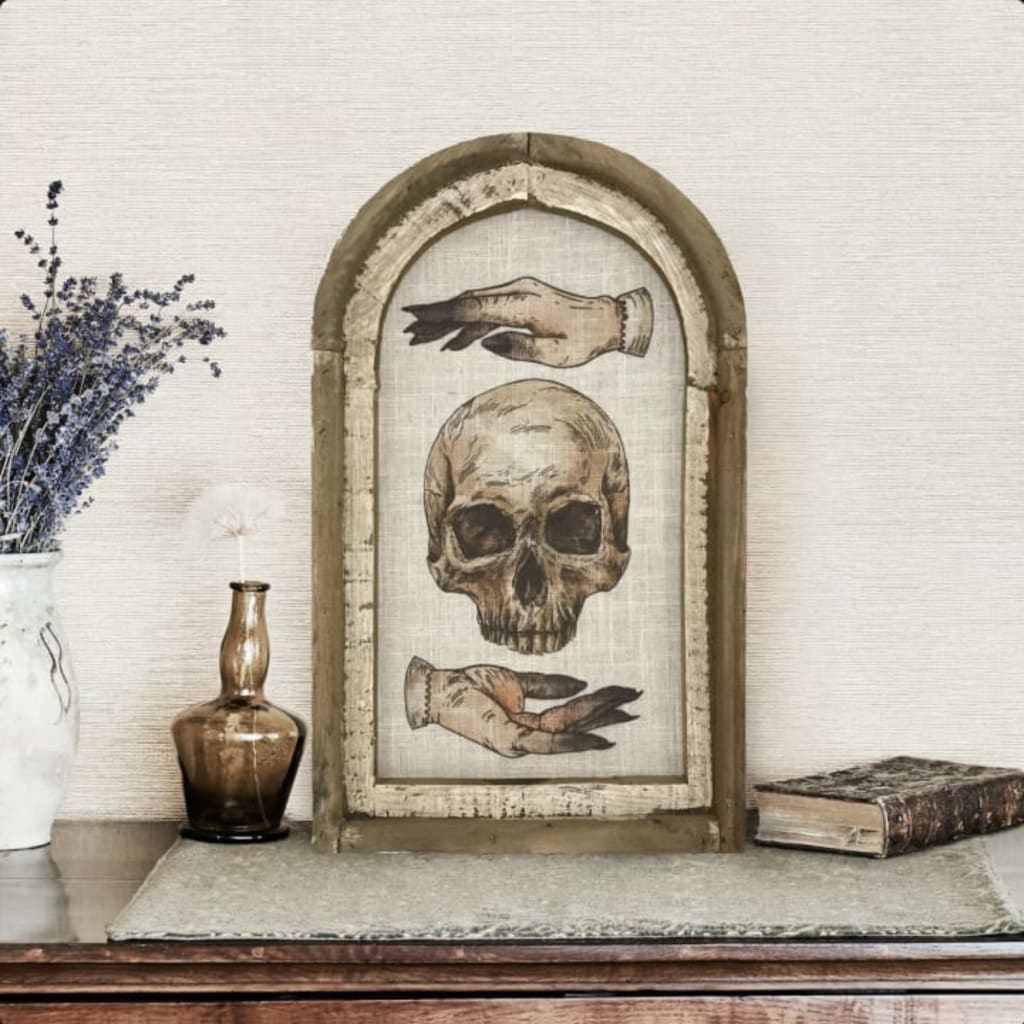 Credit: TheWatsonShop
Some of us want our home to be a sanctuary for the living and the dead. The decor below is for those who are inspired by haunted Victorian mansions, seance rooms, and liminal spaces that blend elegance with eerie vibes. The goal here is to give your visitors the chance to contemplate their mortality and the afterlife, but if you're wanting gothic decor that's a little more on the creepier side of interior design, check out 8 Gothic Home Decor Items for Oddities Lovers.
Each heart has its haunted chamber,

Where the silent moonlight falls!

On the floor are mysterious footsteps,

There are whispers along the walls!

- The Haunted Chamber by Henry Wadsworth Longfellow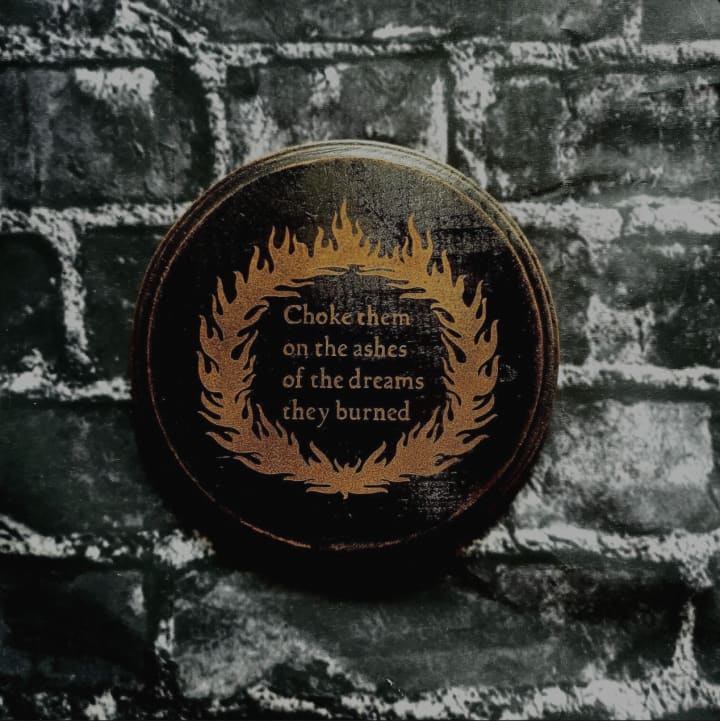 "Choke them on the ashes of the dreams they burned," is a quote that has inspired many. Whether you're possessed by a vengeful spirit or are that spirit yourself, this plaque is a must have. It measures at 6x6x1 inches and has a sawtooth hanger if you want it on the wall. It exudes a different kind of "haunted", doesn't it? Haunted by the past, injustice, something else? If you connect with this quote, you already know what's chasing you. You might as well embrace it.
Price: $29.95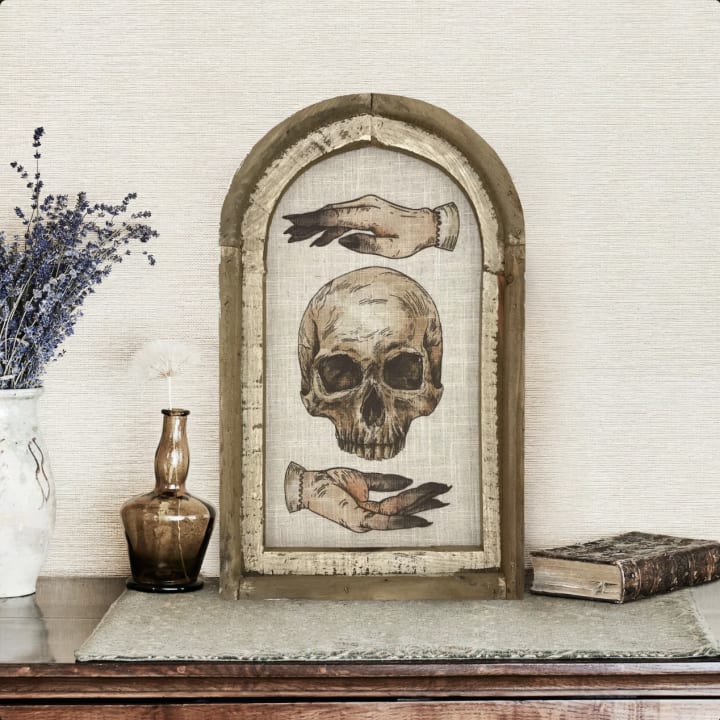 On linen are hands with black-stained tips hovering around a skull as if it were a crystal ball. This artwork can add a sense of mystical morbidity to any room. The Watson Shop makes a variety of linen art prints that are certainly worth the look, but for those who contemplate the touch of death often, this piece may invite others to do the same. It's 14x22 inches and the wooden arch window frame has a wire hanging on the back.
Price: $91.50 or pay 4 interest-free installments of $20.58 via Klarna
If you prefer a real crystal ball rather than a skull, this art print of a focused intuitive is probably more your style. Yellowbird Art and Design is a Colorado-based business who make prints that have a wide range of aesthetics. They have an awesome collection solely for the lovers of ominous vintage prints: Seances from the 19th century? Old Hollywood horror? Gustave Dore's "Death on a Pale Horse"? The options seem endless.
These and other prints are 8x10 inches and frameless.
Price of Psychic & Death Print: $12.95
Check out Yellowbird's page yourself to find the exact print you want.
ShadowArtFinds is a collection of dark art created by the Atlanta-based artist J Edward Neill. These works take you to an otherworldly realm the moment you look at them. They make you wonder what other worlds souls may wander to and what or who they may find. You'll wonder why skeletons are weeping, worlds that mirror one another, and see how gorgeous nature can be when it's drenched in shadow.
I can't recommend this artist enough. I'm saving up for these prints myself. You can order "No Death for Us" as a 10x20 inch print or 12x24 inch print.
No Death for Us: $21
Come Back to Me: $18
I know that creepy portraits in haunted houses are a bit of a cliché, but I have yet to see anyone brave enough to put one in their own home. These 3D portaits of vintage photos or oil paintings seem normal, but look at it from the right angle and you'll see their true horrors. Even though I do think those of you who want to enhance the haunted ambience in your home to be more subtle, these prints have the right amount of shock that comes gradually. If your visitors are willing to investigate the monsters hiding in plain sight, that's on them.
These portraits come framed. Minelife offers a 3-pack set at 15.2x10 inches and OEDOC offers a 4-pack set in three different styles in 15x10 or 18x14 inches.
You can look for more 3D moving horror portraits on Minelife's Amazon page and OEDOC's moving portraits here.
Minelife Portraits: $8.95
OEDOC Portraits: $12.99 ($15.99 for 18x14)
I've lost count of how many skulls I've shown you so far, but Ikiiki on Etsy uses skulls and other designs to merge death with life. Artist Ali Gulec has been featured worldwide for these Skull and Animal art pieces. These designs are gorgeous wall hangings, but you can find the designs on shirts and pillows too. I highly recommend this store for those who want to haunt visitors in monochrome or with a splash of colorful florals.
Price: $94.50 or 4 interest-free payments via Klarna (Set of 2 12x16 prints)
This peaceful ghost candle holder comes in gray, white, or black. They hold tea light candles and add the right amount of cozy for the most uncomfortable of rooms. You can put one in your home office, bedroom, kitchen, séance room, creepy basement, or the attic you've been ignoring because the spirits up there made it very clear that they pay rent via poltergeist. If you know some extra calm would be good for anyone who visits or unexpectedly stays, the serene ghost candle holder by WeiiLife will do the trick. (Disclaimer: Ghost candle holder does not exorcise spirits.)
Price: Grey Holder-$29.77; White or Black-$30.55
8. The Snake Edison Skull Lamp
Okay, back to skulls, but lets add a snake. This Snake Edison Skull Lamp is a personal favorite of mine. Many occult, cultural, and mythological interpretations of the snake revolve around life, death, and rebirth. The snake wraps around the skull, crawls through its eye, then gently looks up to the light. The thought and detail put in this lamp base speaks for itself and comes in black with the inner part coming in copper, white, or gold.
Price: $161.69 with lampshade or 4 interest-free payments of $40.42 ; $142.28 without lampshade or 4 interest-free payments of $35.57;
I hope this decor helped you get an idea of what kind of haunting aesthetic you want for your home. If you're looking for some oddities to add to your decor as well, read 8 Gothic Home Decor Items for Oddity Lovers. If the different beliefs and philosophies about death interest you, check out my essay "Death Perception".
Reader insights
Be the first to share your insights about this piece.
Add your insights