6 Small Home Improvements That Yield Big Results
These small things lead to big differences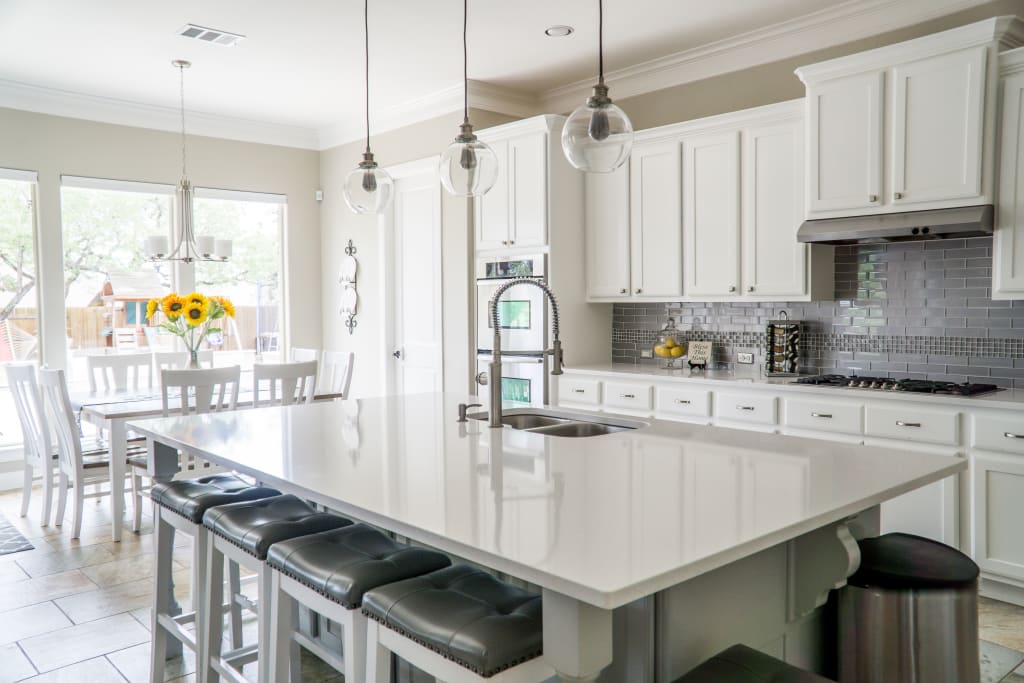 6 Small Home Improvements That Yield Big Results
When choosing a home improvement project, it's good to pick a task that can provide lots of benefits in return for your time and money. You may think that only large home improvement projects, such as building an addition or remodeling the kitchen, yield significant results, but there are many smaller tasks that can provide numerous advantages as well. Here are some projects that can greatly increase the value of your home and improve your quality of life without requiring months of work.
1. Updating a Bathroom
You may think of a bathroom solely in terms of functionality, but this room's aesthetic can have a big impact on the overall feeling of your home's interior decor. While there are benefits to upgrading any bathroom in your home, you may want to start with the guest bathroom or powder room. Adding a fresh coat of paint, updating the fixtures, and improving the lighting can help the entire room feel luxurious and modern. If you have more time and a larger budget, you could change out the countertops, sinks, and flooring.
2. Switching to Renewable Energy
Utility bills can be large monthly expenses, especially if you live in a place with high electricity costs. Installing a renewable energy system can provide several benefits: reducing your energy consumption, lowering monthly bills, and helping the environment. There are several different types of residential renewable energy systems available, some of which work better in certain climates than others. However, adding solar panels can be a good investment in most places. They can produce clean energy consistently and require very little maintenance once they are installed.
3. Choosing a New Chandelier
The light fixtures in your home influence the overall appearance by controlling the amount of light and accenting the other decor elements in the room. If most of the lights in your home are standard "contractor grade" fixtures, upgrading even a single lamp or chandelier can make a big difference. For the largest effect, consider upgrading a fixture in your foyer, living room, or dining room. Modern chandeliers come in a wide variety of unique styles, and most allow you to use energy-efficient bulbs.
4. Adding Shelves in the Laundry Room
Whether you have a dedicated laundry room in your home or you have a washer and dryer in a basement or garage, you can make your life easier by improving the functionality of the space. One of the easiest ways to make your laundry area more useful is to add shelves. Installing shelves is usually a quick project the doesn't require any special tools or knowledge. For your laundry room, you could add a shelf to hold detergent and also install a few cubbies where you can store hampers and other large items.
5. Upgrading Your Cabinet Hardware
If you don't want to commit to remodeling your entire kitchen, you can still upgrade the appearance by adding new hardware to your cabinets. If your existing cabinets and drawers don't have any handles, adding them can improve both the aesthetics and functionality of your kitchen. Even if you already have cabinet hardware, you can change the color scheme and style of your kitchen by upgrading to nicer handles. When choosing new hardware, make sure to pick a color and material that will match well with the fixtures and appliances in your kitchen.
6. Painting Your Front Door
Not all your improvements projects have to be inside your home. You can improve curb appeal and increase your home's value by upgrading the exterior as well. One of the quickest ways to change the look of your house is to paint your front door a different color. Consider going with a bright color, such as blue or yellow, can make your door into a focal point and set your home apart in your neighborhood. You may want to install a new doorknob and lockset as well.
There are numerous small projects you can do to improve your home's value, appearance, and functionality. Longterm investments such as renewable energy systems and shelving units are practical. You can upgrade your home's style with new cabinet hardware and lighting fixtures.