4 Tips for Buying a Fixer-Upper
Whether You're a Home Buyer or Investor Don't Make These Mistakes Buying a Fixer-Upper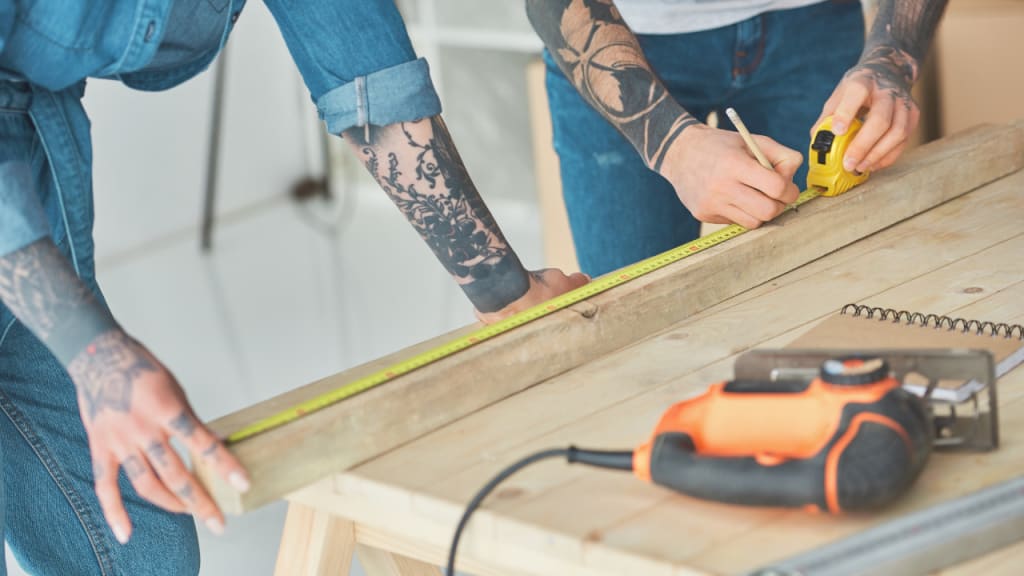 Buying a fixer-upper can put you on the road to a great value home or disastrous losses. Properties that are unloved or out-of-date can present an opportunity as long as you evaluate the work required correctly. You need to go into any purchase like this with your eyes open, understanding the work involved, if you are to be successful. Let's take a look at some tips to help you buy a good fixer-upper.
Finding the Best Fixer-Upper
If you can find a fixer-upper which should, under normal circumstances, be an in-demand home you could be onto something. Buyers are frequently looking for homes which they can move straight into, without needing to do anything to make it perfect. When you are willing to do the work they are not, and you can find a house which is situated well with the potential to sell quickly, you could have a winner.
The problems with the home might only be fairly minimal and easy to fix, but it can easily put off a lot of potential buyers. A house with poor decor or dated carpets can offer you an opportunity to buy a home for a bargain price. Homes like this can stay on the market for much longer than they really need to because people can't look beyond relatively minor problems.
If you are able to buy a fixer-upper for a good price, you're making money from day one and should be able to make a good profit when selling it. If you're looking to buy such a property, you have to think about the resale potential before making an offer.
Picking the Right Location
There are some things you need to consider when buying a home that needs some work done to it. The location is vitally important. If you put the effort in to make a home perfect, you may still have trouble selling if the location isn't great. This can lead to you losing money, so this needs to be something you get right.
There are many things you can do to ensure you're picking the best neighborhood. Look for potential homes in areas that seem to be improving or desirable locations. Make sure the home isn't located by an intersection, close to a school or anywhere that could put off buyers. While being close to a school can be a selling point, stadium lights beaming into your backyard from the Friday night football game is not.
Choosing the Best Layout
It will depend on the area, but a three-bedroom home will likely appeal to more people than a two-bedroom property. You should be looking to find a home that will have the widest appeal to purchasers. This will offer you the best opportunity to sell the home for the largest profit later on.
You will do better with a house which offers a layout which provides better spaces to live in. People are often looking for homes that have an open floorplan in the living areas. If the fixer-upper you are looking at has small cramped rooms, knocking down some walls and increasing the size may be the best option. This may be difficult and could quickly become expensive to make the home desirable. So you'll want to make sure you have the budget to move walls if you buy a home with a choppy floorplan.
If the master bedroom is upstairs and other bedrooms on the ground floor, many people will take a disliking to the home. In this case, a bedroom on the ground floor may need to be converted to the master bedroom.
Assessing the Condition
There are a lot of problems that will be cheap and relatively easy to fix, others might not be so simple, however. You need to make sure you understand the property you are buying so that you don't get yourself into trouble.
You should employ the services of a home inspector and ask questions before you fully commit to the purchase. They should be able to help you avoid some of the major pitfalls when buying a fixer-upper, but you should consider some extra inspections to be certain. So you'll want to find out ahead of time what things the home inspector inspects and if you need to hire additional inspectors.
Additional Inspections to Consider:
Pest inspections. If this isn't already included in the basic home inspection, it could be worth paying extra to make sure there isn't pest damage which isn't obvious.
Mold inspection. Mold can be toxic and very deadly, it's not something that should be taken lightly especially if the home is located in a hot and humid area. Knowing if a home has mold in the air or growing under a cabinet is a must.
Swimming Pool Inspection. Not many home inspectors will inspect swimming pools and/or spas and if they do it may be limited. It's always best to get a swimming pool expert out to inspect the condition of the pool itself and the equipment. If a pool is leaking or needs to be resurfaced it can cost thousands of dollars.
Roofing certification. If the roof needs to be replaced this is going to be a big expense which is unlikely to make it worth your time. You may be able to have this certification done at the seller's expense.
Engineer report. This will let you know if there could be problems with contamination or natural hazards. The home will be easier to sell if there aren't any problems of this sort.
The home inspection will likely draw your attention to many issues with the home. It is up to you to evaluate if the problems are going to be worth dealing with and if you'll still to end up with a good value. Cosmetic issues like replacing light fittings or fixing broken windows should be straightforward, whereas structural problems or issues with HVAC might be a cause for you to back out of the purchase.
Final Thoughts
It's not uncommon for buyers to make mistakes when buying a home. It's not uncommon for flippers to make mistakes either. Sometimes these mistakes can be costly, which when it comes to fixer-uppers can lead to financial hardship; savings drained, retirement gone, the list goes on and on. So it's important for buyers to work with top professionals to ensure they are making a great investment and not getting in over their heads when buying a fixer-upper.
Reader insights
Be the first to share your insights about this piece.
Add your insights