12 Effective Steps to Live A Happy Life
How To Live A Happy Life?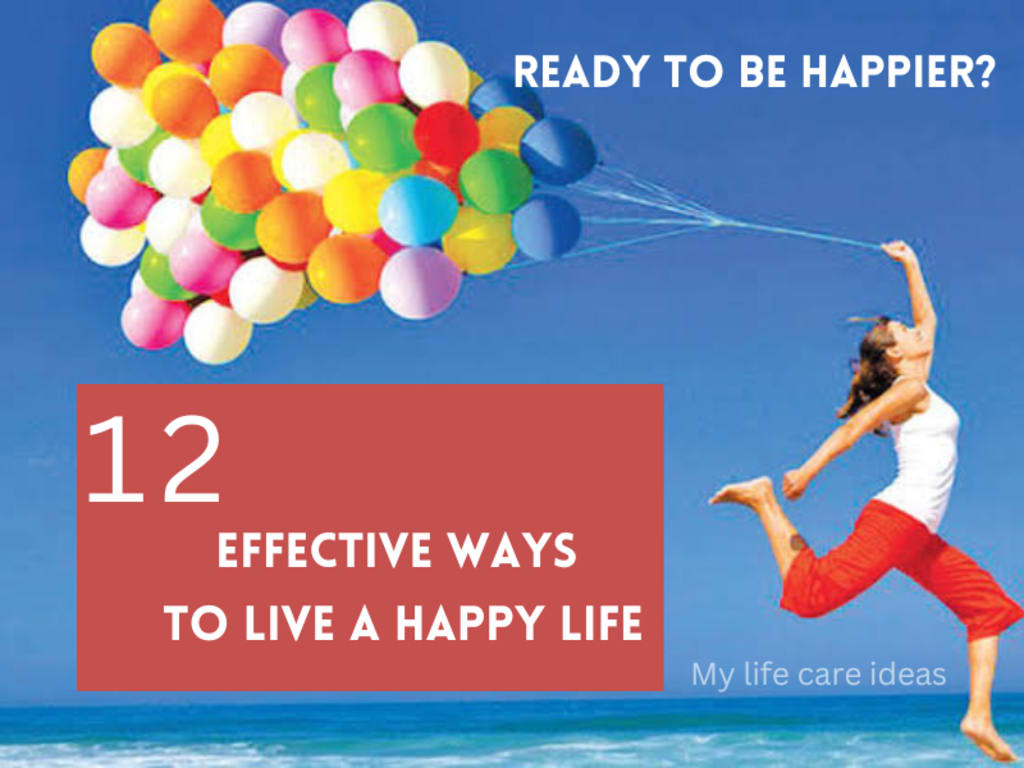 How To Live A Happy Life?
I know life is not easy there is something that always happens in there sometimes a lot of happiness and sometimes we faced difficult times but that's not mean we forget how to live a happy life. Happiness is important in life.
When we've been wondering about something, fallen into a terrible routine, made poor decisions, or are stressed out about life, we frequently find ourselves in unhappy moods. You may make simple adjustments to improve your mood every day and increase your sense of joy.
"Audrey Hepburn"
The most important thing is to enjoy your life — to be happy. It's all that matters.
12 Little Effective Steps to Live A Happy Life:
If your existing way of life makes you unhappy, you must change it. People that are happy and healthy always have a regular routine that they adhere to religiously. These everyday routines that make you happier must be formed.
Here are some effective steps to live a happy life. You should add to your routine:
1- Focus On Positivity
2- Celebrate Little Things
3- Balance Your Work
4- Read Books
5- Be Creative
6- Stop Comparison With Others
7- Do What You Love
8- Spend Time In Nature
9- Do Walk
10- Get Enough Sleep
11- Consume Nourishing Food
12- Don't Be Afraid Of Failure
1- Focus On Positivity:
Always focus on positivity. But how? Some people face difficulty to focus on positive things but you should do this way.
You must change your mind from a negative to a positive perspective in order to discover lasting happiness. Try these things: Spend one to two minutes looking for positives in your life. Do this three times a day for 45 days and your brain will start doing it automatically.
2- Celebrate Little Things:
Why we should not celebrate small things? Is this necessary to live a happy life we always need big achievements and big things?
Although the journey is full of twists and turns, there are several small wins that we can celebrate in between. Take some time to acknowledge these modest victories.
3- Balance Your Work:
Even if work requires up a large portion of our day, it shouldn't be our main activity. Beyond our jobs, we should explore other hobbies and endeavors. Have you got a hobby? Spending time with loved ones and friends? Getting any exercise? Having a balanced life can help you feel less stressed and allow you more ways to discuss yourself and have happiness.
4- Read Books:
Reading books is the best hobby and a great way to increase knowledge. According to a study, 6 minutes of reading each day can cut stress by 68%.
Reading has been observed to cause a pleasant trance-like state in our brains, which is comparable to meditation and has the same positive effects on our health in terms of inner quiet and deep relaxation. Compared to non-readers, regular readers enjoy better sleep, lower stress levels, ability, and fewer rates of depression.
5- Be Creative:
While it's common to consider artists as unhappy and depressed, research suggests that regularly partaking in creative endeavors promotes a healthier outlook. People who regularly engage in imaginative and creative activities have greater strength and are much more likely to experience sentiments of lasting satisfaction and well-being. These artistic pursuits can also include writing, painting, drawing, and performing music.
6- Stop Comparison With Others:
If you want to live a happy life stop comparing yourself with others. Doesn't matter what other people have and you don't have.
Put an end to comparing yourself to others. The most essential thing is to quit comparing your possessions to everything else. We often get the impression from social media that everybody else has it good than we do.
For More Read;https://mylifecareideas.blogspot.com/2022/11/12-effective-steps-to-live-happy-life.html
About the Creator
My Life Care Ideas is a place where you will find all types of health tips, beauty tips, food and drink recipes, and life care ideas.
Reader insights
Be the first to share your insights about this piece.
Add your insights