11 Unique and Creative Ways to Use a PopSocket (That's Not on Your Phone)
PopSockets are ridiculously convenient, and their uses aren't limited to just holding your phone. In fact, there are loads of creative ways to use a PopSocket that don't have anything to do with phones.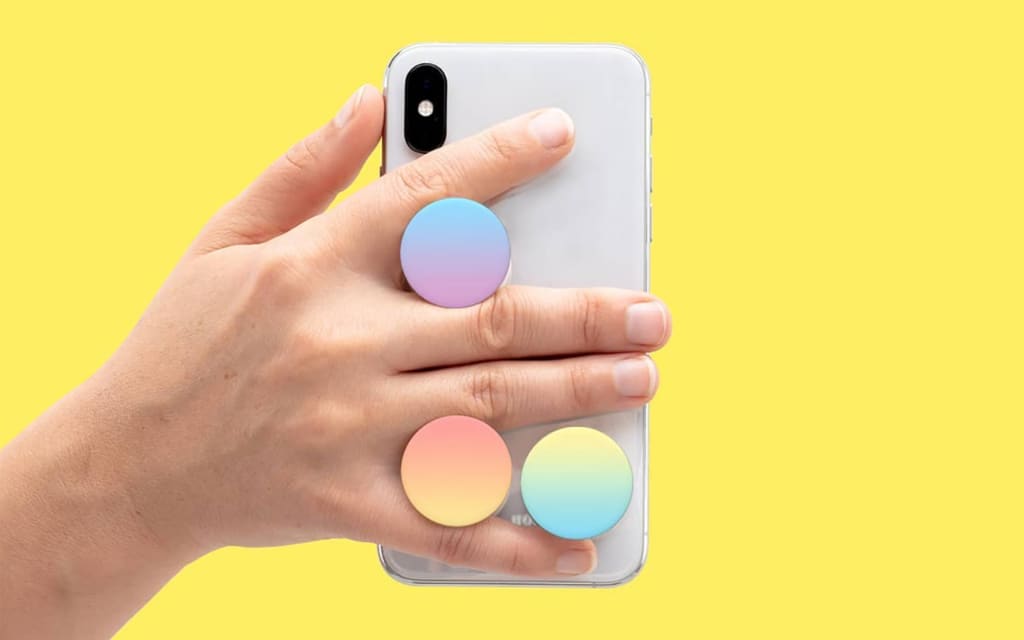 Photo by Manja Benic on Unsplash
When I first saw a display for PopSocket grips at the mall, I'll admit I was a little skeptical. I just wasn't sure what purpose they would really serve. Today, I'm not ashamed to admit I couldn't have been more wrong. Not only do I use my PopSocket every single day with my iPhone, I have discovered tons of creative ways to use a PopSocket that have nothing to do with its usefulness on my phone. If, like me, you were once a skeptic, I invite you to read through these many unique PopSocket ideas.
GoPro photography is always going to require a steady hand. PopSockets are designed to offer extra stability and easy mounting for all circumstances. This user placed a PopSocket on his GoPro camera to get a wide angle shot and keep a steady grip. The PopSocket's strong build kept it steady at the high winds found in the Inca Sacred Valley.
Put a PopSocket on your tumbler.
If you have small hands, a big phone like the iPhone XL is far from the only thing you have to worry about holding. Even your daily coffee may be a struggle if, like me, your coffee cup is almost impractically large. This issue is only further exacerbated by the fact that many coffee tumblers don't have handles. A PopSocket is the perfect solution to handleless coffee cups, allowing even those of us with short fingers to get a grip on our daily joe.
What is a tablet if not simply a much larger version of your smart phone? While most tablets are a little too big to be carried around in your pocket, this large size comes with the distinct advantage of having a massive screen to accommodate all the games you play, as well as any movies or TV you watch. A PopSocket will make it easier to hold iPads and other tablets and, by attaching two PopSockets, you can even use them as a stand for handsfree streaming.
Use PopSockets as book holders.
Before the era of the smartphone, humans used to read books like Great Expectations by Charles Dickens or The Old Man and the Sea by Ernest Hemingway in droves. You'll pop your socket when I tell you that not only are these books still around, modern day authors continue to write and publish books to this day. These books are still worth the occasional read, but heavier tomes—such as Stephen King's 1,138 pager It—can be physically difficult to read due to their size. The addition of a PopSocket or two, however, can enhance your grip and improve your ability to hold and read all sorts of literature. This technique is perfect for hardcover books, but you may have some difficulty attaching your PopSocket to a paperback.
Use PopSockets as cabinet and drawer handles.
Implementing it as a handle is certainly one of the more creative ways to use a PopSocket, but it is surprisingly useful and effective in this role. If you're redoing your kitchen and looking for the perfect minimalist handle for cabinets and drawers, a tonal PopSocket that matches the rest of your kitchen is a smart and economical option. When popped out, the PopSocket serves as a handle like any other. Unlike with most commercial handles, however, the PopSocket can be popped back in to give you a clean aesthetic at your desk or in your kitchen. PopSockets also come in great patterns and materials, like rosewood or gray aluminum, so you can pick the best fit for your needs.
Another great way to utilize your PopSockets is as a hanger for anything from clothes to lights to decorations. While PopSockets are not rated for use as a long-term load-bearing hanger, they make excellent temporary and reusable hangers. Having a few extra friends over? Stick a few by your door for a temporary coatrack. Putting up decorations for Halloween, St. Patrick's Day, or literally anything else? PopSockets are much easier to put up and take down than a command hook. Since PopSockets can be reused a few times, you'll surely get your money's worth through multiple uses.
Identify your common car with a PopSocket.
I drive a Toyota Corolla, one of the most common cars on the road. If, like me, you drive an extremely popular car like the Honda Civic, the Honda Accord, or the Nissan Altima, finding your vehicle in a crowded parking lot can be quite an ordeal. Believe it or not, a PopSocket may be able to help you with that! While you can mark your car with bumper stickers or window decals, these can be difficult to see when looking across a sea of car roofs. One of the most creative ways to use a PopSocket is to slap one with a contrasting color on the roof of your car. It's small enough to not draw too much attention, but it's a quick way to help you locate your vehicle.
PopSocket mounts are a perfect way for people to mount their phone in their car or at their desk. The brilliant simple design of these mounts is foolproof and works with just about anything you'd want to mount, so don't limit yourself to just a phone! Mount a dedicated satellite GPS in your car for cross-country trips. Mount your remote controls in an easy-to-reach location near the TV. Mount your thermometer and other common appliances in the kitchen. The possibilities are endless!
Create a music and gaming station with a PopSockets.
PopSockets can serve a variety of different purposes in hanging and mounting different items like gaming stations, headphones, and more. Two or three PopSockets and Popsocket mounts are enough to get you started on a functional activity or work station. Hang up your over-ear headphones on a Popsocket, and use a Popsocket mount to store a small video game system on the wall. There is tons of room for creativity, allowing you to make anything from a listening station for records and music to a gaming station that kids will love.
Attaching two PopSockets to your phone allows you to store things like your headphones or a charging cord without fear of tangles. The amazing cord-organizing ability of a pair of PopSockets shouldn't be limited to your phone! Stick two PopSockets at your desk to keep your computer cords tangle free. Pop sockets onto your workbench to give yourself easy access to twine or wire. If you enjoy doing crafts, PopSockets can help keep your ribbon and yarn organized. Everyone has some strings in their life: Popsocket can keep those strings orderly.
PopSockets make for functional decorations.
The best thing about PopSockets is the sheer variety of styles and designs you have to choose from. Because of this, one of the more creative ways to use a PopSocket is as a form of decoration. PopSockets will make a great addition to just about any surface: Put them on your fridge, on your desk, in your closet, in your locker, and anywhere else you like! It's worth it for the great designs alone, but you also have the added bonus of having PopSockets handy the next time you need to hang something up.
Reader insights
Be the first to share your insights about this piece.
Add your insights