10 Unusually Cozy Fall Activities
As we have begun to seep into the depths of fall I'd like to add a list for those to get ideas from.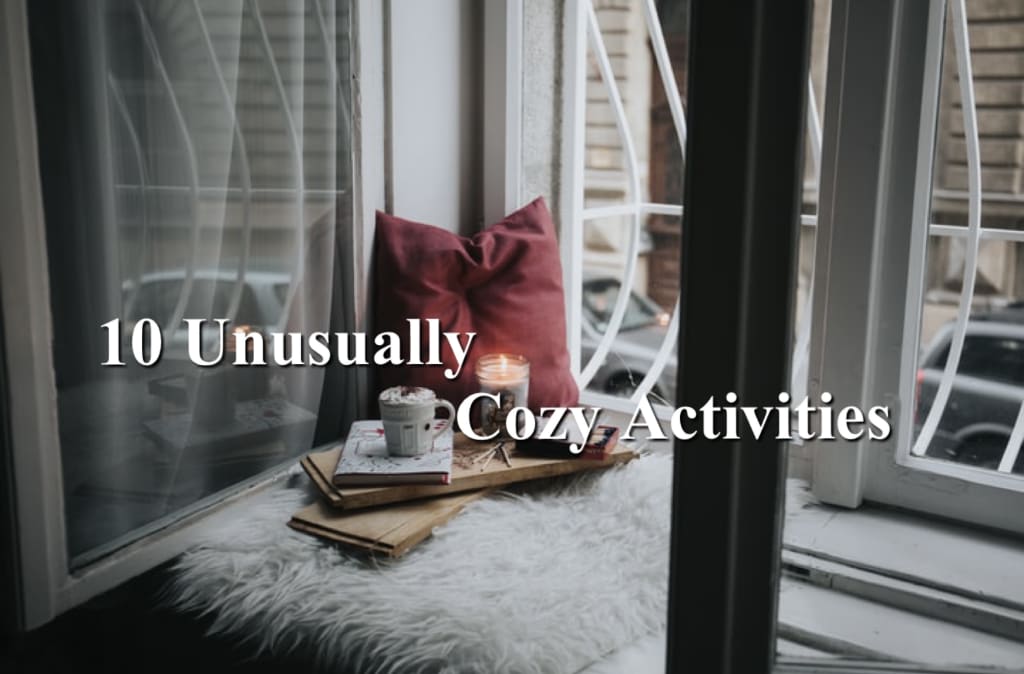 Via Unsplash
I've always been the "not so creative type" when it comes to creating cool plans and activities which is ironic because I love to plan. This time I dug down deep, ripped up some potential and put together an inspiration list that you or your friends can get ideas from. Let's Get Started!
1. Create Mystery Cocktail and Swap With Friends
What is more fun that creating cocktails and switching it with a friend? For this activity you can do it with 1 or up to any even number of friends. Start by gathering your mystery ingredients in the kitchen, then set the timer for 10 minutes to create your drinks. Once you've finished, swap with anyone and try them while wrapped under cozy blankets in a pillow pile.
2. Bake A Giant Mixed Communal Pie and Eat it with friends
This is oh so fun! Go to the store and get the biggest pie mold you can find! Have each friend pick out their favorite berry or pie filling and head to the kitchen. You can mix the ingredients all together or reserve sections of the pie for each flavor.
3. Stargaze in the Bed of a Truck with Your Pets
If the evening is chilly and the sky is clear grab some blankets, your pets and some cozy pillows! Try and follow a star chart or see if you can spot UFOs.
4.Write Your Friends Letters
Its one thing to send a text or facetime someone. However, it takes effort, time, and real thought to write, seal and send a letter. So get out your cards, your pen and wax seal then start writing. Write from the heart and make each of their days. Maybe add a pressed flower or sticker.
5. Make A NEST!
If you feel like not getting out of bed, have heavy cramps or just feel like being cozy and reading, this one's for you! I usually start by grabbing a "base blanket". You can use any blanket you like but I prefer to use the fluffiest one. Next, grab a MINIMUM of 12 pillows and place them along the edges of the base blanket. Next top it off with a few more blankets, a pet, a stack of books and maybe a friend or two.
6. Have An Autumn Picnic with Friends at the Lake
Break out the wine, add a cheese board and some bread then drive to a local lake or park. Take in the fresh air and enjoy the fall foliage around you while chatting.
7. Find A small town away from the big city and stay in their local inn.
My favorite place to go to is the Country Inn located in Berkeley Springs West VA. They have an adorable town, lovely spring water spa, the country inn has mysterious legends around it and a few steps up the hill sits Lord Fairfax's Castle. My friends and I go there and walk around the town all the time. For legal reasons we did NOT jump the fence at night and walk around the castle grounds. :)
8. Watch Hallmark Movies
This one is a bit basic but I always enjoy a happy hallmark movie, friends and food. This pairs well with list item number 5 lol. Make yummy deep dish brownies with this and its a date!
9. Tell Ghost Stories With A TWIST!
This activity is best done at night. Find good ghost stories to tell in a group setting. Next, turn off all lights in the house and dark out the place or head to the basement and turn off all the lights. Next Spread out in different areas and facetime each other but turn your screen off. Each person takes turns telling stories while each of you are isolated, alone, and in the dark.
10. Make Candles!
Go to your local craft store and grab a bunch of scents. Have everyone create a candle! You can do aromatherapy candles, scents that resonate with childhood memories or creative scents. Then try and guess where each other first smelled that scent or what it reminds you of.