10 Stunning Fire Pit Seating Ideas:
Create a Cozy and Relaxing Space with These Ideas!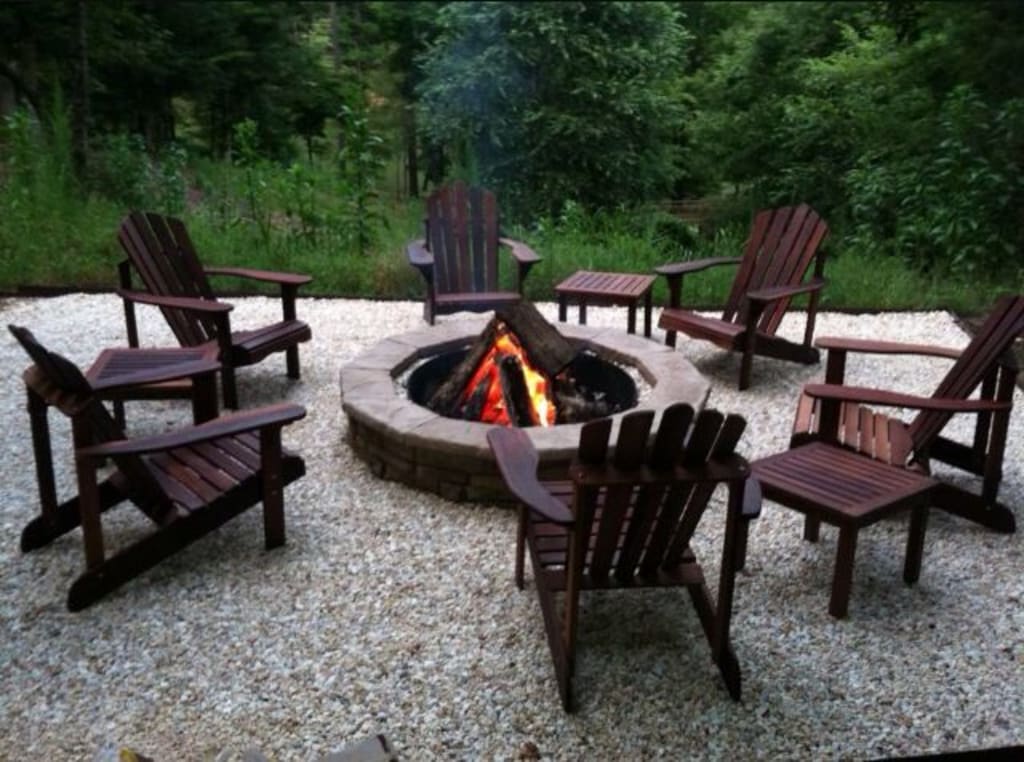 Backyard fire pits have become much more popular with homeowners in recent years. More homeowners are installing backyard fire pits because they provide warmth while adding atmosphere to your outdoor living space. Fire pits prolong the enjoyment of your backyard landscaping through spring, summer, and fall. A fire pit creates a warm, central gathering area for entertaining well into the evening hours — picture summer nights or winter gatherings around a self-contained fire that offers heat and elegance.
A fire pit in the backyard can be the ideal outdoor entertaining centerpiece, but it's useless without a proper seating arrangement. So you must ensure that everyone in your household can enjoy the fire pit's warmth by combining it with the appropriate seating arrangement. Relax in your outdoor setting with these creative fire pit seating ideas.
10 Fire Pit Seating Ideas
Classic Adirondacks
Adirondack chairs are the best way to relax around an outdoor fire pit. The Adirondack chair's tall, reclined backs with angled seats are ideal for sitting comfortably and engaging in a conversation. You can place several Adirondack chairs close together around the fire pit to create a comfortable seating area.
Wood Furniture
Sometimes, the easiest answer is often the best. A set of wooden furniture may be all you need to make your fire pit area a welcoming gathering place. Add a few throw pillows for extra comfort.
Circular Benches
Circular benches allow for intimate conversations and comfortable seating. You can repurpose materials to make your own fire pit chairs or benches.
Wicker Chairs
Pair your fire pit with traditional, rustic wicker chairs to enhance its outdoorsy feel. These sturdy, lightweight chairs will transform your patio into a mountain retreat. There's no better place to enjoy s'mores than this perch. You can find a variety of styles and materials for cozy patio club seating, which is a more rustic-inspired option for your backyard fire pit.
A sofa
A patio sofa is smaller than a sectional but offers more comfort than individual chairs. A sofa can make your patio feel like home when placed near a fire pit.
A pair of loungers
Although they are most commonly used for poolside relaxation, backyard lounge chairs make a great partner for a fire pit. Outdoor relaxation is made easy with reclining lounge chairs, and you can prop them up for a quiet conversation by a roaring fireplace or recline them to relax as the flames go out.
A hanging egg chair
Hang a swing chair near your fire pit to add some interest to your outdoor space. A hanging swing chair can be cushioned with blankets and throw pillows, making it the perfect seat for your backyard. A swing chair can usually only hold one or two people, but you have other options if your preference is for a hammock.
Mix and match
You don't need to choose the perfect fire pit seating to make your space look fantastic. You can have a variety of chairs in different shapes and materials, and this will give your space a unique look. The rocking chair and the loveseat pair well in the fire pit seating arrangement. Even though they are from different seating categories, similar cushions and throw pillows tie together the chairs.
Swivel Chair
Swivel chairs can be placed next to a fire pit to allow you to move toward different people while you chat. Swivel chairs are incredibly comfortable as they allow for more movement than having to twist awkwardly while seated. This type of chair is excellent for lower back pain.