9 Incredible Easy DIY Low Budget DIY Outdoor Kitchen Ideas
An outdoor kitchen is a dream for many and for all the right reasons. Having an outdoor kitchen can be ideal for summer parties and intimate dinners with family! Hiring a professional contractor to build an outdoor kitchen can be very costly, so through this article, we bring you some incredible easy DIY low budget DIY outdoor kitchen ideas to help you create the perfect, dreamy kitchen!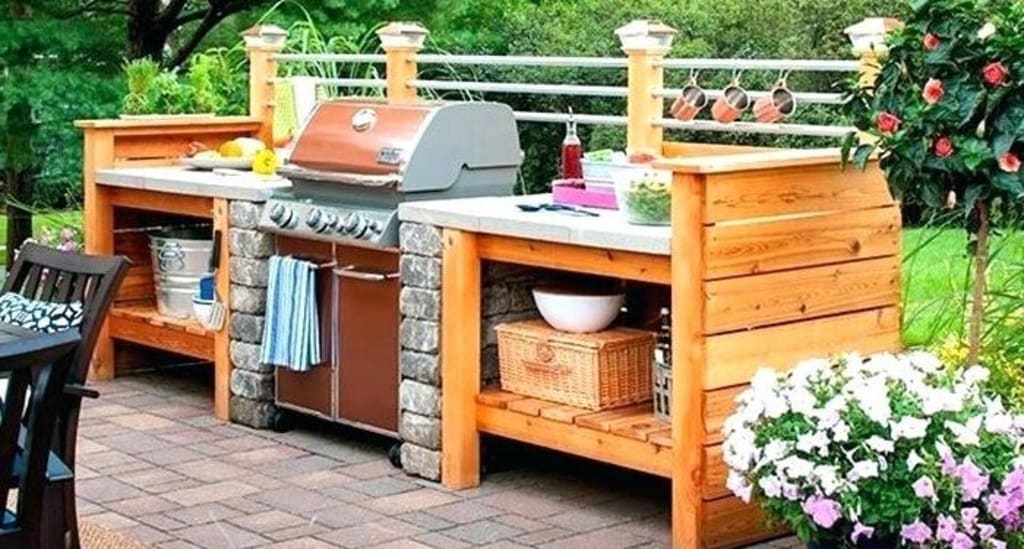 Easy DIY Low Budget DIY Outdoor Kitchen Ideas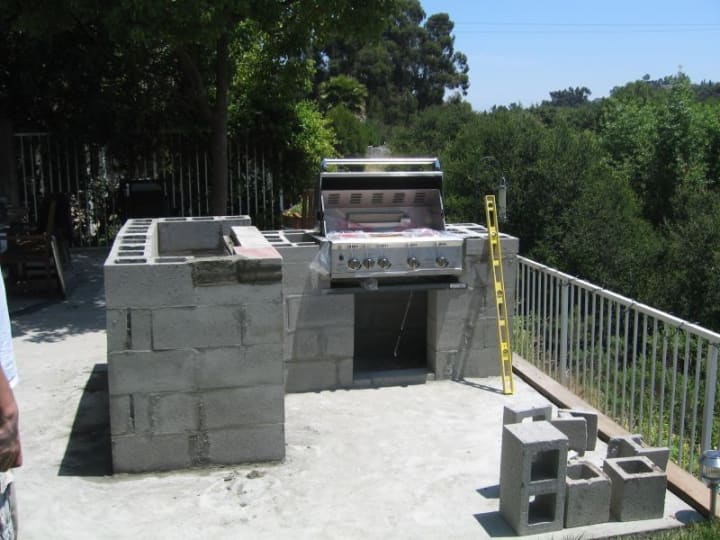 If you love entertaining and cooking outdoors, have a huge outdoor space, are fond of having fun outdoors, and have a reasonable budget for home renovations, it is worth moving it to the next level by building an outdoor kitchen. It doesn't matter if you want to spend more time outside or entertain your loved ones; creating an outdoor kitchen can be a fantastic method to enhance your outdoor enjoyment. Here are some good reasons to consider building an outdoor kitchen in your home.
Outdoor kitchens can come in many different shapes. In certain instances, it may be a straightforward setup, with an electric grill, a small fridge or little counter space, and a sink. However, it could be larger and more luxurious such as the stainless steel kitchen appliances, massive granite countertops, numerous grills, pizza ovens and dishwashers. Also, if the outdoor kitchen you have is built using high-quality materials and components, it will offer many years of enjoyment. The majority of BBQ grills, as well as other outdoor equipment, are made of stainless steel that is made to withstand harsh conditions.
DIY low budget outdoor kitchen idea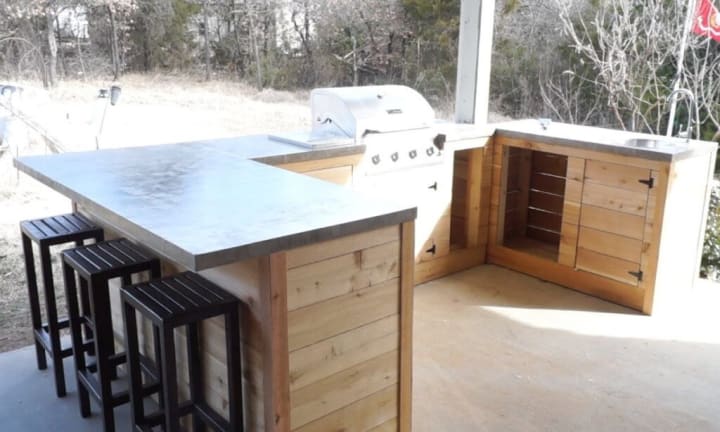 Lower energy bills Often overlooked as an energy-saving tool; an outdoor kitchen is a space built outside to cook in – just like the name suggests. It does require an initial investment. However, the best energy-saving equipment does. Take a look at the costs of solar panels or double-glazing your windows, for example. The investment return is, however, an impressive one, especially if you cook outdoors in your kitchen as often as you can. Most importantly, the energy expenses will be less because the heat produced by cooking outside will not raise the temperature of your home. This means your air conditioner won't need to perform as hard (and you won't be forced to sweat as much).
Great Way to Entertain Outdoor living spaces can make throwing parties easy. You can cook delicious food at home instead of ordering takeaway from a restaurant to serve family gatherings. In addition, everyone enjoys sitting at the grill to check out what's cooking! This is particularly true for parties in the summer, such as birthday celebrations and pool parties.
DIY low budget outdoor kitchen idea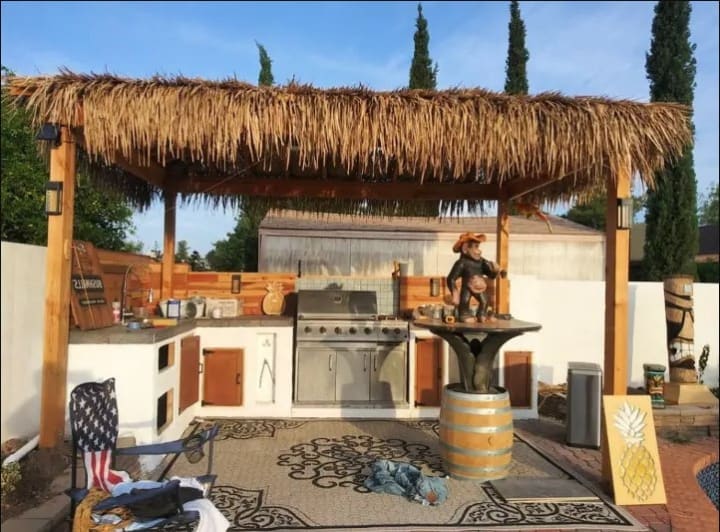 Keep the smells outside. The aromas from cooking remain out in the open. However, some food items smell great while cooking, and others are not as pleasant. Some people don't enjoy the scent of onions or fresh fish. The smells outside will not last the way they would in a kitchen that is inside. Be aware that food scents could attract animals and bears within your area (depending on where you're situated)!
Adds Value to Your Home Outdoor kitchens are increasing in popularity, especially in areas where it's feasible to dine outdoors for a large portion of the year. As such, putting in an outdoor kitchen could help your property value climb so that you command a higher purchase price when you decide to sell your home. An outdoor kitchen could also help your house stand out if it's a feature not found in most houses in your neighborhood.
Reduce the cost of restaurant Meals. If you own your own outdoor dining area and kitchen in your backyard, is there any reason to travel to a restaurant for a meal? Dining out in restaurants will drain your bank accounts quite quickly, particularly if you frequently go out for a meal. When you choose to eat at home instead of going out for an evening out, you can also save money.
DIY low budget outdoor kitchen idea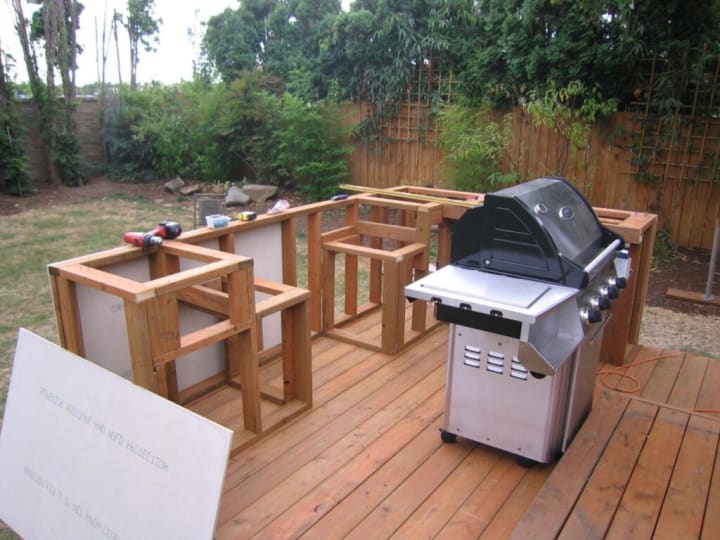 Enhance Food Taste and Health Cooking outdoors usually means eating healthier. Since the beginning, nutritionists and health professionals have advocated grilling as being the cleanest and healthy cooking method – the food absorbs fat during cooking, and there are no added calories to be found in batters and heavy sauces or excessive oils. Making meals at home is typically healthier than dining in restaurants, where it is common to add large quantities of salt, butter and oils to food to enhance the taste. Grilling at home with simple marinades and rubs is healthy and delicious!
Expand Living, and Entertainment Space Outdoor living spaces increase your overall home's living space making it feel more spacious and less cramped. Install an island around the grill you have in your backyard and expand the living space your entire family can take advantage of. In addition, if you install an additional roof to your patio, it could be used in the event of rain.
DIY low budget outdoor kitchen idea
Helps Cooking Become Easier An outdoor kitchen makes it simpler to eat outdoors in summer because it decreases transportation time between the point at which food is made and the location where it's eaten. As the host, you won't be rushing back and forth between your party or barbecue, as your guests will not need to either. Instead, you'll have the choice to store, prepare for, cook, and serve your food from the same space.
Keeps your Indoor Kitchen Cool and Clean. With an outdoor kitchen, there's no need to swelter inside your home just to cook a meal. Instead, you can fire up the grill, enjoy the open air and breeze as you prepare food, and then return to a nice, cool home and mess-free kitchen when you're eating.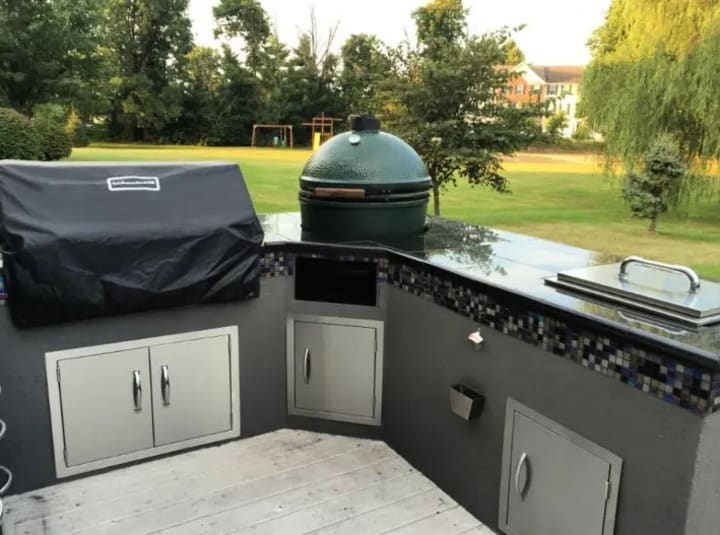 Spending more time in Nature Outdoor spaces are good for mental health. Sunshine and fresh air have been proven scientifically to improve your mood and reduce anxiety. Cooking outside can be a relaxing and enjoyable activity.