WTF? A Family Business in Crisis in a Family Owned Business
A Leanfulness Short Story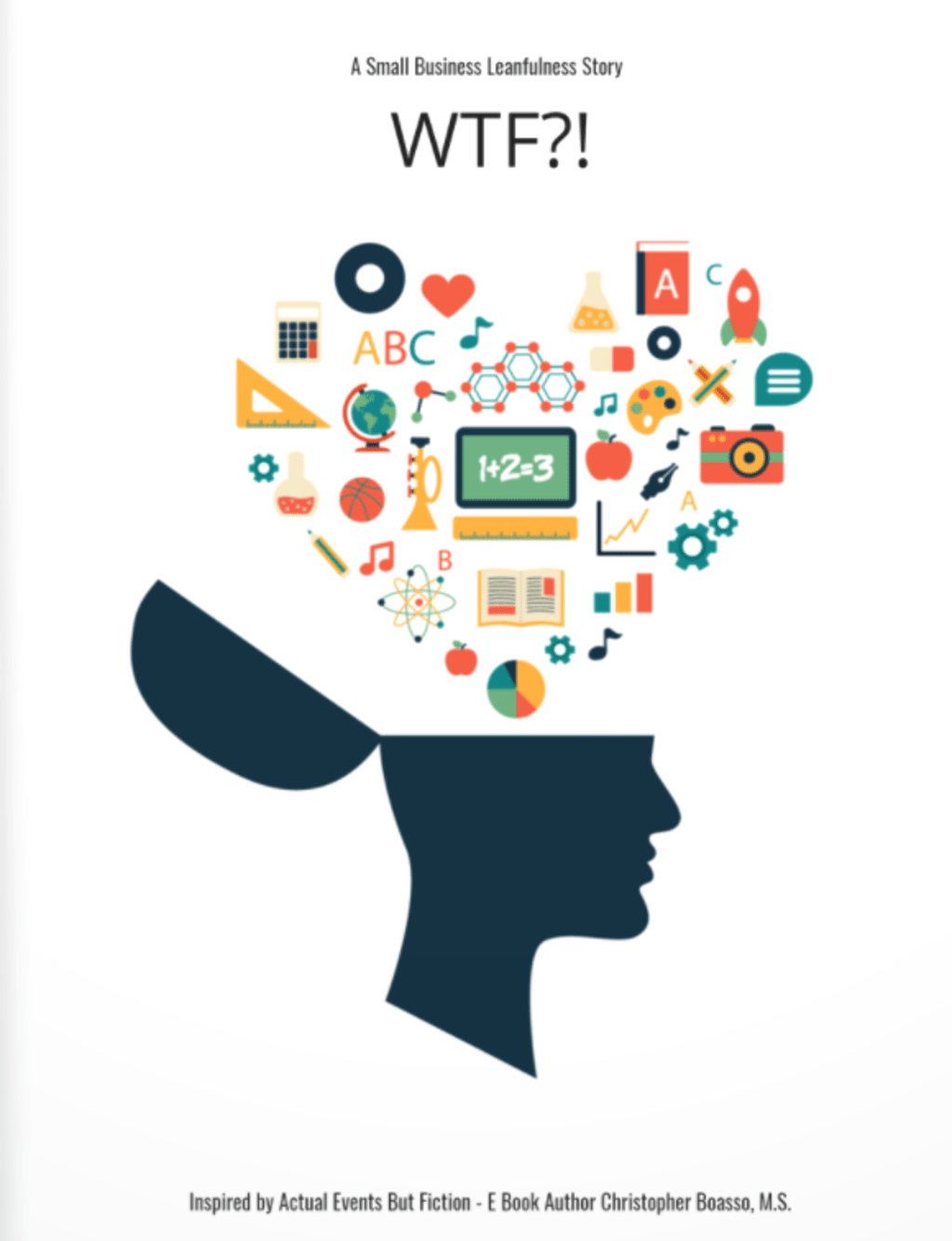 A Family Business in Crisis
Introduction
A family-owned Northern California company that we will call North Pacific Spas is experiencing an enormous amount of dysfunction across all divisions. The company provides luxury spas and other high-end residential comfort products such as saunas, and fireplaces. There is one main office in Berkeley, and three other show rooms which are strategically located across the San Francisco Bay Area. For more than three decades the company has been the industry leading retailer. NPS experienced its largest growth period during the first two decades of existence. Since then the company has had less than desired growth. This story will describe a snapshot of the type of problems a company like NPS experiences, the struggle to identify the problems, and the challenges companies face to mitigate these types of problems. Additionally, a new approach developed by Leanfulness Strategies to be an alternative pathway toward positive organizational change will be presented.
To support all NPS functions and responsibilities the company is structured as follows. NPS has one to two commission only sales professionals working full-time at each of the show room locations. The executive team consists of several family members, along with a limited non-family staff to support the administrative and operations aspects of the company. Additionally, NPS has a fleet of seven or eight fully equipped company vehicles and technicians to perform the initial home installations and all service requests. Three additional lower level technicians remain in the shop. There duties are to manage inventory, test products, repair and service equipment that required service procedures that could not be performed at the customer's home and had to be hauled back to the shop.
The sales team, service techs, and operations employees are highly interdepent groups. Each division has a set of sub tasks that the other divisions rely on adding up to the whole product and provide exceptional customer experience. NPS has traditionally kept up with current industry and technology trends to support efficient work processes and customer relations management systems. Training and development related to work processes, and technology is encouraged and provided as needed or requested. NPS has an efficient new hire process and has a history of compliance to all regulations that effect company policy and services. The company has a very positive reputation in the communities it serves. A large segment of customers are return customers and make frequent visits to the show rooms to purchase monthly maintenance products designed for homeowner use. Overall these long-term customers maintain a loyalty to NPS and leave very positive reviews and feedback.
The executive team consisting of the CEO (Dad, Richard), CFO (son, Dawson), and COO (son, Jack) maintain authority and control over all business strategy decisions and change initiatives across all divisions in the company. Subsequently, the executive team is noticing extreme negative performance trends. They continue to observe unmet sales goals, service call go-backs, material handling issues, and theft. This trend puts them in a challenging situation to have to interpret this negative data along with a continued overall positive customer sentiment. Although customer sentiment has consistently been positive, the company has never been able to attain desired profit margins.
While the executive team tries to make sense of what's going on, Dawson the CFO becomes the more outspoken executive and began to take initiative. Dawson began to develop ideas he thought would improve some of the deficiencies as they would come to light. Richard the CEO who is the father and the founder of the company was transitioning into a back-up or passive role. He was setting his sons up to be his successors as they take over the role of key decision makers regarding business strategy and company policy changes. Dad is beyond the traditional retirement age even for founders of a company and has reduced his workload, including his schedule to be more accommodating to his stage of life and personal lifestyle choices.
As pressure continues to build as a result of performance issues, along with the family business dynamics that are affecting the executive team roles creates an increased sense of uncertainty for the company's future. Jack the COO, or the other son is a very passive type of boss. He doesn't like confrontation and doesn't like managing people. He feels his role is to be an effective leader within his style of leadership. It is unclear what his style of leadership is to the others or himself. Jack doesn't assume the role of a typical COO, thus leaving the major company oversight responsibilities to his brother Dawson.
Dawson begins to spend more hours at work, staying late to craft new company policy initiatives. He begins with the sales team. The sales team meets with the executive team once a week. Each Saturday morning before the show rooms open for business each show room connects with the main office via a conference call. This call is designed to keep an open dialogue between the executive team and sales. The structure of the meeting changes often and seems to develop on the fly as various themes emerge during the conversations. On one Saturday morning after Dawson spent two late afternoons coming up with a solution to the poor sales performance, he let the team know about his frustrations. He highlighted various sales metrics that weren't met and what was expected of the sales team. He told the team that this performance trend can not continue and if it does then personnel changes were going to be necessary. Dawson wanted the team to understand the severity of the problem and expected a sense of urgency with his sales professionals. He began to layout his new company policy changes such as requiring each salesperson to be at work 30 minutes before his or her shift start time. He felt that this would help the sales personnel be more organized and ready to work when their shift starts. Another change was lowering the commission percentage per sale. He figured if they want to maintain their current standard of living, they would have to increase sales, and this would help them become more creative in their sales process. Additionally, Dawson had a laundry list of further company policy changes that became effective immediately.
The conference call ended, and the sales team disbursed into his or her various work areas as they began to individually process what just happened. After a short while, sales personnel began to share their feelings with one another. The overall sentiment of these employees was anger, frustration, and confusion. Many of them discussed quitting, while some of them said they would talk to Dawson about there displeasure. A few of the sales team members didn't say much at all. Coincidentally, the show rooms were quiet as a result of very low customer flow that day. This gave the employees a lot of time to share their feelings and process in groups about the changes. One of the high performers (Don) sat down at his desk and started browsing the popular job listings sites on his company computer. He started thinking about his resume and how he needed to update it if he was going to start looking for another job. Don wasn't alone. Many of the employees began thinking of new jobs and what it would take for them to get a new job. At least for the short-term Dawson's attempt to motivate his sales team had a reverse effect. After several days of focusing on other things than work, the sales team began to get over their anger and were realizing that they need to make sales otherwise they don't have a paycheck. It was this paycheck that was their primary motivator anyway. It just took a few days for them to return to their usual sales approaches.
The following week Dawson met with the service techs as a group and made a speech. He highlighted the amount of go-backs and material handling mishaps and demanded that they get their act together. Dawson presented to the group his new expectations and threatened personnel changes if these expectations aren't met. Additionally, effective immediately Dawson implemented the new policy requiring all service personnel to be paid by jobs complete instead of hourly. He believed that this would limit go-backs and motivate the technicians to complete more jobs per day. After the meeting convened the techs like the sales team went their separate ways and began to process what just happened. Not too long after the techs began to call one another and share their displeasure. Some of the techs said they were going to quit. Some said they would call Dawson and discuss their displeasure, and a few didn't comment.
Over the next few days the sales team and the technicians began to hear about the changes that were happening to both divisions. Both groups began to discuss the abrupt changes that Dawson put in place and how their jobs were instantly changed. As both divisions began to realize that it wasn't just their divisions being radically changed, they began to experience increased uncertainty about their future with the company. This exacerbated the frustration they already felt. On the other hand, Dawson felt that he did what he needed to do. He told Richard and Jack about the changes and attempted to convince them that this had to be done. Dawson said we can't just let everyone do what they want around here. It's just not working anymore. Jack and Richard didn't have much to say and hoped for the best. Jack went back to his office in his region and maintained a passive role. Richard similarly didn't adjust his demeanor and continued his back-seat approach.
Several months past and Dawson was becoming beside himself. Sales metrics were static or very little change one way or the other. He got word that many of his new company policies were being ignored. He was hearing about rumors of his employees looking for new jobs. One of his top sales performers did quit, as well as several technicians. He figured this was just a product of his shake up and was worth it. He thought to himself that nothing comes easy and if he continues to shake things up it will work out in the long run. Richard and Jack maintained their passive roles.
The segment of the story you just read is a mere snapshot of issues within NPS over a short term. Considering this sample of organizational problems only represents a short-term view of the company, it should be noted that for the long term NPS has never met the desired profit margins or expected growth. Nevertheless, this period may be the most vulnerable period in the company's history and could be the beginning of the end of the company. It is impossible for the company to identify the problems and predict future performance with the management approach that has been established. It may be that the company has endured such a long tenure simply because the economy was strong enough to support the companies needs just enough to maintain its slow growth.
One morning as Richard is having his coffee and browsing social media in his office Richard sees an ad on his social media account about a company devoted to helping small businesses. They call themselves "A small business solution to employee and organizational development." He calls Dawson into his office and shows him the ad. Dawson immediately responds in frustration and says, "I am making the changes this company needs." He adds, "This is going to take time." Dawson storms off and heads back to his own office. Dawson sits down and takes a breath then begins to review his performance trackers. His frustration returns immediately as he interprets the data to reveal extremely poor performance. He kicks the garbage can and swipes all the documents on his desk with an angry thrust toward the door. His administrative assistant was walking in at the same time as the documents became airborne. She stopped in her tracks as she was jolted from the sound of his hand hitting the desk and the paper flying toward her. Most of the documents hit her in her mid-section and scattered across his office floor. The documents were several months' worth of performance data that he had been comparing. The admin assistant didn't say a word as she turned around and retreated to her cubby. She began to sob as she grabbed some of her personal belongings and left the premises.
The negative energy had been felt almost as if it could be cut with a knife at the main office since Dawson began this aggressive change management approach. The energy in the main office was like the negative energy that was saturating each of the other divisions across the company. Richard got up and went to see what happened. He witnessed the mess of documents and the condition of his red-faced son. His son that was trying so hard to improve the company's performance but was failing. He put his hand on his son's shoulder and said, I am going to give Leanfulness Strategies a call and ask them to help us. He encouraged his son by acknowledging the enormous effort to make things better. Richard reminded Dawson how good he is at business development and business strategy. He added that this problem wasn't Dawson's problem alone to fix. This was a problem that required outside help. He told Dawson that he never hired a consulting firm because they are too expensive. They would never get a return for their investment. He said but Leanfulness Strategies is a different kind of consulting firm. They have a very affordable platform that is designed to reduce the face to face consulting hours that are extremely costly. He added that we can pay them a small monthly subscription fee and have access to resources that will help us with the personnel issues and identify other areas that we just can't figure out. The employees won't tell us everything because they are intimidated to be totally honest. We can have Leanfulness Strategies assess our organization and provide us with a snapshot of what is going on and how we can fix it. This is all done via the platform they developed. It seems like a no brainer. We should at least give it a try. If we don't find it is helping, then we quit the membership. Come on Dawson, Richard exclaimed. Let's do it. I'll sign us up right now. Dawson replied, "O.K. Dad." We need help. Let's do it. WTF?!
Richard registered NPS into the Leanfulness Strategies diagnostic platform and received the confirmation email with a list of next steps. A resource was immediately made available to distribute across the company. This is a document designed to prepare all personnel in the company for the new approach the company was taking. A radically different approach that involved everyone to be a part of the new change initiative. This is a bottom up approach that involves the operations personnel to be part of the change planning and development rather than being force fed the change initiative. The goal is to create more potential for buy-in at all levels across all departments. Increased buy-in at all levels will improve the chances of success and long-lasting positive change. Additionally, the culture will undergo a transformation process toward a positive culture that respects all individuals at all levels. The by product of such a culture is known to increase employee engagement, employee motivation, innovation, creativity, problem solving skills, job satisfaction, to name a few.
As NPS embarked on this new endeavor with the support of Leanfulness Strategies, in just a few days the negative energy that was destroying the company was equalized. Hope was beginning to touch the minds and hearts of all employees including Richard, Jack, and Dawson. All personnel participated in the online assessments that Leanfulness Strategies offered for the initial diagnosis. Within a few days Leanfulness Strategies provided a robust report with descriptive statistics, visuals in the form of charts and tables to support a formal summary of organizational issues that were identified in the diagnosis. Additionally, Richard, Jack, and Dawson had access to the wealth of resources included in the manager/owner's section of the platform to guide their discussions about their company's problems. These resources are designed for immediate action related to resolving specific organizational problems.
Consequently, Leanfulness Strategies became the support that NPS needed. Over the next few months as NPS worked with Leanfulness Strategies through the platform and via Skype Business for video coaching the company began to experience the culture change that Leanfulness Strategies was designed for. Team members felt supported by leadership and teams began to feel like they were on a team rather than the unstable trajectory they were used to. Dawson was so relieved and excited about the company's future. Richard and Jack were relieved that they were supported and could still work within their comfort zones with the help of some coaching from Leanfulness Strategies. This allowed Richard and Jack to maintain their work and personal schedules. Although, some change was required of everyone in the company including Richard and Jack, the change was systematic instead of chaotic and an uncertain path that has less chance of success.
Since then, a year later the company has experienced more growth than it ever experienced in its more than three-decade history. NPS had to hire more sales, service, and administrative staff. NPS became a more appealing company to work, thus attracting the top available talent. Leanfulness Strategies remains a support partner for NPS as change is always happening whether initiated by the company or not. Change occurs to us beyond our control. The rapid changing technology driven environment we all operate in is so influential to any company's business environment and strategies. Now more than ever a company must be set up for change and frequent change. The Leanfulness Strategies principles are designed for such a time and environment as this.