Work From Home
An analysis of the impact a work from home environment could have on our world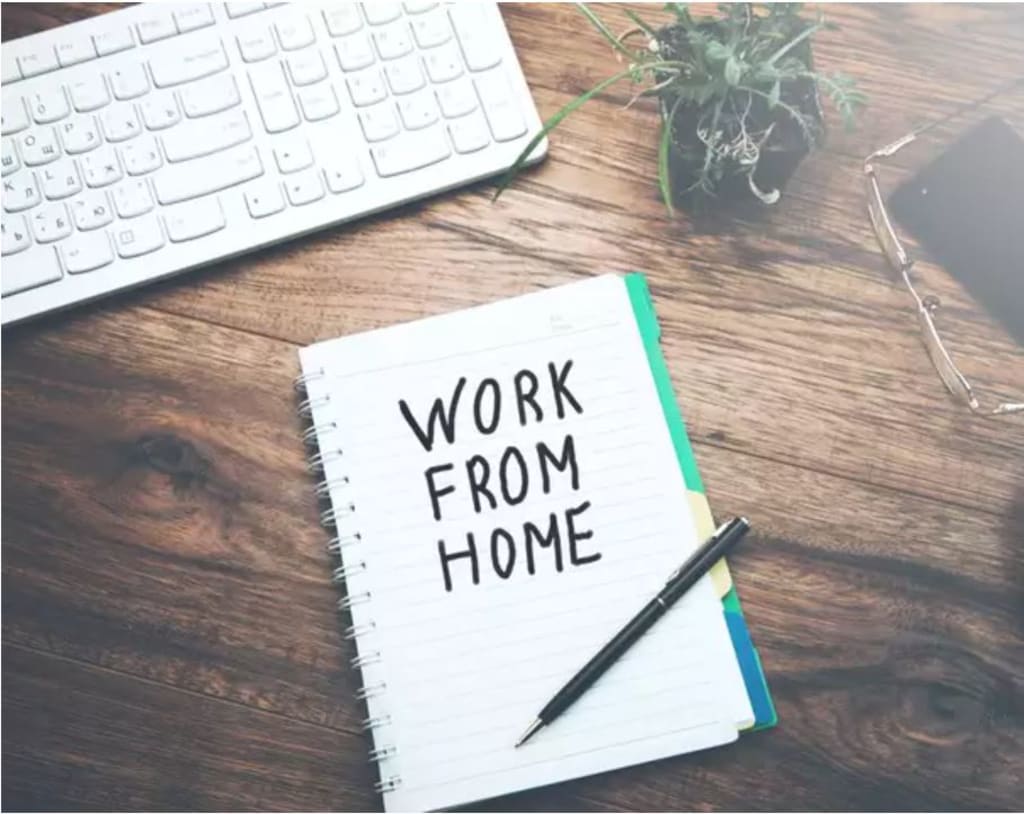 A work from home environment could help preserve our natural resources.
As human civilization grows so does innovation and intelligence, and while we continue to advance into a technology driven world it will allow humans to work from home. Working from home can have numerous benefits to our planet but may also impact other natural resources that we rely on while working from home. Many people in the world may not have the ability to work from home depending on their occupation, however those that can work from home may help in reducing the amount of pollution that contaminates our air and wasting our energy sources.
Since the COVID-19 pandemic many countries around the world have had to require people to remain at home as much as possible, and humans have created ways to work from home which also aides in reducing air pollution and conserving energy sources. Most states in America have gone to a work from home society and this has helped reduce the emissions produced by burning fossil fuels. Working from home seems as if it is a new or developing concept when it has been around since the dawn of time. Throughout history human society has experienced a work from home lifestyle in different forms. Between 1.9 to 1.4 million years ago, in eastern and southern Africa lived the Homo ergaster also known as the "working man".
This humanoid was considered by some as the first workers from home as they used advanced tools and fire to sustain life all while remaining in close proximity to their dwelling areas. The advanced tools that this civilization of humanoids was used to process meat and cut wood to prepare the meat. During Medieval times in England, peasants lived in longhouses and at either end of the longhouse would reside the livestock. Towards the middle of the house they would have the kitchen where the people would butcher and tan hides as well as process dairy for consumption and make clothing.
During 1581, the Uffizi Gallery was constructed in Florence as the central administration building for the Medici mercantile empire. This would become the predecessor to the first corporate office thereby separating the workplace and the home. From 1760 to 1840, the Industrial Revolution would create a social environment that encouraged working outside of the home. The Industrial Revolution would influence the workplace from the early 1900s until around 1970.
In the early 1900s, modern offices would begin to take shape as technology would begin to advance rapidly with the invention of the telephone, telegraph, typewriter and public electricity these advancements would continue the out of home work environment that we know now. 1926 saw Henry Ford and his Ford Motor Companies adopt a 40-hour and five-day work week. A common work week of 5 days and 40 hours would be implemented as corporations would adopt this working lifestyle. Robert Probst in 1968 designed the work cubicle which organize people in large offices to be separated by small sectional walls and this would become the first office cubicle.
As people would travel to work every day, they would utilize oil and gas which would increase the amount of pollution in the atmosphere. In the 1970s, the Clean Air Act and the OPEC oil embargo began which indicated the need to reduce pollution from driving to work every day. The first personal computer would be invented in 1975 which would allow for more individuals to work from home and minimize the gridlock traffic. During the late 1970s, remote work to reduce the use and pollution of natural resources would become a topic of discussion and experiment.
The 1980s would see the invention of the internet which would lead to more discussion and experimentation on a work from home solution to minimizing the use of natural resources. In the 1990s, Wi-Fi was created which allowed easier access to the internet remotely and helped to foster work from home environment. With the invention of Wi-Fi, it makes mobile access to the internet possible which allows for an easier work from home experience. In 1995, the Federal Flexible Workplace Pilot was launched which was an experiment that allowed employees to work in places other than their government offices which was referred to as "flexplaces". 550 employees participated in the experiment and many benefits were reported such as reduced costs and better productivity.
The DOT Appropriations Act was enacted in 2000 this would require agencies to establish policies for a telecommuting environment for employees. 2005 saw the creation of the first co-working space in San Francisco. A co-working space is an arrangement between different companies that allow for a shared workspace between their employees. This arrangement minimizes the cost of utilities, energy resources and infrastructure. Then in 2008 a social networking tool Yammer takes social networking to the next level and makes work easier by allowing employees of an organization to communicate easily and efficiently.
The 2010s saw major advancement towards the working from home environment. By 2010, 59% of individuals working remotely now worked for private companies and President Barack Obama signed the Telework Enhancement Act which required all federal agencies to establish policies for enabling employees to work remotely. For 2014-2015 the Office of Personnel Management said telework participation increased from 39% to 46% of eligible employees and from 17% to 20% of all employees (Reynolds, 2017). All participating agencies were asked to report on the outcomes they experienced from telework and the most common outcomes included:
1. Better emergency preparedness (59%)
2. Improved employee attitudes (58%)
3. Better recruitment (35%)
4. Better retention (35%)
5. Reduced employee commute miles (29%)
6. Improved employee performance (17%)
7. Reduced real estate costs (17%)
8. Reduced energy use (13%) (Reynolds, 2017).
From 2014 to 2018, the number of U.S. companies to become fully remote jumped from 26 to 170 and 70% of the world's population works from home at least once a week as well as 53% of the world works half of the week. In 2019, companies such as Zoom for video collaboration reported a 5 times customer base increase. From the time Wi-Fi was invented to through the 2000s individuals across the world reported that 70% of people teleworked at least once a week and 53% of people teleworked half of the week in 2018. Then in 2020 the COVID pandemic forced hundreds of millions of people to work from home. As a result, many cities throughout the world saw the pollution decrease in the air and NASA researchers discovered that globally nitrogen dioxide concentrations were reduced by almost 20%.
Since the Industrial Revolution paved the way for humans to work away from the home many of our natural resources have been overused or polluted. Many companies have been looking for a way to reduce nitrogen dioxide production from fossil fuels that contribute to greenhouse gases. Some companies have tested working from home and now that the COVID pandemic has forced hundreds of millions of people to work from home a lot of the air pollution is decreasing. NASA and the European Space Agency have released before and after GIS (Geographic Information Systems) graphics and images indicating a reduction in air pollutants.
There are many benefits to a work from home society that will greatly benefit the environment as well as human society. Reducing or eliminating the commute to work every day will greatly reduce the carbon footprint contributing to greenhouse gas emissions. Another benefit is minimizing fossil fuel consumption which will also help humans save on money and the environment. Working from home can help reduce office resources used such as printer paper and energy consumption. Road infrastructure is another commodity that we as humans can help by working from home as we minimize drive time on highways and roads it reduces the wear and tear of the infrastructure.
Working from home can have many benefits but it can also be challenging for a work life balance as well as some of the resources needed to sustain a functional work at home environment. Managing a proper balance while working from home can be a challenge as being at home can be a distraction from work and being at work can be a distraction from home. While working from home may reduce the office resource usage it will increase the need for home resource usage such as proper climate control, internet access, and energy consumption throughout the home. People still require social interaction as well as sunlight and fresh air to remain physically and mentally healthy and this could be a challenge with a work from home environment. Most of the challenges that are present from a work from home environment are in the human aspect and we as humans can adjust to this challenge by managing our time properly, exercising regularly and interacting with other people on a daily basis.
The global significance of a work from home lifestyle will greatly benefit our planet's natural resources and help us as humans both mentally and physically. Throughout time we have contributed greatly to the greenhouse gases which are impacting our world negatively by driving to work or sitting in gridlock traffic while attempting to drive to work. This has added to the increase in air pollutants around the world and simply by working one or two days from home we have seen that it cuts back on the amount of pollution in our air, and it cuts back on the wasted energy sources. Humans have been burning through the fossil fuels on this planet for a very long time and even though it adds to the pollutants in the air this also reduces or destroys a natural resource that we may never get back in our lifetime.
With the COVID-19 pandemic we have had the opportunity to see a world work from home and the changes in our energy consumption and the air pollutants that humans contribute through burning fossil fuels. According to the World Economic Forum, power consumption has gone down overall due to work from home positions from the pandemic (Schad, 2020). Many Londoners began working from home when the pandemic occurred. Breathe London Data reported that there was a 25% reduction in emissions during morning commutes and 34 percent reduction during the evening commutes. Working from home can have major impacts on the health of our planet and ourselves if we practice proper application of a work from home lifestyle.
Understanding the impacts this change will have on human civilization will help in understanding the significance in order to prepare for the application of creating a work from home society. The significant impacts of applying a work from home environment will have many similarities and differences locally and globally. Skillsets for creating a teleworking environment might vary globally as well as have similarities in difficulty finding talented personnel. Regulations for companies that may require different security levels could also have significant impacts on teleworking that could differ globally but have similarities locally. Total costs of creating a work from home environment could have many differences locally but have some similarities globally from one area to another.
Now that we have seen a life from a work from home perspective at a global scale, we can continue this trend by incorporating workdays from home in all companies globally. This will still take much time to accomplish globally, but it only takes one step at a time to get to the point of a work from home solution.
References:
Casey, Kela (April 2019). The History of Remote Workers. Retrieved from: https://codersera.com/blog/the-history-of-remote-workers/
Chevez, Agustin. Huppatz, DJ (August 2017). The Ancient Roots of the Modern Office. Retrieved from: https://www.bbc.com/worklife/article/20170818-the-ancient-roots-of-the-modern-office
Green Child Magazine (August 2020). The Environmental Benefits of Remote Work. Retrieved from: https://www.greenchildmagazine.com/environmental-benefits-of-remote-work/
Sky News (March 2020). Coronavirus: How Lockdowns Have Caused Drop in Air Pollution Across the World. Retrieved from: https://news.sky.com/story/coronavirus-how-lockdowns-have-caused-drop-in-air-pollution-across-the-world-11965509
Madell, Robin (February 2019). Pros and Cons of Working From Home. Retrieved from: https://money.usnews.com/money/blogs/outside-voices-careers/articles/pros-and-cons-of-working-from-home
Reynolds, Brie W. (October 2017). The Complete History of Working From Home. Retrieved from: https://www.flexjobs.com/blog/post/complete-history-of-working-from-home/
Schad, Eric (October 2020). 7 Positive Environmental Benefits of Remote Work. Retrieved from: https://www.virtualvocations.com/blog/telecommuting-survival/8-environmental-benefits-of-remote-work/