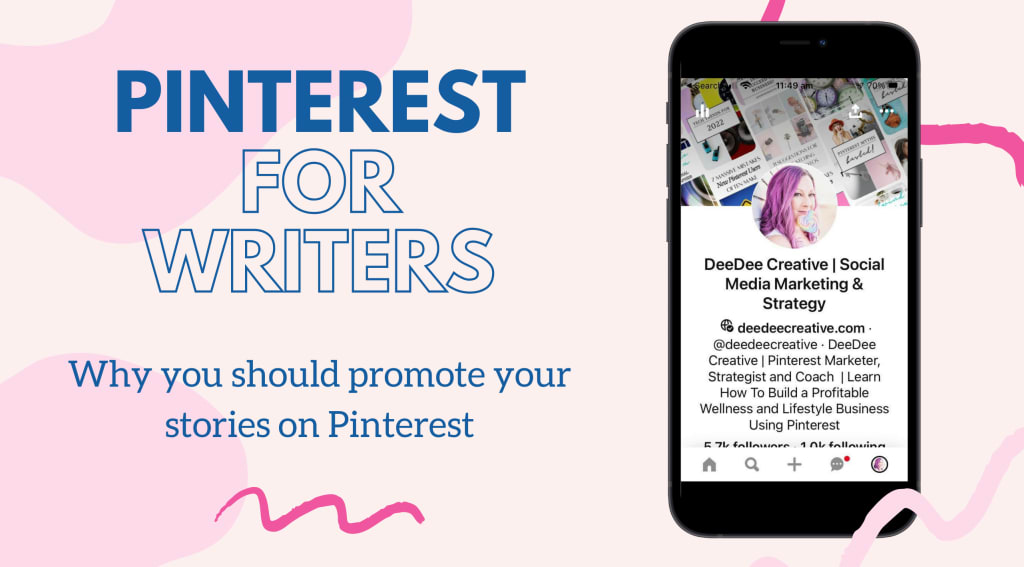 Image created in Canva
Have you ever thought about using Pinterest to promote your writing? It seems that Pinterest is very much an underutilised platform when it comes to writers, but it has great potential.
What Is Pinterest?
First of all, Pinterest is NOT a social media platform. If you are planning to use it like Instagram, Twitter or Facebook, you won't find the same success.
Pinterest is a visual search engine. It works in a similar way to Google, but you will find clickable images that will take you to a website, blog post, product or service.
Pinterest is not the place to search for news events. It's a place Pinners go to for inspiration, education or to shop. It's the perfect place to search for lifestyle content or to plan your next vacation.
There are so many marketers and writers who are using Pinterest to promote their stories, are you one of them?
How Are Writers & Publishers Using Pinterest?
Publishers, like The Mirror, NBC Sports and The New York Times are all using the platform. Each publisher is pinning content around interior design, fashion, food, and travel.
Each of these publishers mentioned has a large following on Pinterest.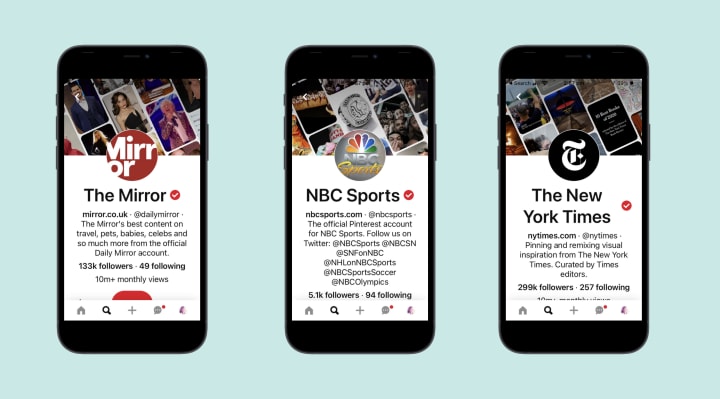 Why Should Writers Consider Pinterest?
Pinterest is the place to go for inspiration and education. If you are a writer, then you can sign up to Pinterest for free and start creating Pins straight away. As a writer, you can create Pins that link back to your own website or even the platform where your books, articles and stories are being promoted.
And yes, writers can also link their Pins back to Vocal and any other platform where your stories are published.
Writers With A Pinterest Presence
There aren't too many writers with a Pinterest presence as yet, which surprises me. Pinterest definitely has loads of potential for writers. Some writers are starting to take advantage though.
James Patterson - Yes, THE James Patterson! One of my favourite authors has a Pinterest page. All of his Pins link back to books on his website.
Tom Kuegler - A prolific writer, blogger and influencer on Vocal and Medium is using Pinterest to promote his stories.
Suzie Love - An author who publishes contemporary and historical romances and history nonfiction promotes her books on Pinterest.
Laura Bradbury - Author of the Grape Series, The Winemakers Trilogy as well as cookbooks uses Pinterest to raise awareness of her books.
Christine Rose Elle - Writes books and courses on self discovery that she promotes through her Pinterest account.
How Can I Link My Pins To My Vocal Story?
Use a platform like Canva to create your Pins. Once you've created your Pin, and you're ready to publish it, don't forget to add the correct URL. Where do you find the URL? Click on your published story, copy the URL that's in your browser and use that URL on your Pin.
See Below

Top Tips
Create at least 3 different Pins for each story.
Add your Pins to the most relevant Board on your profile.
Share your Pins to relevant Group Boards you're a member of.
Then, when a Pinner on Pinterest finds your Pin and wants to learn more, they will click on the link which will take them directly to your Vocal story.
Boom! 💣
This is a great tactic for three reasons:
You will find more readers from a new and different audience
If those readers love your stories they might subscribe for more
If those readers love your stories they might become a paying member
It's a Win-Win! 🏆
So, the question is, if you're a writer and you're wanting to promote your work, have you considered adding Pinterest to your marketing strategy? If not, it's time you did.
Not sure how to get started on Pinterest? Take a look at another one of my Pinterest stories HERE.
About the Creator
🇦🇺 Social Media Marketer, Pinterest Coach & Freelance Writer. Writing about Social Media, Travel & Wellness.
Reader insights
Be the first to share your insights about this piece.
Add your insights