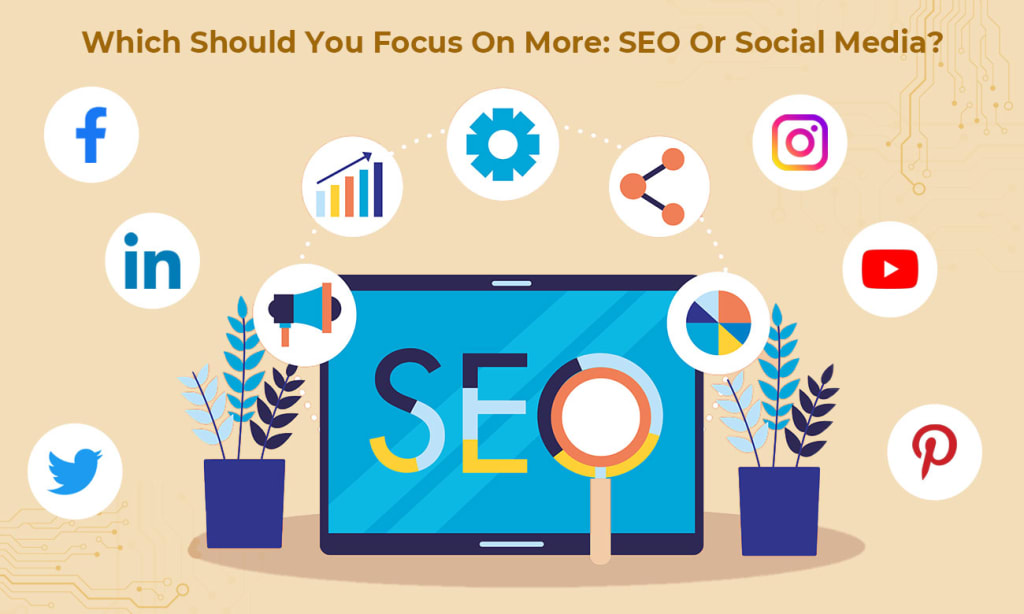 Creating a marketing strategy takes a lot of time, and you are always evaluating what is working and what needs to be improved. You must also stay current with the latest advancements and innovations in the field of marketing. How do you determine how much time to invest in the various components of your marketing strategy? Should you spend more energy on SEO or your Social Media Marketing strategy, for instance? Even though you might want both, your time and resources are likely limited, so eventually you'll have to decide which one receives your complete focus.
There's no questioning the importance of Search Engine Optimization in strategic marketing. You also can't argue that Social Media Marketing is essential to your success in the current online socializing environment. Naturally, you want to maximize the Return On Investment (ROI) from your marketing efforts while also adhering to financial constraints that can prevent overspending on SEO and Social Media Marketing. But which one ought to receive more of your focus going forward? How should the "SEO vs. Social Media" debate be resolved?
Difference Between SEO & Social Media Marketing
Your digital marketing approach should incorporate both SEO and social media because they both have distinct advantages. Both of them are inbound marketing strategies that aid in attracting certain consumers to your website. To know how to proceed with strategy optimization, it's critical to comprehend what each one is and isn't before determining which would help your business the most.
High rankings on Search Engine Result Pages for searches are made possible by SEO, which is a driving force. The proper SEO approach raises your visibility and generates more organic leads.
On the other side, a social media strategy plan focuses primarily on social media sites like Facebook, Twitter, Instagram, and YouTube. These channels are used to advertise the goods and services you provide and are a crucial instrument in helping you reach your sales objectives. They can also be used to raise brand recognition.
Two very distinct, yet both equally potent tools. Let's examine their specific differences:
The goal of SEO is to have content appear higher in Search Engine Results Pages while still giving your target audience the information they want and need. The most valuable keywords are taken into account while developing an SEO strategy, along with other elements like layout and link development.
Social Media Marketing is more about establishing online connections and interacting with your buyer personas while simultaneously raising brand recognition. As a result, you drive more traffic to your website thanks to a solid social presence that you've created through community building or by running paid ads on each network.
Methods Used to Identify the Targeted Audience
Knowing the characteristics of your intended customer personas will help you successfully direct your SEO strategy and social media marketing efforts. The method used by these two marketing strategies to determine the target market is where they diverge. You will do research and identify buyer personas who will be most interested in what you have to offer during the planning stages of your SEO strategy based on the data gathered. Then, you precisely tailor your strategy to them with search engine inquiries in mind. Your research tactics begin with the platforms themselves when determining where to concentrate your attention in Social Media Marketing. You can determine who interacts and who utilises which platform more by looking at the demographics of each. After that, you concentrate your efforts and financial resources on those. In other words, find your target audiences through social media.
When it comes to content, SEO places a priority on offering knowledge based on research that responds to a query or desire for information by your target demographic (your buyer personas). The use of long-form information on websites, blogs, and articles is the most common. Content has another purpose in Social Media Marketing. Its purpose is to arouse emotion, which in turn encourages involvement. Short-form or visual content is typically used for social media. If used properly, these two incredibly original content uses can be quite beneficial to you.
You'll require time to attain successful SEO statistics.
You'll need to first establish yourself and build up enough trust to achieve higher positions on search results sites because search engines take time to index information. As a result, gauging the results of SEO takes ongoing work. The key performance indicators (KPIs) for SEO search place a strong emphasis on both traffic and click-through outcomes.
In contrast to it, Social Media Marketing. Social media is a dynamic environment where you can easily observe what is succeeding and what is being overshadowed by fresh information. Here, you can also view immediate feedback and track KPIs like engagement levels (likes, comments, and shares).
Number of Websites/Platforms
To maximize your time and resources, SEO reduces the number of search engine sites that you need to concentrate on. Contrarily, Social Media Marketing needs you to divide your effort between numerous platforms, which may be time-consuming and expensive. Although there are other, more minor distinctions between the two, these are the ones that may help you decide how each fits into your overall marketing approach.
The Advantages of an SEO Strategy
The goal of SEO, in a nutshell, is to make your website as search-engine-friendly as possible. This optimization is crucial since search engines are more effective than all of the social media sites put together at driving more visitors to your website. Therefore, investing extra effort in creating an SEO strategy has certain advantages. Social networking is frequently seen as a way to interact with people, have fun, and not look for goods or services. In the meanwhile, search engines are recognized tools for finding them directly. As a result, those who are further along in the buying process use search engines, which increases conversions. Your content is there to inform, educate, and entertain while SEO strategy is a long-term investment that continues to drive visitors to your website as searches are made. Additional advantages of an SEO strategy are as follows:
Aims for higher-quality traffic
Increases clarity
Aids in building trust and authority
Enables reporting, analysis, and easy KPI tracking
Think twice before ignoring your SEO strategy because search is and will remain the main source of visitors to your website.
The Benefits of a Social Media Strategy
Social media has undoubtedly progressed beyond serving as a forum merely for friend interactions. It now acts as a potent tool for discovering fresh ways to connect with your audience. Your ability to recognize them and use them to draw in more clients will be aided by having a social media strategy. This plan serves as a kind of blueprint where you specify the steps to be taken, the posting timetable, and the goals and objectives. It ought to additionally outline how to evaluate your KPIs. The best social media platforms to utilise, how and when to run social media ads, and how often to boost postings are all covered in social media planning. The advantages of having a social media strategy include:
Maintains your focus and organization for more effective Social Media Marketing.
Focuses on the most crucial objectives, such as enhancing engagement, boosting brand awareness, or increasing transactions.
Identifies possibilities for communication with target audiences.
Shareable posting material will help your brand.
Determines how to increase engagement.
Allows for the use of influencers, backlinks, and other forms of paid advertising.
Identifies KPIs to monitor, like engagement (comments, shares, likes).
Which Should Be Your Business's Priority: SEO or Social Media?
There are several factors to take into account when deciding whether to concentrate your business efforts on SEO or social media. Both of them have advantages and disadvantages. However, there are many ways that Social Media Marketing and SEO can complement one another. The true question might therefore be which one you prioritize and how it affects the other. These days, teaming up with others is usually the best option. Instead of relying solely on one or the other, your website will benefit from a combination of Social Media Marketing and SEO Marketing. They collaborate in the following ways:
While social media delivers your material in front of your intended audience more quickly, SEO will make sure that it is readable by search engines.
Using social media, you may find the people you want to use SEO to reach.
By connecting one of your blog pieces that have been SEO-optimized to a visual that has been published on social media, the two collaborate with content to make it simpler for social media users to find.
When you build your strategy with SEO and social media in tandem, you can save time and money.
Both SEO and Social Media are Essential
The "SEO vs. Social Media" debate has no winners. Each one helps the others. The returns from social media may be less than those from SEO, but it does help you reach a wider audience. If you decide against using social media, keep in mind that individuals who use it may question why you aren't using it, which might give the impression that you are out of touch with the times and don't care about what they do. Thus, there is no way out.
Through your website, these people can connect with you on your social media channels thanks to SEO. Engagement on social media can increase website visitors, which can improve search engine rankings. While SEO is a gradual path toward getting the outcomes you want, social media is a hyper-strategy that jumps around and is continuously monitoring the pulse of your audience. Slow and steady may win the race, but being aware of the current situation may help you arrive sooner. The marketing approach you need may combine an SEO strategy with a plan for social media.
About the Creator
As the best digital marketing agency in Kolkata, StudioAPS provides the best results for your brand. Grow your online presence with our 360 degree digital marketing services today!
Reader insights
Be the first to share your insights about this piece.
Add your insights