What Your Professor Didn't Tell You About Reaching Your Goals
It isn't what you'd expect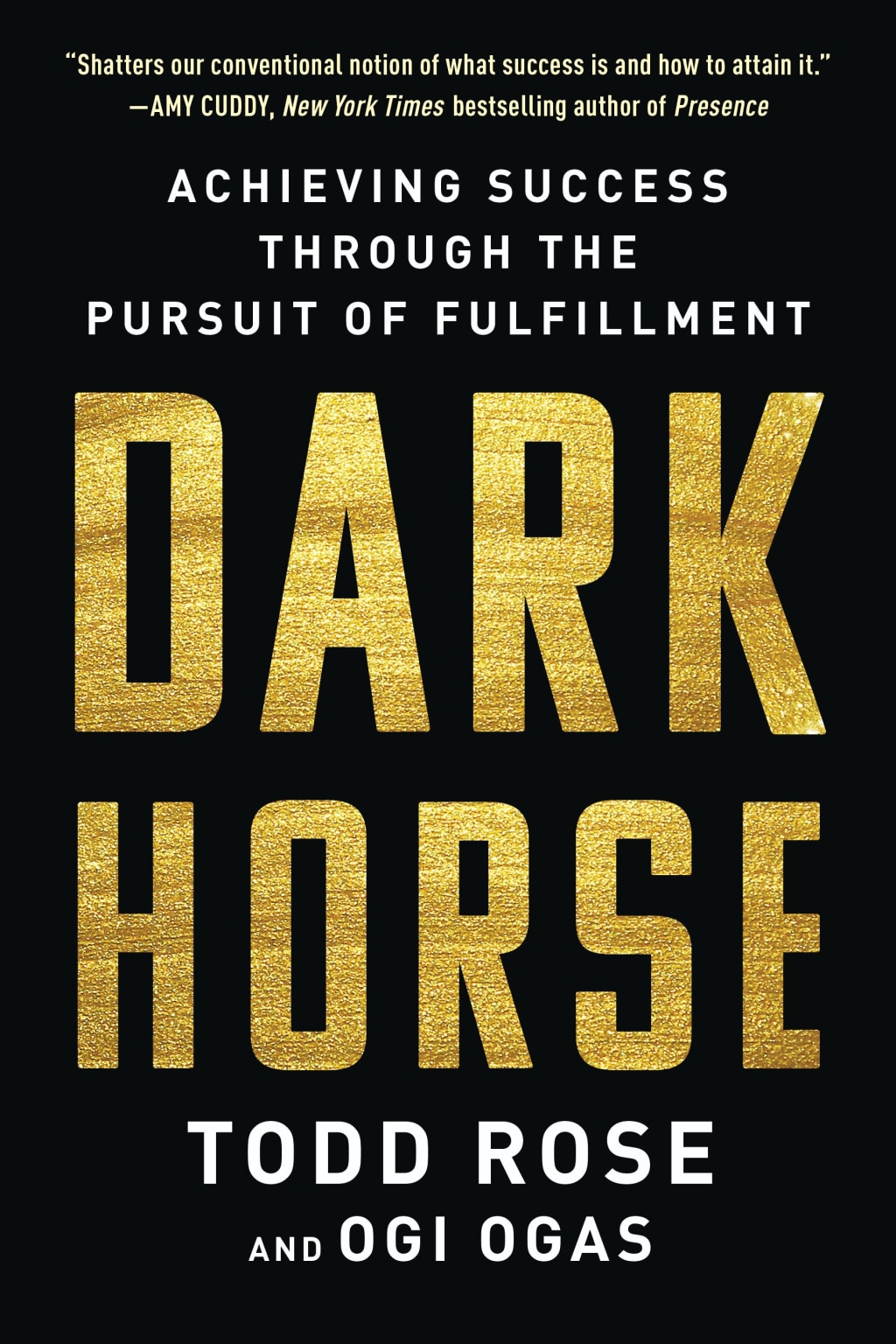 Dark Horse: Harper Collins
Harvard University's Todd Rose is back with another must-read book: Dark Horse: Achieving Success Through the Pursuit of Fulfillment. The title, 'Dark Horse,' alludes to the idea that those folks who don't take a standardized career path can achieve just as much success as those who do.
This should matter to anyone pursuing a career in finance or when managing their own money. In simple terms, this book will tell you an important truth. You'll get more success by doing what is right for you as a unique individual than you would by trying to shoehorn yourself into an ill-fitting but predetermined role.
The topic of not fitting into the standardized career world is something close to Rose's heart. Two years ago, when his book The End of Average: How We Succeed In A World That Values Sameness was published, I posted a warm review.
His new book, which he wrote with Ogi Ogas, gives us multiple examples of individuals who didn't follow the well-worn paths to glory.
An example of a well-worn career path might include first going to Yale University to study liberal arts and then quickly on to Harvard Business School before joining a prestigious Wall Street bank, such as Goldman Sachs or Morgan Stanley. Or others might go to Stanford University and then use their contacts to get a tech startup funded by Silicon Valley venture capitalists.
There's nothing wrong with traveling either of those career routes if you can. But these days neither is exactly novel. Those paths also involve doing things that have become pretty 'standardized,' a word to which the authors keep coming back.
The reality, as Rose and Ogas point out, is that such a path isn't right for everyone. The authors write:
Dark horses also take into account their economic realities. If you are raising two small children, and one plausible outcome of investing all your savings in starting your own business is that you won't have any reliable means of supporting your kids if it fails, you should consider other opportunities. That's prudent advice whether you adopt the standardization mindset or not.
In simple terms, in the example above, betting your life savings on a startup when you have other major obligations makes no sense.
The authors also dismiss the idea that going your own route is risky. It doesn't have to be that way they say:
In the standardization mindset, risk is determined by odds. But in the dark horse mindset, risk is determined by fit.
Put another way, when the dark horse finds the opportunity that fits like a hand into a tailormade glove, then the risk is lower.
BAsed on my experience, the authors are correct. I tried to follow the standardized path and kept workign at it long after it was clear there was no chance I'd fit in. In the end, I broke away to follow what I truly beleived would work. Along the way relatives told me I was crazy. Still I have no regrests.
Rose and Ogas continue that same theme by noting that the dark horse evaluates how well their own skills, passion, and talents fit into a chosen role. And by choosing carefully what opportunity they decide to pursue they lower the risk of failure and increase the chance of success.
Dark Horse is a deceptively simple book and well worth the read for anyone who feels like there is more to life than fitting into an uncomfortable and untenable career role.
This is an edited version of a story first published on Forbes.com on March 31, 2019
Follow me on Twitter or LinkedIn. Check out my website or some of my other work here.
career
About the author
Simon Constable | Author | Broadcaster | Journalist | Commentator | Speaker
You'll find his work in The Wall Street Journal, Barron's, Time Magazine, Forbes, Fortune, TheStreet.com, the NY Post, NY Sun, and the South China Morning Post.
Reader insights
Be the first to share your insights about this piece.
Add your insights