What Small Businesses Can do to Survive the Coronavirus Crisis
The crisis is leaving small brands in every vertical wondering what will happen to them in this age of uncertainty.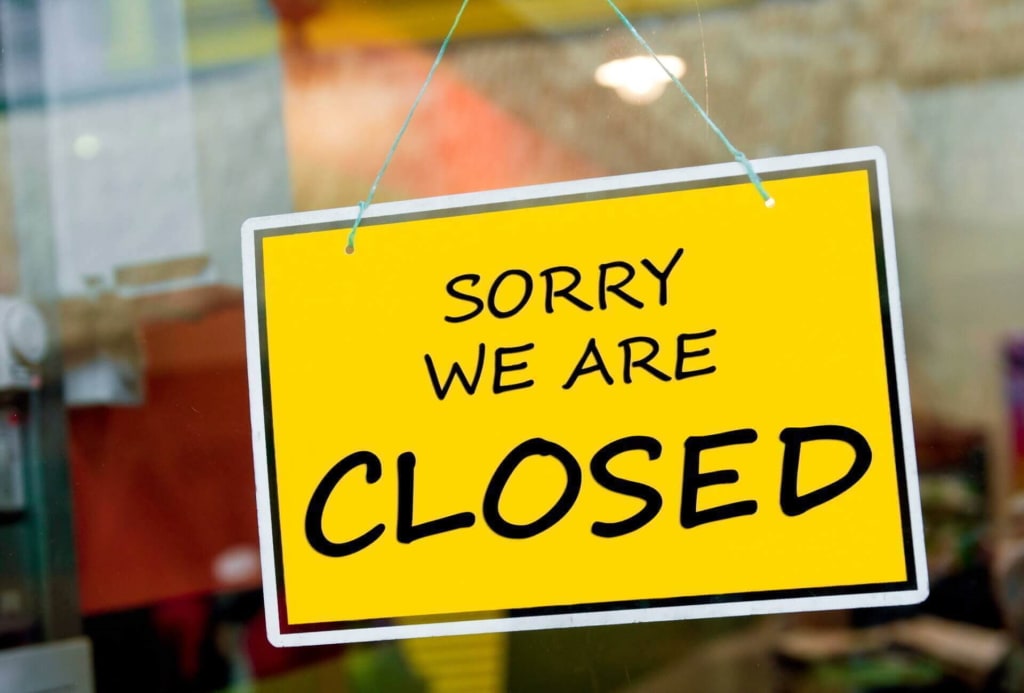 Although the times are scary, there are a few ways to adapt your business strategy and processes to help you survive and remain relevant.
Keep in Touch with Customers
Make keeping your customers informed a priority. Let them know if their orders will take longer than usual to ship.
Many websites have banner notices about shipping times and what precautions they are taking to keep employees and customers safe.
Use email to inform current customers about any changes in your business situation. Update the information on your website to make it clear if you are open or closed for business.
Be sure to keep your Google My Business listing updated. Now is a good opportunity to gain potential new customers and let your existing customers know when you are open.
See these tips on how you can use Google listings to update your customers during Covid-19.
Create a Plan
From tutors to yoga instructors, small businesses are finding new ways to stay solvent and overcome their losses during this health and financial crisis.
It's challenging to plan for a disaster. However, the better prepared you are, the better your chances of surviving.
Create an emergency or disaster recovery plan that outlines the steps you will take, such as:
How you will protect your employees if they are interacting with others
Keeping business operations going during a shutdown
Outlining alternative ways to conduct business
Offering different products or services
Keeping communications open between customers, management, and staff
Stay Connected with Customers and Leads
Although social distancing is good for public health, it is not good for small companies. People are self-quarantining, staying home, and not visiting local businesses.
As no one knows what tomorrow will bring, communication becomes even more critical so that customers, potential customers, and employees will know what to expect.
If you are planning on keeping your physical doors open, be sure to let customers know what steps you are taking to keep staff and customers safe and mitigate risk.
Use social media, emails, and website content to notify customers about how to shop your brand online and direct them to your eCommerce store if you have one.
Make good use of your website real estate and post a public update on your corporate blog explaining how you are coping and how you can still help customers solve their problems.
Keep your eCommerce customers informed about back ordered products. Consider sending a personal note with no sales or promotional pitches to let them know you care.
Communication becomes even more critical when not working in an office. Implement a remote work policy that covers expectations, communication channels, and deliverables.
Without being able to talk to others in person, your remote office team will need to use apps or programs to communicate.
Collaborative tools such as Trello, Wrike, and Google Docs enable team members to work together from different places.
Get Financial Assistance
The President signed the CARES Act into law on March 27, 2020 with $376 billion in financial relief for small businesses.
The CARES Act establishes several new temporary programs in addition to traditional SBA funding options, including:
SBA Debt Relief
Paycheck Protection Program
EIDL Loan Advance
SBA Express Bridge Loans
To learn more about financial relief options available to you and what you qualify for, read Coronavirus Relief Options.
Creatively Bring Your Office to the Web
In many cases, small businesses that offer services can bring them online. However, for small businesses that rely on foot traffic such as bars, caterers, hair and nail salons, restaurants, fitness centers, and florists, moving to an online business model is more challenging.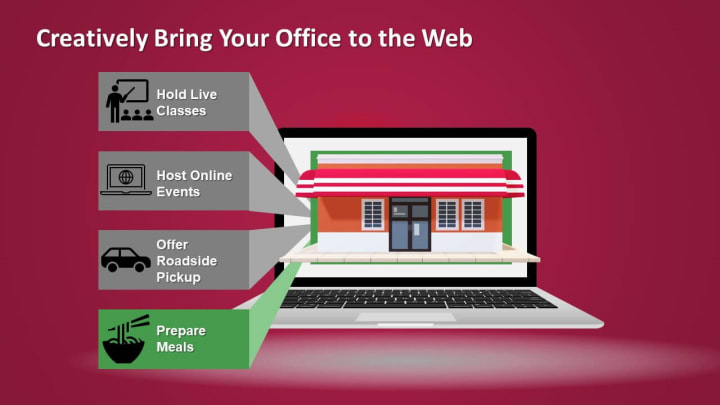 There are several innovative ways to offer different services during the crisis. Below are some examples of creative thinking to keep your business stay afloat.
Yoga instructors and personal trainers can hold live classes for members and encourage new clients to sign up.
Tutors can offer their services remotely with tools like Zoom and Skype.
Salon owners can create videos on how to do in-home root touch-ups or hair dying and put the video behind a paywall.
Accountants can create a video with details on how clients who aren't already using online bookkeeping to do so.
Hold online events about new product launches and offer special discounts for attendees to keep your customers invested in your brand and remain connected.
Small businesses that have a brick and mortar store can open an online store if they don't already have one.
Pubs and bar owners can offer roadside pickup and delivery. Another option is to offer online mixology classes behind a paywall to earn a little extra money.
Caterers can send out emails to past customers and market meal delivery services. Many parents who are trying to juggle work, childcare, and homeschooling could be interested in having some of their meals prepared for them.
Keep in mind that rules and regulations vary by location. So, what might work for one business may not be possible for another.
Adapt to Consumer Behavior and Market Changes
No one knows how the business world will look in a few months. Being able to adapt to the changes and the unknown requires flexibility and creative thinking.
Knowing what your customers' needs are is vital. You can ask them directly via email or using your social media channels. Look for insights about your industry or local market using Google Alerts or Google Trends.
When communicating with your customers and employees, don't pretend that everything is normal because it isn't.
Share with them how your business is coping and how you can still help your customers. Change the way you market to be sensitive to how the crisis is affecting everyone.
We are all in this together. Small businesses should let customers know that they are not alone.