What Are Different Career Paths for Business Analysts
Career Paths: Business Analyst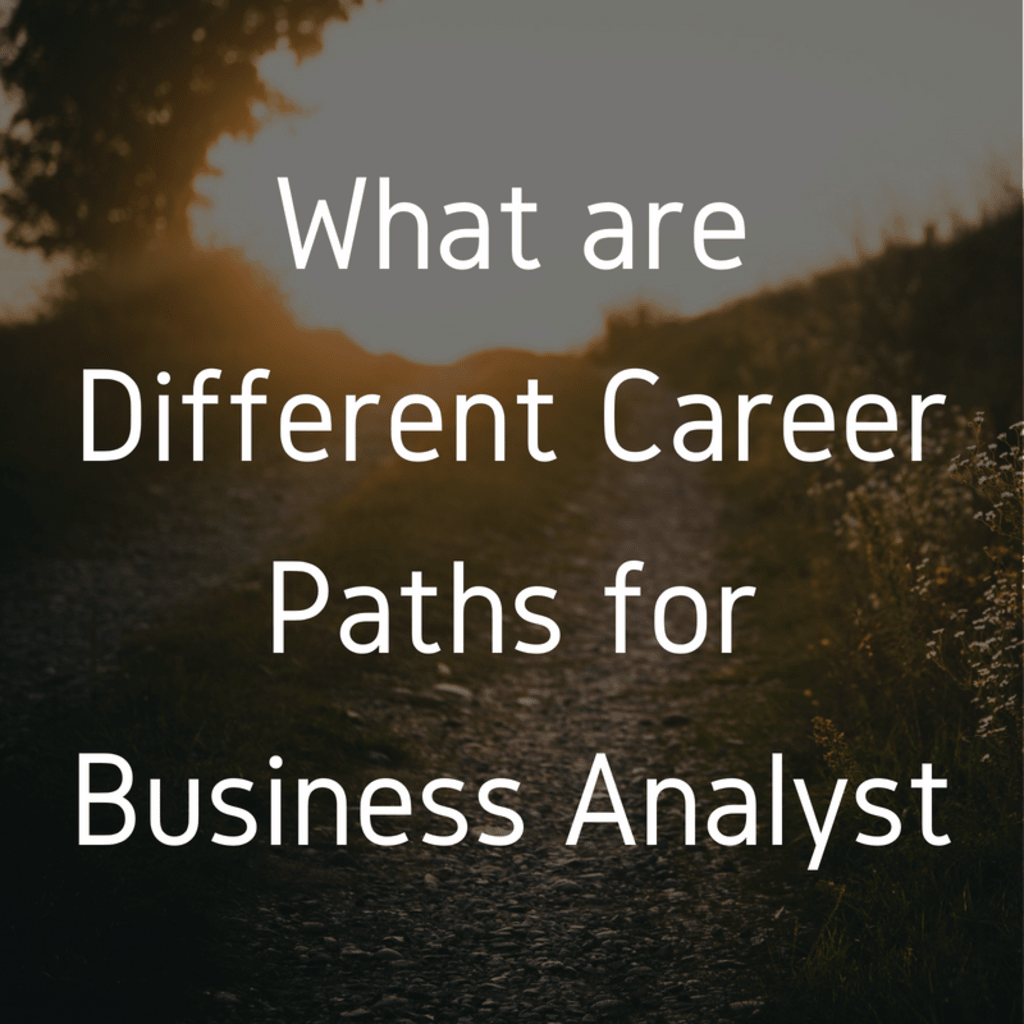 With the rapidly changing economy, the business methods have also witnessed major reforms. It has become necessary for the enterprises to adapt to these fast changes smartly. For easy transition, analysis is playing a crucial role in deciphering the future of a company. As more businesses are gravitating towards new-age technologies, there is no dearth of opportunities for business analysts. These business analysts are instrumental in initiating valuable changes for optimizing the business processes. Depending on your qualifications, expertise, and experience, you would find yourself working at a junior, mid, or senior position. What you will do as a BA will depend on the chosen field. For instance, in the health care domain, you will serve as an interface between the patients and doctors whereas in the software sector, you will be refining business processes.
What's next?
Usually, in the IT industry, it is observed that a profile has a fixed career path. However, in case of business analysts, as the job descriptions are based on the type of industry, this path tends to vary. It could be a zigzag road between the IT domain and the business sector. While some BAs would move on to take up management role, some might be handed a pivotal role in the technical department. Depending on your technical skills, knowledge of system, and industry expertise, your position would be framed. However, the question is how do you climb up the career ladder? The most challenging part is that there is no specifically defined way for this role. So, to ensure that you advance in your career, just focus on the core business analyst skills that will help you to assist as a solid contributor, irrespective of the industry you are employed in.
A business analyst career path is very vast and diverse. So, based on the qualifications and area of interest, you can choose to follow any one of the career paths given below.
Operations Head
In this profile, by keeping the core fundamentals of business analysis in place, one can branch out to be a manager for the operations department. In this designation, the BA is accountable for analyzing the business needs, reviewing the current product or services, overseeing operational procedures, and recommending technical or non-technical solutions for overall improvements. A master's degree in business administration is necessary for this profile.
Enterprise or Business Architect
The business analyst profile offers career advancements up to a certain level. If you have a formidable experience under your belt, you can consider driving your career as a business or enterprise architect. This gives you an opportunity to handle business activities, visualize the bigger picture, and indulge in some serious business-related thinking. This is a more IT-oriented profile. A strong technological background and a familiarity with business processes like SCM, CRM, ERP, and finance is essential for this role.
CTO
Shifting to this profile is usually a rare case, but if you are a tech-geek and have a technical background, jumping ships to this role could also be a great move in your career. In order to work for this position, technology expertise is must. This involves managing various types of IT-projects and other technological duties involved. A master's degree in business administration backed by a degree in information technology, or computer science along with the necessary certifications can help in reaching this coveted position.
COO
As the business analyst profile is vast and diverse, you can move up the ladder to a role that is concerned with managing projects, or business operations. This being one of the highest ranking executive profiles in a company, requires a degree and lots of experience. When you get promoted to this profile, the employer would be more interested in knowing if you have a history of making good things happen, and handling operations in tight situations. With your business analyst background, you will surely have ample chances to work for different projects, and also be constantly involved in refining the business processes to ensure maximum profits.
Product Owner
Some business analysts opt for logical career paths such as product owners or product managers. A major similarity between these two jobs is focusing on requirements as their tasks mainly revolve around a deep understanding of customer behavior, and the market. At a high level position, a product owner builds business cases, develops requirements, designs solutions, and even performs testing to assess product quality. This job is almost similar to the tasks that you have performed as a BA. The two roles share many traits in the skill set and hence, if you want to be involved in a position handling the client base and be a leader, product owner would fit you best.
Practice Head
In today's world, with a rising number of opportunities, the business analyst can also transition from a core IT domain to a non-IT domain and become in-charge of similar projects. For instance, you can become a practice head, and handle the projects in a non-IT organization. This includes managing daily operations in information technology department by assessing project requirements, and recommending appropriate actions. You will establish processes and business analysis standard. Furthermore, you will take an active part in key committees, board level meetings, ad-hoc advisory groups to decide on the key strategies. If you have a strong understanding of the administrative systems, ERP computing system and good stress-management skills, this could be the next role in your career.
Project Manager
A business analyst mainly deals with requirement gathering, solution generation, and communication with the business users. To achieve new heights, you can step into the role of a project manager when you have adequate experience. When you decide to make the jump, you should try to get hands-on experience in changing control. In addition, try to address an issue with two different perspectives and can even opt for certifications like Certified Associate in Project Management (CAPM), PMP, etc. By participating in activities involving change management, realizing differences and similarities in the two profiles, and gaining some knowledge of the work flow, you can easily transition into this role from a BA profile.
Delivery Head
A business analyst who is already aware of the use of a product from a customer's perspective can become a delivery manager in the long run. While a BA answers the 'how' aspect of a product, a delivery head is accountable for answering the 'what' and 'why' queries for the same. As both the profiles are expected to have a deep understanding of customer demands, and business opportunities, an accurate business acumen is important. To transition into a deliver manager role, you should learn project management principles, develop project resourcing and task allocation skills to complete the orders within deadline. If you are searching for a customer-oriented profile, this could be the best probable option.
Management Consultant
As a senior business analyst, you might have wondered about the next step in your career. Many companies are now employing them in a consulting position to get benefits and valuable guidance from their experience. The core skills required for the role of a management consultant are an ability to facilitate business decisions, communicating and building positive relationships with the stakeholders, and defining feasible business goals. This profile gives you a chance to work on an individual basis or even be on the decision-making panel. For business analysts who have achieved expertise in their field, and are looking for an option to mature in their career, playing the role of a consultant can give them an opportunity to solve different challenges.
In the past few years, business analyst has become one of the fastest growing fields as more companies have realized the importance of using data to define a project's metrics. The high demand has led to an increase in the number of individuals wishing to pursue this career. Furthermore, the various options after acquiring sufficient experience is also turning out to be a major point of attraction. With relevant background and traits like decision-making abilities, problem-solving attitude, managerial skills, effective negotiation, and strong communication, a business analyst can fit into any of the above-mentioned roles and make great strides in his or her career.