Wanna Get Away?
Ever wonder what flight attendants talk about?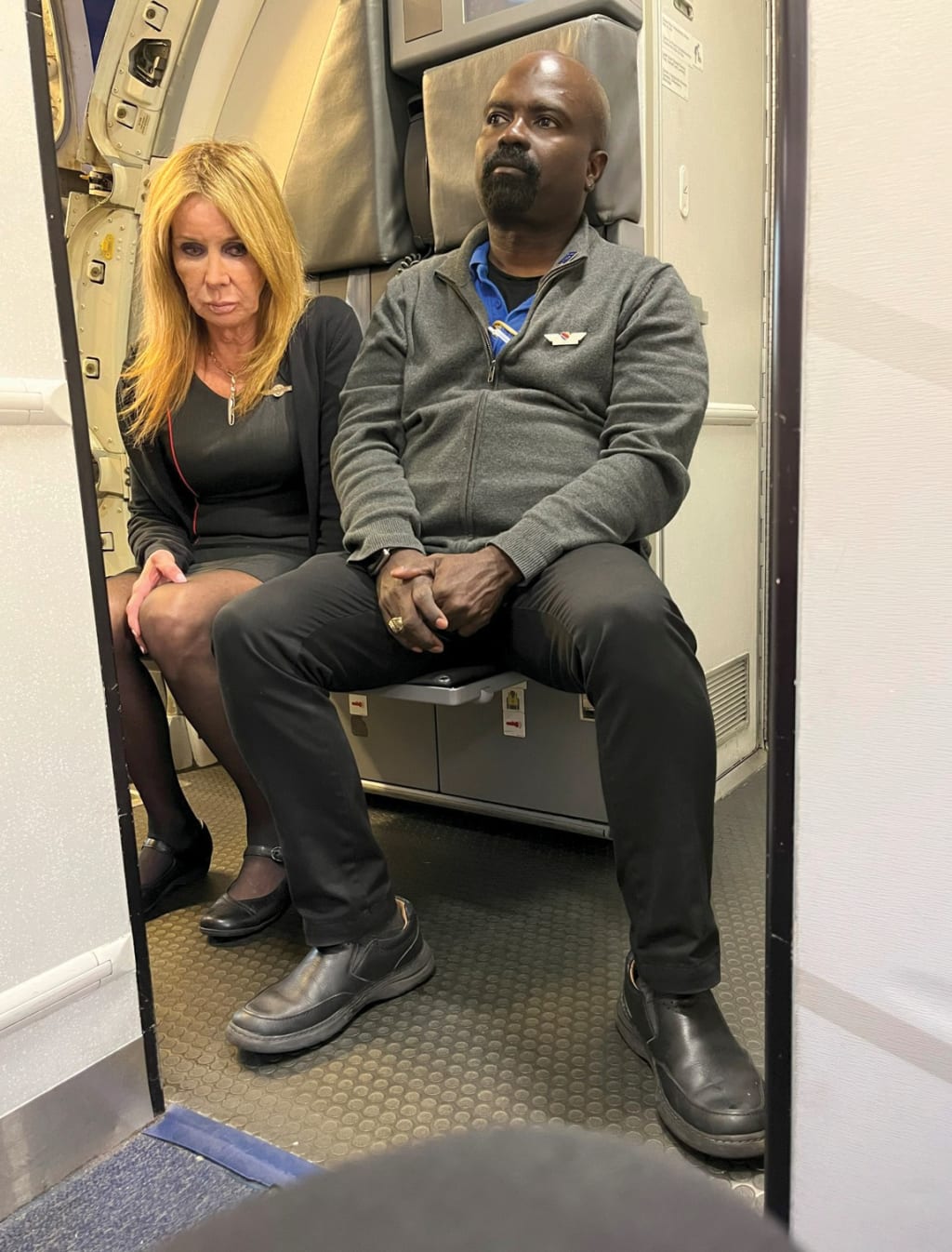 "I'm glad I only have one more leg to go. My body is telling me to get some rest."
"That makes two of us, my friend."
"How long have you been at it, Janet?"
"For this airline, ten years. How about you, Davon?"
"Two years next month. As a senior mama, why would you bid for this turn? You have enough seniority to get a better leg than Fort Myers right after Christmas."
"That's true, and I never work this route during snowbird season. Unfortunately, I need to be home for a family thing tomorrow and this is the turn that will get me there. What about you, Davon? Couldn't you get anyone to switch with you?"
"Nope, nobody ever wants a Fort Myers run during this time of year. If dispatch assigned it to you, you're stuck with it. At least you only get this leg once in a while. This is my third trip down here this month, and we have a week to go."
"I hate snowbird season! Every flight is packed and these people never stop asking for stuff."
"Boy. You can say that again, Janet. That couple in 23A&B acted like I was their personal waiter. We have two hundred people on this flight, but I'm supposed to be available to top off their water whenever they call. Talk about self-entitled!"
"I know exactly what you mean, Davon. I had a woman like that in 3D. Everyone knows Southwest doesn't have a first-class cabin, but because she was sitting up front, she wanted to be treated like a queen. The woman complained about paying for her alcohol but kept ordering more. I finally had to shut her off after number five. Then, we're about to land and she stands up and heads for the bathroom. When I told her to be seated, the bimbo had the nerve to say I was picking on her because she was old."
"Wow, picking on her because she is old! There isn't anyone on this plane that's not old. I'll be honest with you, Janet. I used to hate working flights with a lot of kids, but this is worse. Kids may start out noisy, but they settle down and play video games or watch movies. The best you can hope for is these old farts fall asleep for a while."
"That's true, Davon! And kids aren't always trying to get something out of the overhead just before takeoff or landing. I can't believe how much junk these people try to fit into that small cubicle. Their bags are so overstuffed they need help to lift them into the compartment."
"Yup, and if their bag doesn't fit, they move other people's things, so it will. It really is an all about me society."
"During one of my trips, I apologized to the hotel van driver for taking so long to come out to the van. I told him that my flight had twelve wheelchair passengers who needed help. He asked me if I knew what RSW stood for. I replied Regional Southwest Airport. He smiled and said, nope. It stands for "really slow wheelchairs". That's cruel, but so true."
"How much longer do you think you'll be doing this, Janet?"
"My husband has another six years before he retires. We're both tired of the northern winters, so we'll probably spend the summers up there and winters down here. It will sure beat shoveling snow and scraping windshields."
"So, what you're telling me is you are planning on becoming a snowbird?"
"I never thought of it like that, but I guess I am."
About the Creator
I have spent most of my life traveling the US and abroad. Now it's time to create what I hope are interesting fictional stories.
I have 2 books on Amazon, Mitigating Circumstances and Short Stories for Open Minds.
Reader insights
Outstanding
Excellent work. Looking forward to reading more!
Add your insights