If you are in a process of creating a product, it is essential for you to know how to create a roadmap for your product in order to map its journey from creation to sales.
The road mapping strategy will help you understand your product's long-term and short-term goals as well as what you would need to do for each major stage of your product's development in order to ensure a smooth and successful journey.
A product roadmap gives a broad overview of all aspects of an upcoming product: goals, timeline, features, resources, etc. The roadmap indicates what a development team is building, the problem the (product)will solve, and the business goals the new product will achieve. - An excerpt from SmartSheet.com
Benefits Of A Roadmap:
Provides a systematic and strategic plan.
Helps define a goal or desired outcome.
Includes the major steps or milestones needed to reach it.
Serves as a communication tool, which helps articulate strategic thinking - the why - behind both the goal and the plan for getting there.
Used as a great tool to illustrate to investors, funders, and stakeholders.
Perfect as a pitching tool.
Through clear product road mapping, the management team decides what and how the product should be developed.
Whether it is exploring a product concept or launching a new product, strategic planning is essential.
There are different product roadmap templates that can be used.
My favorite roadmap template is a clear undated template that includes all stages of the product.
Each stage is divided into 3 different stages which include the prelaunch, launch, and post-launch phases.
As you can view below, in between each of the 6 main stages, a review meeting should be organized with the management team before moving on to the next stage of the product's development.
This is done in order to make sure all team members are on the same page when it comes to the product journeys and updates.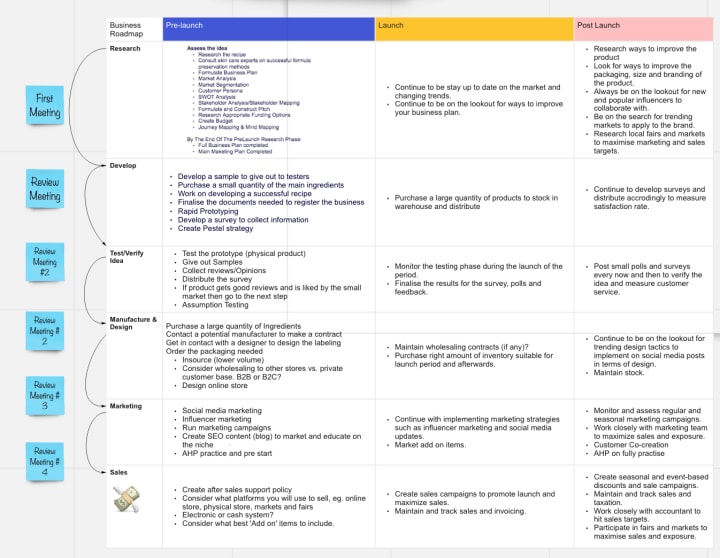 By the end of the last stage (Sales), the roadmap does not end here as it is a continuous process that makes sure that there are updates for each stage that need to be made as part of the post-launch.
For example, consistent efforts in marketing and after-sales service need to be taken into account.
Here is an example of each stage and phase of the roadmap that I used in my product development process.
Feel free to use what you find relevant in the creation of your own product.
--
01. Research
Ideation, iteration, and brainstorming new product ideas.
Pre-Launch:
Assess the idea
Research the recipe
Consult (in my case- skincare) experts on successful formula/ingredients/components and preservation methods
Formulate Business Plan
Market Analysis
Market Segmentation
Customer Persona
SWOT Analysis
Stakeholder Analysis/Stakeholder Mapping
Formulate and Construct Pitch
Research Appropriate Funding Options
Create Budget
Journey Mapping & Mind Mapping

By the end of the Pre-Launch research phase:

Full Business Plan completed
Main Marketing Plan Completed
Launch:
Continue to stay up to date on the market and changing trends.
Continue to be on the lookout for ways to improve your business plan.
Post Launch:
Research ways to improve the product
Look for ways to improve the packaging, size, and branding of the product.
Always be on the lookout for new and popular influencers to collaborate with.
Be on the search for trending markets to apply to the brand.
Research local fairs and markets to maximize marketing and sales targets.
---
02. Develop
Gather materials and secure partners needed for production.
Pre-Launch:
Develop a sample to give out to testers
Purchase a small quantity of the main ingredients
Work on developing a successful recipe
Finalize the documents needed to register the business
Rapid Prototyping
Develop a survey to collect information
Create Pestel strategy
Launch:
Purchase a large number of products to stock in the warehouse and distribute
Post Launch:
Continue to develop surveys and distribute accordingly to measure satisfaction rate.
---
03. Test/Verify
Create a finished product to use as a sample for mass production.
Pre-Launch:
Test the prototype (physical product)
Give out Samples
Collect reviews/Opinions
Distribute the survey
If the product gets good reviews and is liked by the small market then go to the next step
Assumption Testing
Launch:
Monitor the testing phase during the launch of the period.
Finalize the results for the survey, polls, and feedback.
Post Launch:
Post small polls and surveys every now and then to verify the idea and measure customer service.
---
04. Manufacture/Design
Bring the product to the life through sketching, illustration.
Pre-Launch:
Purchase a large number of Ingredients
Contact a potential manufacturer to make a contract
Get in contact with a designer to design the labeling
Order the packaging needed
Insource (lower volume)
Consider wholesaling to other stores vs. private customer base. B2B or B2C?
Design online store
Launch:
Maintain wholesaling contracts (if any)?
Purchase the right amount of inventory suitable for the launch period and afterward.
Post Launch:
Continue to be on the lookout for trending design tactics to implement on social media posts in terms of design.
Maintain stock.
---
05. Marketing
Feedback from a substantial and unbiased audience for product validation.
Pre-Launch:
Social media marketing
Influencer marketing
Run marketing campaigns
Create SEO content (blog) to market and educate on the niche
AHP practice and prestart
Launch:
Continue with implementing marketing strategies such as influencer marketing and social media updates.
Market add-on items.
Post Launch:
Monitor and assess regular and seasonal marketing campaigns.
Work closely with the marketing team to maximize sales and exposure.
Customer Co-creation
AHP on fully practice
---
06. Sales
Total cost of goods sold to determine the retail price and gross margin.
Pre-Launch:
Create an after-sales support policy
Consider what platforms you will use to sell, eg. online store, physical store, markets, and fairs
Electronic or cash system?
Consider what best 'Add on' items to include.
Launch:
Create sales campaigns to promote launch and maximize sales.
Maintain and track sales and invoicing.
Post Launch:
Create seasonal and event-based discounts and sale campaigns.
Maintain and track sales and taxation.
Work closely with an accountant to hit sales targets.
Participate in fairs and markets to maximize sales and exposure.
---
A Few Last Words
Whether you are creating a physical or digital product, you need to implement the product roadmap strategy in order to be clear on your goals and serve as a visual checklist to cross out from each of the 6 main stages.
If you would like to support my journey, then kindly subscribe to my youtube channel where I will be sharing updates as well as step-by-step guides on my passive income journey as well as business strategies and tricks. Subscribe here.
About The Author
Noor is a second-year business student at Tredu. She is also studying for Diploma in International Smart Industry at TAMK. She is passionate about marketing and content creation. She recently launched her YouTube channel specializing in holistic healing.
Reader insights
Be the first to share your insights about this piece.
Add your insights