UpPoems
An NFT Project About Dealing With Life, And Everyday, Finding The Up's.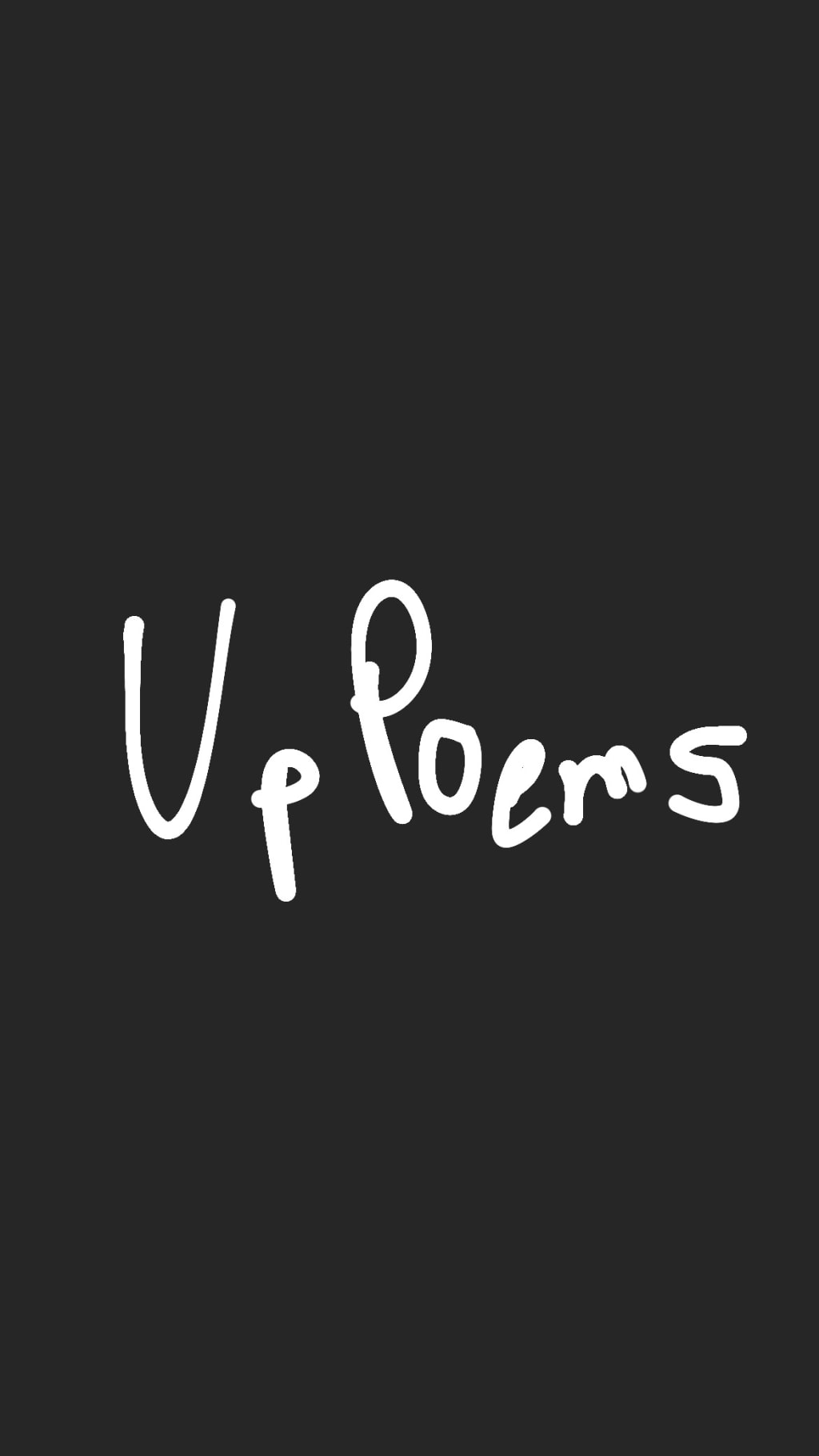 This journey of writing has so many twists and turns. The one blessing is when I get to wake up.
Upon waking up, this is already a blessing in all our books that we can live another day. Our days then are taking on by us. There are plenty of ups and downs, and here is to finding the up's!
I have always gravitated towards poetry and art, and now I also find myself gravitated towards NFT's. I do believe NFT's will be part of our everyday lives in the future. With that being said, this is about an NFT project that I started and will continue to work on, however, I would like to talk more about the journey and what UpPoems means.
At a time in my life where I was searching for many answers and finding many answers, I knew I wanted to incorporate writing, poetry, art, community, all in some sort of way to be a part of my life and share with others. This sense of doing something every day seemed right and in need of being taken on.
This is when I got to writing poetry on a piece of paper and placing pennies on it in the form of scene/depiction. I didn't know exactly where I was going with it, but I was going.
Here is a picture of that first piece and poem written on April 15, 2021.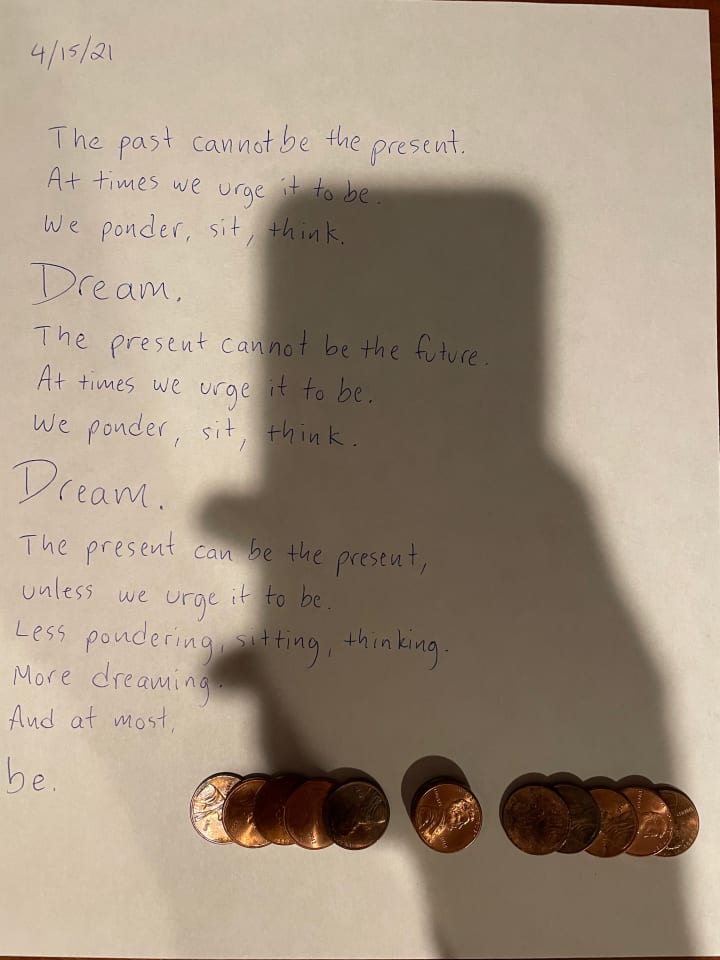 So, now I'm off on this journey of writing poetry and having it be accompanied by a placement of pennies – snapping a picture of it and collecting the papers. I also would type these up on my laptop first, as to have a backup of it and a first draft before writing it up on the piece of paper.
I quickly noticed that the best time to do these was early in the morning, relatively soon after I woke up. I then realized even more and told myself, how these poems that came to mind were purer when there wasn't any phone use or anything else to start brewing in the mind beforehand.
The less I did before writing these poems, the closer they would be to my dreams and the blessing of waking up.
So, my routine quickly became, me reading the bible first thing in the morning, then getting my quick fitness (really quick, push-ups for my age, sometimes some core-work and/or rehab work), and then it was off to writing. As the days went on, I tried to be as free flowing as I can be.
The reason for this free flow was because I knew I owed it to myself as a story that can be told and then it would most resonate if anyone were to read for themselves. It is the way that feels most right.
Now, a little more than a week goes by and an idea sparks.
Rewind a couple of days, maybe weeks, I am beginning to learn about NFT's, smart contracts, and the blockchain. Along with other knowledge that I was looking to pick up at that time, this topic was always present on my mind.
Then it hit – make UpPoems an NFT project!
Super excited, I knew I had to turn the art digital. I thought of Adobe which I was learning at the time but decided to go with the Instagram story feature of 'Draw' as I was way more comfortable with that.
Then with this new idea in place, on April 24, 2021, I did my first digital UpPoems and the journey was on! Here is the piece.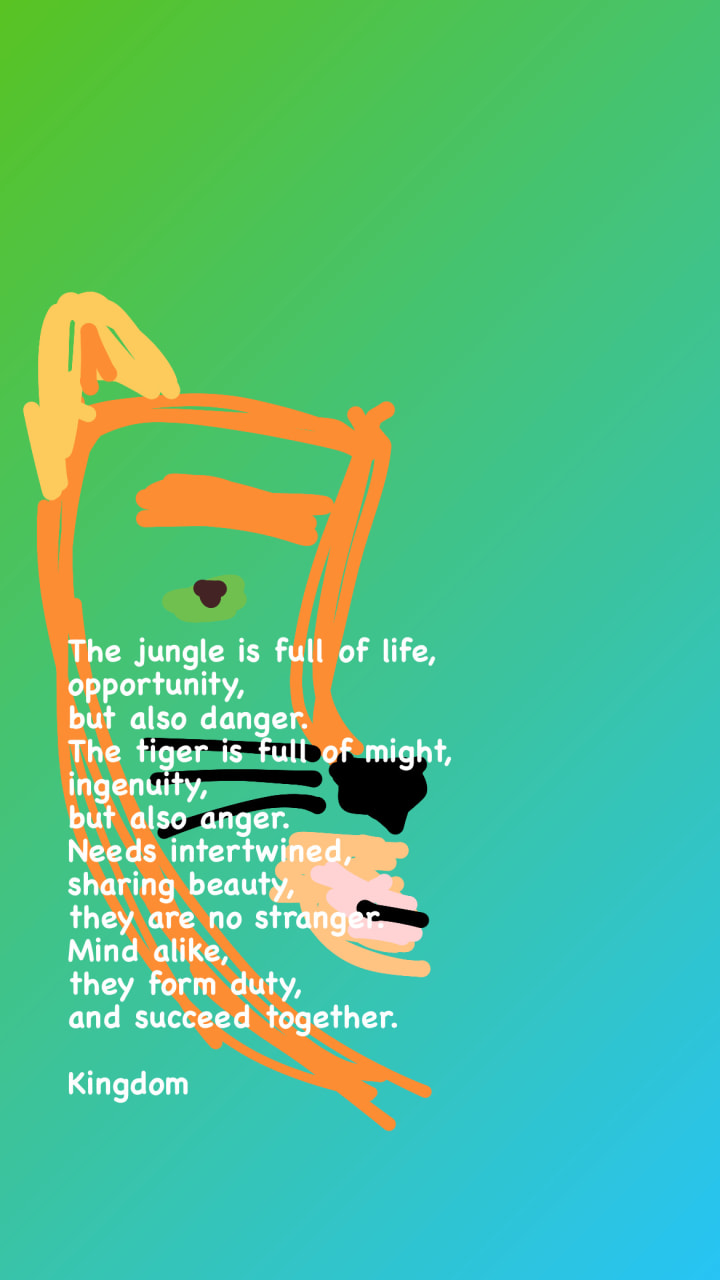 As I am continuing to do these pieces, I still am very early in the space of NFT's and learning about them so almost each day was a new idea, concept and opportunity that was born. I realized that through these NFT's, I can provide a community to poetry lovers and essentially anyone who is looking to find the Up's in life. This can be done through a Discord community that will be my next project (welcome anyone to join!), as well as plan out the first UpPoems meet up in New York City on July 8, 2022 (more info to come)!
Writing this piece today on January 11, 2022, makes me excited to see what the future holds. Opening up has done so much for my life and I hope this can translate to being a help for others.
I am now on day 263 of UpPoems and here is the poem from today titled, Conviction. I hope you enjoy and get a chance to check out the building collection on Instagram, @UpPoems, and the link to the NFT collection is opensea.io/collection/uppoems.
Thank you.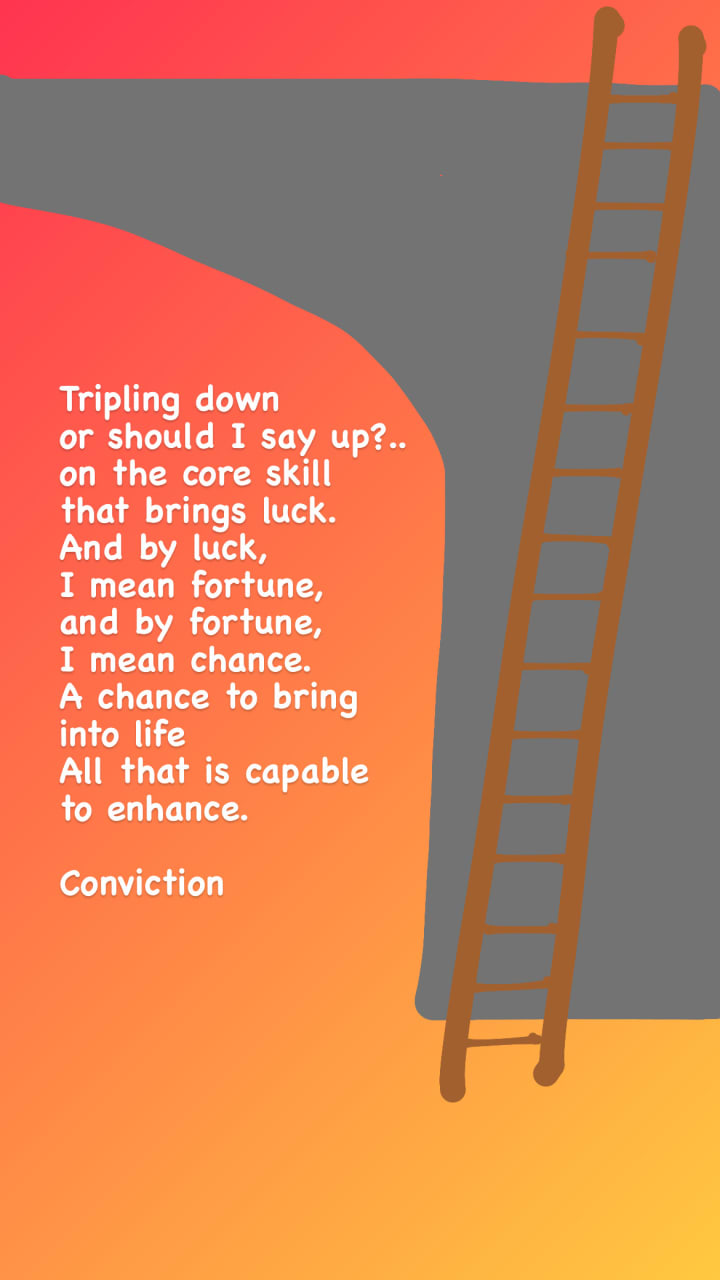 art
About the author
I journal and take notes with a pen, and I write poetry with a marker.
Poetry, Articles, Blogs, Journal
Fitness | Mindset | Journey
Reader insights
Be the first to share your insights about this piece.
Add your insights