Types of Combine Harvester - Uses & Benefits
Top 3 Combine Harvester In India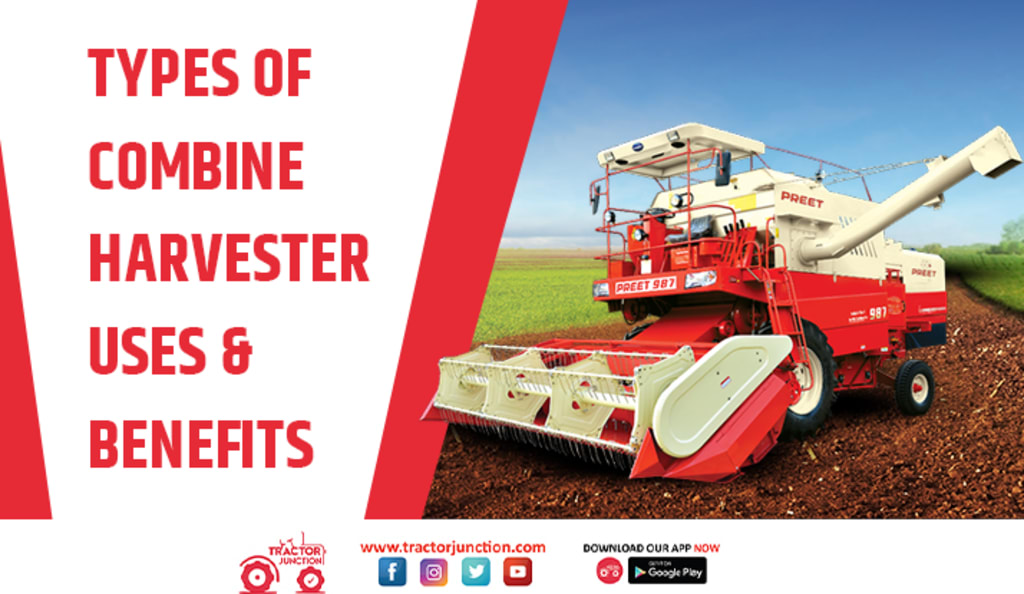 What is Combine Harvester
A combine harvester is a farm machine that can harvest a variety of grain crops. The machine can harvest, thresh, and winnow the corn, rice, oats, barley, etc., into a single process. This process can save time, money, and labor. The machine improves farming production because it provides efficient harvesting that makes farming more beneficial and profitable.
Types of Combine Harvester
Three types of combine harvester are available:-
1. Pull Type Harvesting Combines
These types of combines are known as tractor combines, or tractor pull combines. Pull type harvesting combines are controlled or pulled by the tractor, and at the same time, cutting, threshing, cleaning, and separating can be powered by the tractor's PTO shaft.
2. Pull Type Harvesting Combines with Auxiliary Engine
This type of harvester is powered by a tractor, but an individual engine is mounted on the combine harvester. The separate engine supplies power to threshing, cutting, and other important tasks. These combines are not much used in production and not widely available.
3. Self Propelled Harvesting Combine
Self-propelled harvesting combine machine is a widely used machine in India. This machine is suitable for hard soil. The harvester is split into two parts.
Driving the machine and
Other for harvesting related operations.
Uses of Combine Harvester
The combine harvester is very beneficial for farmers. With a single machine, farmers can do harvesting, threshing, and winnowing efficiently.
Following are the major uses of combine harvester:-
Combine a harvester is a multipurpose machine that decreases time and effort.
The machine consequently improves overall productivity.
It can easily harvest wide patches of crops in a more efficient manner that provides better grain yields.
Many types of removable heads and combinations make harvesting of various crops more convenient, which progressively increase production and make farming more profitable.
The combine harvested all kinds of farms.
Benefits of Combine Harvester
It produces cleaner grains.
Reduced crop loss
Maintain crop quality
Reduced work cost
Key Points of Combine Harvester
Before using a combine harvester, the operator should know about the machine's function and must go through formal training.
The machine should be examined and maintained regularly.
Time to time inspection of the parts is important to ensure the long life of the machine.
Some conditions need to be checked before operating the harvester in the field:-
Height of crop cutting
Field condition
Moisture content
Crop condition
Top 3 Combine Harvester In India
Here, we are showing some popular combined harvesters with features.
1. Preet 987
Preet 987 harvester is a popular crop harvest in India. It provides the best performance, serviceability, and productivity in the working field. The machine is an ideal harvester and comes with new colors and advanced features. The harvester harvested all grain crops like paddy, wheat, sunflower, and soybean, etc. Tractor harvester price is affordable and reasonable for a harvester lover.
Features of Preet 987 are
Power Steering
Folding Type Stainless Steel Elevators
Disk Brake
Extra Capacity Diesel Tank
High Grain Cleanliness
Wide Straw Walker
Small Turning Radius
Large Sieve Area for Optimum Grain Cleaning
Heavy Duty Double Reel
2. K artar 4000
The harvester machine is very popular for paddy harvesting. Kartar is always trying to satisfy their customers with an advanced and modern featured harvester at a fair price. Their quality is excellent, and by their improved quality, the harvester Kartar won customer's trust. mini harvester price is reasonable.
Features of Kartar 4000 are
It has 4199 mm (14 feet) width of the cutting bar.
Kartar 4000 has six cylinders water-cooled 101 hp engine.
The hydraulic steering system provides fast response in the fields.
It is a self-propelled multi-crop harvester that consists of 380 ltr fuel tank capacity.
3. Dasmesh 9100 Maize
Dasmesh manufactured many useful products for farming activities, and Dasmesh 9100 Maize is one of them. The machine performs efficiently and improves production.
Features of Dasmesh 9100 Maize are
Dasmesh 9100 Maize is an expert in maize harvesting.
It has a 2200 water-cooled engine rated RPM.
The machine has six cylinders and a 110 hp engine.
The 9100 combine has 10.25 feet maize cutting width for paddy and wheat 13 feet cutting width capacity.
Dasmesh 9100 fuel tank capacity is 320 ltr.
Harvester price perfectly fits in the budget of farmers.
If you want to know about mini combine harvester price in India, stay tuned with us.
business
Blogger by passion who loves to find something that inspires him and makes sense by sharing in the words