Home Office
Top Ten Ways to Make Money Online Without a Resume
Making supplemental income is easy!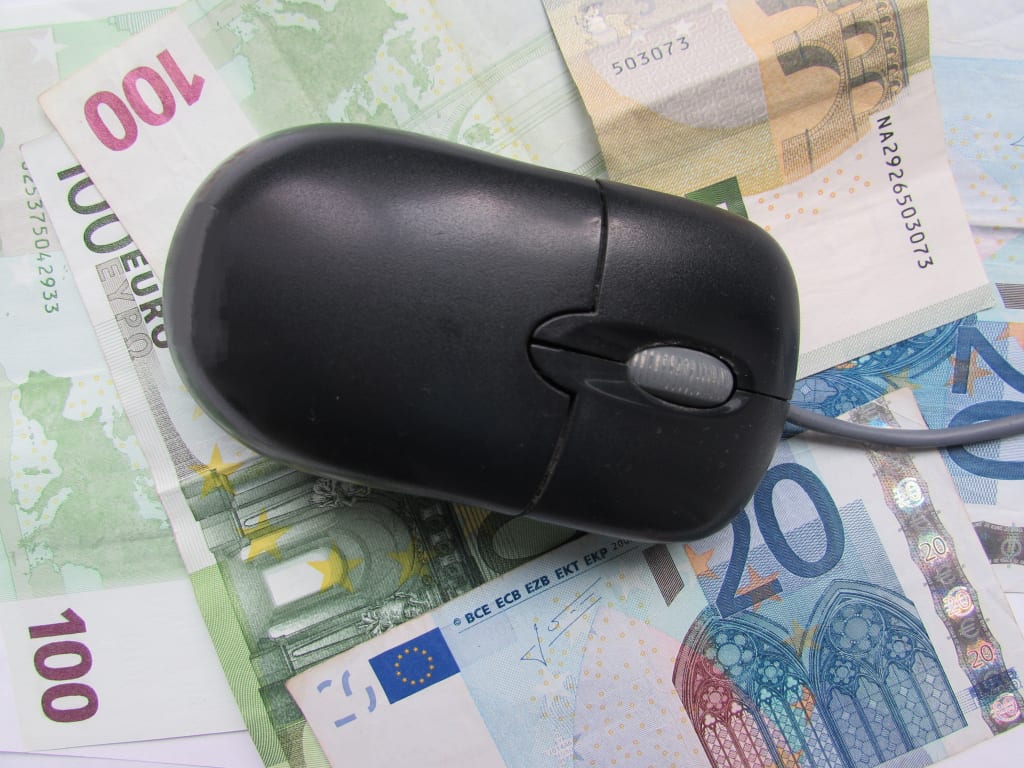 There are so many scams online guys. They multiply more than rabbits every day. What if I told you there were some very good, legitimate ways for you to make money online though? Would you be interested in being your own boss, setting your own hours, working in your pajamas? None of these sites are get-rich-quick schemes, and they all require some devotion, but they make real money, and if you pair a few of the items on this list together, you could make some nice supplemental income.
There's money out there to be had! Many people see all of the pop-ups about money, and they immediately shut their minds off to it, regarding that they are nothing more than virus softwares, scams, or hackers. In many of the cases, these are, but there are some very good ways to make actual money online as well without having to apply with resumes and cover letters. Again, they won't get you rich, but you could pair these together to make some nice bonus income each month.
Inbox Dollars
Inbox Dollars has a variety of different ways to pick up some extra cash including watching television online for about a cent per four minutes. It's not a lot of cash, which is why completing the surveys are probably the better method for making cash on this site. There are loads of surveys they will send to you to complete for a cash reward of up to several dollars per survey, though they generally pay less than a dollar. You can also listen to the radio for extra cash, read paid e-mails, surf through an ad-filled search engine, and more to gain extra cash.
Slicethepie
Slicethepie is a website, where anyone can get on and rate music and write a short review about a paragraph long to pick up a few cents per review. All that is required before submission is that one listens to a minute and a half of the piece of music before starting. After achieving 4-stars, one can make upwards of 4 cents per minute and a half, which adds up to $2.40 per hour. This isn't that bad for doing nothing, but listening to new music, rating it, and talking a little bit about it. There is a minimum age requirement for Slicethepie however, it is pretty young at just 13 years of age.
Mechanical Turk
Amazon has something known as "Mechanical Turk," which is a method for rapidly completed short, simple tasks that need to be done by a human being, and they have thousands upon thousands of tasks to choose from. The work shouldn't run out anytime soon. These tasks are very minute, and they pay out a cent or so per task completed. However, if you can work fast enough, and you keep going from one to the next over and over again, you can make some good money. However, you do need to be approved for "Mechanical Turk" before you may do it. This process can take up to two weeks, and they can reject you for any reason without telling you what that reason is.
iWriter
iWriter is a place where businesses list something they need written for them, and they will pay out a few cents per hundred words or so. When one ranks up (or gets up-voted by those they work for), they will gain more money per task written and more tasks will be unlocked for them. The thing that is difficult about this, is when you first start out, there are limited options, and everything is very, very specific. It's a good way to make some money for people who are skilled at writing about anything and everything quickly.
Ibotta
Ibotta is a site, which gives you money back for buying groceries we were all going to buy anyways. There is a list of over 300 stores such as Walmart, Target, Best Buy, Safeway, Piggly Wiggly, etc... that sell certain items, which one may get a rebate back for purchasing. This is a great way to make some cash. On top of it, $5 is added into your account for every person you refer with your referral code. You should type in the referral code of the person you heard about the company from first. If it's me, then my referral code is kecxcnb, but I encourage you to ask your friends first and see if you can help them first.
It also gives a $10 bonus just for signing up. There's even more to this though: They will award rebates for exclusive things like $0.50 rebate on any item, $0.25 back on any brand of bread, or awards of anywhere up to $3 or more on buying combinations of items. So, you can save more money by going to the store and getting food you would purchase anyways. There are also teams of people you can make, which can cause you to make more money because if a team does well, then everybody on the team gets a bonus.
People by themselves can make up to $12-20 per month, and they make even more if they get involved with a good team. It's not the most money in the world, but at the end of the month, a little extra cash in your pocket is pretty good. (Link 5)
Affiliate Marketing
There is a large list of companies, which will review websites and determine if a website qualifies to advertise for them. If there is a link placed within one's website, every time that link is clicked, it will add money into your bank account. If someone makes a purchase through your link, it can make you a commission as well. All you had to do was set up the link, and you can make perpetual income off of the link, for as long as the link stays online.
There is an endless list of companies, which will allow another to become an affiliate. All it takes is a place to put a link online. The best method for qualifying, and actually gaining purchases through the link is to advertise the link without sounding too much like an ad. Talk at length about the benefits and the track record of a product and why one personally endorses it (you should after all pick the products you love and believe in to become an affiliate with). Then, put the advertisement in. There's nothing more to it than that.
Some of the affiliate marketing companies include Amazon, Best Buy, Microsoft, and more. A little research can provide a full list of affiliate marketers. One can even become affiliated with a third-party, which finds companies for you, and one can get paid per ad shown, clicked on, or action taken through the link. What's not to love about devoting the time and investing the money into a website that can make you money for the rest of your life without you doing a thing? Of course, you need to get the traffic. Promotion of your site is key in this as well as what's next on the list.
Vocal
Vocal is incredible because it will pay out by number of views of your post perpetually. You can make money a year from now on articles you post today. All you have to do is get the article submitted and approved for viewing. Then, sit back and watch as the views add up.
Provide as many links as you can around the internet as far as you are able and advertise your post after posting. This is how one can maximize their views and get an article rolling.
One can write about anything they desire on Vocal, but it has to include a title, subtitle, picture/video, and the actual article of whatever length one desires. Finding Creative Commons licensed material on Flickr is probably the best method for discovering a picture for one's article.
After this, submit the article to one of the following communities, and a moderator will decide if it should be posted or not. The list of the communities are as follows:
Rev
Unlike the others on this list, Rev requires a pretty extensive application process, but if you get in, you can land yourself a nice side income captioning videos. It takes some knowledge of the software, and it pays decent. This should only be considered if one can type pretty quickly however and can use the software quick and efficiently because if you are too slow, you will not make very much cash for your time captioning.
The payout is $0.75 - $1.50 per video minute captioned. Video minute captioning can take up to a half an hour if you are pretty quick with it. So, 75 cents per 30 minutes yields 2.5 cents per minute, or going the other direction: 75 cents times 2 half hours yields $1.50 per hour. Needless to say, this is nothing to quit your day job over, but if you have some good spare time, you can make some good money per month. if one were to do a couple hours a day, five days a week, that would yield $15 per week. Times that by 5 weeks for an extra $75 per month. That's at the lowest pay outs however. The math for the highest payout would be doubled. Potentially, 2 hours per work day could yield $150 per month. That's nothing to sneeze at for trading ten hours per week for.
Cash4Books and Bookscouter combo
On Cash4Books, anyone there is an upfront amount of money the company will pay someone for some used books, but wait, you can make this into an actual business opportunity by pairing Bookscouter on top of this. Bookscouter is a place where people can bid on books and buy them similar to eBay but if someone types in the ISBN into Cash4Books, one can see exactly how much Cash4Books will pay guaranteed. So, if one goes back to Bookscouter, they may place their bids up to that point, and make some profit gain.
What's better to do though, is to search for books on other sites via Google searching or some other similar method. Then, one may compare the ISBN invested into Cash4Books. If you fail to make your opening bid on Bookscouter (which should be the Cash4Books price at minimum), you can attain the Cash4Books price by going to Cash4Books instead. However, if there are bids placed on it on Bookscouter, you could potentially make much more.
Profit-gaining on books seems shady, but you are devoting the time and energy into investing into a product, and transporting that product to the highest bidder much like a retailer at a grocery market. There is nothing illegal about it, and there is nothing morally wrong about it either. When you are getting paid to put in this effort of getting a specific book to another, you are getting paid back for your time and investment so that you can provide the service of convenience to the buyer. It's not shady or corrupt. It is truly a win-win.
Listverse
Listverse is an excellent tool to make some money writing. If you like to write, and can do it with skill, Listverse will pay you for an article. The article can be on anything you want, but it has to be a top ten list of some sort. All there is to it is devoting the time to researching a topic, discovering what the top ten of whatever one desires to write about truly is, and type out your case.
This website will pay out $150 in cash to accepted articles. Because this requires dedication to write and to research, it is not as easy to make money than some of the other sites I have listed, but it is a more fair trade of your time. This is why it is number one on the list.
Dedicate your time, and submit an article for submission. You don't lose anything if they reject it, except some time, but learning is never a complete waste of time.
Conclusion
In conclusion, I hope you are able to find something on this list that can add a little bit of extra cash into your paycheck at the end of every month. There are many other ways to make cash beyond employment, which are completely legitimate.