Top Five Ways to Maximize and Improve Your Home Office Space
Use these tips to style your at-home office, make it functional, and wisely use all your space, even if it's small.
So you had been working at home during the pandemic. That probably meant you set up camp where ever you could, and you were coasting just fine. Believe it or not, it has been two years. Wow, hard to believe, right!
Seriously though, it is time to get real about working comfortably at home. It seems to be the safest way to carry forward with the new Omicron spreading, it's the fifth wave already. How scary, and variants have proven to be very unpredictable, like the Delta that spread so rapidly after which, we were scaled back to trying to stay home even more, and wearing masks yet again.
Your home office space is a good solution, even if we go back, if you need it as the situation changes, you have it set up nice. Providing their job supports it to prevent the spread of COVID, everyone should have a backup plan.
Then there is the fact that employers and employees see the work-life balance if offers, in wellness, coping, and health benefits like better sleeping and exercise. It does seem like a good idea to think forward and be switching to a remote-style way of working. Why not have flexible work options permanently?
COVID has made this a need in my opinion, not just a want. It has become a very crucial element about feeling safe and keeping our wellness by having the option to balance our work-life spheres.
Let's face it, the benefits are numerous. For parents, it means being present for their kids, with the perks of saving on childcare. Then there is the commuting time becomes nil so all that time goes back into your family, the risk of automobile accidents eliminated, whereas we also reduce the risk of exposure to others at a time of a pandemic. That is an absolute must-have for one's safety. It just opens countless doors, and I don't think employees are ready to shut them.
Having said that investing a bit out of your budget into your home office space is not a huge deal. Research has shown that more and more people are on board at least with a new flexible work style. It just makes sense. With looking at this new hybrid work model our home office must be up to par.
Here are some top tips on getting it fabulous and not just a campsite.
1. Think Top Down
Use the space you have. Yes, it means looking at the walls to the floor. Shelving can offer you some excellent extra space to keep stuff - heaven knows we have lots of stuff, so we need somewhere to keep it. Maximize your space, that's crucial.
Ikea is an excellent example of using small spaces to create maximum storage. They have shelves, cupboards, folding furniture like the futon sofa style, just to name a few. Items like this can be a perfect fit in a small office space and have the perk of keeping things tidy too. Take this rolling stand I found at Staples. I like the idea of being able to put this away in another corner when you are doing a quick cleanup. Speaking of cleanups, it's aA good idea to have one of those light stick vacs, these are easily stowed away on the wall. Want some great ideas check out the Pottery Barn.
That's the first thing to consider, what exactly do you need, and what can fit?
2. Consider a Sit-Stand station
This is a great way to keep healthy. Sit-stand stations have gained in popularity and for good reason. They can not only fit in a small space, they also offer you lots of flexibility to stretch or do some light exercise, while standing up. In this article it outlines just how this little item can help you out, "5 Science-Backed Health Benefits of Standing Desks."
You stick to your busy schedule and meetings, all the while benefiting from keeping your circulation flowing and your mind grooving. They are now very affordable and with so much to offer it makes sense. This one I like for its flexibility and size. Found at Ikea.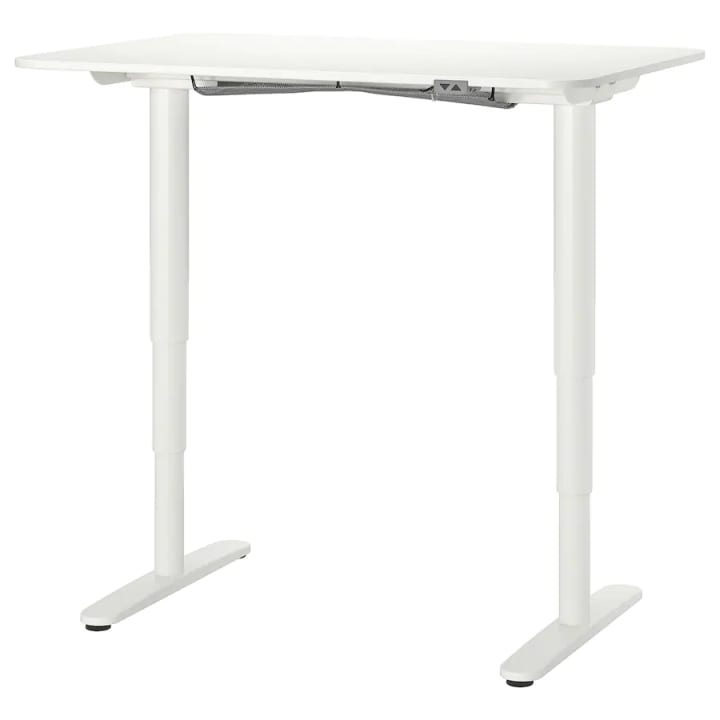 This may justify spending a bit on your home office itself. It even remembers a programable position so you get the perfect height and angle back each time, no manual fits of disappointment, just smooth operation to satisfy your zen office colors, yup that's right did I mention you should consider picking out a new color palette, there is something deeply satisfying with having your own style, guess what no official rules, so be creative too. Now that's something I like.
3. Use simplicity to keep it functional
If you have a small space this may be all you need. Will that small office desk work or do you need more room? Of course, we can use a huge wrap-around desk, but perhaps if you consider your needs just a small desk is the most functional and practical. I have found the ones with shelves above or the taller dresser-style storage gives you ample room. I like the ones that come with side storage for all your books and papers. This design for instance is easy to add a shelf unit around it as I mentioned and maximize your space. This one I found on Best Buy's website:
Milo Mid Century Modern Computer Desk with 3 Shelves & 2 Drawers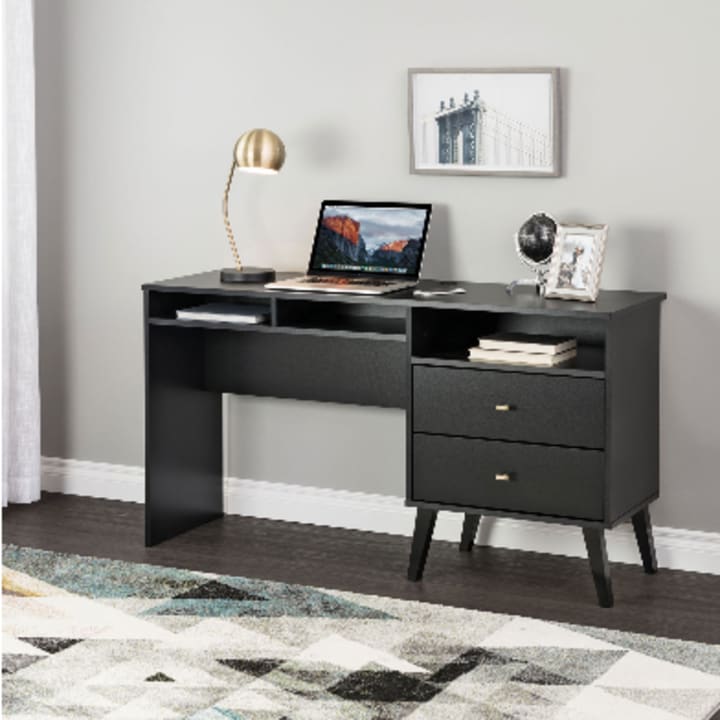 In keeping it simple and functional you can eliminate the strain and pricey burden of feeling like you need the same as your 9 to 5 job at your home space. My office at work was bulky, I like the more sleek modern style I am using and the dark furniture theme with teal accents. It's artfully pleasing and that sets you in a great mood to work. Ever try the color-changing lights? I love the blue lights and greens. It can have a nice calming effect to help you read, or type emails, paired with your favorite tunes, and it's amazing. My productivity is just so much better, I feel like I'm on the top of my game since shifting to my home office, no wonder why.
Oh, and I almost forgot, and it is very important to mention, that you have way better climate-controlled space when at home. Yup, that's right there is an app for that. Check out how to improve your home's Thermostat here.
Say goodbye to the stupid drafty, or stuffy office. My seasonal allergies have disappeared actually. Honestly, not having to deal with the temperature changes just makes you less likely to catch a draft (which in all fairness heating or running A/C for a giant space must be hard, and having perfect airflow or circulation forget it, just because they are huge buildings). However, it is very important to our health to understand this health benefit works on multiple levels. And just not having to contend with the drafty office has kept me from getting a cold in the wintertime.
Speaking of airflow, because it's a small space I invested in a Dyson hot/cold fan. It has been amazing in the summer to keep cool and as an extra source of heat to prevent drafts in the winter. This was one of the best office purchases. A bit pricey, yet I'd say well worth it to have it backed by the quality Dyson has always delivered. It can improve the air significantly. Sure I spent out of my pocket to get it, but I was willing to do that given how many other perks I am achieving with having the flexible remote working arrangement. This one I happened to get at Walmart as they are hard to come by, even in the off-season like now.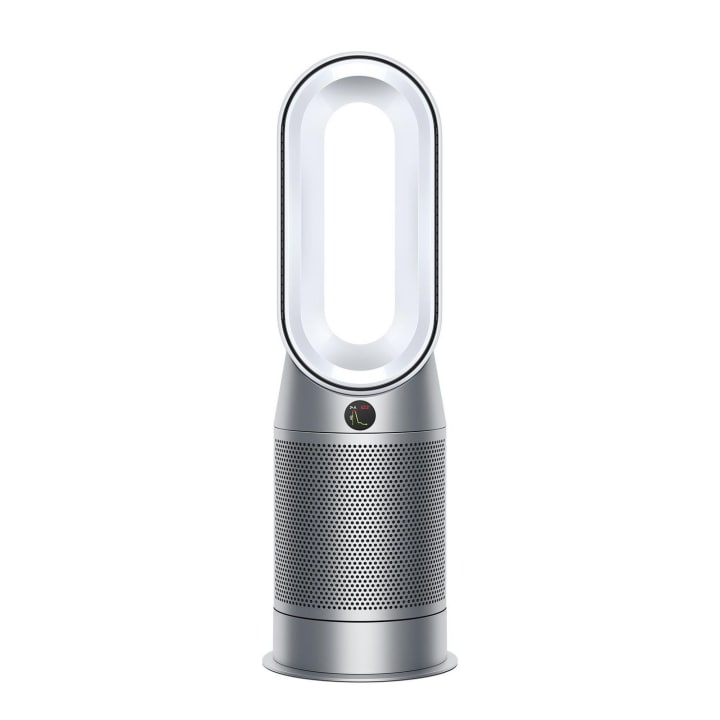 4. Think about storage options
Storage is a big factor. I did have lots of papers so I needed a dresser to house them all. I even got one with a locked cabinet too for security and to comply with office policy. The good news is some are small cubes with wheels where you can easily slide in a closet corner and keep your house still looking like a house for instance. Office space at home doesn't have to necessarily be the center of attention so to speak. With good storage options, you can easily make it work.
This is my all-time favorite organizer for any small office space. It has tons of room and everything still stays tucked away and tidy. I found this one at Bed Bath & Beyond.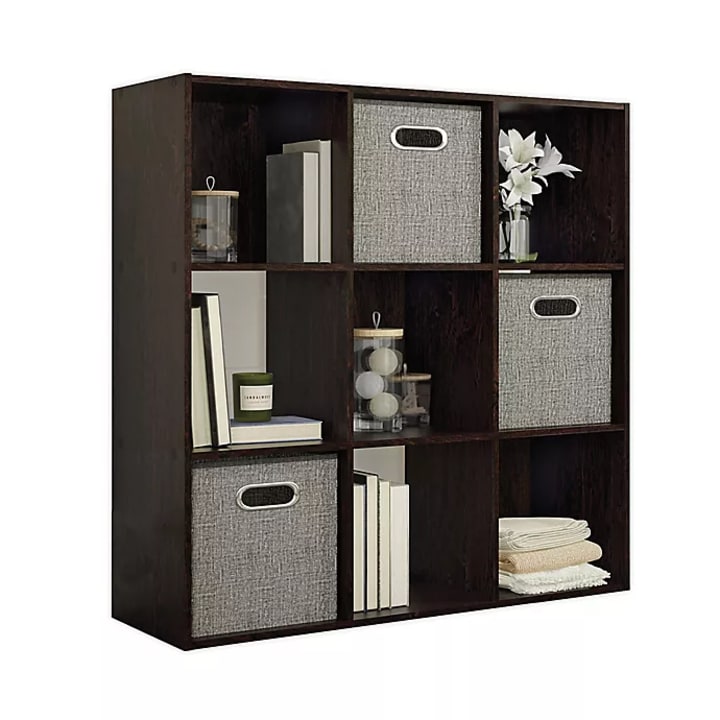 5. Decorate your office, it's yours
I always struggled at the office to decorate. I never really felt like it was my space. Plus, I was there to do a job and go home not make this my home. It is a strange thing too because you worry about someone taking your stuff. Even though this never happened to me, I did hear of other offices having things go missing. So, naturally, I was always cautious about it. So, no I never really had much of myself at my desk.
At home, that's a different story. I have my office decorated the way I want. I have some artwork and I have lots of pens and nice notebooks. I just have my own freedom to be myself. So consider maybe painting the room you are in. Put down some different carpets or decorations on the walls. I am a huge fan of those office organizers. At the office, and with a limited budget, I always felt I couldn't order the items that worked for me. Rather everything was already there, like it or not, too bad use it. Fair enough I mean it was office space.
However, at home I am fine with investing in my own office environment and have nice things. Again, it could be because of the security of knowing they are mine and will be kept nice. Though I love it, and it makes working more joyful. Everyone likes to have nice things, and keep them that way.
So set some goals in motion, make a new resolution to inspire a dusting of the old house and bring in an improved office space you can be proud to call your own.
Surf ideas online and aspire to have fun decorating, doing a painting project, shopping online for the perfect setup, it is well worth it, no matter what the future holds, we can make the most of it by maximizing our office space - that's off to a great start.
About the Creator
I'm passionate about sharing my forms of art with others, be it writing, photography, or design. If you like it, love it, share it, and let me know. I'm always up for a friendly chat. Visit @abidiahsdesigninc
Reader insights
Be the first to share your insights about this piece.
Add your insights