Top 8 Reasons Why You Should Pursue a Career in Event Management in India
Wondering why take up a diploma in event management, and pursue a career in event management? Here we'll give you 8 solid and encouraging reasons for it.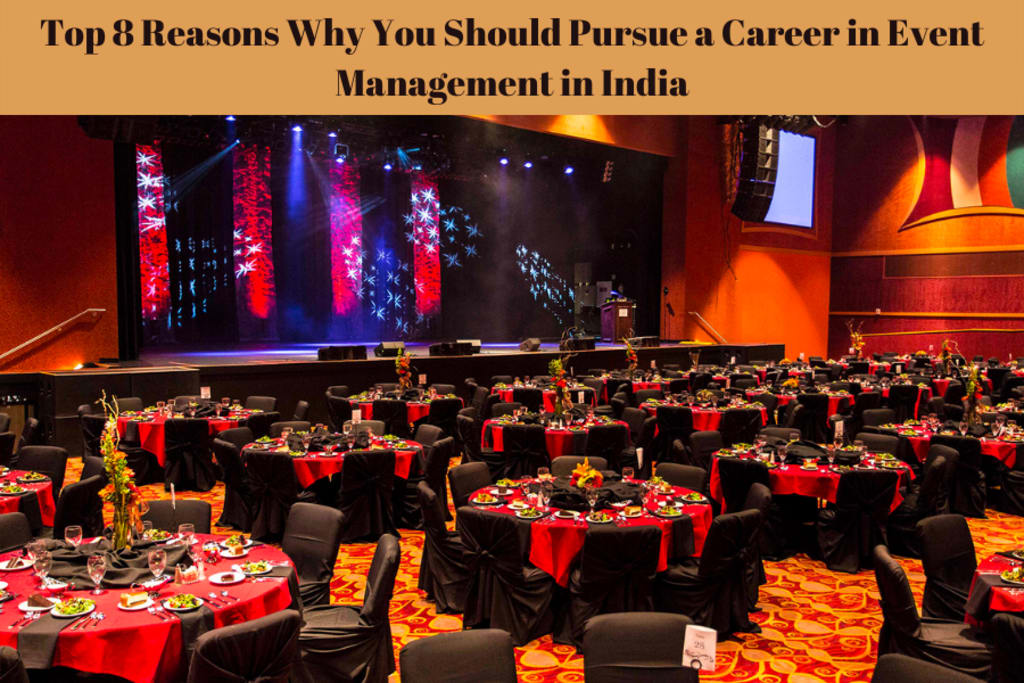 Experiencing a charged concert or immersing ourselves in happening events is not something that we would choose to be away from. Events are always bliss for humankind as we love to experience them. Now, to relish the moment, a whole team is working to keep the event exciting. And this is precisely what event management is all about.
Here we have a short brief about the spectrum of courses under event management, career opportunities in the industry, and the scope for event management in India.
What is Event Management?
The process of planning and structuring the event is what Event Management is all about. The event management industry has been progressing faster since the 90's around the world. The spectrum has not limited itself to minimal choices from festivals to fashion shows to trade shows to corporate gatherings. To understand the immense opportunities in the industry, we can classify the events based on sectors into six categories namely: business and trade, sports, arts and entertainment, political and state, educational, cultural, and celebrational events. By far, the industry has been generating around $500 billion worldwide and has no sign of recession.
However, a question arises - what are the career options after pursuing an event management course in India? Similar to the spectrum of events, the industry provides ample opportunities to aspirants who desire to set their careers in the industry. The listing below is a few job profiles in the event management industry.
Event planner
Event manager
Public Relations
Brand developers
Promotion and Marketing
Production
Administration
Printing and many others…
Skills Needed
If you are excellent at organizing, multitasking, negotiating, analyzing, managing, and creative thinking and good at maintaining a network, public relations skills, and can work under pressure without limiting the time boundaries - event management is absolutely your ideal career option.
8 reasons to pursue Event Management
Here are a few reasons you might want to start your career in event management.
1. The progress of the industry:
The expansion of event management has been upscaling and is continuing to do so without stooping low. To give a glimpse of the progress, reports from The Economic Times have stated that " …the Events and activations industry, which was at ₹5,631 crores in the fiscal year of 2016-17 has been growing at 16% CAGR".
2. The flexibility in a workspace:
Event managing does not restrict only to work in offline mode. You can manage your tasks online and still march the event to success. The comfort of working from home or if you are in an emergency hence cannot reach the location or such, all you need is your networking and communication skills, and you are fine.
3. Building high-standard networks:
You get a chance to work and interact with many high-profiled business magnets, influencers, and famous personalities that you can lay a foundation for building a network with high-profile associates.
4. Travel for free and work:
One can travel for free and do your job with satisfaction. You get to experience and explore different places, cultures, and diversity while working, and get paid for everything.
5. Personal job satisfaction:
From a personal front, you would never feel exhausted in pursuing event management as a career. This course and industry involve your passion, interest, commitment, and skills, hence the drive never dies within.
6. Minimum qualification but a stable career:
This is one of the few industries that require minimum qualification from you but has a long-lasting career opportunity with reasonable remuneration. The event management industry relies solely on your skill-set.
7. The excitement and challenges never die:
If you are up for new challenges and excitements and would love to brainstorm with people, event management will never disappoint you.
8. Work as a team or be the boss:
You can choose to have your firm in event management or can join an amazing set of people as a team and have fun while working.
Wrapping Up
This would essentially sum up what event management is all about. In a country like India, where you have diversity and innumerable holistic events, pursuing event management courses in India would enhance your skill-set.
Whistling Woods International is the best option for you to pursue event management in Mumbai. The opportunities to interact with people and build a sounding network are a given at the institute. For aspirants who would like to take be part of this industry, Whistling Woods International would provide you with the platform to explore and grow.
career
About the author
Whistling Woods International is one of the top film schools in Mumbai and the best film institute offering diploma & degree programs in India.
Reader insights
Be the first to share your insights about this piece.
Add your insights