Top 7 IT Technologies to Learn for High Paying Jobs
Trending Technologies to Learn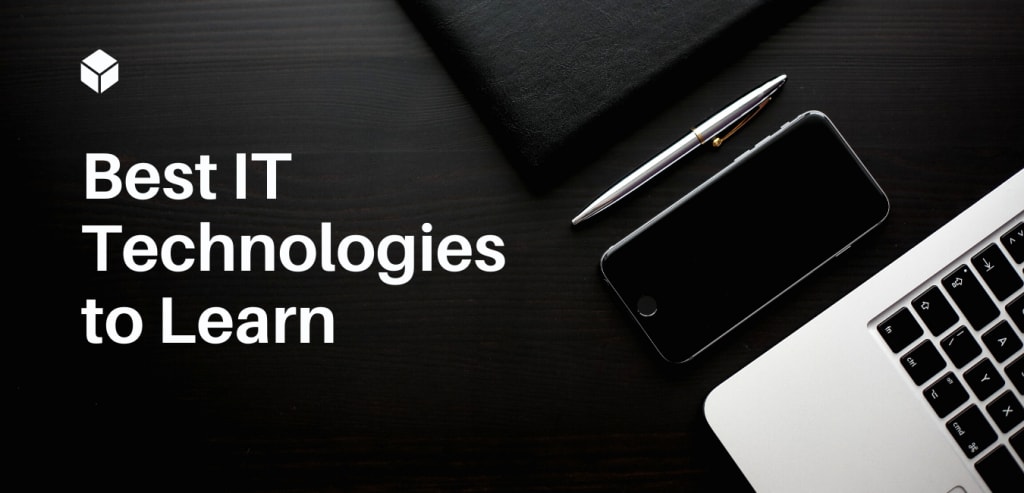 Best IT Technologies to Learn
It is clear to everyone that the tech industry is booming. It is the perfect time to find out about the best IT jobs. These are the best jobs in tech as they offer high wages, promising career advancements, and excellent satisfaction rates. These tech jobs are also accompanied by competitive benefits packages, including health insurance, retirement plans, and more.
Top 7 IT Technologies to Learn for High Paying Jobs
Artificial Intelligence
Artificial intelligence (AI) is becoming more and more popular in business and consumer life. In 2020, companies will look for skilled workers to help meet the demand for AI-enabled products and services. Most companies are looking for an AI engineer with at least a master's degree in computer science, data processing, or artificial intelligence, and previous experience in data or analytics. Candidates with expertise in machine learning, natural language processing, artificial intelligence integration, AI application programming, and change management expertise are in high demand. You want to hire an AI engineer who understands technical concepts, but it is also essential for him to have communication skills that will help strengthen leadership.
Data science
Organisations and companies collect more and more data every day. This is why training data science experts is more important than ever. Data scientists spend their time collecting data, cleaning it, and presenting it to organisations for informed decision making. The number of vacancies in data science is vast and shows no signs of decline. With such high demand, a data scientist is easily suited to any list of top technical positions. According to Glassdoor, data science is one of the best professions in terms of job satisfaction ratings.
Digital Marketing
The rise in Internet use and addiction has forced many organisations to switch to digital marketing. These companies are now using online resources to promote their brands. This is digital marketing, as we know.
Digital marketing promotes products to reach consumers through various online media. A typical channel here is a banner or display ad. Ultimately, you want to draw attention to your product on platforms with high web traffic and then generate curiosity that drives sales.
Today's economy has turned digital marketing into an important economic engine. And that is having a ripple effect on digital marketers' pay. Digital advertising professionals have a net salary of over $ 128,000.The propagation of digital marketing applications is increasing the number of job openings in this field. So far, experts expect to create 20,000 jobs in 2024.
Machine learning
Machine learning is one of the exciting technologies that you may come across. It is one of the most rewarding and innovative skills you can acquire. IT companies are already starting to build on and adapt solutions based on machine learning models. There are many use cases for machine learning, from voice assistants to chatbots, for example. Companies that use artificial intelligence and machine learning will be some of the best tech companies of the 1920s.
Machine learning can be applied across a wide range of industries including finance, education, healthcare, agriculture, etc., and computer experts who are starting to learn AI and learning. Machine learning is likely to achieve the highest salaries in 2020.
Cloud computing
The number of jobs in cloud computing is increasing as more companies move from traditional server infrastructure to cloud solutions. According to Gartner, the public cloud market is expected to grow by 17% in 2020 to reach $ 266.4 billion.
Amazon Web Services is one such cloud platform that offers full content delivery, database storage, network, and over 50 services. Since this is the largest platform at the moment, we'll highlight some specific AWS facts in this section (and provide additional guidance for this AWS Tutorial!).
AWS professionals are typically cloud engineers, architects, or system administrators. AWS Certified IT professionals earn more than their non-certified counterparts. This is one of the most rewarding skills IT professionals can acquire to enhance their technical careers, with AWS professionals earning an average of $ 113,000 (the highest certification in the United States and Canada).
Cybersecurity
For any business that collects sensitive customer information or processes their sensitive data, it is crucial to secure their networks. Today, almost all large companies store customer and business data in databases, making cybersecurity one of the hottest tech trends in 2020 and beyond.
According to the LinkedIn 2020 Emerging Jobs report, vacancies in cybersecurity in the United States are increasing by 30% per year. The demand for cloud security experts is also increasing due to the growing number of cloud services.
Cybersecurity, information security, network security and vulnerability assessment are the best skills to get a professional cybersecurity job. Good knowledge of the basics of programming languages ​​is also required. 6 of the 15 highest paying IT certifications focus on security, so learning IT, security won't be a waste of time, even if you are an IT professional.
The cybersecurity workforce shortage is expected to reach 3.5 million vacancies by 2021. Therefore, the demand for security professionals in 2021 will be very high.
Blockchain
If you are familiar with the emergence of cryptocurrencies (especially Bitcoin), you are probably familiar with blockchain technology. However, blockchain is not limited to the concept of cryptocurrency and has already occupied a strong position in various other industrial sectors like finance, retail, healthcare, etc. Even with the rapid growth of blockchain, it can be seen as one of the cutting edge technologies of the future. According to statistics, by 2023, global spending on Blockchain technology is expected to be around 16 billion, and many companies Samsung, Capgemini, etc. already offer exciting job opportunities for Blockchain professionals. Moreover, as a blockchain professional, you can build your career as a blockchain software developer as well as a basic blockchain developer as per your preference.
Conclusion
The skills highlighted here will show you the impact and progress of the digital world. Although you have a lot to choose from, you can select one of the following skills. Having one or more of these skills can put you on the right path to a career. Therefore, depending on the needs and dynamics of today's market, it would be very beneficial to spend time and money learning them. In addition, you will continue to benefit from it for the next few years.