Top 10 Digital Marketing Skills You'll Need to Advance Your Career in 2023
Digital Marketing Skills in Demand 2023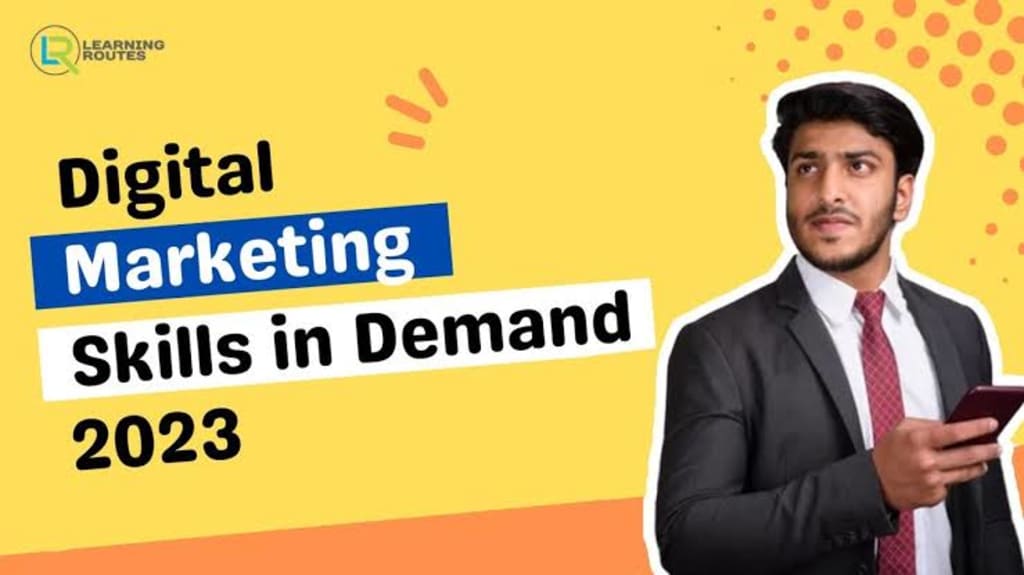 10 Digital Marketing Skills You'll Need to Advance Your Career in 2023
Given the size and variety of digital marketing, it can be challenging for marketers to decide which skills to prioritize throughout their careers. Additionally, the field of digital marketing has developed due to the ongoing creation of new techniques, methods, and best practices.
Today's digital marketers are in charge of everything from email campaigns and social media marketing to content development, as opposed to the past when their only responsibility was search engine optimization. It might be difficult to know which talents you should focus on developing during your career when there are so many tools available to help you with your work as a digital marketer.
In 2023, it is predicted that knowledge of digital marketing would be in high demand. And this isn't simply because the field of digital marketing has gained popularity; any business that wants to expand and prosper online has to have knowledge of digital marketing. We'll talk about the digital marketing talents you should focus on honing if you want to have a successful future in this piece.
2023's top digital marketing competencies
Because there is an increase in digital advertising, there is a great demand for digital marketing abilities. You won't simply need digital abilities to stay current; you also need digital intelligence and commercial savvy. You can assess your skill set and examine it with the use of the skill matrix in order to raise your skill level.
The following is a list of some of the top digital marketing talents you may learn with a certification in 2023:
1. Content Marketing
In order to entice potential customers to make purchases, businesses generate and publish digital content on their website, social media channels, and email newsletters. Content research, the ability to write for a variety of media, including blogs, videos, and audio content, strategic thinking, and a data-driven approach are all essentials for a content marketer.
In 2023, digital marketers will require the ability to produce interesting digital content that businesses can utilize across a variety of digital platforms, such as videos, blog posts, and infographics. Retention of audience, social media following, lead generation, and site authority are all benefited by quality content marketing.
An extremely creative profession is content marketing specialist. They are in charge of developing the ideas, plans, and strategies that underpin all of your company's content. Of course, it takes a lot of imagination to make content marketing effective for your company, but success in the industry requires more than simply having good ideas; it also requires putting them into action.
2. Social Media Marketing
Using social media marketing, you may advertise your company on websites like Facebook, Instagram, Snapchat, and Twitter. It's become more crucial than ever for marketers to stay current as social media has developed from a place for friends to share amusing videos or personal updates to a vital tool for businesses big and small.
A great social media campaign may quickly and easily reach thousands of people around the world, but it all begins with knowing how to use each platform to its full potential. With social media marketing training, you become an expert at developing interesting content and comprehend performance analysis to create and engage communities.
To successfully promote a brand, social media marketers need to be aware of their target audience's social behaviors. They must comprehend the type of material they are seeking as well as how to generate buzz regarding the goods or services offered by your business. Marketing requires real marketing talent because it involves more than just placing Facebook advertisements and connecting all these elements with the target demographic.
3. Data analytics and marketing
Any successful campaign must include analysis of digital marketing strategies. Analytics guide you through changes that will boost profit margins and enhance customer experience by lowering website or social media platform bugs. Analytics help you identify the strengths and weaknesses of your business.
By streamlining it and assisting in the development of solutions, analytics enable you to optimize your sales funnel and identify any issues that customers may encounter. Additionally, they inform us of the success of our campaign and allow us to make changes as necessary to reach our desired target.
Every digital marketing team needs analytics, and being knowledgeable about analytics will help you design the most effective campaigns that will provide results for your company. Knowing analytics gives you the power to organize your PPC, SEO, content marketing, and email campaigns, which is the greatest part.
4. Use of search engine optimization
A digital marketing tactic called SEO (Search Engine Optimization) can assist you improve your website's search engine ranks. It is a crucial set of digital competencies that can boost traffic volume and conversion rates.
The practice of creating a website so that it appears higher on search engine result pages is known as search engine optimization. To do this, focus on making important parts like keywords, title tags, and meta descriptions more keyword-rich and user-friendly.
Anyone who wants their website to appear as high in web searches as possible with quick results must employ SEO techniques. SEO places a greater emphasis on technical elements, such as knowing how algorithms operate and what actions should be performed to improve ranks.
The ability to generate compelling content, build backlinks to websites, analyze performance data, and be proficient in local SEO are some of the top abilities needed to master SEO. Search engine optimization is still relevant because trends in this industry are always changing due to regular algorithm upgrades, necessitating the adaptation and modification of website owners' strategies.
5. Production of video content
If you want to raise awareness of your business, you must use visual marketing. A video can help your marketing channels stand out from the overwhelming amount of content that now dominates the internet. Any website that includes video increases traffic dramatically and climbs the search engine results pages, according to research (SERPS). One fantastic technique for marketers or advertisers to spread their word is through videos.
Video is one of the most efficient ways to engage your audience on social media platforms like Facebook or Instagram because it has a greater engagement rate than written material.
6. Website design and creation
Without hiring a costly web developer, you can modify a website's front end using design and programming skills. In this fast-paced profession, a talented designer who comprehends both the technical parts of websites and user experience (UX) is a vital asset. Customers will evaluate your brand based solely on the caliber of your website in 2023.
All of the elements on a web page, including logos, photos, text, and layouts, must be navigated by designers. They ought to be able to quickly make modifications and provide feedback on what complements their designs the best. You need to be able to create interesting landing pages and comprehend conversion rate optimization.
7. Pay-Per-Click advertising or Google Ads
You must use quality scores and ad relevancy while practicing PPC advertising. You need to know which ad type will work best for your product in addition to balancing your budget, understanding which keywords to use, and knowing which channels to use. You must also think about how to design an experience that appeals to your target market. Social media, mobile applications, websites, and directories can all gain from high-quality pay per click. It's not just about search engines.
8. Copywriting
To develop exceptional copy and jingles that connect with a brand, copywriters are in high demand. It is crucial for copywriters to explain or capture how brands want their consumers to feel about them. They must collaborate closely with designers in order to enhance one another's abilities to create visually appealing layouts and compelling text.
9. Marketing via email
Digital marketing via email is simple and inexpensive. One of the most valuable skills in digital marketing because of its adaptability. By sending them exclusive offers or information about forthcoming events that they may not have heard of previously, you can utilize email to convert leads and engage dormant customers.
When sending out articles with subscription options, it also makes it possible to increase customer loyalty and demonstrate to your audience that you care about them as individuals rather than simply another face on social media feeds. Email marketing offers the highest return on investment of any type of marketing because of its personalized touch.
10 Automation of Marketing
Experts in both software automation and marketing are known as marketing automation specialists. To turn prospective customers into sales leads, they use a variety of platforms, including email marketing, SMS (text message) marketing, website notifications, and pop-up ads. You may utilize marketing automation as a potent sales tool to improve the entire sales funnel. More customers mean greater brand awareness and trust, both of which increase the likelihood that customers will make purchases.
Reader insights
Be the first to share your insights about this piece.
Add your insights