Tips For Starting Your Business From the Ground Up
Coach David Parker | Shanghai, China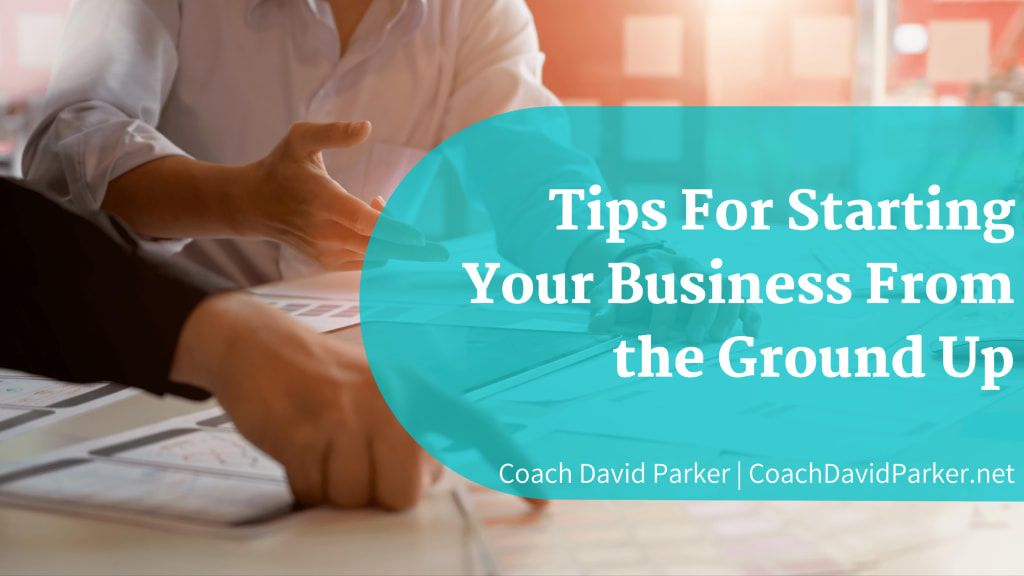 https://coachdavidparker.net/tips-for-starting-your-business-from-the-ground-up/
While the early stages of starting your own business can be challenging, especially if you're doing it alone, there are proven steps to stay motivated, determined, and on track to see your business startup begin to grow. Here are five strategies for building your business from the ground up:
Assess Each Aspect of Your Business
An innovative idea requires a backbone and a robust foundation to stand on. Therefore, you should assess your target audience, competition, company goals, and marketing strategies. You are then responsible for articulating that foundation when looking for investors. Assess questions investors might ask you about each aspect of your business. Having solid answers prepared to these questions gives you not only a tangible, fully formed picture of your business but also paints a picture for investors.
Develop a Concrete Business Plan
The following step is to have a physical business plan. This guide will help you as you proceed and give potential investors or partners a concrete map of your business goals. Since you already brainstormed these ideas, putting it on paper should not be an issue, and it should put all the pieces together.
Invest in the Resources Needed to Get Started
Ask yourself what will be needed to start your business. Does your business include physical office space, and does it require office equipment like computers and printers? Evaluate your needs upfront and invest in them. Regardless of your business size, you still need to develop a quality or innovative product or service. New business owners often mistake offering products that have already been seen.
Invest in Marketing
Marketing is one of the most crucial business growth strategies. Nevertheless, it's also one area in business that's often overlooked or not prioritized, which can be a critical mistake. Marketing is one of the most effective ways to develop an awareness of your business in the market.
Set Future Goals
It is essential to set goals for the future of your company. It will help to propel your business forward to new heights. Starting a business is an exciting venture. Don't allow feeling overwhelmed or unpreparedness to stop you from achieving business success.
ABOUT COACH DAVID PARKER
David Parker has a long history of working as a performance coach for athletes. This includes strength and power conditioning, sports performance diagnostics and evaluations, speed development, and rehabilitation. When it comes to his teams and the sport of track and field, those who have worked with David know how dedicated he is. In addition to his many other talents, David Parker is a very effective facilitator, workshop trainer, and public speaker. He also serves as a dedicated mentor and collaborator.
David worked as a Strength & Conditioning Coach/ Fitness Instructor for three years at the Powerbase Gym within Loughborough University, followed by years as the Lead Strength & Conditioning Coach for the British Volleyball/ British Handball teams within the English Institute of Sport (EIS). Throughout his tenure with the EIS, David focused on building a diverse coaching portfolio encompassing track & field, rugby, boxing, badminton, volleyball, handball, diving, BMX, pentathlon, and specialty fields such as wheelchair basketball and wheelchair rugby. David continued his work with the EIS as the Senior/ Lead Strength & Conditioning Coach for the British Diving/ England Rugby League.
David currently works as the Chinese National Men's Head Javelin Coach and the Head Javelin Coach of the Shanghai Provincial Track & Field Team. The reigning Chinese National Champion, Xu Jiajie, who threw 84.54 meters in 2021, is among the athletes he mentors.
David Parker is devoted to his wife and son and wholeheartedly admits that everything he does in his life is to make the world a better place for them. Another joy in his life is supporting the premier league Liverpool Football Club. In addition to being a season ticket holder for over five years, David proudly displays the team mantra #YNWA (You'll Never Walk Alone).
About the Creator
David Parker works as the Chinese Athletics Association's National Men's Javelin Coach and the Shanghai Track & Field Team's Head Performance Javelin Coach. He is also a Co-owner and Director of The Javelin Throw and Sightline Performance.
Reader insights
Be the first to share your insights about this piece.
Add your insights