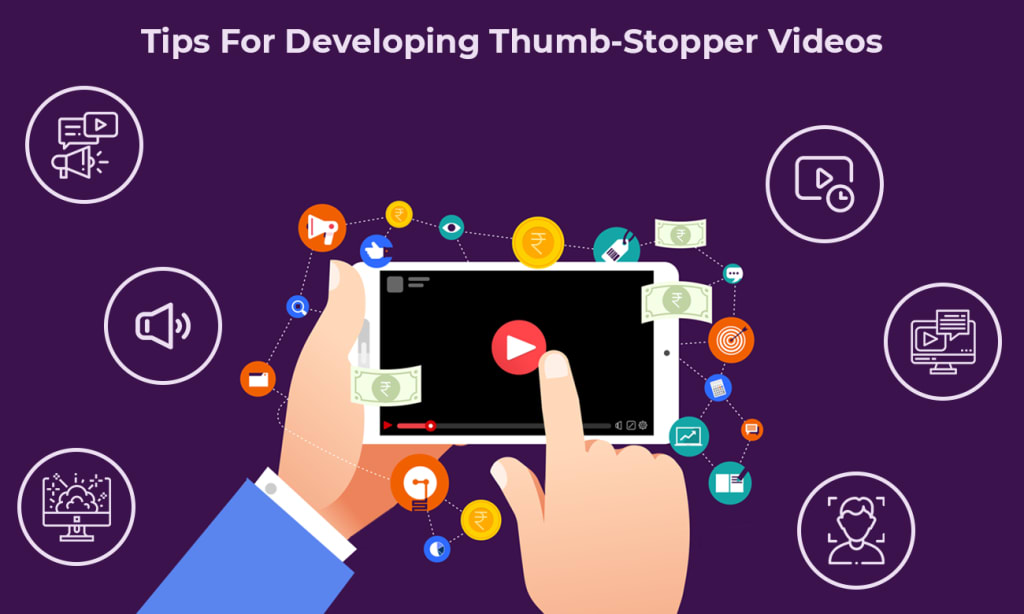 All of our preconceived notions about how to grab attention and tell stories have been put to the test by the quick growth of mobile devices as a medium for advertising. According to research, consumers have an attention span of just 8 seconds on average. In comparison, one second is shorter than a goldfish's. Consumers on smartphones "take just a quarter of a second to process an ad," claims Facebook. As a result of this discovery, digital marketers all across the world are producing material that is shorter and more attention-grabbing.
What is a Thumb-stopper? How Do You Effectively Create one?
The thumb stopper is simply a 10-second, vertical, short-form video creative that tells a brand's story while centered around a powerful emotional core. In an era of expanding mobile advertising, this exciting new content style addresses the issue of short attention spans that plagues all marketers. Here are some ideas for getting your brand's thumb stoppers.
The following six essential requirements should be fulfilled by an effective thumb-stopper video:
Video Duration
"Short-view or under-views under two seconds account for 52% of the overall brand lift caused by a video." - "Video Viewability and Sales Lift Research," published in September 2017 by Facebook and Oracle. As a general rule, the thumb stopper shouldn't last more than ten seconds. It could be difficult to finish your story in such a little amount of time. You can try to illustrate a specific instance, a response, or the use of the product. For more complicated storylines, you can use shorter, more impactful "chapters" that are repeated more frequently.
Brand Placement
If branding appears inside the first three seconds, the thumb-stopper video received a 2x bump in ad recall, according to Facebook IQ's "Stand Out in Feed: Optimizing Video Creative on Mobile," published in December 2017. The first three seconds of your thumb stopper are the greatest for showcasing your brand. Showing a logo, well-known spokespersons, eye-catching colors, goods, or graphics can accomplish this. To get the greatest results, be sure to explain your brand promise clearly and compellingly. Use cutaways to display several product colours or variants to accomplish this. Put your brand promise and essential messages up front and as directly as you can in your concept or script.
Striking Visuals
According to MMA's research, an advertisement is usually perceived as a blur when it first appears on the screen (one-tenth of a second), but even this brief blur can cause viewers to feel something.
Make the most of the colors you have available by:
Given that colors have such a profound psychological impact on individuals, using color in advertising is frequently a highly essential technique. Certain colors trigger associations in the brain that link your brand to your target demographic. Using contrasting colors is recommended. In a sea of sameness, this will make your innovation stand out. Most essential, embrace the colors of your brand. To get your audience to connect your brand with certain colors, use them frequently.
Sound effects
You no longer need to turn up the volume to enjoy videos thanks to a technology developed by Facebook. Due to this, a lot of businesses and content producers are considering how to embrace quiet and draw viewers in without the need for sound: A thumb-stopper is no different.
Use plots and screenplays that don't have a conversation yet are incredibly captivating aesthetically.
Befriend nice typography, my friend. In a quiet setting, text and visuals help your message be understood.
If your thumb-stopper video has dialogue, be sure to always subtitle it.
To avoid the viewer turning up the volume, make sure the background music is calming, upbeat, and charming.
Grand Opening
People responded strongly to human faces, body parts, or even icons that were formed like bodies, according to MMA's cognition study.
Include a human factor that is rich in emotion to achieve the best results.
The focus of the narrative should be the hero. We all scroll swiftly through our newsfeeds, therefore your brand needs to stand out in less than 10 seconds. Bring your most captivating frame to the front, then. Immediately grab readers' attention with text or branding. Use of your brand's hero aspect at the outset would make for an intriguing opening. In conjunction with a big opening, you may use vernacular videos as thumb-stoppers for your video marketing campaign!
To begin, try emphasizing key messages using text captions. Additionally, you can add engaging writing after the thumb-stopper to ensure that your message sticks in the minds of your audience.
Surprise element
Top-performing mobile advertisements always have a surprise. Although it may seem counter-intuitive, adding unexpected design features can dramatically change the advertisement!
Utilize the various artistic tools that are currently accessible on websites like Facebook and Instagram. Can a Boomerang or Hyperlapse serve as the thumb-stopper? Has your advertisement included an Instagram sticker or poll? There are countless options!
You may pen a creative scene. Is it possible to utilize time as a tool for creative expression? Will using a new copy be successful?
You can approach Thumb-stopper videos in an inventive way in several ways. It all comes down to making a significant, favorable effect on your brand. The goal is to produce unforgettable experiences that leave a lasting impression on your clients. One of the top digital marketing firms in India, Studio APS, helps various national businesses make the most of their video marketing initiatives by employing ground-breaking, high-impact strategies including the development of original thumb stoppers. Try the thumb-stopper strategy if you want your brand to be seen by millions of people. You won't be dissatisfied!
About the Creator
As the best digital marketing agency in Kolkata, StudioAPS provides the best results for your brand. Grow your online presence with our 360 degree digital marketing services today!
Reader insights
Be the first to share your insights about this piece.
Add your insights