The Real Queens of Wakanda: A Look into the World of Black Zoo and Aquarium Professionals
The first in a series of articles that profile women of color in the zoo and aquarium community puts the spotlight on a New York-based zookeeper with a focus on animal ambassador branding.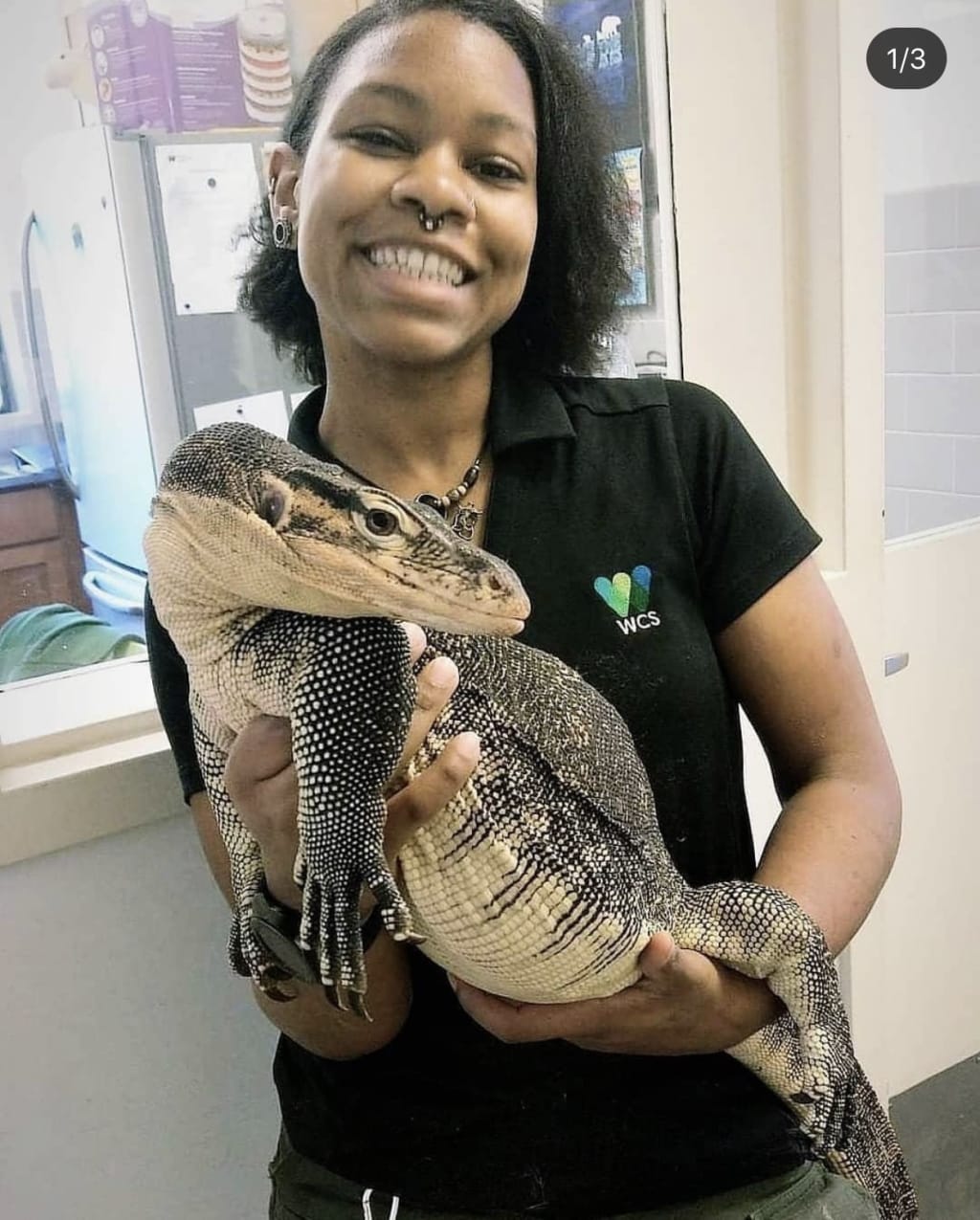 Maya E.Stay With a Monitor Lizard in her care. Photo by Ms.Stay herself.
The focus of this article and the series that it is a part of will not focus on this matter at all. Instead, it will put a focus on women of color as members of the zoo and aquarium community whose stories, in the light of recent events, should be shared for the world to know and appreciate the experience of people of color who continue to carry on in both good times and in times of uncertainty.
In the first of what will likely be a series, all focus will be placed on Maya E. Stay, a zookeeper who is based at the Bronx Zoo in New York. She has worked for the Wildlife Conservation Society (historically known as the New York Zoological Society) since 2015 when she started as a seasonal at the Bronx Zoo's Children's Zoo exhibit. She was hired to work there as a full-time keeper in 2017 and has worked there ever since.
Here is an interview I conducted with Ms.Stay as she shares her story of working with animals as a zoo professional in New York.
Maya, if you are reading this, I want to thank you so much for sharing your story, and may it inspire all youths of color to feel empowered enough to follow their dreams and have their voices be heard.
1. JCD: What made you want to work with animals in the first place?
MES: I've always loved animals ever since I was small. For most of my life, I pursued becoming a veterinarian. However, when I got into my senior year of high school, I realized that wasn't entirely the path I wanted to take. I spent most of my college career researching different animal fields that weren't just in medicine.
2. JCD: Have you done any volunteer and, or internship experiences during your high school and college years?
MES: My animal experience began in high school. I went to DeWitt Clinton High School in the Bronx and was fortunate enough to be apart of their animal care team. There, we had a room filled with different animals from amphibians to mammals all animals that you would commonly see in the pet store. I worked there in my junior and senior years. After high school, I went upstate to SUNY Cobleskill where I majored in Environmental Studies. There is where I fell in love with wildlife. From my first to my last year there I was apart of the school Reptile Propagation Club where we did our breeding for native snakes as well as presentations. I also had the pleasure of working with a local rehabber for my last two years.
3. JCD: When did you land the position you have now?
MES: I began working at the Bronx Zoo in May of 2015. I started as a seasonal (also known as a part-timer) in the zoo's Children's Zoo. To be honest, I didn't consider zookeeping until I started working at the Bronx Zoo. Once I started working there I instantly fell in love and decided this was what I wanted to do with my career. I got hired as a full-time keeper in 2017 and continue to work in the Children's Zoo as well as our Animal Ambassador building.
4. JCD: What is your favorite animal to work with?
MES: I work with over 200 different species and they are all so amazing. My top 3 would have to be our Palawan Binturongs, Lesser Sulphur Crested Cockatoo, and our beautiful Water Monitor.
5. JCD: What is one of your favorite moments on the job?
MES: My favorite moments at the job would be guest interaction. Seeing their faces light up when they see their favorite animal or learn a new fact feels me with joy. Next would be animal enrichment. Seeing our animals interact with something you picked out for them puts a huge smile on my face. Though sometimes animals overlook a very time-consuming enrichment item for a simply fallen leaf its still fun seeing them interact with different things.
6. JCD: What is it like for you to be a person of color to be part of the zoological community? Have you faced any challenges along the way?
MES: Luckily I work in a facility in which diversity is embraced, however, being a person of color in this field has its challenges many people don't see or think about. A big one is a representation. The zookeeping world went from predominantly white men to predominantly white women with little POC seen.
7. JCD: What do you hope, like a zoo professional, that people would gain from seeing various exotic species that they may never get to see out in the wild?
MES: What I hope people will gain from seeing exotics is understanding. Know that these animals have homes too, that unfortunately are disappearing. With getting close to these amazing, wonderful critters I'm hoping the general public will form a strong bond and help us conservationist in our fight for better and stabilizing our environment.
8.JCD: Last question, any advice for kids and teens who are looking into the possibility of working with animals in a zoological setting?
MES: Some advice for all our future zoologist out there is accepting the no's but don't let them stop you. You're going to be, multiple times in your career and that's okay it's not the end. Also, all the experience in the world doesn't prepare you for when you're in the field and that's okay too. Don't let anything stop you. Keep going strong.
Once again, I want to thank Maya for sharing her story of triumph among women of color during these difficult times as we both hope that it will inspire more zoo and aquarium professionals of color to share their stories of what it's like to work with animals and how they hope to inspire people to know and love the animals they work with daily.
If you are a woman of color and work as a professional at a zoo or aquarium and would like to share your story, feel free to email me at [email protected] or send me a DM at @jennacostadeedy on Instagram.