The Kim Kardashian-Tom Brady Effect
The rules of brand building, marketing, and indeed business are being rapidly rewritten by the rise of the celebrity-driven - and owned brand. What does this mean for the future?
Overview
The recently retired quarterback has launched a high-end men's apparel line. Is the NFL legend showing other sports stars - and all of us - how to become a billionaire today and rewriting the rules of marketing and business?
Introduction
Branding. Today, in the worlds of business and social media - worlds that are increasingly intertwined together - branding does seem to be everything! As a strategic management consultant and professor, I can safely say that we are living through a time where the "rules" on how to build a successful brand - and business - are rapidly changing. And that is putting it mildly!
Since the advent of the modern business world with the mass production of products like guns made by Remington and Colt and the introduction of the assembly line to make cars for mass consumption now well over a century ago, the guidelines for building a successful company and brand name have basically remained the same until relatively recently. Give the customer what they want at a reasonable price with good quality and value (even if they don't know that they need it until you tell them they do), and they will flock to your door with cash in hand, ready to buy whatever you are selling! From Levi Strauss with his denim jeans to Henry Ford with his Model T to Steve Jobs with the first Macintosh computer and the first iPhone, time and time again, new, novel, game-changing products brought success and wealth well beyond one's imagination to the entrepreneurs behind these products.
In much the same way, Ray Kroc (McDonald's), Colonel Sanders (KFC), and Dave Thomas (Wendy's) revolutionized the way we eat, and the formula for success - for both brand and wealth building - proved just as true in the world of consumer services. Likewise, Fred Smith "raised the bar" in terms of what our expectations were in terms of getting documents - and now everything else - delivered overnight with FedEx. And Jeff Bezos truly revolutionized the way we shop - again, for everything - by morphing Amazon into an online shopping site for every kind of product imaginable.
All of these entrepreneurs - and countless others who are not so well-known in business history - have proven over time that both building a brand that is ubiquitous and instantly recognizable by consumers not just in the United States, but globally today, and building businesses worth many billions of dollars can be accomplished with vision, hard work, and yes, sometimes a bit of luck too! But we have come to think of making such gains - from the germ of a business idea to that idea becoming a huge brand and a huge success - is a process that takes many years, even decades.
Today however, the rules are fast-changing, as brands can be built in seemingly the blink of an eye by one category of individual - a celebrity - and specifically in one area of business, that being fashion. While in the world of social media we have seen the massive role of influencers to help build brands of all types, today we are witnessing a very real, very new phenomenon - call it "The Kim Kardashian-Tom Brady Effect" (and no, they're not dating!). And so in this article, we will explore how this world of the instant celebrity brand works and what it could mean for the future of not just celebrity-driven business, but in all of business - both in fashion and beyond.
Celebrities and Athletes as Endorsers
Ever since the dawn of television in the 1950's, we have seen the worlds of celebrity, sports, and advertising intersect. In early television programming, there was very little separating the stars of TV shows from the companies and products that sponsored the programs…
…and yes, even "The Flintstones" were first sponsored by a tobacco company, with Fred and Barney to be seen puffing away!
One can look back today and laugh at the thought that back in the day, athletes were endorsing every kind of product, a whole range of products…
…including cigarettes.
And yes, O.J. Simpson was once known just as much for his prowess running through airports for Hertz Rent-a-Car as he was for his achievements on the football field - though later, we all know what happened subsequently.
Since the dawn of mass media, the pipeline of celebrities from the world of entertainment and athletes from the wide world of sports willing to act as endorsers for products and services has been seemingly endless, and not just here in the United States, but all around the world. And likewise, companies have paid their endorsers handsomely for their work. But, and here's a really important point, since the 1950's till just very, very recently, celebrities and athletes alike have acted (and been paid to be) simply a spokesperson and influencer, not thinking of - or really having the opportunity to become - a brand creator. And even when some of the most successful athletes in history were given the opportunity to become a brand, it was to be brands for major athletic apparel companies. Consider that even Michael Jordan's Jumpman brand is a Nike brand, not his own, even though his name and his body are the brand! The same thing goes with Steph Curry and his Curry Brand for UnderArmour, and LeBron James, along with athletes in a wide variety of sports from Tiger Woods on down, in their relationship with Nike and a whole host of other apparel companies.
This is not to say that there is not a precedent for athletes to break away from the athlete-as- endorser model to start their own brands. Kobe Bryant, reportedly before his untimely death in 2020, was seeking to separate from his lucrative Nike deal to create his own brand of shoes, clothing, and more. One model for athlete branding that has worked is for them to create a brand to make apparel - namely shoes - that are affordable. Shaquille O'Neal famously walked away from a shoe deal worth tens of millions of dollars with Reebok (the shoe that he wore - and endorsed - for his entire playing career) when a mother of a young boy confronted him over how her son wanted his shoes, but she could not afford them. This led the famous athlete to create his own "Shaq" brand of shoes, and as of mid-2021, over 400 million pairs of his shoes - priced between $19 and $29 dollars - had been sold. Likewise, former NBA star Stephon Marburry created his Starbury line of affordable sneakers, and these sell for as little as $14.98 still today!
The Concept of Celebrity Brands and The Kim Kardashian Model
The real precedent for the creation of very real, very large - and very valuable - companies by athletes such as Tom Brady really comes from the world of entertainment. We have seen actresses step out and create their own brands based on their lifestyle. Gwyneth Paltrow has been wildly successful with Goop, a company she founded over a decade ago that advocates better and healthier living and is both a media company and an online shopping destination for consumers. With a loyal, primarily female customer base, Goop is today worth an estimated $250 million dollars. An even greater success story among female actresses who have built their own companies and brands is Kate Hudson. The company she founded in 2013, Fabletics, has become a wildly successful athletic and leisure wear company that today is worth an estimated $5 billion dollars!
However, the real model for Tom Brady in business is an unlikely comparator - Kim Kardashian. Yes, the woman who was one of the first for whom it could be truly said that she was "famous for being famous" is that model. Yes, the woman whose rise to stardom - and then fantastic, unimaginable wealth - arose from having famous fathers - both Robert Kardashian and later the person formerly known as Bruce (now Caitlyn) Jenner - and began with an infamous sex tape that became one of the first truly viral videos is that model. Yes, the woman who has had a long running reality television series ("Keeping Up with the Kardashians") that really pioneered much of what is unscripted entertainment today is that model. And yes, the woman who really became one of the first - and still today is among the most influential - social media influencers with a whopping 286 million followers on Instagram alone - is that model!
Source: Instagram, https://www.instagram.com/kimkardashian/
Of course, the irony is that Kim Kardashian, whose every move, every outing, and yes, every date is photographed, shared and followed by millions, has been one of the most closely watched people on the planet since the late Princess Diana, while Tom Brady has been, for the most part, even while being one of the most successful players in NFL history and having a supermodel wife (Gisele Bündchen), has been an intensely private figure throughout his over 20 year playing career (which now, may not be over for certain as he hints at coming out of retirement).
The fact is that Kim Kardashian has proven to be quite the entrepreneur, and in doing so, has now paved the way for other celebrities and athletes to follow her now proven method to quickly build a company and a brand worth billions! While she has been a paid endorser for numerous products, both on and off social media, she has also built both a successful beauty line (KKW Beauty) and a perfume company (KKW Fragrance), and now has launched a new fashion-oriented company. The latter is called Skims, and according to its company snapshot (below), it seeks to serve all women of every shape, size, and color.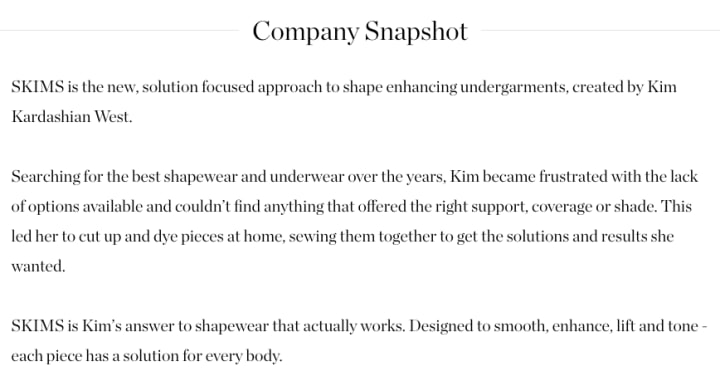 Source: The Business of Fashion, Skims Company Snapshot, February 2022
And let there be no doubt that Kim Kardashian is the face - and the body - of the company, from its website…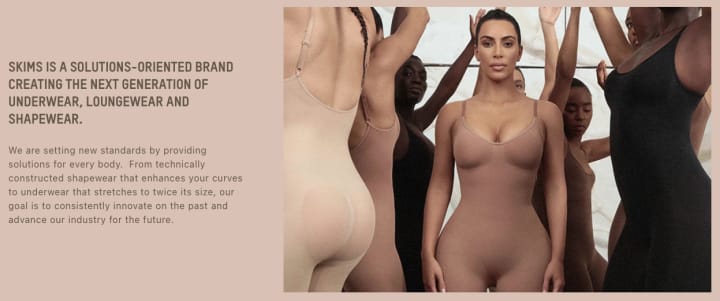 Source: Skims, About, February 2022
…to all over social media, particularly through the brand's Skims Instagram feed…
…and through Kim Kardashian's personal Instagram feed (which again, has well over a quarter of a billion followers worldwide!).
Certainly, such pictures DO draw attention! Now being a reasonable business analyst and writer, I only chose to include a sample of 2 pictures depicting Kim Kardashian in Skims merchandise here for reference. However, on social media, and even crossing into traditional media, with "news" articles titled like "Kim Kardashian Shows Off Her Incredible Curves and Trim Tummy in a Tiny Bra and Matching Thong from SKIMS Valentine's Day Collection," the Kim Kardashian persona - and interest in her - draws eyeballs, clicks, and shares, creating buzz not just for media sites that feature such stories - and pictures of course, but also sales for the Skims brand!
The Skims brand has had an incredible ride since being founded by Kim Kardashian in 2019. In 2021, the company saw sales grow by 90% (reaching $275 million), and it expects sales to top $400 million in 2022. And today, the fashion brand, which sells not just shapewear and underwear, but has just recently expanded to the very trendy area of loungewear as well, is now worth $3.2 billion dollars - doubling its' valuation in less than a year!
The Brady Brand
So admittedly, the Brady Brand (yes, that is what it is called!) is in the early stages of following the Kim Kardashian Model that has worked so well for her and for Skims. The Brady Brand launched just last month (January 2022), yes, with social media announcements from Tom Brady himself. The company is marketing what it dubs "Lifeletics" - athletic wear that can double as leisure and casual wear for men today as the lines blur between "what should be worn when and wear" for all of us today. And yes, the quarterback has assembled a top-notch fashion team of fashion players around him, most notably Dao-Yi Chow (who previously worked with both fashion giants Sean John and Donna Karan and created [and still runs] the Public School line of streetwear) and Jens Grede (who, along with his wife Emma, coincidentally has been involved in the creation of Kim Kardashian's Skims brand)! And so no one can say Tom Brady just simply opened an online store. He took a very methodical, very strategic approach in creating and driving his Brady Brand into the very crowded mens' fashion market.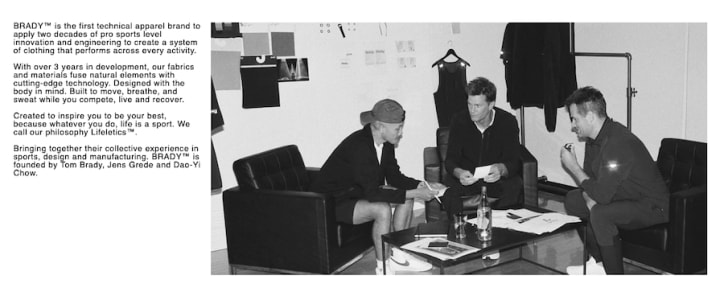 Source: Brady Brand, About, February 2022
What is Tom Brady selling with the Brady Brand, both in its online store and with Nordstrom? In short, it is not cheap stuff, with, just for instance:
A $110 dollar "everyday" t-shirt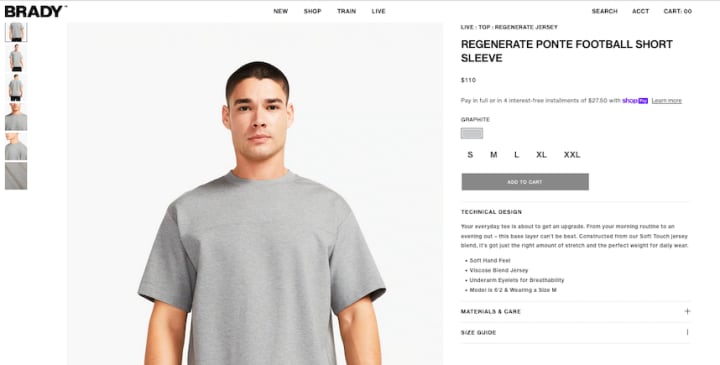 Source: Brady Brand, https://www.bradybrand.com/products/regenerate-ponte-football-short-sleeve-graphite, February 2022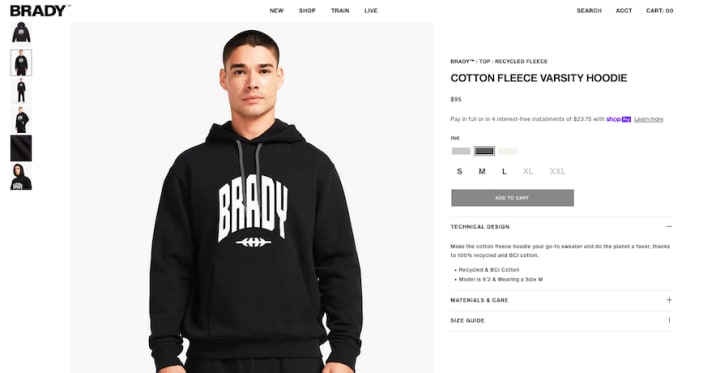 Source: Brady Brand, https://www.bradybrand.com/products/cotton-fleece-varsity-hoodie-ink, February 2022
$130 dollar jogging pants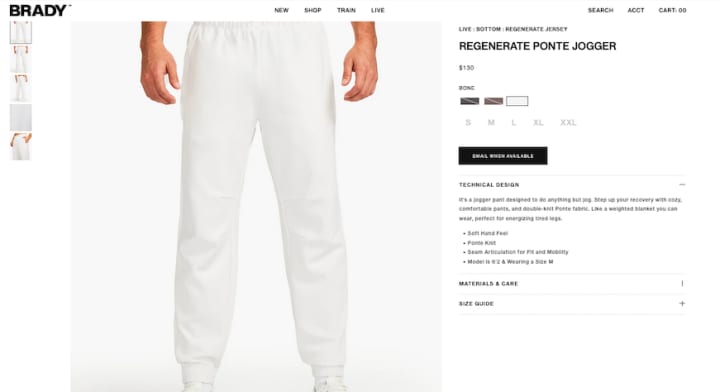 Source: Brady Brand, https://www.bradybrand.com/products/regenerate-ponte-jogger-bone, February 2022
And yes, a $50 Brady baseball cap!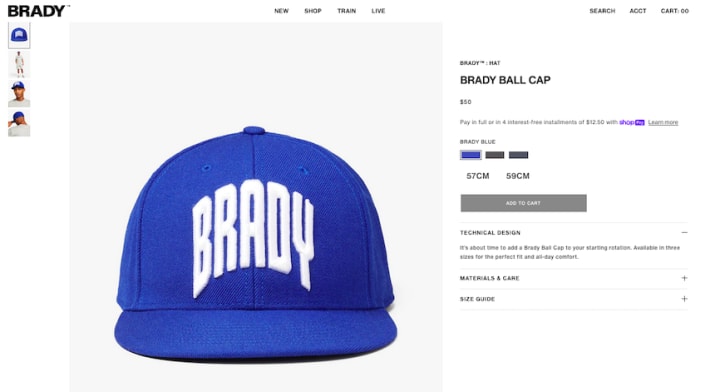 Source: Brady Brand, https://www.bradybrand.com/products/brady-ball-cap-brady-brady-blue, February 2022
Now, critics ranging from Boston morning radio hosts…
…to sportswriters with USA Today have pointed out the fact that the Brady Brand is expensive stuff:
"It's a bunch of expensive, middle-aged suburban dad gear that pretty much only says "Brady" on it over and over again. That's literally all it says, y'all."
But, the Brady Brand - and yes, one can make light of just how intertwined the brand is with the man, the myth, the legend of Tom Brady, as a recent article in Men's Health covering the brand's launch last month recently did:
"It can be confusing: Tom Brady, Tampa Bay Buccaneers quarterback, seven-time Super Bowl winner, and arguable football GOAT, has launched BRADY, a clothing company. And Brady's BRADY is for Brady, in a way: 'I'm in a locker room with a lot of different guys and body types,' Brady, 44, tells Men's Health about the genesis of BRADY. 'We want to wear things that we can wear to our training facilities [and] when we come home on the weekends.'

But Brady's BRADY is also for you, not just himself and his superhuman ilk: 'The intention was to create a brand and collection that was worn for all the different activities that we do,' he says, before seamlessly switching to the second-person: 'That could be golfing, playing with your kids, taking your dogs for a walk, going on a date with your wife,' Brady, the man, tells you about BRADY, the brand. 'There are functional performance products tailored really well that people can wear in every aspect of their life.'"
And in the end, that is the brand's strength - and yes, it's reason for being. In sum, the brand is Brady, and Brady is the brand.
Analysis
Will Tom Brady have the last laugh and follow the Kardashian path to building a very real brand and a very real business that could be worth billions - quickly? And what does this mean for the future of marketing and branding?
From the perspective of this business strategy consultant and professor, I believe that the answer to both questions is not just yes, but "of course!" We live in a very different world and a very different business environment than we did just a few years ago. As such, we need to accept - and embrace - that the formula for successful business strategies not just in fashion, but in many areas of products and services, is being quickly being remade today! The celebrity brand will be a growing force in how businesses are built, both in the fashion sector and even well beyond! What we might term "The Kim Kardashian-Tom Brady Effect" is indeed a very real business strategy principle that we should not only embrace, but employ, today. Entrepreneurial celebrities and athletes should note with great interest the precedent that these two titans of their respective worlds - entertainment and sports - are setting in terms of being able to quickly build brands, companies, and very real wealth and value based on their names and their public personas. However, well beyond this very small group of select and powerful individuals in the world of entertainment, sports, and increasingly, the realm of social media itself, entrepreneurs - and entrepreneurial companies - should realize that the quickest, amd maybe the most risk free way to branding success in today's world is to partner with "big names" and bring them on board as not just spokespeople, but as true business partners to build brands and new ventures!
And while this new business model, where well-known celebrities and athletes may become even more powerful - and rich - may not be fair and may indeed seem to stifle the kind of true innovation that has driven the American economy throughout history, well, "the times they are a changin!" It's been a truism in business (and in life) for a very long time that the easiest way to get another million dollars (or billion as the case may be), is to first have that million or billion! So yes, all of this is very good news for not just the biggest of our stars in American culture today, but even for the mid and low level stars (i.e. Did you know you can drink former race car driver Danica Patrick's wine…
…or drink famous quarterback, sports commentator and actor Terry Bradshaw's bourbon whiskey?).
…or even have Fox Sports' Charissa Thompson design your home.
And for today's ascending sports stars - like Joe Burrow,…
Collin Morikawa,...
…and on and on and on - the potential for them not just as endorsers of products, but of creating their own brands of products - and even services - both independently and likely in partnership with very savvy entrepreneurs and venture capitalists, will make today's headlines about celebrities and athletes pale in comparison to what the values of such brands and companies will be a decade from now. And globally, the potential is even far, far larger for celebrity/athlete brands, companies and yes, wealth building!
In sum, the sooner celebrities and athletes realize their power in this regard, the more their power in the branding and business world will grow in a positive direction. And the sooner those interested in building a brand and a business quickly see how this new business model works - and works very well - the more power that will flow to these icons of entertainment, sports, and yes, social media. The "Kim Kardashian-Tom Brady Effect" is indeed very real. So now, how should you - and your business - adapt to this whole new world of celebrity-driven brands and brand building?
++++++++++++++++++++++++++++++++++++++++++++++++++++
About David Wyld
David Wyld is a Professor of Strategic Management at Southeastern Louisiana University in Hammond, Louisiana. He is a management consultant, researcher/writer, publisher, executive educator, and experienced expert witness. You can view all of his work at https://authory.com/DavidWyld.
Social Media Links to David Wyld:
About the Creator
Professor, Consultant, Doer. Founder/Publisher of The IDEA Publishing (http://www.theideapublishing.com/) & Modern Business Press (http://www.modernbusinesspress.com)
Reader insights
Be the first to share your insights about this piece.
Add your insights