The Key to a Coherent Instagram Feed for Your Brand
Your Instagram is your digital shopfront, so make a good first impression with a solid colour scheme.
Your Instagram feed is your business' digital shopfront. And now that Instagram Shopping is a thing, that's barely even a metaphor!
With 110 million users on the app, your Instagram feed could well be the first place that someone comes across your brand. Make a good impression from the offset with a beautiful feed and strong colour scheme.
Colour is key
The easiest way to build a coherent Instagram feed is to choose a colour scheme, and stick to it. This means that you will only post images that predominantly feature your chosen colours.
It can be challenging to limit yourself to only regramming images with certain colours, or to always have to take photos that fit the theme. In the long run, though, the restriction will pay off. This is because, as your feed grows with these carefully selected images, it will look coherent and on-brand.
For the indecisive out there, don't worry, you won't need to religiously stick to this for ever and ever, amen. It is just a starting-off point. A guide to help you build your feed.
So… what colour scheme should you choose?
Perhaps you already have a strong brand identity that includes a few select colours. If this is the case, then by all means, base your Instagram feed on this.
For other people, it's not so clear cut. Maybe your logo is black and white but you want a bright feed. Or maybe you don't even have a professional logo or brand identity yet.
Not to worry! You don't need to be a graphic designer to choose a pleasing combination of colours.
Spin the colour wheel
To come up with your colour theme, try your hand at a colour wheel. Adobe has a great tool for this: color.adobe.com.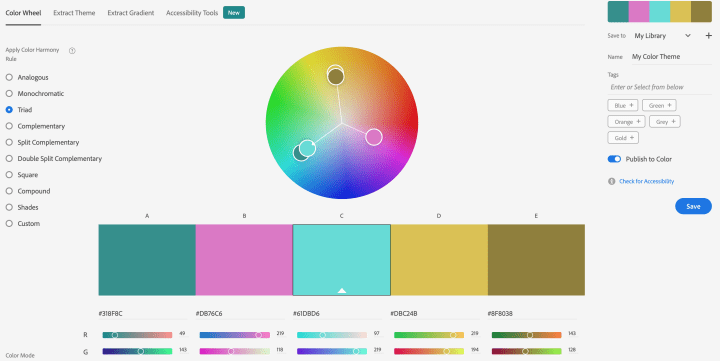 To use this colour wheel simply select any colour, perhaps one that you already love or that you think would suit your brand. Then, tap the different types of combinations, such as monochromatic, triad, complementary. Play around with it. What colour combination speaks to you?
Another way to figure out your colour palette is to upload an image and let the tool generate a colour palette from it. Perhaps it's an image you took specifically for your business, or just an image you've come across that you're eager to share.
Whatever the image, upload it in the 'extract theme' section and a colour palette will be generated based off this image. Create different palettes by playing around with the options on the left like bright, dark, muted, and so on.
Once you've decided on a colour scheme, screenshot it and save it. You could also print it out and stick it to your wall where you'll be reminded of it and inspired by it.
When it starts to get stale
If you are getting bored of your colour theme, you can transition to a new one.
To do this, add an image with elements of the old colour scheme, plus the new colour that you'd like to introduce. Gradually introduce the new colour over a series of Instagram posts, by sharing images with this new colour and phasing out the colours that you're not using anymore.
You can see this in action by looking at the above example. The colour scheme begins as green and orange, transitions to yellow and dark green, and finally pink tones are introduced.
If all this feels overwhelming right now, don't fret. As you spend more time working on your Instagram feed you will sharpen your eye and eventually understand what looks good. But to begin with, choose one colour scheme of around three colours, and run with it.
_____
There you have it, how to make a coherent Instagram feed by sticking to a colour theme. For more Insta-inspo, check out my Instagram account @byclairep.
For more Instagram tips, check out my Skillshare class on How to Create Beautiful Instagram Stories: IG Secrets & Hacks to Up Your Story Game. There's 14-day free trial for new users with that link too!