The house and life of Jacques Coeur
2013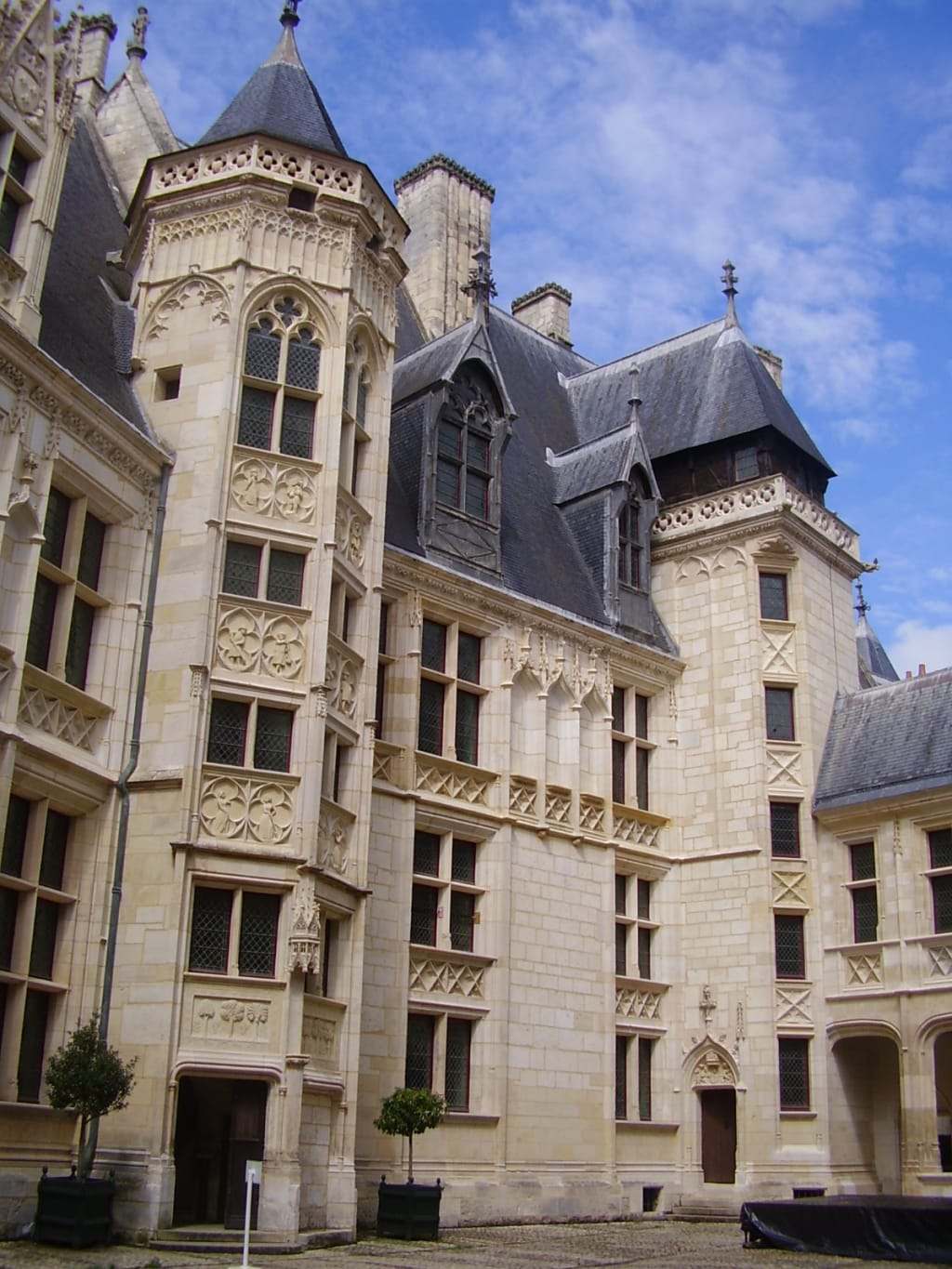 There are many intrigues surrounding the house of Jacques Coeur, just as interesting, in fact, is the life of the man who owned the house. From a successful businessperson to a man framed for crimes against the king, he and his home have seen it all. Jacques Coeur's house in Bourges is an important standing reminder of the Middle Ages in France, as well as a moral reminder of the risks of great wealth and debt.
Beginning with the unique architecture of this richly decorated Middle Ages home, the Flamboyant style is very apparent in this particular house.
The house of Jacques Coeur, a fabulously wealthy merchant in Bourges, reflects the popularity of the Flamboyant style for secular architecture. Built at a great expense between 1443 and 1451, it survives almost intact, although it has been stripped of its rich furnishings. The rambling, palatial house is built around an irregular open courtyard, with spiral stairs in octagonal towers giving access to the upper-floor rooms. Tympana over doors indicate the function of the rooms within; for example, over the door to the kitchen a cook stirs the contents of a large bowl. Among the carved decorations are puns on the patron's surname, Coeur (meaning "heart" in French). The house was also Jacques Coeur's place of business, so it had large storerooms for goods and a strongroom for treasure. (Stokstad, 586)
Flamboyant style became very popular near the end of the fourteenth century, which is when Jacques Coeur designed his home. Today we call it 'flamboyant' due to its interesting decorative patterns and humorous qualities, such as the puns on Jacques Coeur's name in his house.
The great age of cathedral building that had begun in the mid twelfth century was essentially over by the end of the fourteenth century, but growing urban populations needed houses, city halls, guildhalls, and more parish churches. It was in buildings such as these that late Gothic architecture took form in a style we call "Flamboyant" because of its repeated, twisted, flamelike tracery patterns. Late Gothic masons covered their buildings with increasingly elaborate, complex, and at times playful architectural decoration. Like painters, sculptors also turned to describing the specific nature of the world around them, and they covered capitals and moldings with ivy, hawthorn leaves, and other vegetation, not just the conventional acanthus motifs rooted in the Classical world. (Stokstad, 585)
This flamboyant style of architecture contrasted greatly from the design of homes in Italy at the same time. Comparing Palazzo Medici and Jacques Coeur's house, Hugh Honor (art historian) makes a note of the drastic differences,
Palazzo Medici, which set a pattern for Florentine town-houses, is sober and severe, even a little forbidding. …There is a greater elegance, but little more ornamentation, in the interior courtyard's composite columns supporting round arches with circular reliefs above. All is rigidly integrated and controlled- in striking contrast to the house of another wealthy financer being built in France during the same years. Although similarly ranged round a central courtyard, Jacques Coeur's house sprawls with rooms of varying shape added to one another horizontally and vertically according to function or fancy. Similarly in decoration, one is gravely Classical and solemnly decorous, while the other is lavishly Gothic with whimsical touches (illusionistic figures leaning out of simulated windows, innumerable carvings alluding to the owner's name).

Both Patrons must have played a role in determining designs, Jacques Coeur's house giving an impression of extravagant opulence, Cosimo de' Medici's one of ample, solid wealth. … Significantly, the name of Jacques Coeur's architect is not recorded. Not that an architect was any less important for a Gothic building than for one in the Renaissance style, but in fifteenth-century Florence the role of the architect underwent a fundamental change [which had not yet happened in France] (Honor, Chapter 10)
Architects and masons had to find new work now that much of the cathedral building from the twelfth through fourteenth centuries was ending. Many of these architects turned to constructing rich patrons' homes and public buildings instead,
[architecture's] increasing freedom reached a climax in the fifteenth century in sumptuous domestic buildings … especially the house at Bourges of the wealthy Jacques Coeur, the king's treasurer. This was built in 1445- 1453 round a courtyard with an asymmetrical and functionally disposed plan which grouped banking offices on one side and domestic apartments on the other. (Watkin, 168)
While we do not know the architect of Coeur's house, there is some speculation that it is the same architect as his aristocratic friend,
… [Jacques' home] resembles the Duke de Berry's castle at Mehun-sur-Yevre, which is known from the exquisite illustration in the Tres Riches Houres of the Duke de Berry. It is therefore likely that the Duke's architect, Guy de Dammartin, or his assistant, also designed Jacques Coeur's house, especially since the duke and Jacques Coeur were closely associated when the house was begun. (Hanser, 106)
His relations with the aristocracy would boost his reputation in the short term, but would also be his downfall.
Coeur's reputation was well renowned due to his ties with nobility.
His wealth came partly from the luxury goods he supplied to the duke [Jean de Berry] 's court, but mostly it was a result of his close ties to the duke's successor, who was disparaged as the "King of Bourges" until he … became King Charles VII of France. (Hanser, 105)
After this, Jacques received many honors from the king as well as the pope and he became a diplomat representing France due to his many contacts as a trader and businessperson (which had also earned him Master of the Mint status in Paris.) He was very wealthy in real estate value and very successful as a diplomat, businessperson, and trader at the height of his life. However, because of his ties with nobility many were jealous and eventually most people believe this lead to his imprisonment.
While his wealth in real estate and personal property, his luxurious style of life, and his titles, influence, and personal dynamism were impressive, his prosperity was in fact fragile. He had few efficient associates, the risks of maritime commerce were great, and his competitors, especially in Montpellier, were ruthless. Though he always appeared to be short of money, he was rich enough to be able to lend the king funds necessary for the reconquest of Normandy in 1450 and to become creditor for a large part of the aristocracy. Coeur thus became to many an object of envy and jealousy. ("Jacques Coeur" 1)
Due to the fact that most of the nobility and various aristocratic patrons owed him substantial amounts of money, Jacques Coeur was thought to be more powerful than many of the noble class,
Charges against Jacques Coeur were undoubtedly exaggerated. Members of the nobility, including the king and queen, owed him considerable sums, and he had foreclosed many estates in Berry. At the end of his trial, which took two years, he was condemned to death. In light of the services he had rendered to France, the king commuted this to banishment for life and imprisonment until he paid a fine- which was greater than the total value of his properties. (Hanser, 106)
Although he was famous in France, most other European countries did not know much about him, but he did have connections with the Pope,
With the help of friends, he escaped from prison and took refuge, first in Florence and in 1455 in Rome. In November of the following year he died, probably on the Aegean island of Chios, where he had gone in command of a naval expedition organized by Pope Calixtus III against the Turks. After his death Louis XI made amends for Coeur's treatment by his father, Charles VII, by returning some of Coeur's property to his sons and by reviving enterprises that the former argentier had initiated: the silk workshop in Lyon and the first attempts to set up a company in the Middle East. ("Jacques Coer" 1)
Nevertheless, his home still stands as a monument to his families' rise to wealth and power as well as a wonderful example of Middle Ages architecture.
The house and life of Jacques Coeur is very interesting, especially when looking deeper into the life of the man behind the famed house in Bourges. He lived a successful life until he was disgraced, and the home he built using his vast wealth remains as an example of Middle Ages architecture as well as reminding us of the risks of money.
Bibliography
Hanser, David A. Architecture of France. Connecticut: Greenwood Publishing Group, 2006. Scanned from Print. http://books.google.com/books?id=zojzUU976h0C&pg=PA103&dq=house+of+jacques+coeur&hl=en&sa=X&ei=FvowUaDhMuSzygGpzICwAg&ved=0CEIQ6AEwAw#v=onepage&q=house%20of%20jacques%20coeur&f=false
Honor, Hugh and John Flemming. A World History of Art. London: Laurence King Publishing, 2005. Scanned from Print. http://books.google.com/books?id=qGb4pyoseH4C&dq=%22jacques+coeur%22+janson+history+of+art&q=jacques+coeur
"Jacques Coeur". Encyclopædia Britannica. Encyclopædia Britannica Online. Encyclopædia Britannica Inc., 2013. Web. http://www.britannica.com/EBchecked/topic/124280/Jacques-Coeur
Kleiner, Fred S. Gardner's Art Through the Ages: the Western Perspective 13th Edition. Massachusetts: Cengage Learning, 2010. Print.
OUILearning. "The decoration of Jacques Coeur's Mansion- Exploring History 1400-1900 (3/6)." Youtube Video. Open Learn. Other Media. http://www.youtube.com/watch?v=_QszsdvQYyk
Stokstad, Marilyn and Michael W. Cothren. Art History Portable Edition Fourteenth Edition: Fourteen to Seventeenth Century Art. New Jersey: Pearson Education, 2011. Print.
Watkin, David. A History of Western Architecture. London: Laurence King Publishing, 2005. Scanned from Print. http://books.google.com/books?id=39T1zElEBrQC&lpg=PA165&dq=house%20of%20jacques%20coeur&pg=PA168#v=onepage&q=house%20of%20jacques%20coeur&f=false
history
About the author
Haley received her MA in Business Design and Arts Leadership from SCAD eLearning in 2018. She also has a BA in Art History with a Fine Art minor from SCSU and an ASc in Graphic Design from RCTC, both located in Minnesota.
Reader insights
Be the first to share your insights about this piece.
Add your insights