THE HISTORY OF TRACTORS IN INDIA
THE HISTORY OF TRACTORS IN INDIA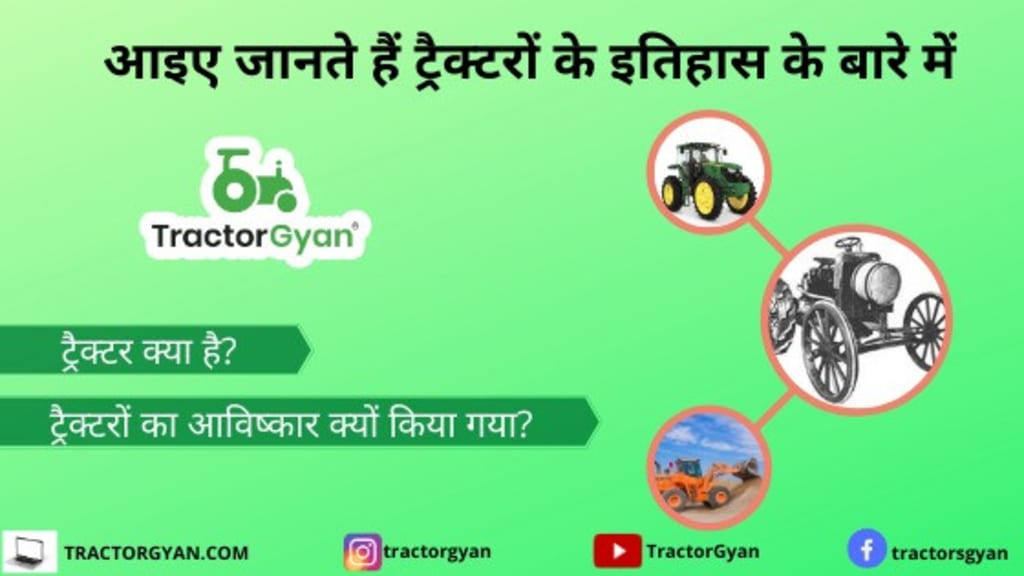 What is a tractor?
The word "tractor" comes from the Latin word "tractus" meaning drawing or pulling thereby explaining that a tractor is essentially a machine designed to pull things along, usually very slowly and surely.
Tractors have large and powerful diesel engines, just like bulldozers, cranes, railroad trains, ships, and other giant machines. In a tractor, the engine's power is designed to be used for pulling big and heavy loads.
Why tractors were invented?
Tractors were originally designed to replace working animals such as oxen and horses, which people have been using to pull carts and plows since ancient times. One of the pioneers of modern tractors, American industrialist Henry Ford, got at least part of his inspiration from a simple determination to come up with something better than the horse for doing heavy farm work.
Because early tractors were merely replacements for horses, pulling things was what they were mostly used for as well. The early tractors were fueled by coal and known as steam traction engines. They looked like small steam locomotives, with large, sturdy metal wheels capable of rolling down roads.Seeing one of these early coal-powered lumbering tractors was what inspired Henry Ford to start developing tractors of his own.
Parts of a tractor that were modified
Modern tractors are much more advanced than steam traction engines and can do all kinds of things.
1.Drawbar
Carrying heavy loads is still one of the most important jobs that a tractor does . Tractors pull many different implements using a sturdy rod called a drawbar, which acts as aa secure but very flexible link between the tractor and whatever is following it. The load pivots on the drawbar so a tractor can easily pull it around corners.
2.Hydraulic hitch
All a horse can really do is drag something behind it, which is a problem because implements often have to be moved from one field to another, sometimes by driving them down public roads. Modern tractors get around this using a hydraulically powered pulling and lifting system at the back, known as a hitch. The hitch makes it easy for a tractor to lower a plow when it is working on a field, and then raise it up again to drive it somewhere else—but that's not all it does. It can raise and lower implements off the ground with a flick of a switch, but it also keeps the tractor pulling effectively as the ground conditions change and give more resistance. It transfers some or all of an implement's weight to the back wheels of the tractor, giving it more grip against the ground. The mechanical design of the hitch keeps the whole tractor safe and stable and stops it flipping backward if the implement it's pulling suddenly snags in the ground. Most importantly of all, it allows one tractor to work with many different implements.
3.Power takeoff
Early traction engines could be used to power harvesters, elevators, and other kinds of equipment by parking them, disengaging their driving wheels, and then transmitting their power to another machine.
Virtually all modern tractors can power implements or machines using what's known as the power takeoff (PTO). PTO is a rotating shaft, usually at the back of a tractor, from which power can be taken from the tractor's engine. To use the power takeoff, you need to hook up a special spinning rod (with clever, flexible connections called universal joints) between the tractor and the implement. A machine like a hay baler has spinning rakes, wheels, and gears inside it. When it's hooked to the back of a tractor, it's connected to the power takeoff so the tractor's engine powers the machinery inside the bailer as well as driving its own wheels.
4.Tires
The large pneumatic (air-filled) tires spread the weight of the tractor over a larger area and deep treads give excellent grip. By reducing the pressure on the ground, the tires stop it from sinking in to soil and mud that would quickly bog down a conventional car. The more the tires spread the load, the less damage the tractor does to the soil.
Since a tractor is usually pulling things, the heavyweight behind it pushes the rear wheels down, increasing their grip, so there's no particular advantage in having powered front wheels as well. Some tractors have extremely wide, multiple wheels and tires for negotiating particularly soft or difficult terrain.
5.Diesel engines
Tractors are generally powered by large diesel engines, which are particularly good at providing high pulling power at very low speeds. Smaller tractors may have gasoline engines and some are powered by LPG, usually to make them more economical or environmentally friendly.
6.Control
Driving a tractor might look easy—the engine is doing most of the work!—but it needs a great deal of skill. Power-assisted steering and braking help tractor drivers keep heavy loads safely under control. Since tractors are heavy and often have to work on steep slopes and soggy, unstable ground, there's always a risk they might tip over so modern tractors generally have reinforced cabs fitted with anti-roll bars.Stay connected with Tractorgyan