The Forgotten Art Form of Papercutting
How to Craft a Story with No Words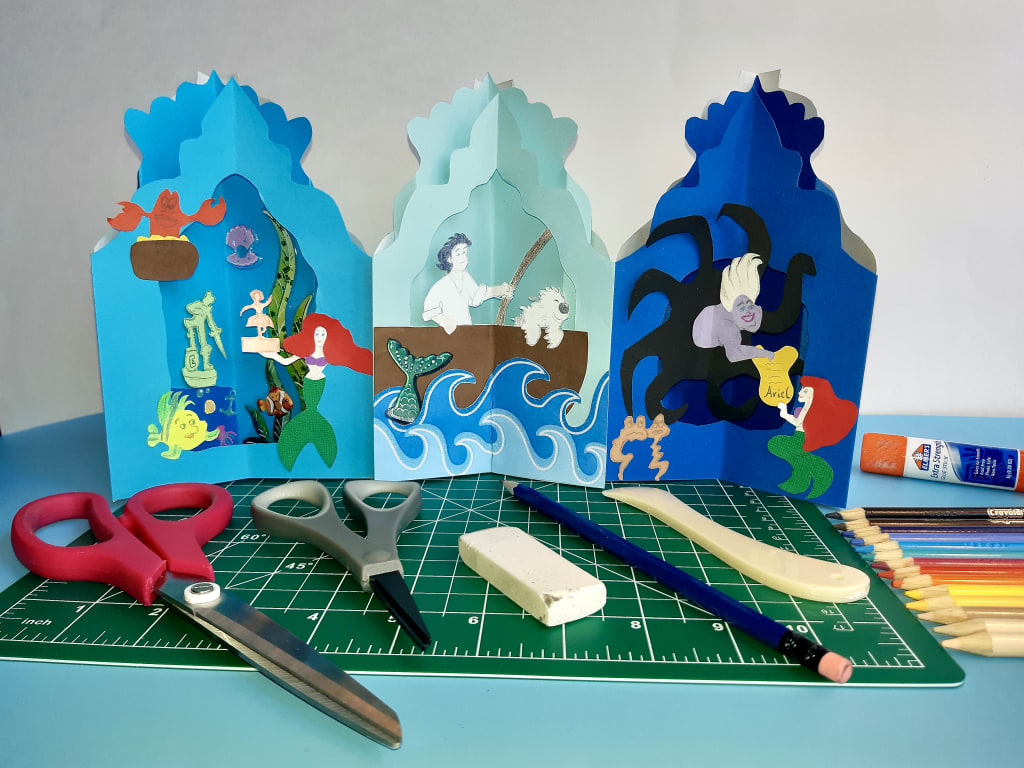 Photo by Author, Andrea Jardine
I'm a storyteller. My stories consist of words but I've always been drawn to visual art, even though I can't draw or paint, or at least not well. I wanted to learn a new way of storytelling when I randomly saw an ad for papercutting. This is it, I thought. A new way to explore telling a story without having to draw or paint. I can use my hands and imagination and touch something other than a keyboard. A few videos later, a "papercutter" was born.
My initial thought was to craft a fairy tale or Disney classic that was familiar to me and most people. Since I'm an amateur, the idea of creating something new was too overwhelming, but after working on this project and the enormously happy and proud feeling it gave me, I'd like to tackle my own story at some point.
I was debating about Red Riding Hood or Cinderella when a conversation I had recently with my friend, Scott Wade, whom I met in one of our many Vocal Facebook groups, including Vocal Creators Saloon, The Vocal Creators Lounge, and The Vocal Creators Support Group, came back to me: The Little Mermaid. Somehow Ariel had come up in conversation and I remarked how much I loved her and the movie, which I first saw at 10-years-old, and how I've always been captivated by and yearn to live near water. (Probably the Pisces in me). As with most little girls, I dreamed of becoming a mermaid. And like Ariel, I too wanted to be part of that world.
When I was 12, one of the songs we learned in Grade 6 music class was Part of Your World. In the middle of the crowd, my introverted self would pretend to be Ariel, and as I shyly looked around at the other kids, I'd see Mark as Sebastian, Lisa as Flounder, and Mike as Eric. My teacher struck me as an Ursula when she made us stop singing and move on to another song.
As an adolescent young girl, I connected with Ariel wanting to be part of something other than where she was and especially the lyrics:
"Bet they don't reprimand their daughters / Bright young women, sick of swimmin' / Ready to stand"
Because of these fond memories and the fact that I still sing this song to myself when doing mundane tasks like cooking or cleaning, I decided this would be my first scene.
Let the Creativity Flow
That first cut into the paper was liberating. I was creating something that I could visually see and touch that I can't get from typing words on a screen.
Through each cut, I was tapping into a source of creativity that I hadn't used since I was a child. In some places, I followed lines I had drawn on with a ruler and pencil, such as with the templates for the borders, but in others, I freely cut and let my intuition guide me. The scissors were taking me on a journey where I could play and experiment and follow my curiosity to new wonderful lands, or waters.
Another element I didn't realize I would enjoy so much is how trance-like the cutting can be. It was a form of meditation. I put on some soft acoustic music and felt peace and joy infuse me.
First Things First
Now that I knew I wanted to create Ariel in paper form, I watched the movie for the 100th time and sang along to every song. I chose a carousel version of papercutting with six scenes and I looked up images online for certain characters and events I wanted to depict. I then cut mock pieces, started choosing colour palettes, and sketched some ideas into my sketchbook.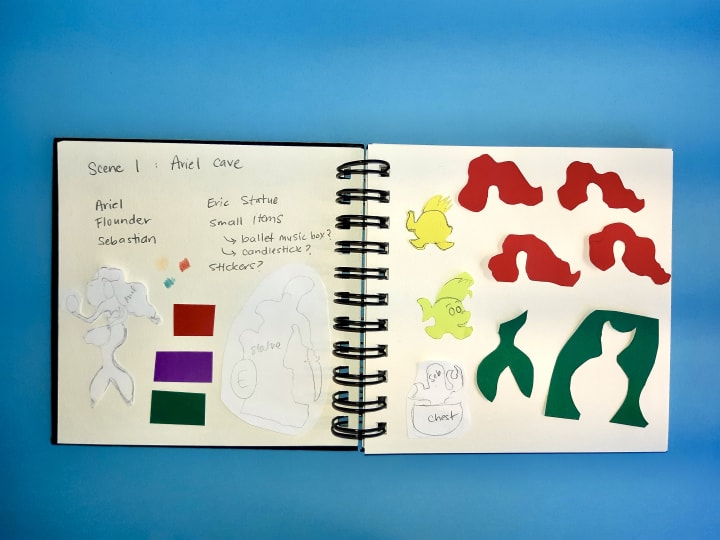 What's in My Toolbox:
I gathered the following items:
Scissors, one small and one large
Scalpel
Cutting board
Drawing Pencil
Eraser
Metal Ruler
Wide selection of paper: white, all colours, pattern, construction, Bristol board, and tracing
Glue
Tape
Pencil Crayons
Pencil Sharpener
Stickers
Scoring Folder Tool
Sketchbook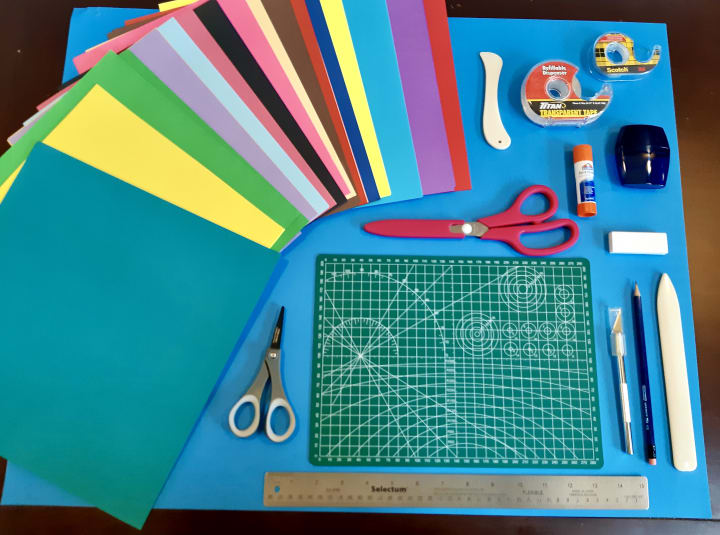 Let the Papercutting Begin
Since I wanted to create a carousel with papercutting, I drew and cut out the templates with a specific colour palette for all six scenes.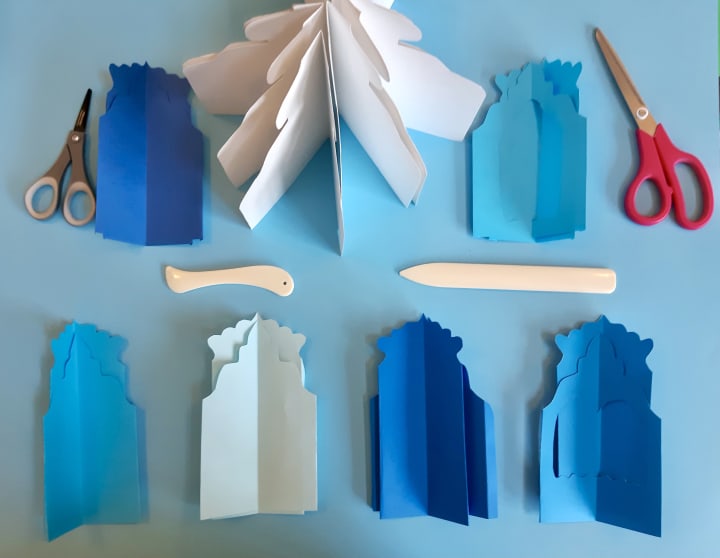 Then started working scene by scene to craft the story I was telling.
Scene 1: Ariel in whatchamacallit cave with Sebastian and Flounder
I started with Ariel in her cave because that's the most predominant image in my head when thinking about The Little Mermaid. I wanted to feature different characters in each scene, as well as a different colour scheme for the borders, and place them in order as they happened in the film.
As shown below, Ariel has a medium blue template to represent the ocean. I cut her hair out of red paper, her shell bikini top out of purple paper, and her tail out of a thicker scaley green paper. I used yellow for Flounder and reddish-orange for Sebastian. I used a patterned paper with an anchor and shell and glued it underneath the light green statue of Eric. I also played with some stickers to add a different element and included a soft pink ballet music box for Ariel to hold.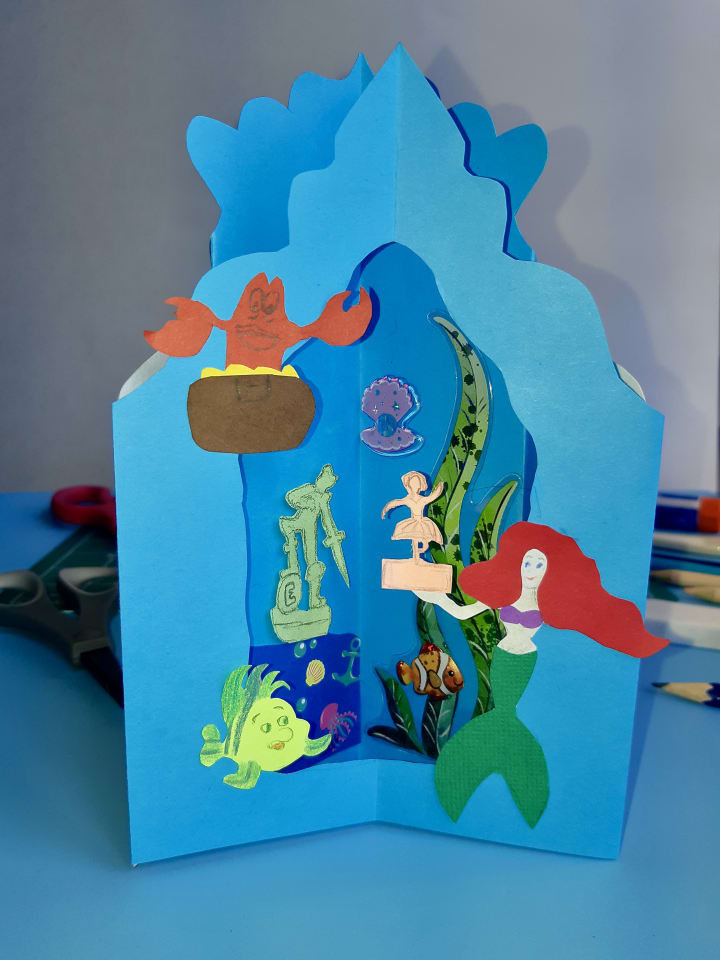 Scene 2: Eric and Max on ship, Ariel diving back down
Next, I needed the love interest. As shown below, Eric's border is light blue for the sky and I chose to draw the characters and colour them in with coloured pencils. I used brown paper for the boat, a sticker for Ariel's tail diving back into the water, and a patterned paper for the waves.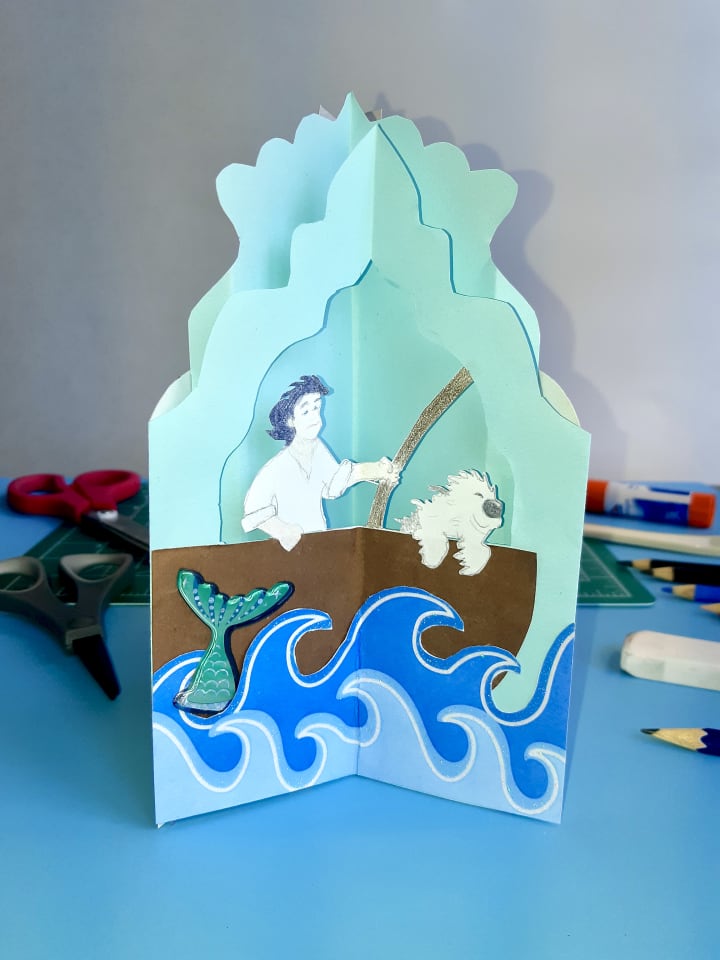 Scene 3: Ursula convincing Ariel to sign the contract
For the third scene, I included the villain, as shown below. Ursula has a dark blue border for her lair and I used coloured paper for each character, including the souls at the bottom, and then drew faces with pencil and pencil crayons.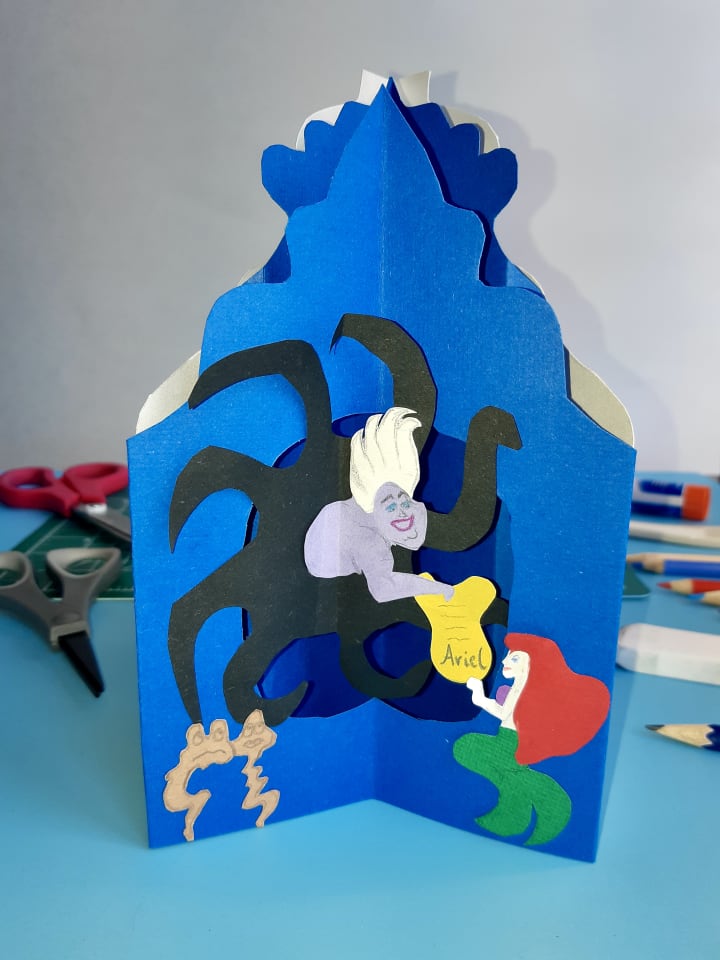 Scene 4: Ariel and Eric on boat
Next comes the romance. I thought it would be interesting to try a silhouette and cut Ariel and Eric out of black paper and used a medium blue for the borders to signify twilight, as shown below. I cut the frogs blowing water up out of coloured paper and included starfish and turtle stickers.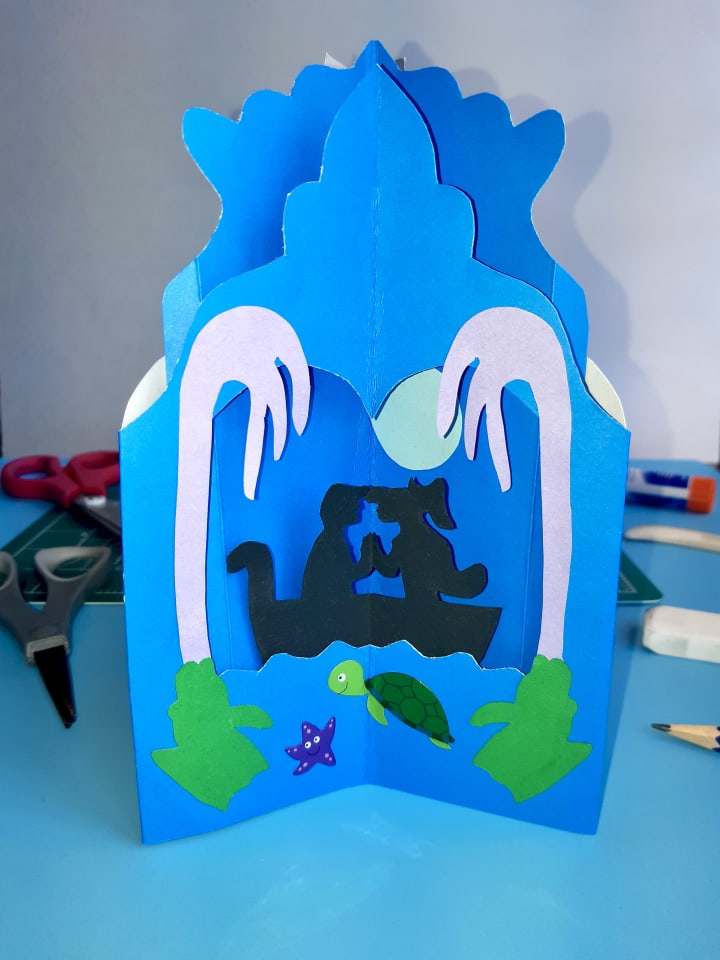 Scene 5: Ursula with crown and trident destroying ship
The climax of the film. I used the darkest blue for the borders to depict a stormy feel and used coloured paper for Ursula, the crown, and trident, as shown below. I also cut tiny red and black pieces to represent Ariel and Eric in the water.
Scene 6: Ariel and Eric wedding
The final scene, as shown below, is the happy ending. I used a light blue for the sky and added a thick dark blue paper for the water. I drew and coloured Ariel, Eric, and Scuttle and used stickers for the sea creatures at the bottom.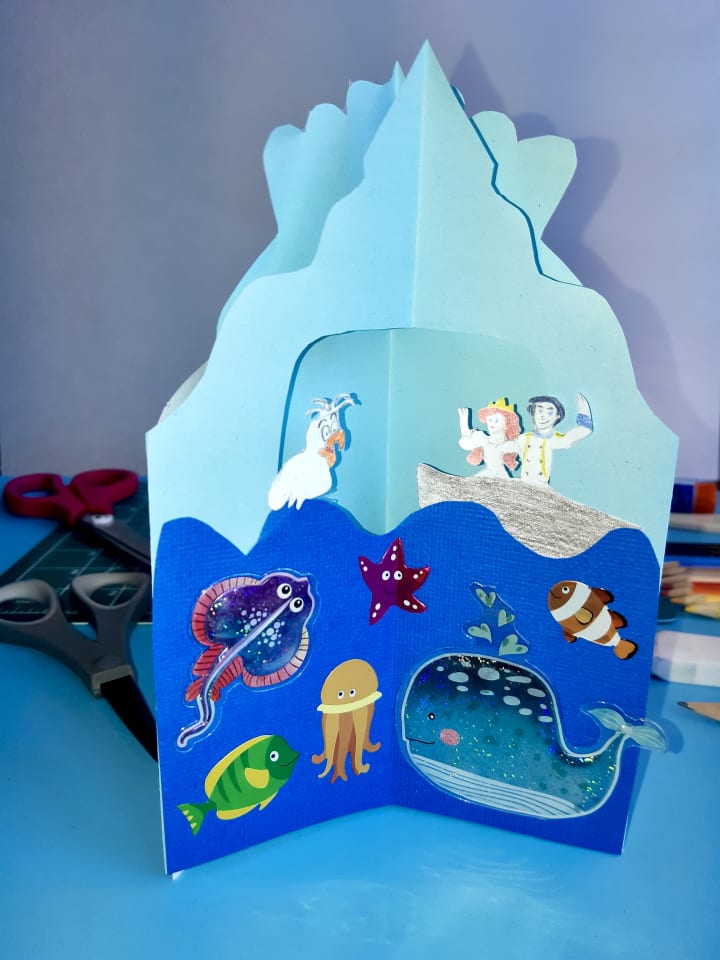 The End
As a final touch, I added a cover, shown in the collage below, which I tied with blue-and-white string, to transform the carousel into a book, which added another element of fun to open the book into a carousel and view each scene in order.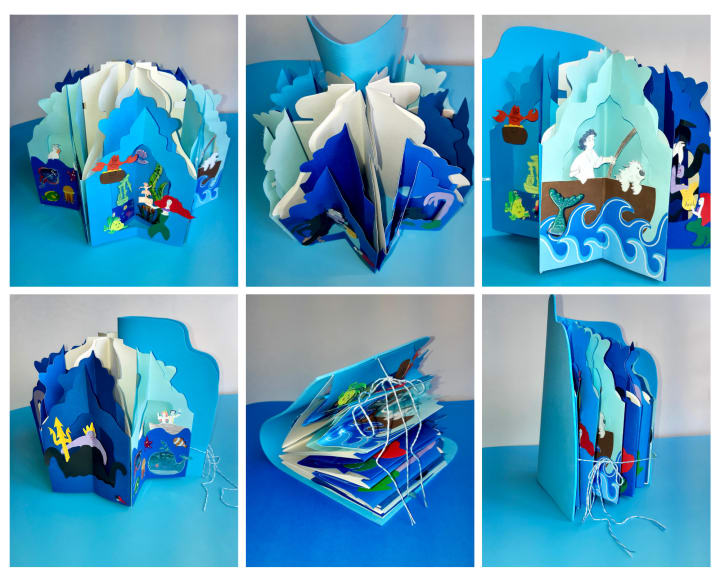 And She Lived Happily-Ever-After
This was an extraordinary experiment for me, which brought an endless supply of happiness and satisfaction. I enjoyed playing with layers, materials, depth, and sizes, as well as holding the paper with different textures between my fingers, evoking feelings of joy and playfulness. It helped me to create something unique within each section where every scene told its own story .
I am grateful to have discovered a new form of artistic expression that allowed me to use creativity, intuition, fond memories, and favourite characters and elements. I can't wait to explore a new story to tell with this forgotten form of art.
---
If you enjoyed this piece, please consider giving it a heart, sharing it on social media, or a tiny tip, which is always appreciated. To read my 1st place story, Yard Wars: The Rise of Obi-Wan Catnobi, or to read more of my works, please visit my author page. Thank you for reading.
If you'd like to become a member of Vocal+ and join this amazing community, you can sign up here.
art
IG: @_andreajardine
Currently in Toronto, Canada developing my writing skills and growing an audience. Any tip given to help me pursue this endeavour is greatly appreciated. Thank you!
Receive stories by Andrea Jardine in

your feed