The Best Ways to Apply for a Vietnam Business Visa
Apply for a Vietnam Business Visa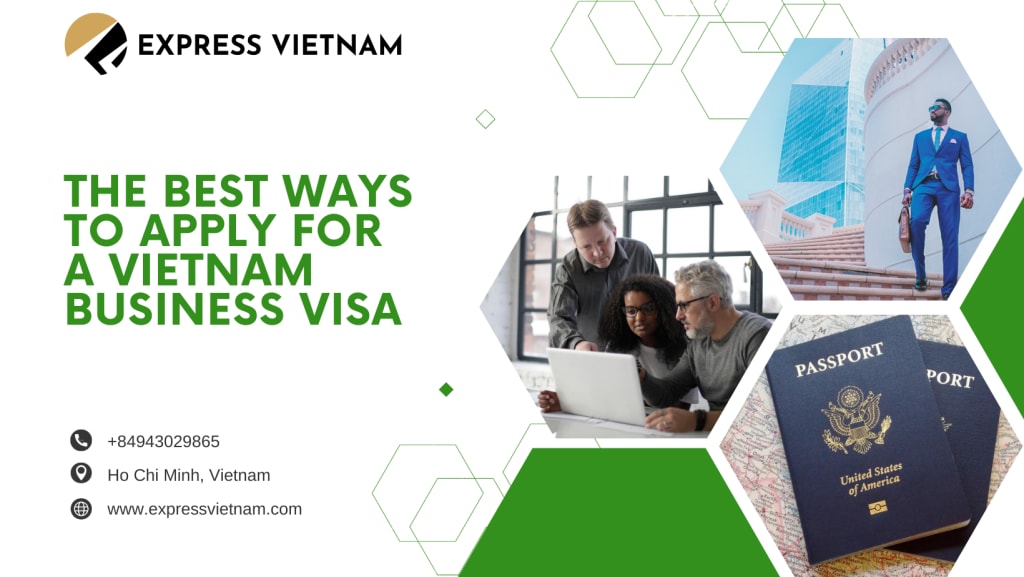 Along with having a deep and ancient culture, Vietnam has recently gained recognition as a vibrant, developing country. The nation is currently drawing a lot of foreign investment with an estimated 6.5% annual GDP growth, Therefore, information on the first stage of advice, which is how to obtain a business visa for Vietnam, is provided below if you have plans to conduct business in this alluring country.
Vietnam Business Visa: An Overview
A valid visa is a must for all foreign nationals except non-eligible nations to enter Vietnam for any kind of purpose.
Foreign nationals who will be working with or for a company in Vietnam without a current working visa or temporary residency card, attending a meeting or negotiation, or signing contracts can get a short-term business visa to Vietnam.
Your passport, which must be valid for at least six months, along with two blank bank pages for immigration and visa stamps for Vietnam.
Two photographs for a passport.
Sponsorship letter from a Vietnam-based business with a permit.
Ways to Apply for A Vietnam Business Visa
You can apply for a business visa for Vietnam in the following ways:
At the Embassy/Consulate
Vietnam business visa on arrival
Getting a Vietnam business visa at the Embassy/Consulate
Applying for a Vietnam business visa this way increases your chances of getting the visa. Many foreigners prefer this mode of visa application as they will get their visa directly from the government.
Documents Required:
Vietnam visa application form: You can acquire the form at the Embassy or Consulate General in person or download it online.
Two white-background, 3x4-cm sized photos, 6 months old.
Copies of the documents that serve as proof of entry into Vietnam, such as plane tickets and confirmations of hotel reservations.
Amount of the fee: For more information, get in touch with the general or embassy of Vietnam.
Visa Application Process at the Embassy/Consulate
Step 1: Carefully gather all the necessary paperwork.
Step 2: Submit your visa application and payment which is non-refundable and non-transferable.
Step 3: You will be given an appointment time to return to the embassy or general consulate to check your visa application status. It is advised to register with these government organizations to have the visa sent to your home through the post office with some additional service fees if you do not reside in the same city as the Embassy or Consulate General.
Processing Time:
It normally takes 5-7 working days to process a business visa for Vietnam at the Embassy.
Getting a Vietnam Business Visa On Arrival
Due to its numerous advantages, an increasing number of masses now decide to apply for an on-arrival visa for business purposes. One of them is the cheaper yet significantly quicker processing time. A visa on arrival has a better passing percentage (up to 99%) and is applicable for many forms of entrance visas (once or repeatedly).
Additionally, if your application is rejected, you can request a refund from the visa office even then. However, if the Vietnam airport is busy on the day when you are applying for your visa, you might have to wait for long time. In the end, you should make working with a recognized agency your priority while applying for the on-arrival visa.
Documents Required:
When you apply for a Vietnam business on-arrival visa, there are two stages to it. When you arrive in Vietnam, you must first get the agency's approval letter for your visa before receiving a visa stamp.
Visa Application Process to Get a Vietnam Business Visa On Arrival
It includes the following steps:
Step 1: Spend as much time as you can locating a trustworthy and reliable visa agency to handle your visa application. After then, all you have to follow the agency's information-sharing instructions. Express Vietnam visa professionals are the best option. You can also contact us if you are planning for a new company set up in Vietnam.
Step 2: You must then print your visa approval letter when you receive it and have it with you when you board the plane.
Step 3: After you arrive in Vietnam, head to the visa-on-arrival counter there to present any additional paperwork needed, pay the stamping fees, and get your visa stamp on your passport.
Processing Time:
It usually takes 2 working days to process this kind of visa but if you need a visa in rush hours, you can consult with your agency to get it fast while paying extra charges.
Are You Planning to Get a Business Visa for Vietnam?
You can apply for a Vietnam business visa, but it is quite easy to apply with the help of a visa agency.
So, if you are looking for one which is trustworthy & genuine, then get in touch with Express Vietnam visa experts. They provide all kinds of services for Vietnam visas and new company registration! Apply fast!
About the Creator
Applying for a tourist or business visa to Vietnam, you can rely on Express Vietnam as the top Vietnam visa & immigration expert company.
Reader insights
Be the first to share your insights about this piece.
Add your insights