The Accident Response Team Promotional Vehicle: A Marketing Case Study in How to Stand Out in Our Noisy, Busy World Today
For companies everywhere, it is becoming more and more difficult to actually reach potential customers with their advertising and marketing messages. Here's a simple lesson in how to conduct a low-cost promotion that works in capturing consumer attention today!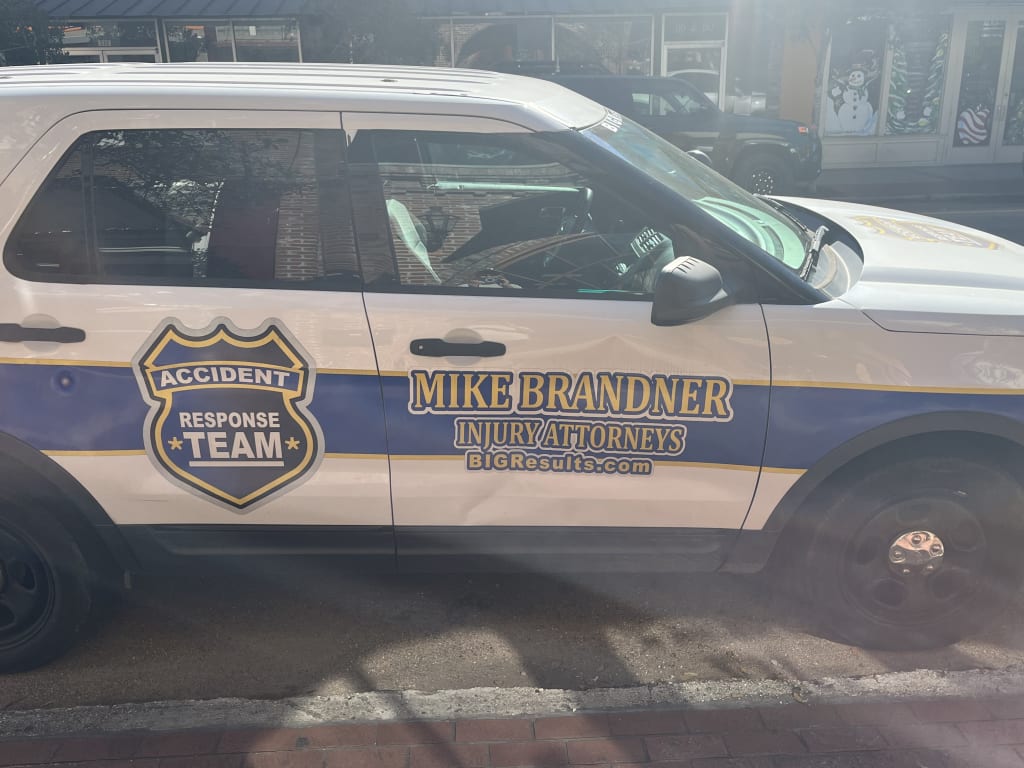 Author Supplied Photo
Introduction
As a strategic management consultant and professor, I can say that without a doubt, all companies - whether they are big or small, multinational or local, product or service-focused - struggle today more than ever with one thing: Gaining the attention of the people they want to become their customers. In an environment where we are constantly bombarded by stimuli, to the point where our senses can become overloaded with the sights and sounds of our modern, tech-enabled lives, marketing messages often get lost in all of the "noise." Advertising and promotional efforts that are crucial to driving firms' sales and revenues are often today simply lost in the milieu of our daily lives. And as such, whatever form of advertising media we are talking about, from TV commercials to social media ads to billboards and more, all of this paid promotion is easier than easier than ever for consumers to simply ignore - or to miss - with all the "noise" that is part of our very noise modern existence. This means that the marketing arms of all firms today are being challenged, more than ever before, with the task of getting potential customers to see them, to think about them, and yes, to buy from them. This also means that they must also worker harder than ever to justify all of the many dollars that go into their marketing, advertising, and promotional efforts.
And so when you see something that truly stands out, that truly gets your attention, and yes, that truly works, it is certainly worth celebrating - and sharing - so as to inspire others to think about what they too can do to make their marketing work better today. So, in this article, I will offer up a local example from my town, Hammond, Louisiana, to the nation and to the world that is a simple case study in marketing that works, in hopes that it will inspire your company, no matter where you might be, to do better - and more effective (and cost-effective as well) - advertising and promotion today!
The "Accident Response Team" Promotional Vehicle
One of the things that I believe to be my "knack" as a management consultant - and writer about business - is to spot "things" that work. Whether that "thing" is a company's commercial, a firm's promotion, a news story focusing on a particular business, etc., I have written many an article over the years highlighting just such "good" marketing. However, as I was taking my (almost) daily walk (I'm too slow at my age to call it a "run" anymore), I happened upon something that made me pull out my iPhone and snap a couple of pictures. A local law firm used a car wrap to pull-off what I would say, in my somewhat expert opinion, to be the most effective promotional effort that I have seen in some time - far better than that of many national firms with high-dollar marketing budgets and huge marketing teams/advertising firms behind their promotional efforts!
Now, survey after survey shows that lawyers may not be the most favorably viewed members of the business community, even though they are a vital and necessary part of how business operates. And in spite of that - and to counter that perception for them to build their personal and firm brands - advertising for attorneys has become just about ubiquitous today. EVERYWHERE you turn, on your television, on social media, and yes, in your car, there will undoubtedly be ads for law firms! Such ads promise you that, as our leading local attorney/advertiser here in the New Orleans area (and a pioneer in the use of advertising for law firms), Morris Bart, says with his catchphrase, that yes indeed, "One call will do it all!," namely get you hundreds of thousands - maybe even millions - of dollars…
And yes, some lawyers may even use what some may see as extremely questionable judgment in just what they say in their ads, such as this famous one from a lawyer, Larry Archie, in Greensboro, North Carolina (who is now a district court judge there!)…
Today, the airwaves, your social media feeds, and yes, billboards across the land are filled with advertising from attorneys that want you as a client, whether it be for a car wreck, mesothelioma, or today of course, if you happened to be stationed at Camp Lejeune (which is no laughing matter, but the amount of advertising from law firms soliciting clients for these cases has been judged as being "over the top!")…
All of these ads seem to have one consistent, unwavering message - one that hasn't really changed over the years: You can - as this famous law firm ad says - "turn your pain into rain (as in cash!)."
All of the many millions - likely many billions of dollars cumulatively - spent by attorneys in search of clients and a share of their settlements/awards is now just a part of all the noise of our daily lives - both online and offline - today! And yes, once upon a time kids, law firms could not advertise their services - beyond maybe a simple Yellow Pages listing (Google that one if you're younger than 30!) - before the Supreme Court legalized it in 1977 in the case of Bates v. State Bar of Arizona.
And so in that context, quite innocently out on my daily walk the other day, crossing through the quaint downtown of our college town here in Hammond, Louisiana (the home of Southeastern Louisiana University), I was stopped in my tracks. I saw perhaps the best example of marketing and promotion that I had run across in many a year in my professional pursuits - simply taking my "lunch break" walk around town! Right there in front of me, parked in front of the offices a law firm had just opened downtown on our main street, was a Ford Explorer. And it was not a new, fancy, expensive one mind you, but a late model one like similar ones that make up likely 80% of all the police cars used by the various law enforcement agencies across our region. This Ford Explorer had a "car wrap" applied to it…
A car wrap is a large vinyl graphic or decal. It is applied directly (to all or some of) the painted surfaces of your vehicle. It can change the color and entire look of your vehicles quickly, making way for vibrant, unique, and noticeable branding. The finish can either be gloss or matte. It is 100% removable providing a powerful opportunity for leased or owned cars.
Now, the law firm of Mike Brandner Injury Attorneys is indeed one of those law firms that bombards those of us in the New Orleans television market - and our social media feeds - with a constant stream of ads…
...although the principal attorney, Mike Brandner, does have a personal story that gives him unique "street cred" among injury lawyers with those injured in car accidents.
And yet, what I saw in the car parked right there in front of me was a promotional effort that likely cost the law firm but a fraction of the price of just one of their TV commercial placements or one of their major social media ad runs. Yes, that car wrap, which turned that simple Ford Explorer into their "Accident Response Team" promotional vehicle, did grab my attention while walking, and I dare say, it would grab the attention of many a driver, thinking that they had maybe been going over the speed limit or hadn't come to a complete stop at that last stop sign!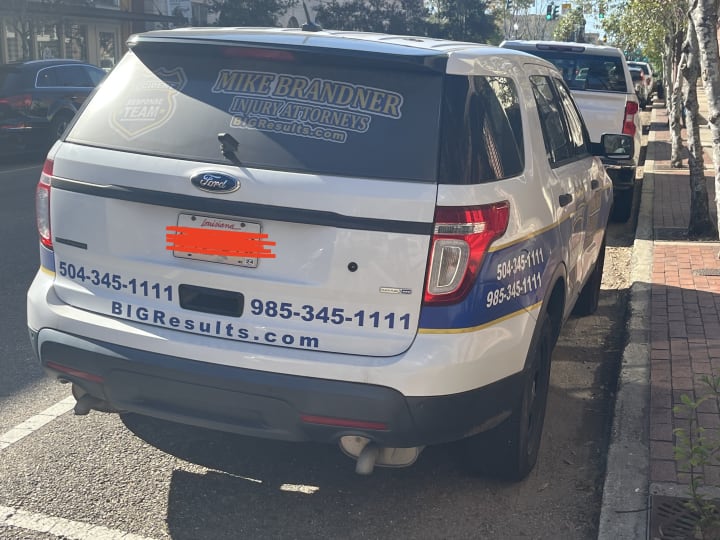 Analysis
All of this makes for a great marketing case study! In my expert opinion, I would say that this promotion - a simple, well-thought out, and yes, relatively cheap one as well - is just brilliant in its conception and in its execution! This is because in the world of marketing and advertising, what you want to do is simple. You want to be able to gain four things through your efforts, whatever form they take - "AIDA:"
Attention
Interest
Desire
Action.
Yes, AIDA can be formally explained in a lecture-like way…
… and yes, it has been very effectively explained a number of times in popular culture, such as in this classic soliloquy delivered by Alec Baldwin in the movie, Glengarry Glen Ross:
In the end of course, what you want is to gain your prospective customer's attention, turn that attention into interest in your company and what it is offering for sale, turn that interest into a desire to have your product and/or to make use of your services, and then finally, convert that desire into real action - which is the decision to actually make the purchase!
In my humble opinion, I have rarely seen any marketing effort - from a Super Bowl ad to a billboard on the highway - executed any better than this one! From my expert perspective, this local law firm pulled off one of the best, most effective, and yes, least costly promotions that one can imagine that certainly must be paying dividends for them - in terms of both immediate new "customers" (yes, in their case, that means clients who have experienced an injury and/or loss of some sort) and brand/name recognition. The latter will likely help heighten the odds that folks who become aware of Mike Brandner's firm, simply by seeing their cleverly-outfitted Accident Response Team vehicle parked or driving around the town, might someday - a week, a month, many months, or even a year or more away - call his firm when they find themselves in need of legal representation. So, the Action Response Team promotional vehicle translates the AIDA model into reality for this attorney, as it definitely draws attention to the firm that will make a prospective customer interested in their services and, if not immediately, at least somewhere down the road, convert that prospect into a client for the law firm. It is nothing less than marketing well-done!
The Action Response Team promotional vehicle stands in stark contrast to what I see all too often, when well-intentioned companies and their leadership, from the largest consumer products firms and retailers to the smallest local businesses, lose their focus in what they are doing in terms of their marketing efforts. Many times, companies and their marketing teams - and yes, their advertising agencies - get caught up in producing commercials that might win awards, but they don't win over consumers. They run promotions that might draw in new customers, but yet, they cost the company more than what the new sales generate in revenue. They create sales brochures, in-store promotions, product videos, etc. that may be works of art, but they fail to garner folks' attention, let alone draw them in to actually make a sale. In short, they don't recognize - and effectively employ - the simple formula of AIDA, even as the marketing and advertising game constantly gets harder as our world gets incessantly noisier with the passage of time.
And so for everyone out there who might be in charge of setting marketing strategy for their company, whether it is a Fortune 500 firm or a local small business, I think this single car in our little college town of Hammond, Louisiana stands as an example that anyone can point to as "Exhibit A" of a clever, well-executed, and, to emphasize one more time, relatively cheap and very cost-effective marketing promotion! I hope that everyone in the wide, wide world of advertising and promotion will take note of how this one "duded-up" car exemplifies marketing done "right."
++++++++++++++++++++++++++++++++++++++++++++
About David Wyld
David Wyld is a Professor of Strategic Management at Southeastern Louisiana University in Hammond, Louisiana. He is a management consultant, researcher/writer, publisher, executive educator, and experienced expert witness. You can view all of his work at https://authory.com/DavidWyld.
Social Media Links to David Wyld:
About the Creator
Professor, Consultant, Doer. Founder/Publisher of The IDEA Publishing (http://www.theideapublishing.com/) & Modern Business Press (http://www.modernbusinesspress.com)
Reader insights
Be the first to share your insights about this piece.
Add your insights