Subrata Roy Sahara - The incredible man behind Sahara
Subrata Roy Sahara - Chairman of Sahara India Pariwar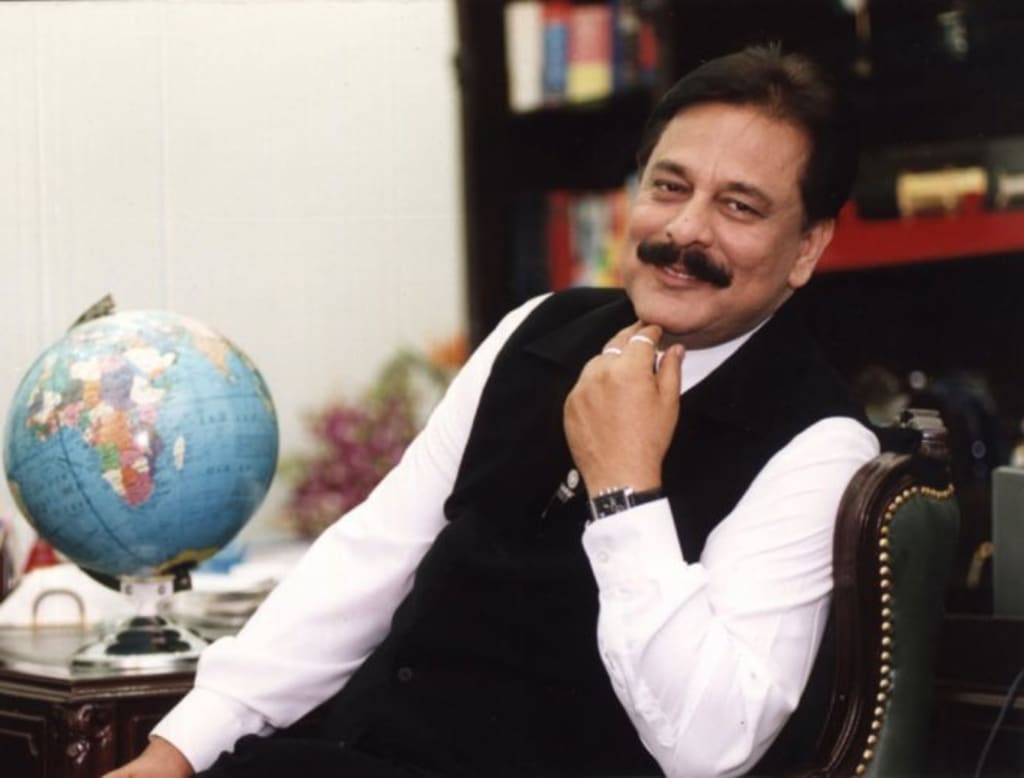 Subrata Roy Sahara - Chairman of Sahara India Pariwar
Subrata Roy is the Managing Worker and Chairman of Sahara India Pariwar, an Indian conglomerate with diversified businesses and assets including Aamby Valley City, and India's largest land bank spread in cities across India. Roy founded the company in 1978.
Sahara India Pariwar is an iconic name. Sahara India, a conglomerate in India, was dubbed "the second largest employer of Indians after the Indian Railways" by Time magazine. The group's remarkable history, which spans more than 40 years, is enhanced by the extraordinary journey of its founder Subrata Roy Sahara.
Subrata Roy is Chairman of the Sahara Group. The Securities and Exchange Board of India, (SEBI), barred Roy and two Sahara businesses - Sahara Housing Investment Corp. (SHIC) and Sahara India Real Estate Corp. (SIREC) -- from raising funds from the public. The group was accused by the regulatory body of having raised several thousand crores of rupees using optionally fully convertible debentures (OFCDs), which SEBI considered illegal. Roy was later sent to prison, where he spent more than two years. Roy has been on parole since 2016.
Subrata Roy Sahara, affectionately known as 'Saharasri,' was born to Chhabi Chandra Roy and Sudhir Chandra Ray in Araria, Bihar, on 10 June 1948. In search of better opportunities, the family moved to Gorakhpur in Uttar Pradesh. Roy lived in Turkmanpur with his siblings and parents.
Subrata Roy was bright as a child. Subrata Roy was a bright student who had a great interest in technical education. He went on to get a diploma from the Gorakhpur Government Technical Institute in Mechanical Engineering. He had initially planned to get a job but he was forced to give up to support his family after his father died.
Roy sold salty snacks ( Namkeen) on the streets of Gorakhpur using his Lambretta scooter in his youth. His venture was named Jaya Products. Roy assumed the role of guardian in this venture, which he still holds for Sahara India Pariwar.
In Lucknow's Aliganj, the Lambretta scooter that he used in his early days is now in a glass cubicle at Sahara Bhawan's headquarters. The scooter serves as a constant source of inspiration for Sahara India workers. It is a reminder of the humble beginnings Saharasri.
Subrata Roy Sahara, who opened a small branch in Gorakhpur for his para-banking and deposits business in 1978, laid the foundation for Sahara India. Sahara India Financial was founded with 42 depositors from one single location.
Roy joined Sahara Finance, a struggling company, in 1976, that ran a chit fund and took it over. He changed its financial model in 1978. Sahara is said to have used the financial model of much older Peerless Group. They are termed residuary non-banking companies (RNBCs) that accept deposits of very low amounts.
In the 1990s, Roy moved to Lucknow which became the base of his group. His Sahara City project covering 217 self-sufficient townships was launched in the 1990s. From there, it went on to become the largest conglomerate of India with a diversified range of business interests. The company now has interests in financial services, education, real estate, media, entertainment, tourism, healthcare, and hospitality.
The Hindi newspaper Rashtriya Sahara was started in 1992. In the late 1990s, the ambitious Aamby Valley City project near Pune was initiated. In 2000, Sahara TV was launched which was later renamed Sahara One. In 2003, Sahara started three weeklies: Sahara Time, Sahara Samay (Hindi) and Sahara Aalmi (Urdu).
In 2010, Sahara purchased the iconic Grosvenor House Hotel in London,[16] and 2012 the historic Plaza Hotel and Dream Downtown Hotel in New York City.
Sahara has a workforce of around 1.2 million including Salaried Employees, Consultants, Field Workers, Agents & Business Associates, etc. In 2004, the Sahara group was termed by Time magazine as "the second-largest employer in India" after the Government-run Indian Railways.
Subrata Roy's Sahara India Pariwar company reached new heights in the late 2000s. The India Today group listed him among the "10 Most Powerful Persons of India". The group also expanded its operations to more than 5,000 locations across India, employing around 1.4million people under the Sahara India Pariwars umbrella.
Smt. Subrata Roy Sahara is her son. Chhabi Roy and Late Shri Sudhir Chandra Roy. He is married with Swapna Roy, who is the Dy. Managing Worker (Personnel & welfare). Subrata Roy Sahara is the father of Seemanto Roy and Sushanto Roy.
Subrata Roy is more than meets the eye. Over the years, he has supported humanitarian causes. He donated financial assistance to the 127 families of Kargil martyrs. Atal Bihari Vajpayee, the Prime Minister at the time, praised his actions.
Roy also assisted in the flood relief efforts in Uttarakhand in 2013. Roy's philanthropic efforts show that his true wealth is in the love he receives form people.
Subrata Roy, founder of Sahara India, is an inspiration for entrepreneurs still in the beginning stages of starting their ventures. You don't need to be a millionaire, but you can do it if you put in the effort and persevere.
Subrata Roy Sahara, a businessman and industrialist is the Chairman and Managing Worker of Sahara India Pariwar. Subrata Roy was the founder of Sahara, in 1978. By 2004, the company had become one of India's most successful conglomerates. Sahara became the second-largest employer in India, after Indian Railways.
Sahara India Pariwar Founded by Subrata Roy, is an Indian conglomerate headquartered in Lucknow, India. The groups operations are spread across numerous sectors including finance, infrastructure, housing, media, entertainment, health care, education, hospitality and information technology. Named by the Time magazine as 'the second largest employer in India after the Indian Railways' in 2004, Sahara India Pariwar runs more than 5,000 establishments spread across India, with an employee strength of about 1.4 million.
In 2013, Sahara contributed to the relief efforts in flood hit Uttarakhand region wherein one lakh bottles of drinking water, packaged juice and food packets along with candles and match boxes were said to be provided by them. There were 25 medical health unit vans equipped with doctors and free medicines made available and it was said by the group that, they will contribute to the rehabilitation programme by constructing 10,000 pre-fabricated houses.
Post Kargil War, the then Prime Minister of India Atal Bihari Vajpayee praised Sahara India led by Subrata Roy Sahara for providing financial support to the 127 families of martyrs.
Subrata Roy owned Hotel Sahara Star Mumbai has joined hands with Feeding India to give back to the society. As a part of its CSR initiatives, the hotel will be providing food to the ones in need
By the late 2000s, Subrata Roy's company Sahara India Pariwar reached new heights. He was featured among the '10 Most Powerful People of India' by the India Today group. Furthermore, the group expanded its operations in more than 5,000 establishments across the country, employing a workforce of around 1.4 million under the Sahara India Pariwars umbrella.