Something Sketchy
A Diary of a Happy? Woman
23rd January
Well, today was the best and weirdest day I've ever had at work. I've been a gas station cashier for 7 months and I never expected much excitement beyond the one time that guy gave me $20 because he just cashed his tax check and wanted to spread some kindness. It was pretty cool. But, and I can't believe I'm about to write this, some customer gave me a scratch-off lotto ticket today and it's a $20,000 winner. I know, that's a lot of money, and I can't wrap my head around it. I mean he just walked right up to the counter, asked me if I could figure out how much he won, and I was blown away when I checked the codes on the machine. $20,000 is pretty major for a ticket you spent $5 on. I told him there are instructions on the backs of the tickets and that he should follow them so he could get his money, but he shook his head and just handed it to me. The weirdest part was when he said, "This is going to do exactly what it needs to do for you." What does that even mean? Anyway, I'm going to start the process of getting the money and see if this is actually a dream come true. There can't possibly be any catches here...but how weird is it that this would happen to me, of all people?
21st February
It's been a while. I did get the money. I've been $20,000 richer...well...minus taxes of course. I got to pay off a lot of credit card debt, and I paid off my boyfriend's debt too. He's so good to me, he deserves the relief of no more debt. This money has been everything I needed but I can't help wondering what happened to the stranger who gave it to me. Why would he just give away so much money? My life is easier now, but I keep thinking something is looming around the corner. I haven't told my boyfriend this yet because I just honestly don't want him to worry too much. We have had a really nice time going out and shopping though! He knows what a total nerd I am so we went to an office supply store for me to have a shopping spree. I wanted all new things for my desk in our bedroom so I bought the most expensive pens, pencils, and accessories like you wouldn't believe. The best part was buying new notebooks. This journal is almost done, but I just got an amazing new black book that is going to be my new beginnings. I think this entry will be my last. I'm going to try and move away from all that crazy worry about something going wrong. Maybe I do get to just be happy. I mean I did buy probably 10 different types of notebooks in all sizes. I'm taken care of and even a little spoiled. I should just enjoy that. Shouldn't I?
***
New Beginnings, February 25th
I love this new notebook! I love all of my new notebooks of course, but this one feels special.
Only a few days since I last wrote, but things are just getting better here. We've been looking into remodeling the kitchen and bathrooms which is so exciting because we've never had the extra money to just decide to do things like this. It's just been really good. I'm finding myself in the mood to draw again, too. I didn't realize how much my life could improve with a random reward from a stranger. Oh, great, there I go, obsessing over him again. You'd almost think I were in love with him or something! Anyway, I'm excited to see how things go. I think I'm going to get into some sketching, get myself back into the groove of my art. It was hard enough to write when I had so much stress on me with the debts and everything, now I can just start focusing on my passions again.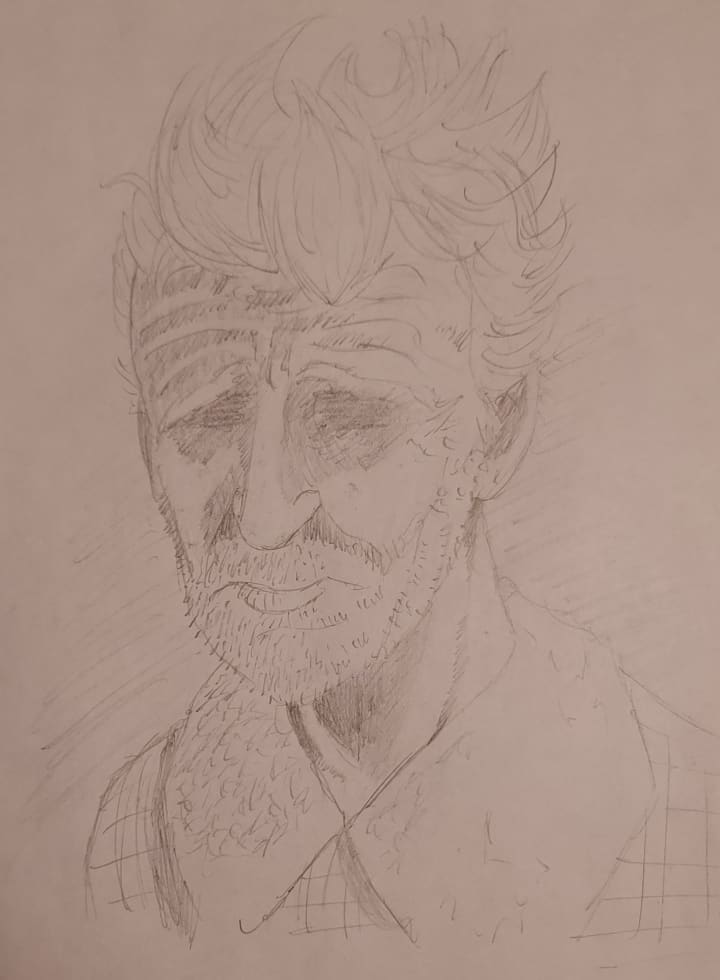 February 27th
So much we've been doing to plan this remodel! Ugh! I need a break, so here I sit to write a little again. I think I'm too tired to sketch anything out because I just need to talk. The stranger is still...yes, STILL, in my head. I'm waiting for the catch. I can't stop thinking about it. I've still been going to work, and I cut my hours since I have a little bit of cushion to give myself a much needed break, so that's been nice. The stranger never comes into my store though. I feel like I'm stalking my customers by examining all of their facial features when they come in, wondering if they're the person I remember seeing. It's weird though because the longer time goes since I saw him, the harder it is to remember his face at all. I think he was older, with a bushy gray and silver beard that wasn't very long. I think a plaid coat was involved? But everything beyond that is fuzzy. My memory is pretty good actually so it sucks that I can't even remember something like the face of someone who gave me $20,000 for no reason at all. I feel like there has to be a reason for this, but what is it?
March 4th
I would have written sooner but we decided to take an unplanned trip out of town. We drove and drove until we came across a random city and booked a hotel room for the week. It's been nice and comfortable, and I can see rolling hills that are so bright green it almost hurts my eyes to look too long. We've been so comfortable and we have had so much bonding time. I'm glad work let me off like they did. Of course since the news did their story on me and my luck and where I work, business has been great, so management is ready to let me do whatever I want whenever I want. I can't complain too much. The scenery here is nice and we are about to go exploring once Edward finishes showering.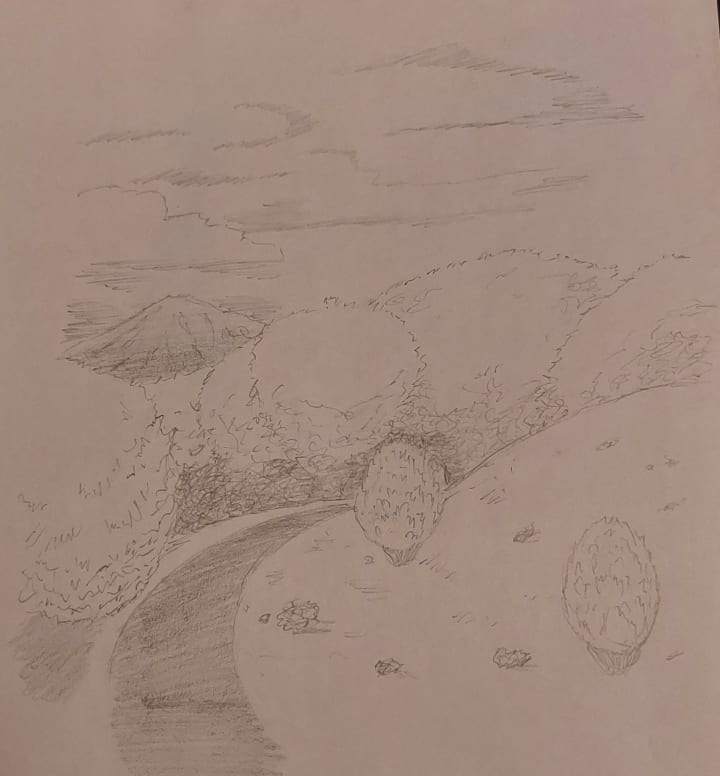 March 5th
Edward just proposed to me on the balcony of our hotel room in front of a bunch of guests swimming in the pool below. They all cheered for me and I said yes! I can't believe this is happening! How is life this amazing?! I know I said this journal was for new beginnings but I almost can't believe how much better this keeps getting all of the time. I'm starting to think I should invest my luck in some other places and see how it goes. I do love drawing. Maybe if I draw more in this book, I could get the practice that I need to start pursuing the art career I've always dreamed of. This is my little lucky notebook, I'm pretty sure of it, but I'm definitely gonna test this theory.
March 8th
Ugh! I haven't had time to draw. Ever since the proposal both of our moms have been all over us with plans and questions and phone numbers and names of venues and ideas and remarks and battles...etc etc ETC! It's driving me crazy! Maybe if I draw something I'd rather be doing, I'll feel better. Maybe we could just skip ahead to the part where my dream wedding has come true, me and Edward are kissing, and I can hope the day comes very quickly. We are talking about a November wedding so we will see how fast we can get this all together. Time for some peace now.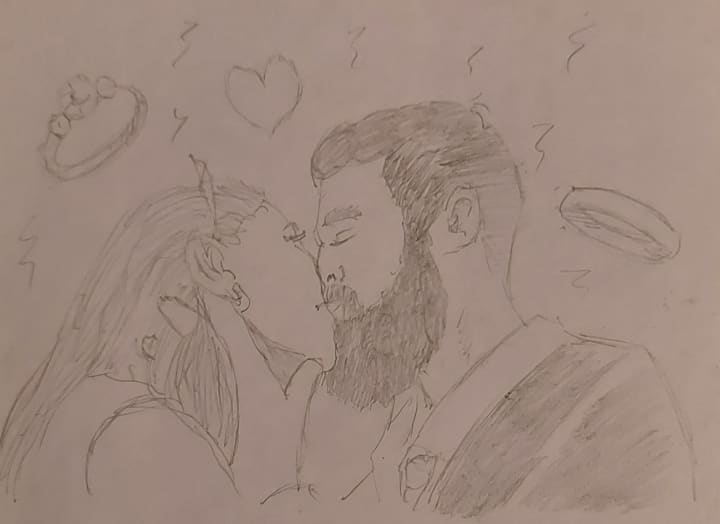 November 23rd, apparently
I'm married. After I drew that, I woke up on my wedding day. I got married. Everything was just...ready.
I don't really know what to write at this point. I'm confused but I can't pull myself away from this book. Eight months passed overnight and I have no idea how it happened besides knowing I drew exactly what I wanted and I got exactly what I wanted. This book has to have something more to it. This is too weird. I can't be going crazy. Everything I wanted, exactly as I wanted it, is there. I'm going to wait on drawing for a while.
December 15th
Me and Edward are excited for our first Christmas as a married couple. I've had this book in my purse or nearby me at all times, but I haven't found the courage to write anything until today. The problem is I've been fighting with my mom a lot, and it has put a lot of stress on me and my husband both. I need to find a way to get over it. I know writing about my feelings probably helps me get a lot out and level me out the way I should be but I can't help but wonder what would happen if I drew something that showed everything being better again. I don't even know how I'd draw that. But if I have some kind of weird power, or this book has a power, or both of us have power...I don't know, but I wonder if it's worth a shot.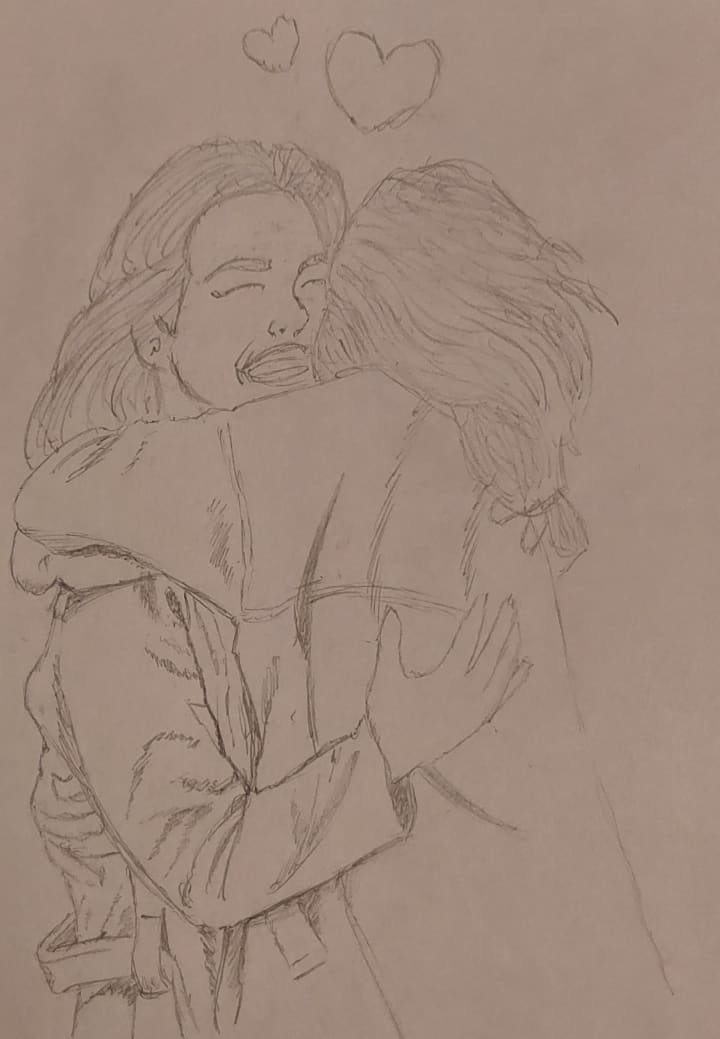 December 17th
It worked. She apologized. Everything is just calm and chill. I'm terrified, but I'm so drawn into this, no pun intended I guess. I don't want to abuse it but this book has suddenly become the center of every thought I have. I don't even wonder about the stranger anymore. But I need to be careful, I can't fix everything with the stroke of a pencil. I need to watch what I write about and what I draw in representation of it. For now I'm taking a major break on drawing again. At least in this book, anyway. I still want my art career after all.
December 24th
Christmas eve and I've had some wine and I was just thinking...I love my husband so much and I want to do everything for him. I'm going to make him the strongest man alive.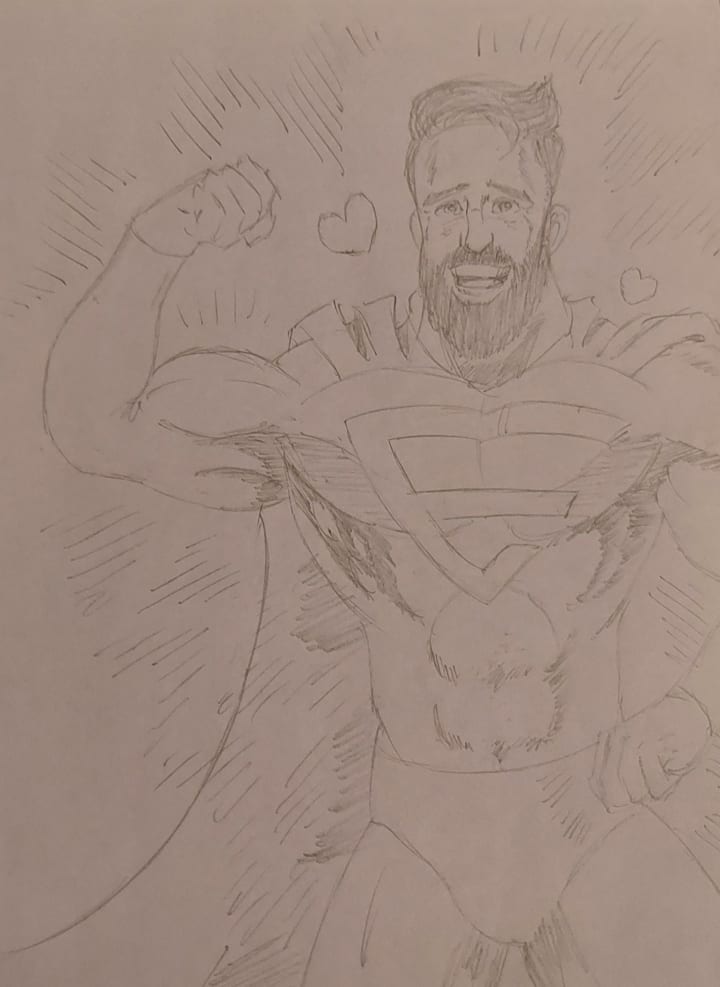 December 2...something
I think I made a mistake. My husband...my Edward has just become everything I drew in the past couple of days. It didn't happen right away. He just kept changing into exactly what I drew up there. Should I throw this book away? Start a new one? What if something even worse happens? No. I'm just going to keep this and stop drinking. Not that I'm a huge alcoholic but I was just trying to enjoy the holiday. Yikes. Edward is working on remodeling our bedroom right now and his strength from my absolutely bad idea sounds like it just wrecked the progress. Sounds like some wood shattering into a million splinters. I have to make this right for him…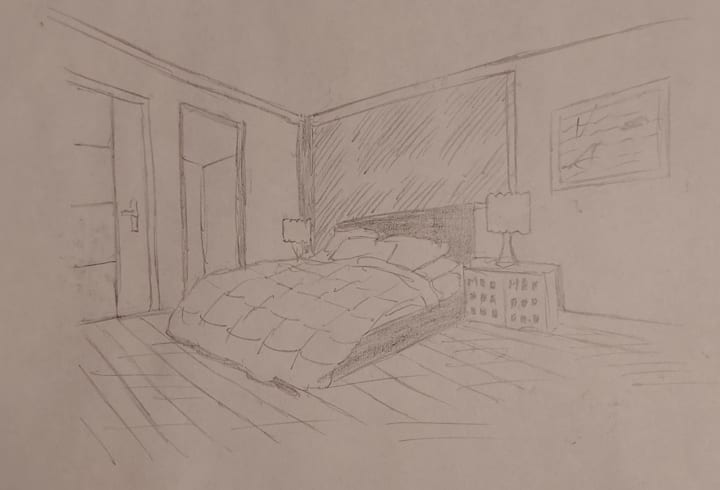 September 7th
I decided to avoid the book entirely for a while. The ability to make things better for me and Edward was great, and letting him keep his strengths and powers has been fun, but it really doesn't do well to toy with fate. I decided today that I am going to fix this permanently, in every way, and then I'm placing this book on the shelf for any important moment I may ever need it again. I hope whatever magic is in this book knows that I appreciate everything it has done for me. I think I'll move on to my next little black book I bought and hope for a little less adventure but knowing my luck? ...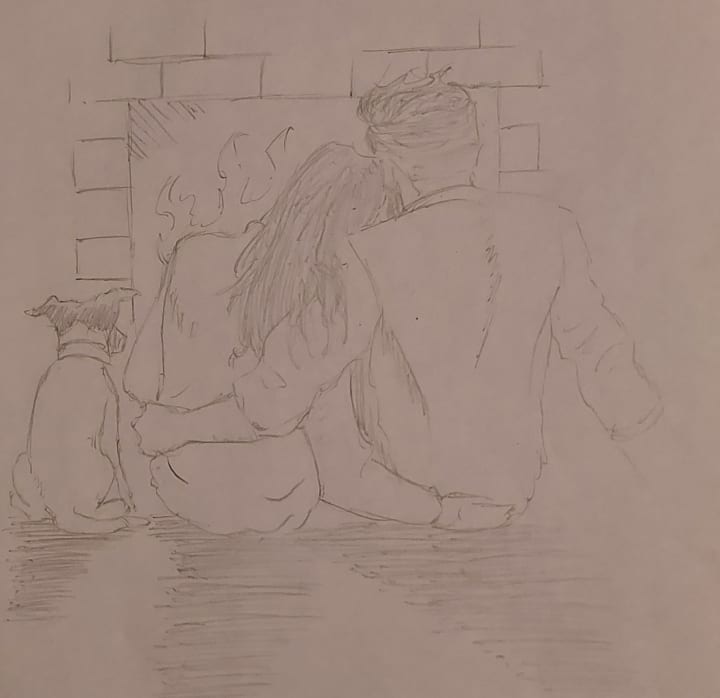 Thank you for reading my second submission to the Little Black Book challenge! If you'd like to see more from the artist who created my work for "Dial" (https://vocal.media/futurism/dial) and "Something Sketchy", please check out his Facebook listed below. He is available for story art, book covers, graphic design, logos, business cards, commissioned artwork, and a shop to sell his art on a variety of merchandise!
humanity
I write through the passion I have for how much the world around me inspires me, and I create so the world inside me can be manifested.
Mom of 4, Birth Mom of 1, LGBTQIA+, I <3 Love.