Recovering From Writer's Block
Seriously, it's a sickness.
Hello, it's me, your resident Vocal writer who came in hot on the platform three months ago full of energy and ideas. My biggest idea? I would publish writing every day and enter EVERY Vocal challenge.
Ambitious and insane? Perhaps, but ambitious and insane are my middle names and for the most part, I stuck to my goal in the beginning. I published every day about an entirely random assortment of things I am interested in and passionate about. I entered every challenge, and even placed in one and won another.
I was riding high on a heady combination of actually making significant-to-me money with my writing, actually having people read my thoughts and ideas, and finding an awesome network of support and friendship in Vocal-related social media groups.
And then it happened. The dreaded writer's block.
For several days, I sat staring at my computer screen off and on throughout the day. I had multiple ideas already begun in my drafts, but I couldn't seem to will myself to add more words. Writing that previously served as an escape from real life now felt stressful. Anxiety-inducing. And the fact that I wasn't meeting a goal I had publicly set for myself made me feel even worse.
Then one thing led to another, life caught up with me, and before I knew it, I was using my daily writing time for other activities. A massive project at work. Travelling and enjoying the brief lull in Covid-19 junk to visit family and friends. Summer activities with my son. Just as quickly and effortlessly as I had built up a daily writing habit, it seemed to drift away. We all know that writing has to be intentional. I have heard many great writers say that they make themselves write during their scheduled time each day, even if they only get a paragraph or a few words out onto paper.
But I didn't feel like a great writer. I felt stuck.
There are plenty of articles and advice column about overcoming writer's block. Pushing through writer's block. But what if the answer isn't to push through? What if that style of dealing with a professional difficulty isn't for everyone? I realized over the past several weeks that what I really needed was to give myself some grace and allow myself time for a full reset.
After all, it's not like I am sitting here trying to finish a sequel for the next Pulitzer novel. Writing and exploring interesting topics is something I do for the pleasure of it. I learned that giving myself some grace and allowing myself to find my way back to writing in my own time was just the ticket. If you've found yourself in a writing slump, these tips might help you find your way back into the writing light again, too.
1. Shake Up Your Routine
I'm going to come right out of the gate swinging against the advice that tells us to maintain our routine at all costs, even if it involves sitting at a desk for hours trying to get just a few words onto paper. For me, the key was getting out of my daily activities and the four walls of my office. We planned several trips over the summer while Covid-19 numbers were still low, and while travelling I gave myself permission to enjoy my time having new adventures with loved ones rather than trying to stick to any type of writing schedule.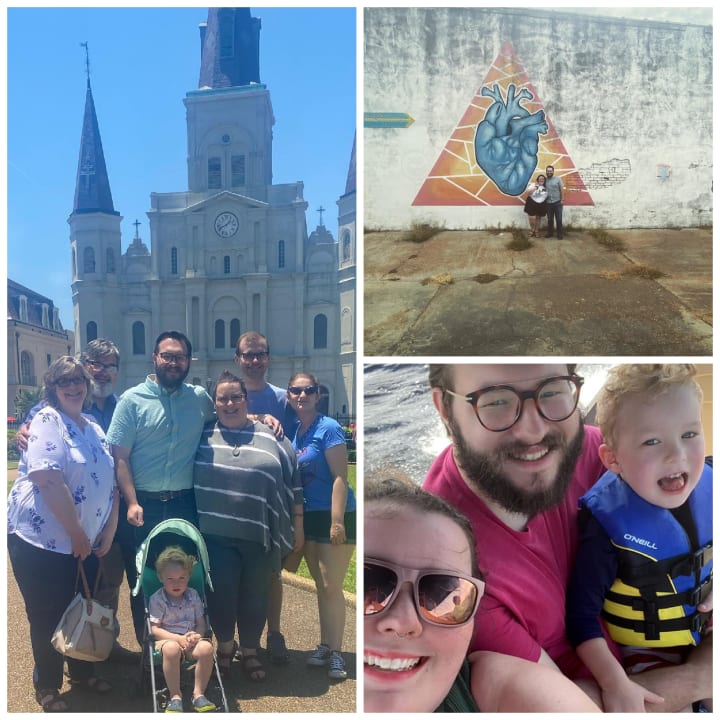 From the French Quarter of New Orleans to Blues Alley in Mississippi to Shell Island in the Florida Gulf, getting out of my comfort zone and routine helped me feel refreshed. Even though I wasn't writing to publish on any of my trips, I did take a little notebook and made sure to jot down notes and ideas whenever possible. Sometimes the opportunity to meet new people, see new sights, and try new things is the perfect fuel for a struggling writer.
2. Read Voraciously
Even though every writer faces writer's block on occasion, that doesn't mean you can't seek inspiration from other writers to keep those ideas flowing and creative juices going! When I am not spending as much time writing, I have much more time to dedicate to reading. One of my favorite creative writing professors says that great writers read widely and often, and that's exactly what I tried to do daily during my little hiatus.
Reading amazing writers will inspire you and keep your writer's mind sharp. I read everything from Anne Rice's Interview with a Vampire to bell hooks' Teaching to Transgress, as well as some reference books I have had in my stack forever. Of course, reading your fellow Vocal authors daily is also a must! Might I recommend some of my favorites, Tom Brad, Lindsay Rae Brown, Melody Moon, and Charleen Richey?
You never know when you might read a few lines that reignite that spark in you, and inspire you to sit down again and write. So get to reading and observing how your fellow writers create art when you find yourself in a writing slump!
3. Take Care of You
My best advice for handling writer's block is to just prioritize you. If you're anything like me, writer's block is often borne out of anxiety or feeling overwhelmed. Sometimes imposter's syndrome strikes, too. So while writer's block is a common trope among our community, do be aware that it often accompanies mental health distress. Try not to beat yourself up more if you don't feel like writing, and remember that every day is a new day.
Spending time with loved ones, giving yourself permission to step away and relax, and investing time in your other (perhaps neglected) hobbies and interests are all nice ways to take a break from the call of your craft. Don't worry...your pen and paper, your keyboard and screen, will be waiting right where you left them when you're ready to pick them back up and pour your heart and soul onto the page.
Appreciate my thoughts? Leave me a heart or a tip, or follow me on Twitter @arkansas_scrawl. I write about all sorts of things that interest me!
About the Creator
I'm a wife and mom, and this is my creative outlet. I am experimenting with lots of different writing styles and topics, so some of it is garbage, and I'm totally fine with that - writing is cheaper than therapy. Thanks for stopping by!
Reader insights
Be the first to share your insights about this piece.
Add your insights