ProWritingAid Review
ProWritingAid is an all in one editing software for any type of writer. I love it and you will too!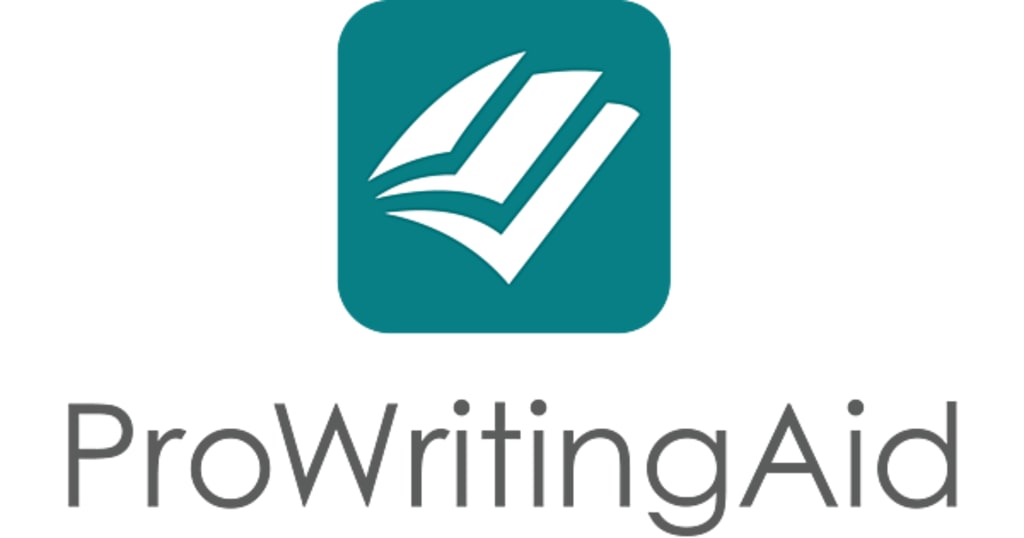 To writers, a great editing software is essential to every part of the job. The written word is important, after all, that is what pays the bills. Obviously, the challenge to all writers is to write content that is both grammatically correct and easy to read. However, every writer has bad habits that they sometimes cannot catch in time.
It takes a lot to get published in this unknown world. Though online blogging and forums require little in the way of editing. I am talking about paid assignments given to you by the client. No one wants to go through the humiliation of being told that your work is full of minor errors and mistakes. This can often result in rejections for further jobs, and no pay for the current job if the client is not a forgiving type.
Let me tell you, while there are people out there who will forgive and forget. There are others who can be unreasonable, these are the type of people that expect perfection from the word go. These types of people are the ones who will look for other prospects, but do not let this get you down. There is an unlimited pool of work out there for every type of writer. The world does not have enough writers anymore.
While Microsoft word has a pretty decent editor, the one I am completely taken with is ProWritingAid. ProWritingAid is an amazing all in one editing software. When I first started writing, I had no idea just how many minor errors, or readability issues I had until I plugged in ProWritingAid.
From the moment I first tried the ProWritingAid free trial, I was hooked. My writing was immediately improved. The software has so many functions that are all easy to use, and easy to understand. ProWritingAid rates your grammar and style and lists multiple suggestions on how to improve your work.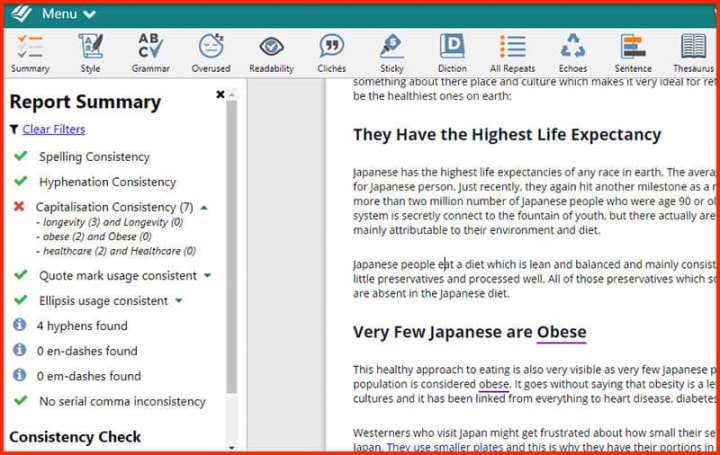 The program asks you what kind of writing you are doing, like technical, creative, web, etc. Based on that choice, it will grade your work, while giving you a list of improvements you can make. Like restructuring a sentence to make it more readable. The program also underlines words in your text, telling you what mistakes you made. When you run your mouse over the underlined text, you can click to correct it.
There are several reports you can run in the program, like common repeated words, or phrases that appear in your work several times. It also detects things like that pesky passive voice. It has reports on how many times a filler word appears in your prose. Let me tell you, I literally did not have a clue about how many times I used words like had or was in my work until it told me. ProWritingAid even has a legitimate plagiarism checker. It will tell you if your content is non-original, or if it is not quoted correctly. This is really handy if you want to make sure you have not copied somebody else's work.
The combo reports mix up most of the other reports and put them in one place for you to view and edit your work. It goes a long way to say that this software is a must-have for both aspiring writers and professional ones.
The only thing I found a bit irritating about this program is that sometimes it wants you to omit unnecessary phrases, that are actually necessary to make the sentence sound right. These phrases are things like After all, or as well as, etc. It is not a nuisance if you pay attention to the sentence itself. If it makes sense without the phrase delete it, if it doesn't, ignore it. That is the only flaw I have uncovered after using it for nearly four nonstop months.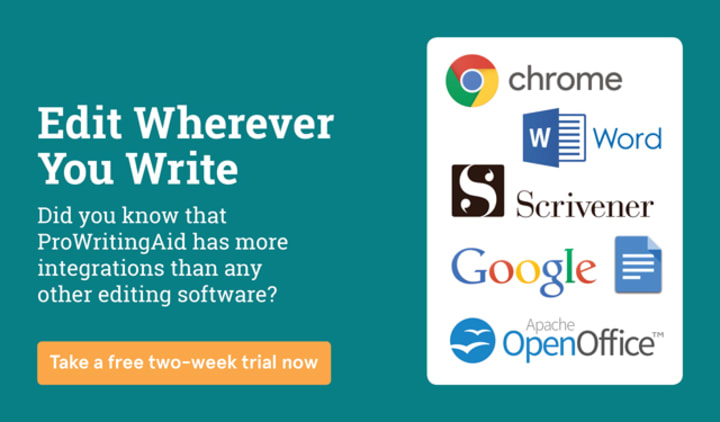 After my free trial expired, I opted to buy a full year license, which allows you to use all the premium content. To include the ProWritingAid add-in for your browser and Microsoft word. It has add-ins for several different programs across the web to help focus all of your energy in one place!
If you do not wish to install anything on your computer, you can always import your documents themselves into The ProWritingAid website. It works better this way if you have exceptionally long documents. Or better yet, you can just type in the web editor, which will save the trouble for those that dislike taking all the extra steps when they are writing.
I only paid 79 dollars to get ProWritingAid for a full year. However, they also offer a lifetime membership price, which is only 399 dollars. There are also bulk discount prices. The bulk discount prices vary with the number of licenses you wish to get. This is mostly for businesses that wish to distribute the software to its employees, and trust me, it is worth it. However, if you find these prices a bit too high, they offer a monthly membership for 20 dollars a month.
This is an excellent resource for new writers, and professional writers. I can guarantee that you will come out of this purchase all the better for it! Thank you for listening, and Happy Holidays!
About the Creator
I was born and raised in Kansas City, Kansas. I grew up with my nose in a book, and pen on paper. I still have an intense passion to read everything I get my hands on. My mind is stuck on creative. I love writing, and blogging.
Reader insights
Be the first to share your insights about this piece.
Add your insights