Pioneering Women in Business 
Pioneering Women in Business paved the way for future generations of female entrepreneurs.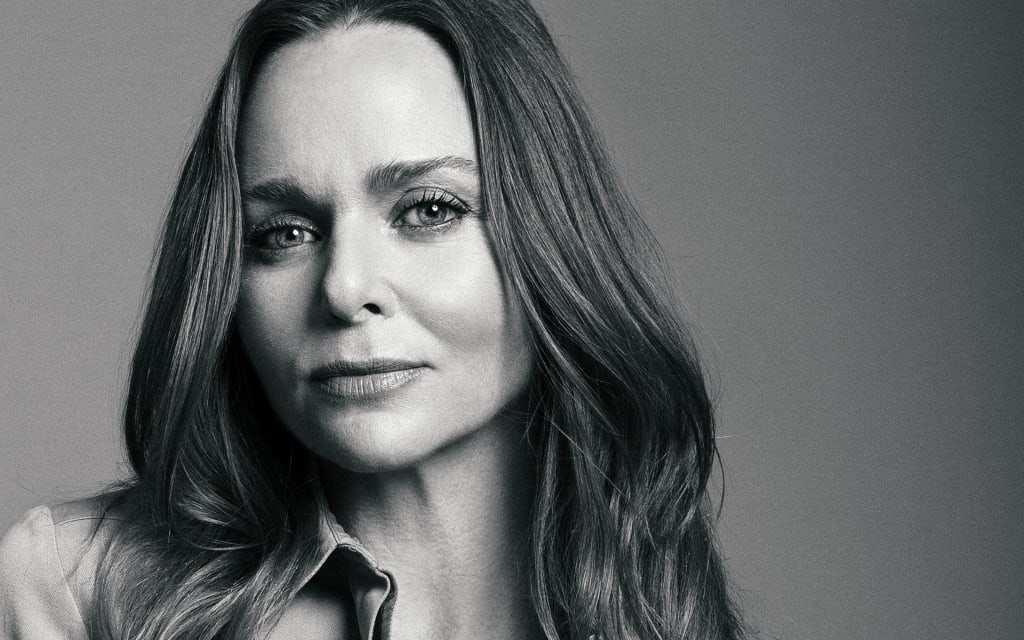 When Forbes released its 1998 list of the most powerful females in business, they stated that most members of the list "came from industries with a premium on creativity," such as advertising, media, and publishing, with "no top women at blue-chip firms." While creativity is still a requirement for success, of course, it seems that a woman no longer needs to work in a "creative" industry to advance and help empower a business. Every year more and more women are making it to the top in existing companies or building their own successful ones.. From the creator of Spanx, to fashion designers and the CEO of Yahoo, powerful female executives are growing in numbers each year as the work force becomes flooded with more smart, strong and empowered women who want to make it to the top. Journal profiles some of these amazing, pioneering women.
Sara Blakely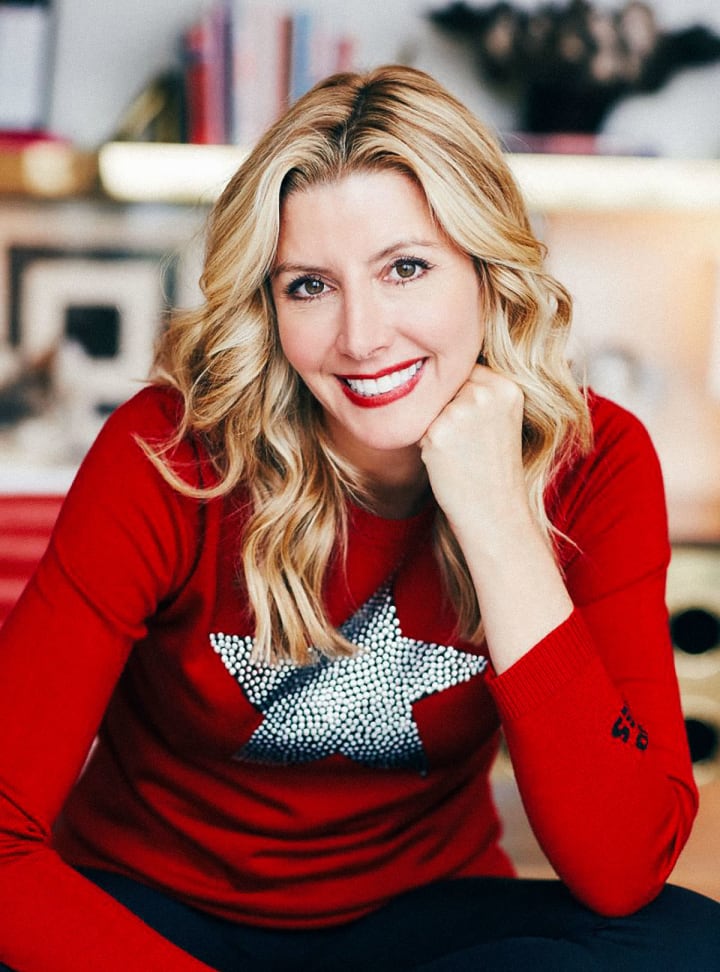 Sara Blakely is the founder of Spanx. Requiring a brand name for her product, Blakely was frustrated after not being able to settle on a title she was satisfied with after about a year-and-a-half of ideation. At the time of finalizing a brand name, Blakely knew that Coca-Cola and Kodak were the two most recognized brand names in the world, with both containing a strong "k" sound. Blakely read that the founder of Kodak liked the sound so much that he used it as the beginning and end of his brand name and then proceeded to create a functioning word based upon this foundation.
Blakely had also been informed by comedienne friends that the "k" sound is a trade secret to ensure laughter from an audience. Then, while sitting in traffic, the name "Spanks" came to Blakely and she decided shortly afterwards that she would replace the "ks" with an "x", as her research had shown that constructed names were more successful and were also easier to register as a trademark. Blakely then used her credit card to purchase the "Spanx" trademark on the USPTO website for $350.
Stella McCartney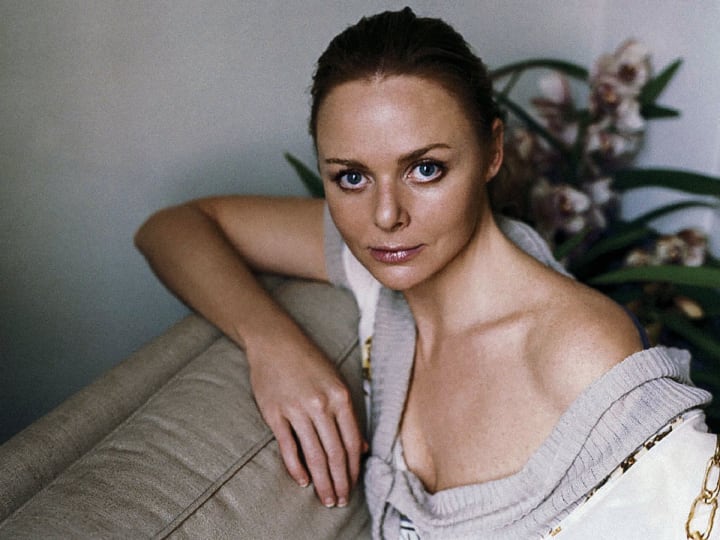 Born and raised in the English countryside, Stella McCartney graduated from Central St. Martins in 1995. A signature style of sharp tailoring, natural confidence and sexy femininity was apparent in her first collection. In 1997, she was appointed the Creative Director of Chloé in Paris. McCartney became interested in designing clothes as a youth. At age thirteen, she made her first jacket. Three years later, she interned for Christian Lacroix, working on his first haute couture collection, and further honed her skills working for Edward Sexton, her father's Savile Row tailor for a number of years. A lifelong vegetarian, Stella McCartney does not use any leather or fur in her designs and is a passionate supporter of PETA. Some of McCartney's designs have text that elaborates on her "no animal" policy; for example, one of her jackets for Adidas says, "suitable for sporty vegetarians" on the sleeve. Stella does use wool, silk, and other animal-derived fabrics in her designs. Since starting her own label, McCartney has also collaborated on projects with several artists including Gary Hume, R. Crumb, Jeff Koons, David Remfry and Ed Ruscha.
Marissa Ann Mayer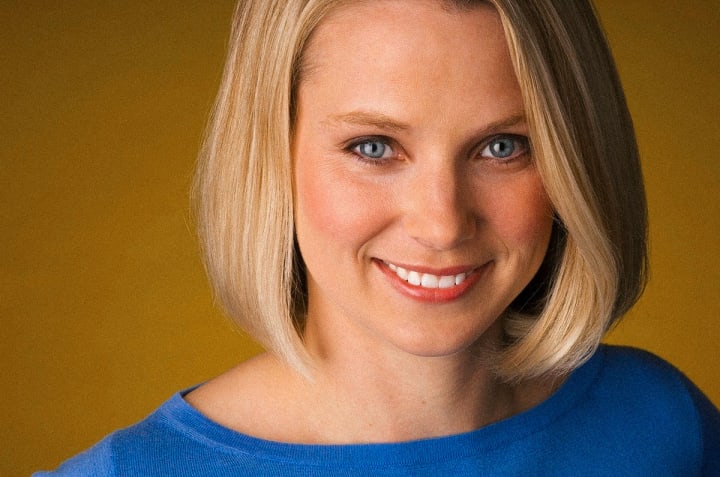 Marissa Ann Mayer is the current president and CEO of Yahoo!, a position she has held since July 2012. Previously, she was a long-time executive, usability leader, and key spokesperson for Google. In 2014 Mayer was ranked sixth on the list of America's 40 under 40 (Fortune magazine) as well as the 16th most powerful businesswoman in the world according to the same publication. On July 16, 2012, Mayer was appointed President and CEO of Yahoo!, effective the following day. She is also a member of the company's board of directors.
To simplify the bureaucratic process and "make the culture the best version of itself", Mayer launched a new online program called PB&J. It collects employee complaints, as well as their votes on problems in the office; if a problem generates at least 50 votes, online management automatically investigates the matter. In February 2013, Mayer oversaw a major personnel policy change at Yahoo! that required all remote-working employees to convert to in-office roles. Having worked from home toward the end of her pregnancy, Mayer returned to work after giving birth to a boy, and had a nursery built next to her office suite—Mayer was consequently criticized for the telecommuting ban.
Alexa von Tobel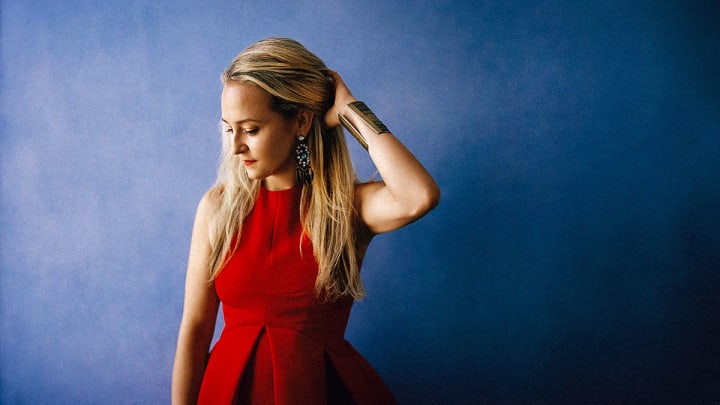 Alexa von Tobel is the founder and CEO of LearnVest.com, an award-winning personal finance website. Von Tobel is the author of the New York Times bestseller Financially Fearless, which debuted on December 31, 2013. Von Tobel came up with the idea for LearnVest in 2006 while working at Morgan Stanley when she realized that she and many other people had never had any formal education about how to manage their personal finances. She enrolled in Harvard Business School in the Fall of 2008 but took a leave of absence to launch LearnVest. Von Tobel has been a featured speaker at several conferences and events such as the 2012 SXSW Interactive, TEDxWallStreet Event at NYSE, Stern Entrepreneurs Exchange Summit 2012, Ruth's Chris Steak House and Marie Claire Celebrate Female Entrepreneurs: Women in Business Speaker Series, Fortune Summit: Most Powerful Women Entrepreneurs, and Inc.'s GrowCo Conference in 2013.
Tory Burch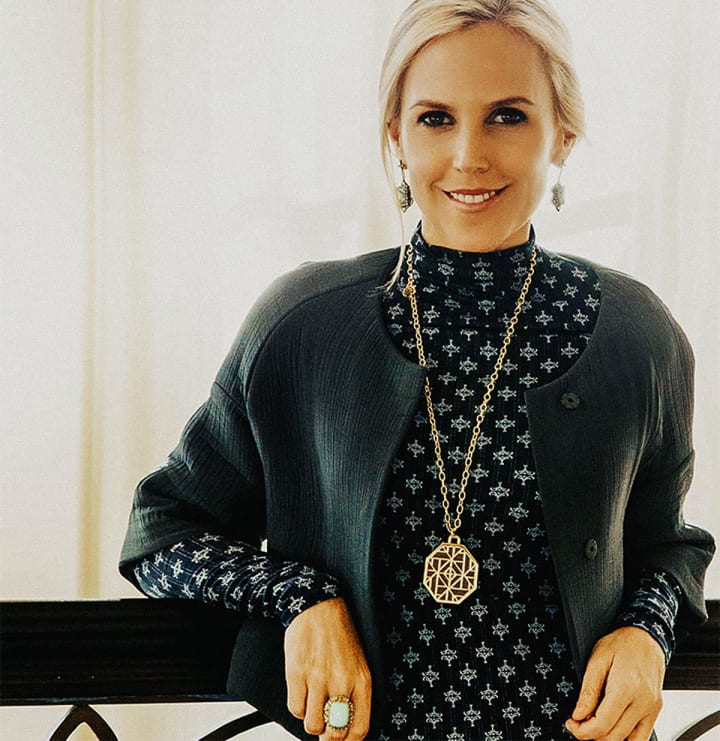 Tory Burch is the Chairman, CEO, and Designer of Tory Burch LLC. and was recently listed as the 79th most powerful woman in the world by Forbes magazine. Burch moved to New York City after graduating from college, and worked for Zoran and then Harper's Bazaar magazine before moving to public relations and advertising positions at Vera Wang, Polo Ralph Lauren, and Loewe. In February of 2004 Burch launched a fashion label then known as TRB by Tory Burch. The brand was later renamed Tory Burch. The company now includes over 140 Tory Burch stores worldwide. Burch has produced fashion shows each season at New York Fashion Week starting in 2011, and the company launched its first fragrance and beauty capsule collection with Estee Lauder in 2013. In the summer of 2014 Burch introduced a line of accessories for the Fitbit Flex activity-tracking device. Tory Burch was the first major fashion brand to move into wearable tech.
Dylan Lauren
Dylan Lauren is the daughter of clothing designer Ralph Lauren and the owner and founder of Dylan's Candy Bar. The company's best-known and most recognized location is in New York City, but there are multiple locations across the country. The New York City store claims to be the largest candy store in the world. Her idea for Dylan's Candy Bar was inspired by seeing Willy Wonka & The Chocolate Factory on her fifth birthday. She stated that her goal for the company was to "merge fashion, art and pop candy culture." The store stocks 7,000 candies from around the world. The store has partnered with Holt Renfrew in Vancouver, British Columbia in a co-branding effort.
The store has become a must-see for those visiting New York. Many celebrities, including Mary-Kate and Ashley Olsen, Katie Holmes and her daughter, Suri Cruise, Janet Jackson, and Madonna have made a point to visit the flagship store, located on 60th Street and Third Avenue. The store has also made appearances in several movies and television shows, including Hitch, Arthur, Gossip Girl, Project Runway, Cake Boss, and Dinner: Impossible. Lauren was featured on the May 2011 Forbes cover for her entrepreneurial achievements.
Ivanka Trump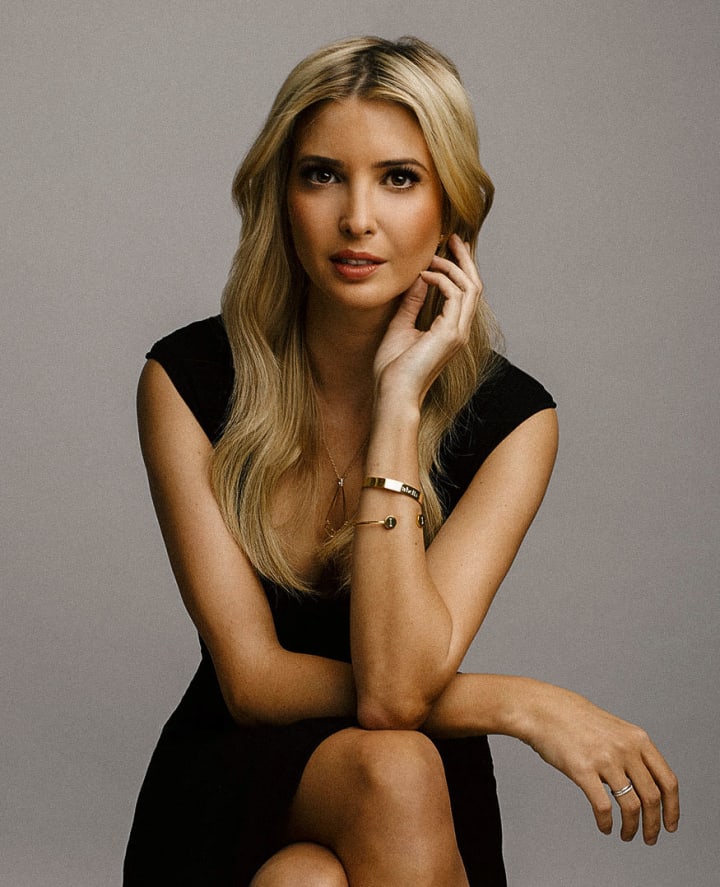 Ivanka Trump is an American businesswoman, writer, heiress, and former model. As Executive Vice President of Development & Acquisitions at The Trump Organization, Trump is involved with all areas of the company's real estate and hotel management initiatives. She is also head of Ivanka Trump Fine Jewelry. The Ivanka Trump Lifestyle Collection includes fragrances, footwear, outerwear and eyewear collections. Trump is currently Executive Vice President of Development & Acquisitions at The Trump Organization. She has also released her own line of handbags and shoes. Trump serves on the Board of 100 Women in Hedge Funds, an industry organization which provides support to female professionals who work in finance.
Juliet de Baubigny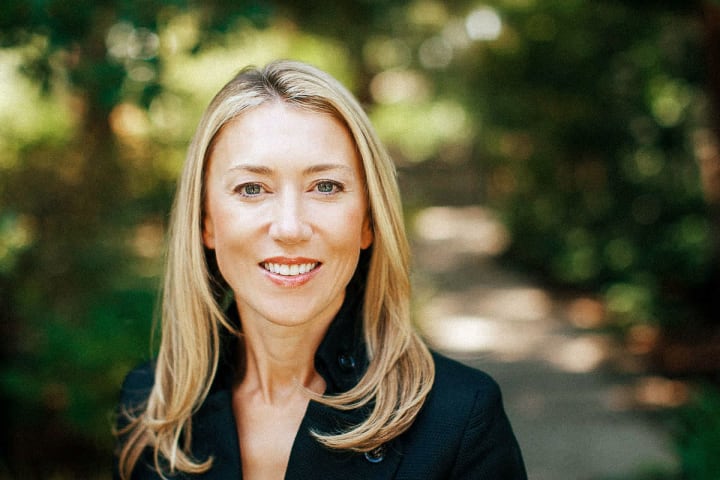 As the world has watched companies like Enron, Tyco, WorldCom, and Adelphia melt down, the attention of the public is drawn to their boards. How can these things happen unless the board members are being negligent? However, examinations have shown that many of these boards showed no signs of corruption or incompetence. Because of this, many business leaders are starting to look at board selection and operation more critically. Juliet de Baubigny, a partner at Kleiner Perkins Caufield & Byers, explains how important building a better board is to good business. Juliet de Baubigny joined Kleiner Perkins Caufield & Byers in 2001. She works with the firm's portfolio companies, advising them on areas of human capital. This includes advising on executive leadership, recruiting, compensation, corporate governance and team-building. Before joining KPCB, de Baubigny began her career with Procter & Gamble in the United Kingdom. After that she became a managing director of Ramsey Beirne Associates. She spent her early career as a partner at Heidrick & Struggles.
About the Creator
Head of Brand Partnerships @ Creatd (Nasdaq: CRTD). Future Liz Lemon. Current dog lover.
Reader insights
Be the first to share your insights about this piece.
Add your insights