Pandemic Abroad
An Unexpected Journey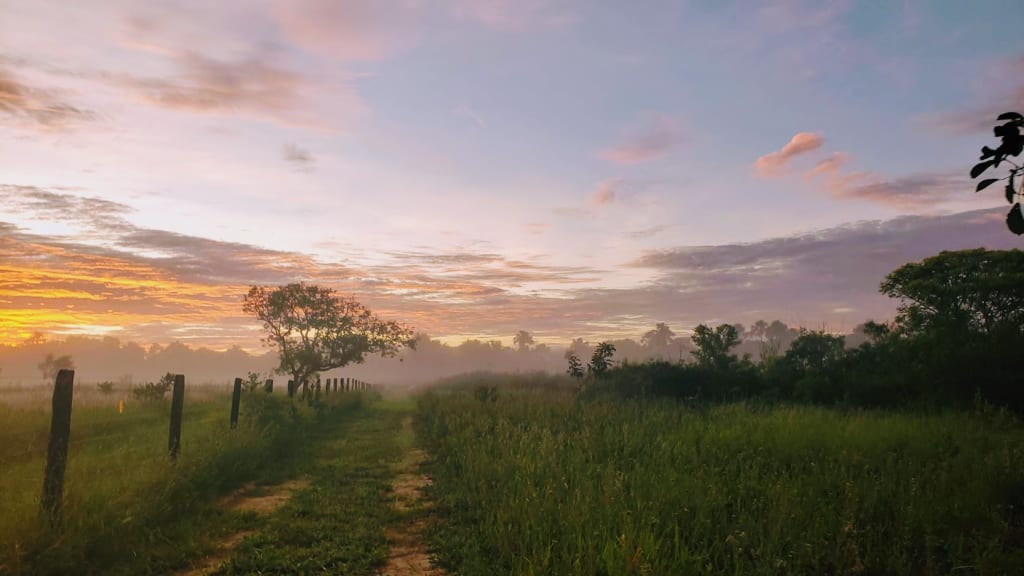 Departure, February 2020
As mutterings of a far-off illness spread in microbiology lecture halls, fifteen ecologists gathered in the early hours of a Los Angeles morning. In the Tom Bradley International baggage check lines, undergraduates sleepily exchanged notes on tropical insects and compared binocular specs.
We were just a few hours away from embarking on a journey to research abroad in Brazil.
Before sunrise, the usual LAX bumper-to-bumper was lagging. However, as the sun rose, LA woke up with it, and in came droves of business folk, families, and yawning service employees. The day's departure was normal sleepy queuing. My heart was already in the Amazon. I didn't think once about the city I was leaving.
March 2020
Three weeks into our study abroad, the pandemic took a turn for the worse.
In a remote Pantanal research station, we huddled around the Wi-Fi router of a stilted wooden shack. Fingers anxiously refreshed news apps and waited for updates from loved ones. Each day a voice would chime in, "My mother can't find toilet paper," "My partner's working remotely now." "They want travelers to return home."
Between reports of empty grocery stores and insensitive retorts from our Chief diplomat, I gaped at the Brazil Travel Advisory. Within days, "Increased Caution" became "Reconsider". Overnight it became, "Do Not Travel".
Stubbornly, we carried on. The isolated tropical wilderness was a safer place than home. Caimans and Jaguars were a better-studied danger than our nation descending into chaos.
Late March 2020
Traveling in a group clad in devastatingly touristic attire proved to be a challenge. As pandemic fears reached small towns of Brazil, we were singled out as dangerous foreigners. Passers-by would cast concerned and fearful glances in our direction and steer clear of our pathway. One drunk man yelled out, "No Italians! No foreigners!"
When our plane landed in Alta Floresta, we were greeted by people in full PPE. Some wielded thermometers while others snapped photos of the terrifying tourists arriving in their small town. When the police came to verify that we weren't from an "outbreak" country, we knew we were not welcome.
April 2020
The few nights I spent in the Amazon rainforest, the destination at the top of my bucket list, I worried about returning to a collapsing nation. My heart was once again ahead of me.
Then, the news hit us that we had all dreaded. A message from our university arrived; an urgent and mandatory return home canceled the last two weeks of our trip. Even the creatures of the boisterous Amazon stilled in the foliage as the room digested the news together.
We spent days in airports. Sleeping hours at a time, we were adjusting to a new reality of touching nothing, standing far away, covering our faces.
After a blur of wandering through terminals, canceled flights, and lengthy layovers, the wheels of a jet finally touched down on Los Angeles runway. We made it home, but it wasn't quite right.
Arrival
The terminal was empty save for our half-filled flight. Usually-bustling businesses were abandoned, barred windows left to collect dust. In the eerie quiet, only the voices of our flight's passengers echoed through LAX's vast and winding halls.
In baggage claim, small groups huddled far apart, the sound of a conveyor belt drowned out hushed conversations.
On the route home, I found my home had become a ghost town. The noise and lights of my loud metropolis were in quarantine. The aftermath of the first month's hoarding chaos was empty lanes during rush hour. From a rainforest teeming with life, I returned to a decaying concrete jungle. I held myself in isolation after months of constant contact with others. After weeks of mile-long hikes, I was confined to pacing the lengths of my apartment.
Returning home was surreal, a known territory so vastly changed. With such discrepancy between memory and reality, only bits and pieces of familiarity found their way to me. Weeks into adjusting to a pandemic's normal, I still felt homesick.
Even now, that pang of homeward longing resides. I could never have imagined that studying abroad would be such a lengthy farewell to what used to be.
Despite leaving Brazil over a year ago, my reentry is still ongoing.